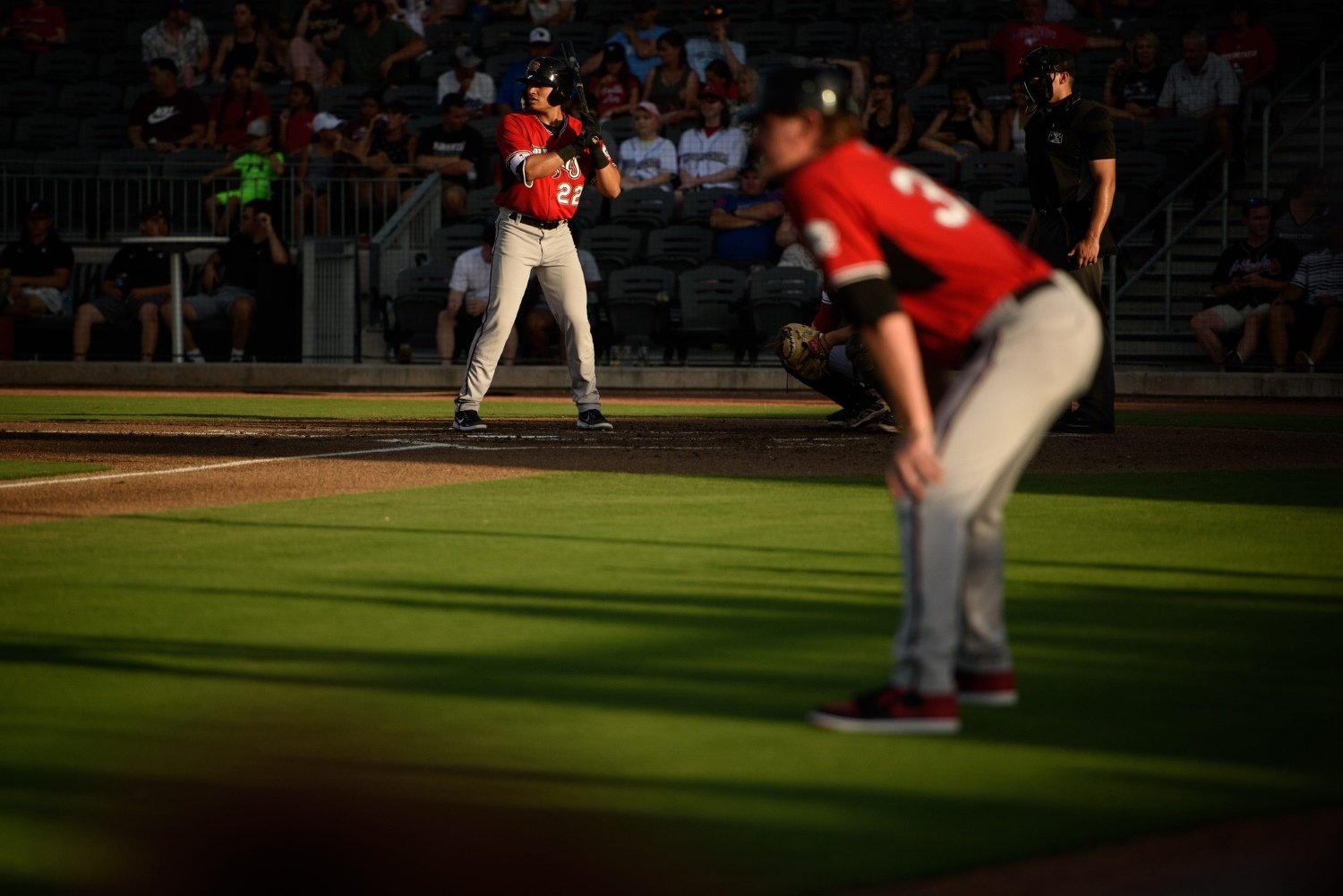 Image courtesy of © Andrew Craft via Imagn Content Services, LLC
Let's take a look at some of the players who are the biggest reasons for the Mudcats making the postseason. All stats are as of the morning of September 10.
Luke Adams
Adams was the primary third baseman, with 75 games at the hot corner and another 11 at first base. Adams demonstrated very good on-base skills, drawing 76 walks, while also delivering a lot of power (18 doubles and 11 home runs), and flashing speed as well (30-for-40 in stolen bases, plus three triples). Adams was a late-round pick, selected in the 12th round of the 2022 Draft. Yes, the Brewers drafted Brock Wilken and Mike Boeve in July, but Adams has a lot of potential as well, and could be a real contributor.
Jadher Areinamo
Areinamo delivered a lot of doubles and demonstrated the ability to hit for average (.306 in 396 at-bats) while splitting time between second and third base. He added speed to the mix as well, stealing 16 bases. Areinamo's bat looks a lot like that of Andruw Monasterio, who emerged as the Brewers' regular third baseman this season and who has proven very valuable, even as he hits near the bottom of the order.
Jace Avina
One of the late-round outfield steals discussed elsewhere, Avina has developed into a legitimate three-true-outcomes bat. His second season in Zebulon saw him spend time at all three outfield positions. He delivers power (38 extra-base hits in 326 at-bats) and OBP skills (56 walks). Avina, a 14th-round pick in 2021, could eventually be as good as Joey Wiemer.
Daniel Guilarte
Guilarte was a highly-paid international signee, and his season in Carolina showed some real justification for it. He displayed excellent OBP skills (35 walks in 223 at-bats at Carolina), and speed (26-for-34 in steals). Guilarte's batting average slipped significantly after he was injured in June, but he is as credible an option as any of the many shortstops in the Brewers system.
Luis Lara
Lara earned a promotion to the Wisconsin Timber Rattlers after he proved to be a sparkplug for the Mudcats, posting a .285/.379/.354 line in Zebulon, while stealing 22 bases. The 5'7" Lara also displayed excellent defense, notching seven outfield assists for the Mudcats. While he hasn't quite flashed the power Jackson Chourio has, he makes for an interesting option as a fourth outfielder.
Patricio Aquino
Aquino didn't rack up gaudy strikeout numbers like Jacob Misiorowski or Logan Henderson, but he still posted a 2.75 ERA and a 1.26 WHIP in 88 1/3 innings pitched across 21 games (19 of them starts). Notably, he allowed only six home runs (compared to eight for Henderson). Aquino may not get the hype, but he looks to be a solid rotation prospect for the Timber Rattlers next season.
Logan Henderson
Arguably the ace of the Mudcats staff, Henderson dominated across 78 1/3 innings pitched in 18 starts. Like Aquino, he posted a 2.75 ERA, but his WHIP was 0.97. Henderson could make a rapid rise in 2024, much like Misiorowski did this year.
Will Rudy
In his 18 starts covering 80 2/3 innings pitched, Rudy posted a 3.46 ERA and a 1.29 WHIP, serving as the number-three starter behind Aquino and Henderson (or Henderson and Aquino). Like Henderson and Aquino, he could start off in Appleton next year.
Chase Costello
Costello proved to be a valuable member of the Mudcats bullpen, leading the team with nine wins and posting a 3.76 ERA across 64 2/3 innings pitched. Notably, he averaged more than two innings per appearance. Costello should continue that fireman role in 2024 with the Timber Rattlers.
Yerlin Rodriguez
After Tanner Shears and Shane Smith earned promotions to Wisconsin early in the 2023 season, Rodriguez took over as the Mudcats closer, and racked up 11 saves. While his 4.00 ERA might not look great at first glance, he was a shutdown reliever after July 1, with a 3.04 ERA and 11 saves. Opponents managed just 19 hits and 1 home run over 25 2/3 innings in that span.
Who do you think stood out the most for the Carolina Mudcats in 2023?