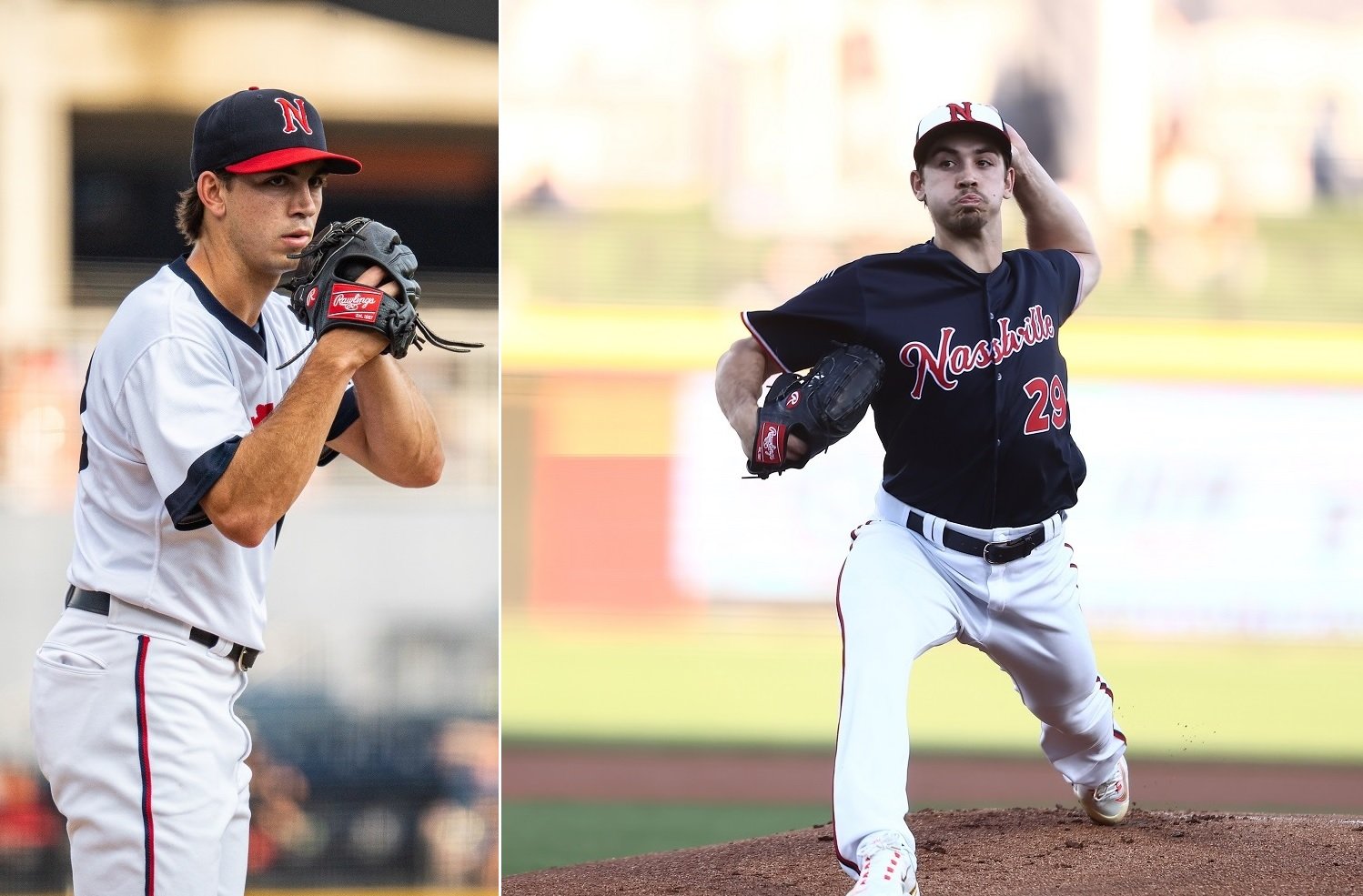 Image courtesy of Rob Thompson, St. Paul Saints
#5 LHP Robert Gasser (Nashville Sounds)
A second-round draft pick by the Padres in the 2021 draft, Gasser was in the midst of his first full season when the infamous Josh Hader trade went down at the trade deadline in 2022. He finished his Padres career at the High-A level, having thrown 90.1 innings for the Fort Wayne TinCaps. The Brewers decided that was plenty of experience at that level and assigned him to Double-A Biloxi to begin his Brewers career. Four starts later, Gasser and his 2.21 ERA and 11.5 strikeouts per nine were headed to Triple-A Nashville. This is where he would finish the 2022 campaign and where he spent all of 2023. 
What to Like:
Gasser throws five pitches total, and three of those are above-average or better pitches in his four-seam fastball, slider, and cutter. He generates a lot of ride with the fastball, and because of that, it works best at the top of the zone or above. He usually sits in the 91-93 range and can get up to 94 or 95. His slider is best described as a sweeper and is a pitch he will throw in any count or situation. The sweeper sits in the low 80s and was his biggest swing-and-miss pitch in 2023. He does a decent job of landing it for strikes when the situation calls for it, as well. Since coming to the Brewers organization, Gasser has been mixing in his upper 80s cutter more often than with the Padres. It was the pitch that he was able to show the most improvement with during the 2023 season, landing it in the zone more often than any of his other offerings and consistently keeping it off of barrels.
Regarding production, Gasser's final season line may not look special compared to what we expect from an MLB starting pitcher. When the numbers are looked at in the hitter-friendly Triple-A environment, however, Gasser stacks up extremely well. Among the 38 pitchers who threw at least 100 innings in Triple-A, Gasser finished first in total strikeouts and strikeouts per nine innings; he finished second in ERA and FIP while also having the second-highest K: BB ratio. Gasser got off to a slow start in the walk department, walking 5.5 per nine innings in April. From May forward, though, he only walked 2.88 per nine, which brought his total for the season to a more reasonable 3.33 per nine. 
What to Work On:
As mentioned, Gasser has a total of five pitches, and while the four-seam fastball, slider, and cutter all show signs of being plus pitches, his other two pitches still need to catch up a bit. His changeup is an average offering that comes in a bit firmer than you would hope, usually sitting in the upper-80's. While he would benefit from being able to take a bit more velocity off of it, he does get some good late action on it, and it could act as a counter to right-handed hitters. He also mixes in a sinker that is in a similar velocity range to his four-seam, though he does not use it all that often. Gasser will also mix in a lower arm angle on some of his four-seamers, which have been classified as sinkers at times. In reality, he's dropping his arm angle, causing the pitch to generate less vertical break than his regular four-seamers. Improvement in those two would go a long way toward rounding out his repertoire. Right now, his best pitches all move toward a right-handed hitter; the sinker and changeup go the other way. That could help him improve his platoon splits.
While Gasser did get the previously mentioned walk number down to a more reasonable number over the course of the season, he will likely be aiming to drop it even further and be under three per nine moving forward. One other thing that will need to be monitored is Gasser's line drive rate. His 28.6% line drive rate was the highest among Triple-A pitchers with at least 100 innings pitched, and as Freddy Peralta has demonstrated at times, a four-seamer like Gasser's can have a propensity to get barreled. Continuing to locate the fastball at the top of the zone or higher will help keep it above barrels. When it leaks down into the zone, then hitters can get a pretty good look at it. Improvement to the sinker and/or changeup could be another way to keep the ball out of the air more often.
What's next:
Gasser appears to be ready for the MLB rotation, and during most times in Brewers history, he likely would have already debuted during the 2023 season. Pitching depth has been a strong suit for the organization during the Stearns and Arnold era, but they will enter this offseason with perhaps the most questions since the offseason going into 2018. That should help Gasser's chances. The unfortunate recent news of Brandon Woodruff being out for the 2024 season probably raises his chances of making the rotation directly out of spring training even further.
What are your thoughts on Robert Gasser? What are you hoping to see from him in 2024? Let us know in the comments!
1