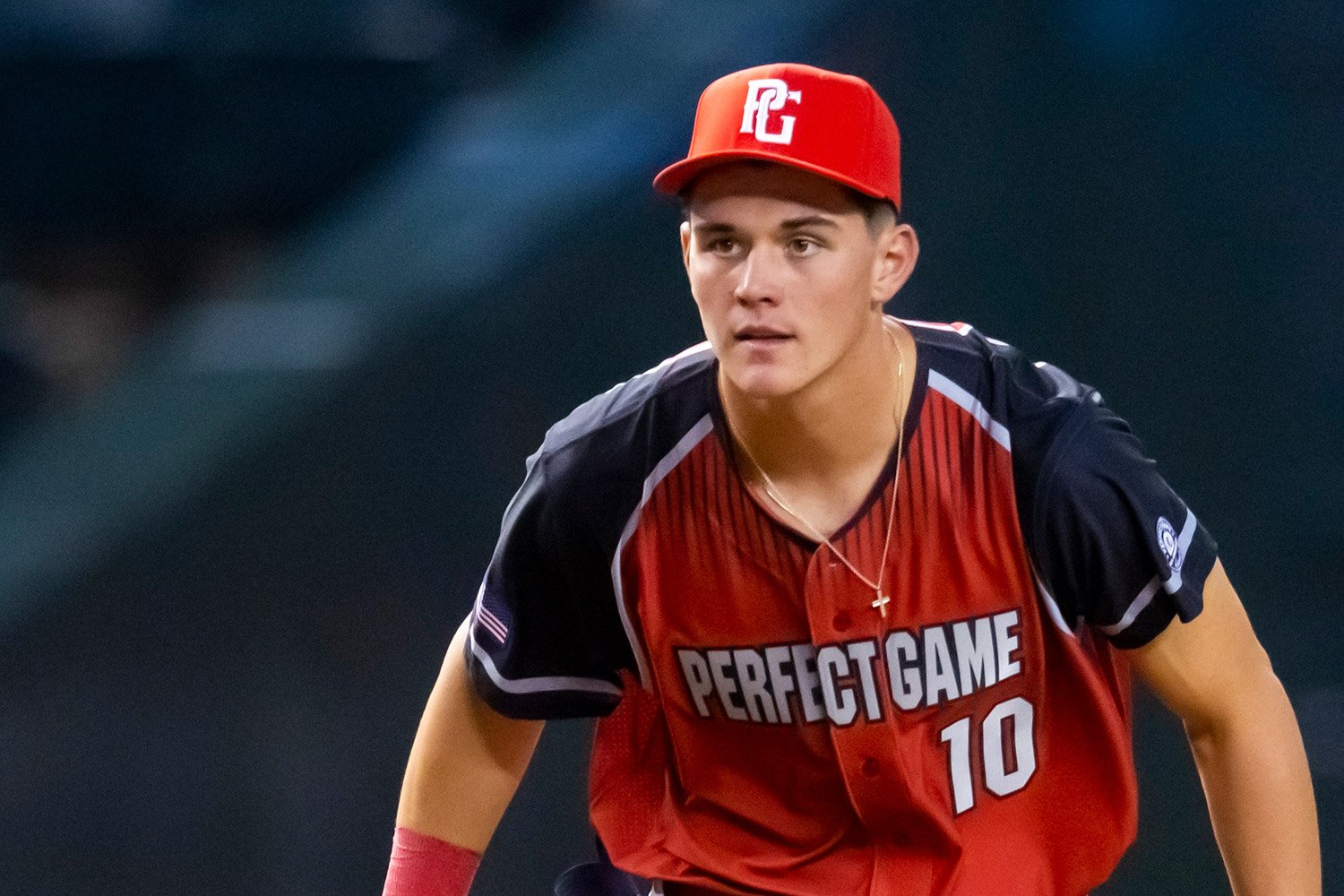 Image courtesy of © Mark J. Rebilas-USA TODAY Sports
20. Juan Baez, IF (Arizona League Brewers, Carolina Mudcats)
Baez was signed in the 2022 international class out of the Dominican Republic for only $10,000, one of the lowest bonuses in the entire class. After a run-of-the-mill showing in the Dominican Summer League (DSL) in his debut season, he was given a surprising assignment to the Arizona Complex League as a soon-to-be 18-year-old. Baez did his part to show why the Brewers were so aggressive with him, despite the numbers he had put up in the DSL. Equipped with plus feel for contact, he is said to have above-average speed as well, which shows in his 19 stolen bases in 21 attempts. Reports coming into the season suggested a strong defender up the middle, but he did end up finishing the season with 18 errors, while only playing 45 games in the field. A large majority of his errors were of the throwing variety, which is a bit easier to fix than errors that come with the glove. His arm is pretty strong, so it would seem likely that his footwork is not where it needs to be, and there could be a lack of focus as well. While the offensive profile is pretty interesting, the defensive side of the game is going to be something that will need to be monitored. 
On the offensive side, one thing Baez is going to have to work on is his patience at the plate. His bat-to-ball skills did all of the heavy lifting on his way to an extremely successful season in 2023, but succeeding at the MLB level with a 4.2% walk rate would make him a major outlier, as only three qualified hitters finished 2023 with that low of a rate. Baez was certainly able to make it work at the Complex level and in his short cup of coffee with Low-A Carolina, due in large part to his ability to get the bat to the ball so consistently. He has a pretty big leg kick and a swing that is somewhat reminiscent of Alfonso Soriano's. With that leg kick and swing path, he is more than a slap hitter, despite what the rest of the profile might suggest. He showed a decent amount of extra-base pop, with 27 total, including four home runs. He will, most likely, begin 2024 with Carolina, which will be his first year of full-season ball. He will have the opportunity to answer the questions about his defense, and to continue to develop his swing decisions a bit. If he can see more pitches and potentially draw more walks, this is the profile of a future MLB hitter.
19. Bradley Blalock, RHP (Boston Red Sox organization, Wisconsin Timber Rattlers)
Acquired from the Boston Red Sox at the 2023 trade deadline in exchange for Luis Urias, Blalock is a bit more than a lottery-ticket arm. The Red Sox's 32nd-round selection in 2019 had struggled with injuries early in his career, and returned from Tommy John Surgery this season after missing all of 2022. Throwing from an over-the-top arm angle, he came back this season throwing 93-95 on his fastball, even getting up to 97 at times. Due (in part) to that high slot, his fastball has really good shape, and it plays well up in the zone. He throws three secondaries: curveball, slider and changeup. The quality of the pitches goes in that same order. His curveball is a hammer that comes in around 77-82, with a ton of depth on it. The fastball and curveball are both plus pitches. His slider is the third offering. It's a firmer breaking ball, getting into the upper 80s, and has more horizontal movement than vertical. It hasn't been completely dialed in yet, and it can be inconsistent from start to start, but it has the makings of being a pretty good tertiary pitch for him.
His changeup is a distant fourth pitch at the moment, and given his arm slot, that will likely remain the case. It can be hard to throw a changeup from that angle. The Brewers like their splitters, and that is often the changeup that works best from an overhand slot, so perhaps that will be something they work on moving forward.
Blalock got fantastic results prior to the trade, posting a 2.19 ERA and nearly 10 strikeouts per nine innings with the Red Sox's Low-A and High-A affiliates and limiting his walks to only 2.2 per nine. The results did not carry over in his first four starts after the trade. He walked over four batters per nine frames, and his ERA was 5.27 in that stretch. Unfortunately, he left his final start after recording only two outs, and ended up being placed on the IL to finish the season. We don't know the extent of that injury at the moment. Blalock is Rule 5-eligible this offseason, and since his fastball and curveball could play up out of the bullpen, it wouldn't be a complete shock to see him get selected if the Brewers leave him unprotected. He will likely receive heavy consideration for a 40-man roster spot. 
18. Daniel Guilarte, IF (Carolina Mudcats)
Guilarte was an international signing by the Brewers in 2021, and is somebody the organization appears to be very high on. Guilarte can really pick it at shortstop, as well as third and second base. He has clean actions, good range and a strong arm. Offensively, Guilarte has a patient approach, though that patience may border on passivity at times. He struggles to tap into power, though he does hit the ball with some authority. He will need to do a better job elevating the ball in order to get to the extra-base power. His speed is above-average, and he's a strong baserunner in general. 
The previously mentioned patience showed up for Guilarte in a strong 12.5% walk rate, but it also shows up in his batted-ball profile. Slight indecisiveness can lead to a profile such as Guilarte's, in which he does not pull the ball much, and is often hitting it on the ground. Despite the profile not being exactly what you're looking for, Guilarte got off to a pretty good start to his full-season career in 2023, and as he matures more, there is definitely the potential for more pop there. His 111 wRC+ means he was an above-average hitter for the level, and he did that while being about two years younger than the league's average. Even if he struggles to develop that power, Guilarte's above-average-to-plus speed, defense and hit tools will keep him on prospect radars.
17. Dylan O'Rae, IF/CF (Arizona League Brewers, Carolina Mudcats)
The Brewers selected O'Rae with their third-round pick in 2022, to the surprise of pretty much everyone. Unranked on all of the major publications at draft time, the MLB Pipeline gurus struggled to find information on him. The Brewers clearly dug deep for the pick, and the early returns have been very good. O'Rae is small in stature, standing only 5-foot-7, and is listed at 160 pounds--though he appears to have bulked up this offseason and that weight might no longer be accurate. It isn't out of the realm of possibility that he has gotten taller, either, as he's still a teenager. Even if the growth spurt never hits, O'Rae has the potential to be a top-of-the-order hitter, as well as handling the middle infield or center field defensively. He possesses an elite eye at the plate and very good bat-to-ball skills, but he is severely lacking in the power department. Even if he can't clear or dent the fences, though, he does have the ability to turn singles into doubles by stealing bases with his plus speed.
In 2023, he showed his well-measured approach by posting a 20% walk rate and only a 6.7% swinging-strike rate to go with his 13% strikeout rate. All of those would be elite numbers for anybody, but especially for a teenager in his first real taste of pro ball. The absence of power does show in the numbers as well, with only nine total extra-base hits, none of which were home runs. However, an on-base percentage of nearly .500 and 44 steals is a good way to bring production without hitting the ball hard. On the defensive side, he mainly played second base early in the season, but as the year progressed, he spent some time in center field. After his promotion to Low-A Carolina, he actually spent more time in center than on the dirt. His speed, instincts and the fact that he has a decent arm should allow him to handle either of them without issue. There are a lot of Sal Frelick similarities with O'Rae, but Frelick had more juice in his bat, even at this young age. If he can continue to put on some good weight and deliver just a bit more thump, O'Rae has the makings of someone who could make a career out of annoying the heck out of opposing pitchers.
16. Eric Bitonti, 3B/SS (Arizona League Brewers)
Selected in the third round of the Brewers' most recent draft, Bitonti won't turn 18 until mid-November. Equipped with some of the biggest raw power in the high school class, Bitonti has a sweet-looking left-handed swing. Despite being a pretty good athlete for his size, it's unlikely he will be able to stick at shortstop. He should be a pretty strong defender at the hot corner, however, and he certainly has the arm to handle the position. The question for Bitonti will come with his hit tool. He has some holes in his swing, and he has struggled with making solid contact on breaking balls. His issues there seem to be more aligned with his feel to hit them, rather than a failure to recognize them, as he doesn't chase them much. This is a good sign. It means he likely just needs to get more comfortable with his bat path against spinners. He crushed fastballs in the prep circuit and should have no issues handling professional velocity. 
His short stint in Arizona started really well, as he hit two home runs in the first three games of his professional career. After that, he experienced some struggles. In his final eight games, he went a combined 2-24, though he did draw eight walks in that stretch. Brewers fans will need to remember to be patient with Bitonti. He'll be 18 for the entirety of the 2024 season and he's got a lot of development in front of him. This is a bit of a boom-or-bust pick, but the upside is a big-time, middle-of-the-order bat.
What stands out from 16-20 in this list? Let us know your thoughts in the comments!
Think you could write a story like this? Brewer Fanatic wants you to develop your voice, find an audience, and we'll pay you to do it. Just fill out this form.
MORE FROM BREWER FANATIC
— Latest Brewers coverage from our writers
— Recent Brewers discussion in our forums
— Follow Brewer Fanatic via Twitter, Facebook or email
2