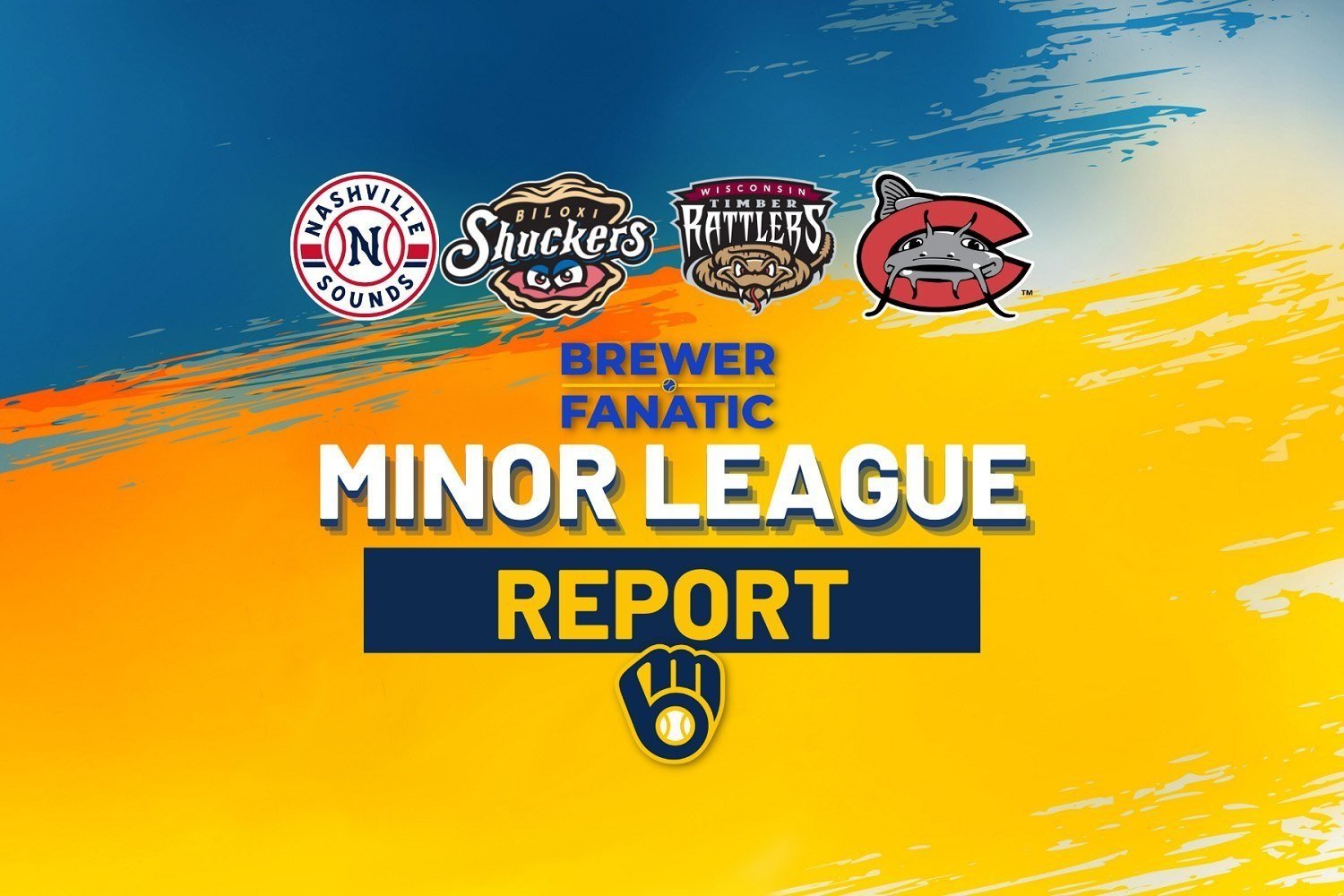 Image courtesy of Brewer Fanatic
Transactions:
Game Action:
Arizona Complex League Action

Final: ACL Brewers 7, ACL Rangers 6
Box Score / Game Log

Our hitters in Arizona came through, taking the lead for the fourth and final time in an exciting walk-off victory which improves the team's record to 21-19.

2023 first round draft pick 3B Brock Wilken (2-for-5, HR, 3 RBIs) knocked in the winning run with an RBI single after the team had loaded the bases with nobody out.

In equally exciting news, each of Wilken and 2023 second round draft pick DH/INF Mike Boeve (2-for-3, HR, walk, HBP, RBI) hit their first home runs in the Brewers' system – a solo shot for Boeve to take a 2-1 lead in the 3rd inning, then 2-run blast for Wilken in the 5th inning to tie the game 5-5.

The top five spots in the lineup came through early and often, with 2B Dylan O'Rae, Boeve, Wilken, SS Juan Baez and 1B Yeison Perez combining on two home runs, a triple, four singles, six RBIs and six runs scored.

Despite giving up six runs, the mound work was actually encouraging, save for 17-year old starting RHP Manuel Rodriguez (4 2/3 IP, 5 R (4 ER), 10 H, 1 BB, 3 Ks) understandably struggling when pushed to work what ultimately became a four-run 5th inning for the Rangers.

Never fear, as 19-year old LHP Anfernny Reyes (3 1/3 IP, 0 R, 1 H, 0 BB, 7 Ks, 1 WP) helped the team escape that 5th inning by stranding two inherited runners via a strikeout, then dominating for three more frames during which the Brewers re-took the lead at 6-5 on an RBI groundout off the bat of C Alejandro Rodriguez (debut game for the undrafted free agent – 1-for-4, RBI).

For the Rangers, 2023 fourth overall draft pick OF Wyatt Langford was a one-man wrecking crew, singling in two runs in that 5th inning and scoring shortly thereafter, then hitting a solo homer off RHP Gerson Calzadilla (1 IP, 1 R, 1 H, 0 BB, 1 K; season ERA 0.85) to tie the game 6-6 in the top of the 9th inning.
Dominican Summer League Action

Final: DSL Brewers-2 Squad 2, DSL Brewers-1 Squad 0 (in 7 innings)
Box Score / Game Log

The Brewers obviously have strong confidence in second-year, 18-year old RHP Bryan Rivera, giving him his 9th start of the season. On this day, Rivera delivered his best start (5 IP, 0 R, 1 H, 2 BB, 5 Ks; season ERA 4.28), getting the better of 17-year RHP Eric Prado to earn his first official win of 2023.

For his part, Prado was respectable in defeat: 4 IP, 2 R, 5 H, 1 BB, 4 Ks, 1 WP as his season ERA lifted to 1.50.

At the plate, DSL Brewers-2 grabbed the game's only runs in the top of the 3rd inning, with C Freider Rojas (1-for-2, SB) singling, stealing second base and scoring on a Filippo Di Turi (1-for-3, RBI; season OPS .800) ground out, then DH/UT Pedro Ibarguen (2-for-3, RBI; season OPS .776) following with an RBI single.

Let's hear it for relief pitchers 19-year old RHP Yeferson Tales and 18-year old Lenin Mendez, who combined on five scoreless innings with 5 Ks with no walks.

And the catchers both came through defensively, throwing out 4 of 5 attempted basestealers - two each for Rojas and C Yannic Walthier.

Finally, center fielder Yophery Rodriguez went 0-for-3 with a K (season OPS .924), but did throw out a runner on at second base.
We hope that you enjoy the Minor League Link Report. Enjoy Tuesday's 9-game MILB set, including doubleheaders for DSL Brewers-2 and the Carolina Mudcats. Promotion and Hug Watches will be in full effect throughout Trade Deadline Day.

Organizational Scoreboard including starting pitcher info, game times, MiLB TV links, and box scores
Current Milwaukee Brewers Organization Batting Stats and Depth
Current Milwaukee Brewers Organization Pitching Stats and Depth 
Think you could write a story like this? Brewer Fanatic wants you to develop your voice, find an audience, and we'll pay you to do it. Just fill out this form.
MORE FROM BREWER FANATIC
— Latest Brewers coverage from our writers
— Recent Brewers discussion in our forums
— Follow Brewer Fanatic via Twitter, Facebook or email
1