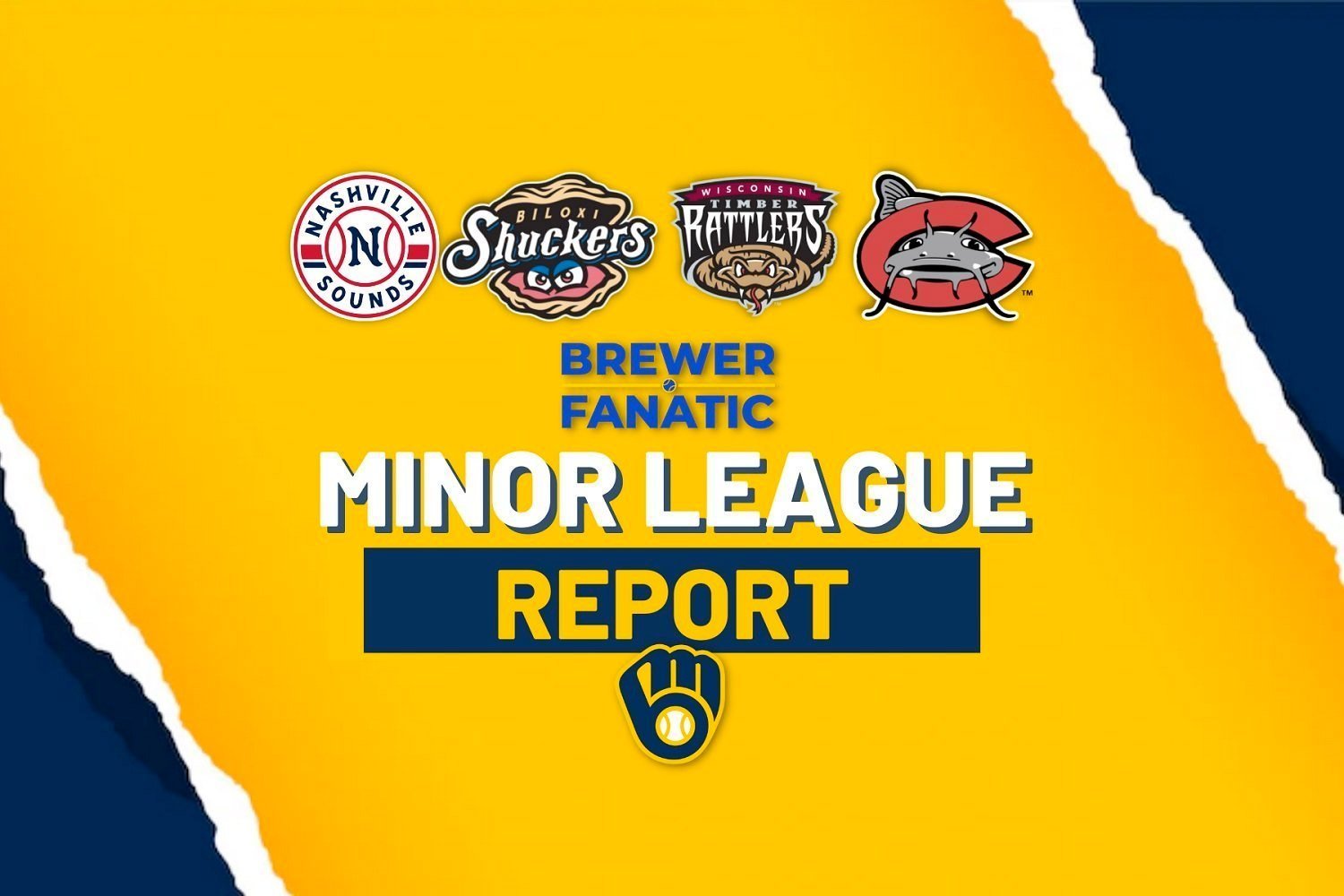 Image courtesy of Brewer Fanatic
Transactions: 
None
***
Before I go straight into the baseball action, let us celebrate recent accolades and performances of note. As always, and with great gratitude, these come via the consistently mentioned (in our reports) 'Brewers Player Development' twitter. Let's start with a high draft pick riser and a pitcher we've discussed quite often recently as he is trending UP: LHP Russ Smith . His last two starts have been far and away his best of the season. It's certainly cause for celebration: 
And, let's follow that up with recently announced pitching and hitting Brewers organizational monthly awards. With the pitching, we go straight back to the High-A pitching hot bed of the Wisconsin Timber Rattlers. Taking awards are (former) teammates and (former) housemates RHP's Cam Robinson and Justin Jarvis (We shared this earlier this season BUT now that Cam is in Biloxi it's worth a nostalgic look).

Fantastic stuff, gentlemen! 
And, on the hitting side of things, we've discussed the ongoing red hot streak of extremely formidable and exciting young catching prospect Jeferson Quero for awhile now. He takes home the monthly hitting award along with extremely intriguing 18 year old Dominican ACL Brewers Gold OF prospect, Luis Castillo. Luis has had an absolutely incredible start to his ACL season and has most definitely caught our attention. We clearly have two very intriguing young lefty-bats coming up the ranks in outfielders Castillo and Luis Lara . It's a shame we don't have an affiliate in L(o)uisville :
DSL Brewers 1 5, DSL Cubs Blue 3
Box Score/Game Log
In a game where the DSL Brewers 1 lead throughout - with single runs in both the first and second innings forming a 2-0 lead - there were three storylines that stood out: the continued offensive outputs of Lara and Jhonny Severino and the continued excellent pitching form of Osbriel Mogollon . All three players have been notable for some time and today was no different. Let's start with the young and tantalizing Lara.
Outfield prospect Lara continues to dominate in the lead-off role for the DSL Brewers 1. Today was more of the same as he hit to the tune of 3-for-4 with his eighth double and his fourth triple (!!). About the only real negative we can glean from his game logs is he has been caught stealing four times while successfully swiping only two bases in the 21 games played this summer. In Luis' 81 total AB's in the early going, however, he is making many waves:  0.366 BA/ 0.407 OBP/ 1.005 OPS/ 17 runs/ 30 hits/ 1 HR/ 13 rbi/ 8 doubles/ 4 triples/ 5 bb/ 14 k's. There is so much to like here. He's a true lead-off hitting prospect and is flat out dealing.
Dominican Jhonny Severino, in the designated hitter spot in the lineup and batting just behind the red hot Lara in the two-hole, also went 3-for-4 for the game. He hit his sixth double and knocked in his 13th rbi (it's nice batting behind the young Lara!). On the season, Severino is now hitting to the tune of a 0.309 BA himself with a 0.385 OBP and a 0.856 OPS with 23 k's to 7 walks. He has also successfully stolen all five of his attempts.
This production is obviously quite nice, but, what I notice most beyond these appealing numbers and outputs is: 17 years of age, 6'3" 185 pounds. That's a considerable frame for the young man. For example, highly touted Mudcats shortstop Eduardo Garcia is listed an inch shorter and 25 pounds lighter. Make of that what you will. I'll say: he's definitively on my radar. It seems like just yesterday:
Also of Note: 18-year-old 1B/3B/DH (to date - as you'll find with many of the young DSL players they play all over and often don't even play their listed position ? LOTS to track and, hey, young players evolve!) switch-hitting Dominican Arnys Rodriguez continues to deserve mention. Hitting in the fifth spot in the batting order, and once again playing first base (he has played primarily first base with 13 total games at the position), he managed to knock in a run (his 10th rbi of the young season); plate a run himself; and take a free base in a 1-for-3 day at the plate.
Rodriguez now sports a 0.293 BA/ 0.455 OBP/ 0.894 OPS. Perhaps the most interesting stat is a 1:1 K:BB ratio at 13 apiece. This is very noteworthy. We have a switch-hitting 1B/3B/DH young man with a 1:1 K:BB ratio showing out early - a mere 41 AB's, mind you. I'll be paying attention. You may or may not recall, but Rodriguez was signed in the same class as Hedbert Perez, Jeferson Quero, and Jheremy Vargas back in the summer of 2019. It's always fascinating to witness and follow their journeys from afar. 
Back to the pitching side of things, let's go for a little deep dive into young Venezuelan lefty hurler Osbriel Mogollon. Mogollon is a young 18 years old having just celebrated his new year in early April. The sample size is extremely small - five games, three starts, 15 innings pitched - but what in the heck do we do this for anyway? To calm our enthusiasms?! No way. Not on this Minor League bard's watch.
Signed for a mere $10,000 from the International Bonus Pool money pot, I'd say this is the current 'best value' proposition of the entire 2022 group. As our very own @CheeseheadInQC has opined (see HERE), there are other value candidates but the point stands: very good results early. After today's five complete innings pitched (0 hits, 1 BB, 8 K's), he is showing an overall stat line of: 15 IP, 25 K's, 9 BB's, 1.20 ERA, 0.93 WHIP, 2 HB. He's staying relatively clean and in just his third start he went his longest with the least amount of damage. Trending. Improving. Exciting us all.
DSL Brewers #2 4, DSL Cubs Red 3
Box Score/Game Log
Following the delayed live feed early, it felt like a game that could easily have gotten away. The Cubs Red had scored single runs in each of the first three innings. Trailing 3-0, then, in the bottom half of the fourth, the Brewers 2 grabbed some opportune luck on behalf of the Cubs sloppiness and took advantage - all four runs were scored unearned.
It started with a one-out throwing error giving the Brewers 2 a free runner. The next batter, red hot Brayan Oropeza , was bean balled. Suddenly, there were two runners aboard. Toss in a wild pitch on the very next toss and, well, now runners had reached second and third. Edgardo Reyes grounded out to third scoring Francisco Nina from third. The score was 1-3, with two outs, and Oropeza standing on second base. How about a passed ball to throw atop the wild pitch appetizer? Oropeza took third base. Still two down. On the 1-0 count Mendy Ferreira ripped a line drive double (his second of the year) to center field moving the deficit to 2-3.
How about another wild pitch? Ferreira was suddenly on third. With Demetrio Nadal at the dish, and the 1-0 count, he hit an infield single to the third base side and, lo and behold, advanced due to the second throwing error for the Cubs Red. With the score 3-3, and the Cubs Red mercifully changing pitchers for the next at bat, Donis Rodriguez ripped a line drive single to left field and the Brewers took their lead 4-3 (and the victory) before flying out to end the inning. This being said, a team must still take advantage of the opportunities like a 3-for-6 performance with RISP. Not a lot of opportunities whatsoever but incredible production with limited chance.
Continuing the theme of highlighting three noteworthy players, let's look to performances from outfielder Ferreira and RHP's Nelson Cuevas and Stanley Encarnacion:
Ferreira had an inauspicious 2021 season in the DSL and, honestly, the 19-year-old Dominican hasn't gotten off to a noticeable start. BUT, in a game filled with four unearned runs and a mere five DSL Brewers 2 hits, he had two of them in a 2-for-3 afternoon. He hit his second double and knocked across his eighth rbi (with two outs, no less). Hopefully, he can build on a game like this.
This is the third straight year for the 21-year-old Cuevas in the Brewers DSL system. His overall numbers speak to a kind of 'with familiarity breeds comfort' type of situation. But, honestly, what do I know? His strike % is up, his pitches per AB are down, and he now has three saves (after today). These are all great things. If we're being totally honest, however, not a lot jumps off the page. We celebrate him today, regardless, as he grabbed his third save with an unblemished seventh inning securing the improbably victory. That alone is worth recognition, and we absolutely hope he builds greater things from here.
There's a little more to look at when we look to Encarnacion. He's a year younger than Nelson and we see considerable improvement across his three seasons in the system. To date, in 2022, we see a 13k:3bb ratio over 9 2/3 innings of relief work (8 hits, 1 HB). Batters are hitting a pedestrian 0.222 against him and his WHIP is a respectable 1.14. All of these are improvements over 2021. He gave the Brewers 2 2.0 scoreless innings of 2 walk and 2 strikeout ball today. I'll be tracking in the days ahead. 
Tracking the DSL Brewers Divisional Standing at Present: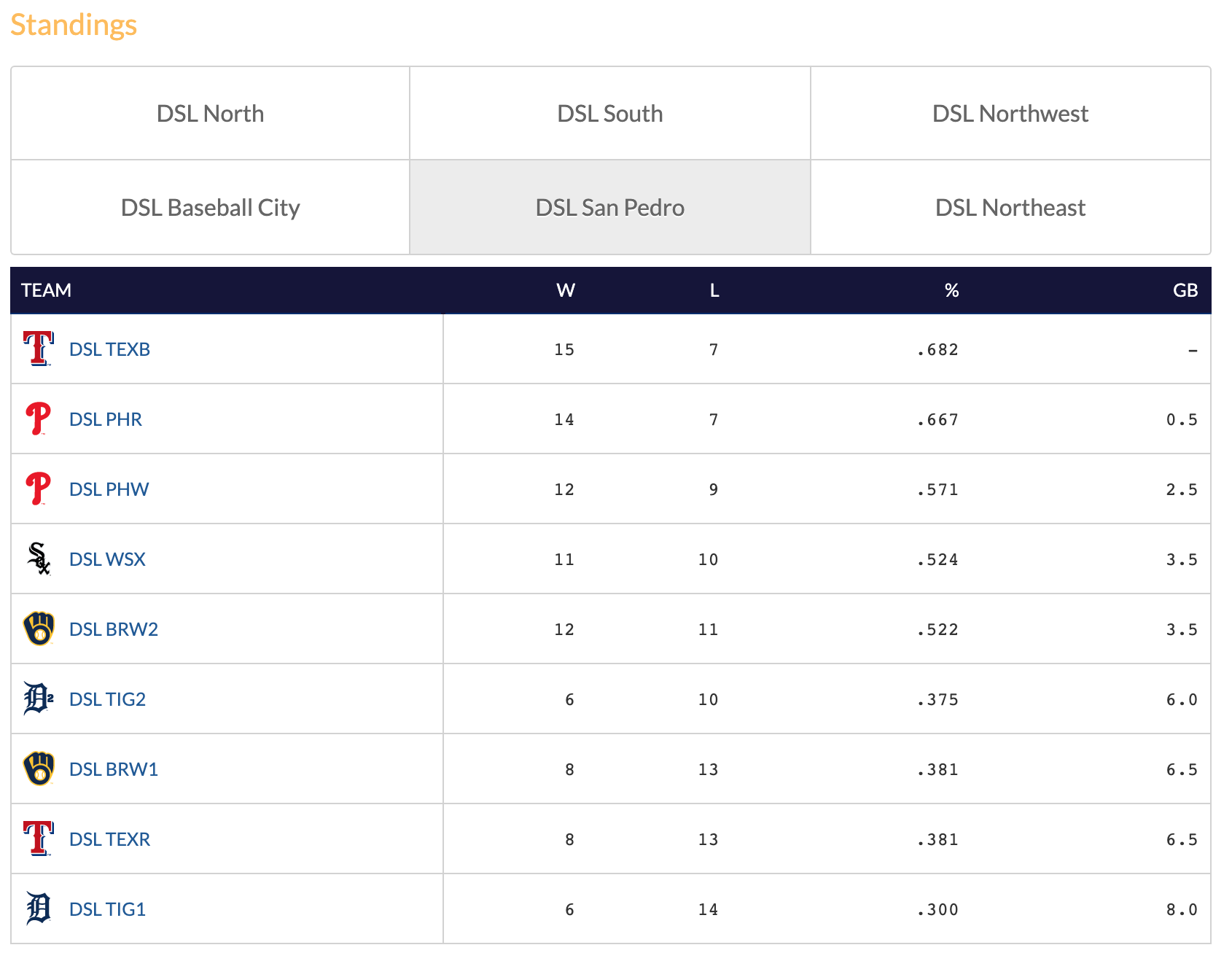 ACL Brewers Gold 7, ACL Athletics 6
Box Score/Game Log
In a wild n' wooly late game that included nine runs in the final inning, the Brewers Gold managed to score the last five. It was tied at two after six and it seemed like a pitching battle was in store and the runs would be hard to come by. Not so fast!
Trailing 2-0 in that bottom half of the sixth inning, it was a Jesus Parra 's two-out, two-run, game-tying home run (his second of the year) that scored DH Gregory Barrios who had singled earlier with one down. Parra had two RBI's on the evening when all was said and done. Trailing by four runs in the seventh - after 20-year-old RHP Phili Silverio hit a batter, gave up a two-run single, and then a solo home run and ultimately was replaced by RHP Trevor Tietz who gave up a solo shot to his first batter...gulp - the Brewers Gold looked to start a rally.
With one down, it was a classic situation where the moment seemed to get away from the Athletics pitchers. The rally included a couple singles, a couple walks, a balk for good measure, and then a game-winning single off the bat of 3B Branlyn Jaraba (3-for-4, first double, game-winning rbi). 
Special mention will go to the combined work of 19-year-old Venezuelan RHP Yorman Galindez (4 2/3 IP, 5 hits, 2 BB, 1 earned run, 6 K's) and 20-year-old Columbian RHP Fray Morelo (1/3 IP, 1 K). Fray came on after Yorman had walked two men on and shut that threat down with a three-pitch mow him down strikeout. 
Offensively, the reigning offensive player of the month, Castillo, had a fairly noteworthy 0-for-2 line with two walks and an RBI. The aforementioned Jaraba and his 3-for-4 outing are noteworthy. And 19-year-old Venezuelan 2B Jose Caballero is catching the eye with his 7:7 BB:K ratio and 4-for-4 stolen bases - he went 2-for-3 with a run tonight as well.

ACL Reds 9, ACL Brewers Blue 5 
Box Score/Game Log
The ACL Reds came into this contest atop the standings and they won another to stay in ACL pole position at 16-6 overall. The ACL Brewers Blue gave it a good effort and, ultimately, finished even in the hit department - nine hits apiece. This was a contest, but the Reds led throughout as they struck early with a three-spot. The Brewers Blue simply couldn't recover.
At first glance, one would surmise the Reds' six stolen bases had something to say in the final score as neither team was particularly effective with RISP: Brewers Blue 4-for-14/Reds 6-for-19. Given the six Reds stolen bases, a fielding and throwing error, one might gather young 18-year-old catcher Darlin Lora had a rough game. This is simply a guess, however - there is no MiLB.TV review so we'll have to see what happens over time.
Sticking to the Brewers Blue side of things, there was clear productivity up and down the line-up:

That's an impactful evening at the dish as there is production 1-through-7 in that line-up. They simply lacked the one or two opportune knocks to take the lead.
Moving to the pitching side of things, we'll note 19-year-old and 6'6" two-way playing (RHP) Quinton Low and his continued effectiveness on the mound (1 IP, 1 BB, 1 K, still 0.00 era) and 19-year-old Venezuelan RHP Jose Chavez ' scoreless inning of work (1 IP, 1K, 0 hits, 0 BB).
Here's hoping for better overall results next time out. Keep grinding and the improvements and results will come.
Finally, a quick glance at the ACL Standings: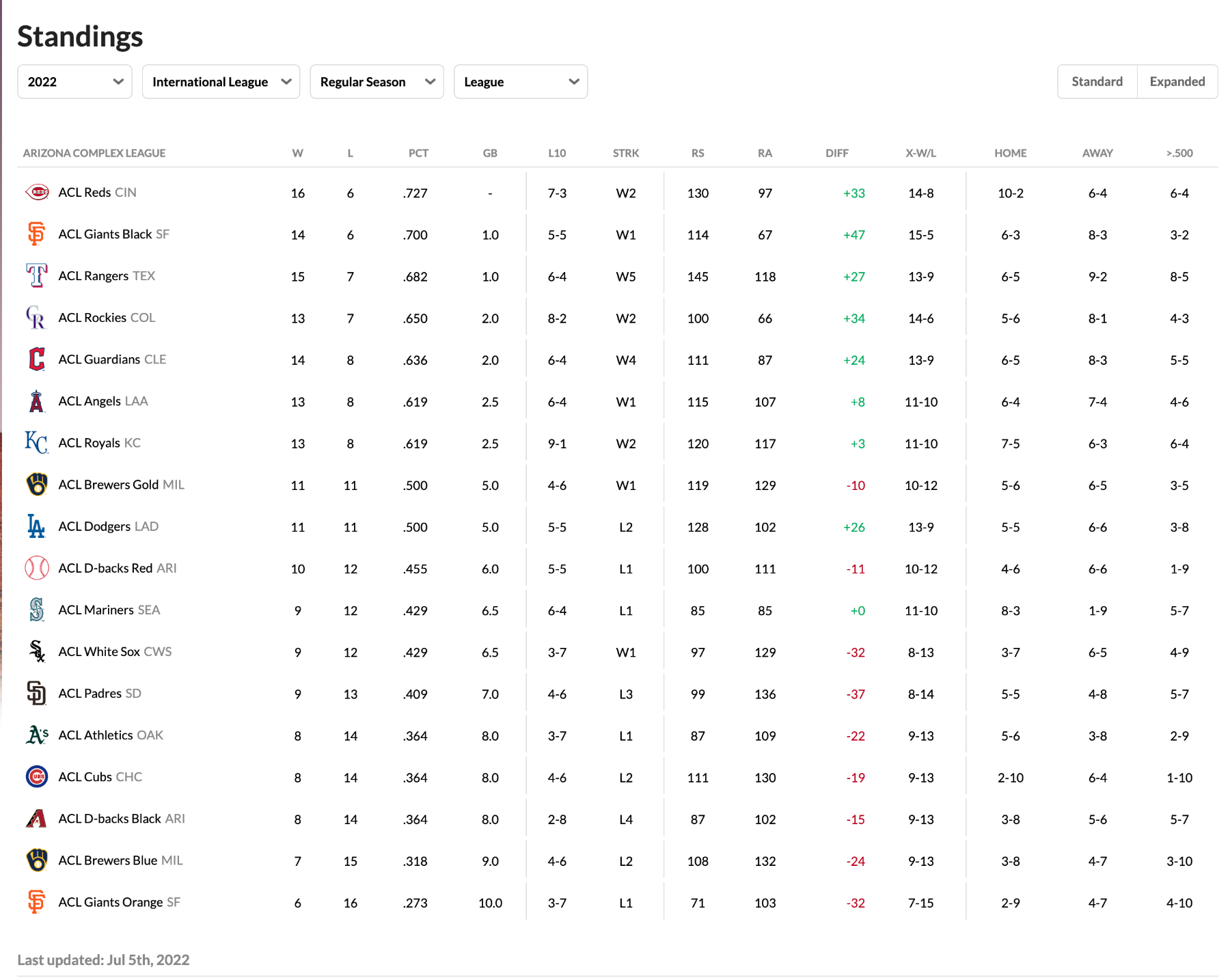 Keep in mind, as noted by our own @sveumrules and @CheeseheadInQC (HERE - Bottom of page) the ACL Brewers appear to have the youngest team in the entire Complex League. Given this, and given several fantastic seasons happening across both squads, it is fairly easy to see there is plenty of talent amongst the teams. The season is still young, mind you, and either team could still go on a run.
***
At publish time, we know we have RHP Israel Puello looking to build on a fantastic High-A debut in South Bend and RHP Dylan File looking to regain steadier form for the Nashville Sounds at Columbus for Game 2 versus the Cleveland Guardians' second place affiliate. The remaining match-ups are to be determined so stay tuned as the day progresses - all games will take place in the evening. Thank you for reading today's DSL and ACL report - the ACL and DSL Brewers affiliates will have the day off Wednesday.
Organizational Scoreboard including starting pitcher info, game times, MiLB TV links, and box scores

Standings and sortable stat pages

Current Milwaukee Brewers Organization Batting Stats and Depth

Current Milwaukee Brewers Organization Pitching Stats and Depth
Think you could write a story like this? Brewer Fanatic wants you to develop your voice, find an audience, and we'll pay you to do it. Just fill out this form.
MORE FROM BREWER FANATIC
— Latest Brewers coverage from our writers
— Recent Brewers discussion in our forums
— Follow Brewer Fanatic via Twitter, Facebook or email