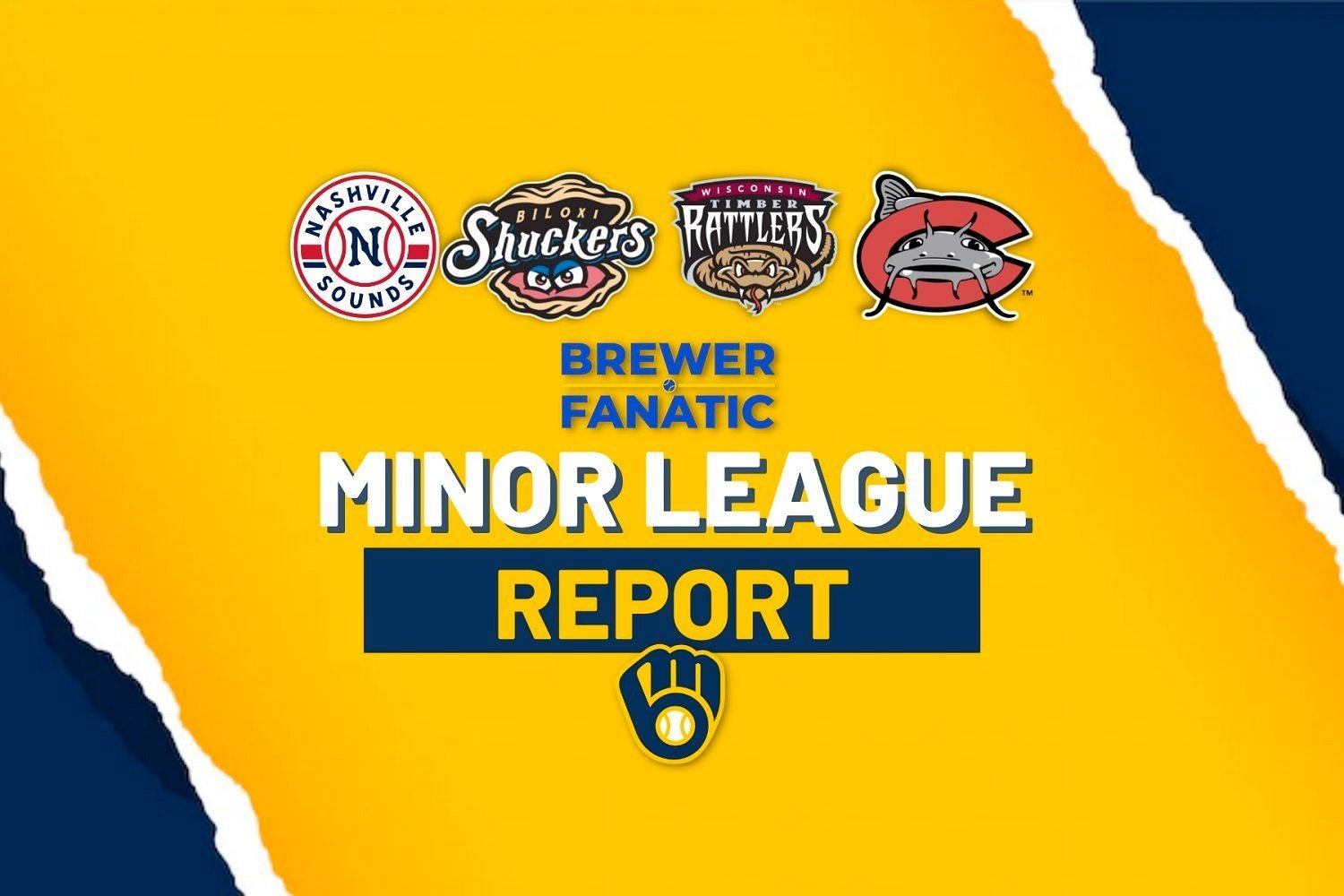 Image courtesy of BrewerFanatic
Transactions: None
---
Final: Nashville 4, Memphis (Cardinals) 1
Via the Sounds' site, game details, and we encourage readers to review each of the affiliate write-ups as part of your Link Report routine:
Tyler Herb Deals Sounds to Another Win - Right-hander fires season-high eight innings at First Horizon Park
Pre-Game Media Notes / Box Score / Game Log

Is it possible the Brewers work out a 2023 contract with RHP Tyler Herb for his age 31 season? Sure, and one would think Nashville is a welcome spot for anyone at the AAA level - don't overlook that when luring each season's incoming minor league free agent crop. Let's not oversell Herb's 2022 AAA efforts - he does have a .294 batting average against and scattered seven hits and an HBP here - but with no walks Saturday, he now is posting a 4-to-1 K-to-BB ratio. Managers tend to like that.

With Esteury Ruiz ' call-up, the Sounds have only one non-catcher bench player. On this night, that was INF Andruw Monasterio getting the night off with Sal Frelick resting his legs a bit in the DH spot. Sal also played some early-game pinball -
Brice Turang is so smooth -
When the AAA affiliate is 29 games over .500, as they are today, it's likely we're going to want to see several of the contributors back regardless of their free agent status. Add 29-year-old Hobie Harris and his 1.72 ERA / 1.11 WHIP to the list. That being said, it's a two-way conversation and Mr. Harris is going to have offers to choose from.
Turang on base four times, Frelick thrice -- my goodness, they are dynamic.
---
Final: Rocket City (Angels) 8, Biloxi 0
Biloxi No-Hit by Rocket City - First Time in Franchise History Biloxi Has Been No Hit
Pre-Game Media Notes / Box Score / Game Log

While that game summary you just read was workmanlike, let's face it, the perspective is going to be more interesting from the other side of the glass, and we can all appreciate when history was made. MiLB.com's feature story adds more juice to the evening, even as Brewers fans may not be thrilled.
Despite being drafted in 2021 (and 11th round at that), Chase Silseth actually has already made seven big league starts earlier this season (6.59 ERA, somewhat understandable). All three Trash Pandas pitchers on this night were from that draft class, which was memorable because the Angels used all 20 draft picks on pitchers. If you wish to see bats flailing, there's this video.
Trying to be creative, but I have no guesses on what the three words may have been. Ump show.
Felix Valerio was back at a more familiar second base after patrolling center field Friday night.
With Wes Clarke behind the dish, three of the four bench bats were also catchers - Brent Diaz, Nick Kahle, and Jason Lopez. All four backstops are scheduled to return in 2023, the Brewers do love those warm bodies behind the plate (and for all those spring training bullpens).
---
Final: Wisconsin 4, Peoria (Cardinals) 1
Rodríguez Perfect in Wisconsin's 4-1 Win - Rattler righty records nine strikeouts over six perfect innings
Pre-Game Media Notes / Box Score / Game Log
Video is embedded in Chris Mehring's fine game summary, but for those of you who are click-averse for some reason (too early on a Sunday morning?), here you go -
Refresher - Carlos Rodriguez doesn't turn 21 until three days after Thanksgiving. Though a native of Nicaragua, he was not an international signee, but a 2021 draft pick out of Florida Southwestern State JC. Perhaps based on his 2021 workload, Rodriguez didn't debut until this season. Here are the 2021 draft day scouting reports we linked to upon his selection. Carlos certainly is a viable choice for 2022 Brewers Organizational Pitcher of the Year, and his breakout within a debut campaign is fantastic for the organization.
Ump show #2 on this night? MiLB.TV subscribers, not much to see, but go to the 01:27:00 hour/minute mark in the third inning here. Speedster
Arbert Cipion squibbed a ball to short, and the Peoria shortstop made one heck of a play. Called out, Cipion flashed the safe sign as he crossed the bag. Cipion must have said something, as he was ejected, though we don't see the dramatics of it all. First base coach Liu Rodriguez had a distanced discussion with the umpire, but it must have been the same three words for Cipion that Justin Jarvis used with Biloxi.
Jackson Chourio was 1-for-5, three K's as the DH, Jeferson Quero 2-for-3, three RBI, one K whil manning the plate.
How many close games have the Timber Rattlers been involved in? Well, Cam Robinson, since twice-promoted, and James Meeker, have combined for 34 T-Rat saves in 2022
03:07:00 hour/minute mark, again here for subscribers. Third baseman Ben Metzinger, already with a two-hit night, is drilled on a high fastball and spends the next couple of minutes crouched over while being attended to. Seemed to hit the left forearm (perhaps, inconclusive) but the right-handed hitting Metzinger would stay in the game. He would, however, be replaced in the field for the 9th inning immediately thereafter. Hopefully OK, maybe a day off Sunday to take advantage of Monday off.
---
Final: Carolina 8, Columbia (Royals) 7
Jaraba and Castillo Homer in Tense 8-7 Victory 
Pre-Game Media Notes / Box Score / Game Log
Overlooking the unwanted late-inning dramatics, it was a nice four-inning start for 21-year-old 2022 11th round RHP Cameron Wagoner our of Eastern Michigan. It was his 2nd appearance and first start for the Muddies, and he's yet to give up a run in eight innings, fanning ten and walking just one.
Spreading the love - a box score that each player in the Carolina lineup can appreciate. Double and single for 1st round SS Eric Brown, Jr.
As Voice of the Mudcats Greg Young, Jr. notes - "Despite the victory, Carolina's elimination number fell to three with only seven games remaining." Darn, the Mudcats may very well finish in second place in both the first and second half standings.
---
To the delight of the Timber Rattlers' traveling party, Peoria scheduled a Sunday night game for their home finale, sigh. Thanks for reading and have a heck of a Sunday, everyone. 
*There seems to be a technical issue with the normal link we provide for standings and sortable stat pages. We'll look to rectify soon.
Organizational Scoreboard including starting pitcher info, game times, MiLB TV links, and box scores
Current Milwaukee Brewers Organization Batting Stats and Depth

Current Milwaukee Brewers Organization Pitching Stats and Depth
Think you could write a story like this? Brewer Fanatic wants you to develop your voice, find an audience, and we'll pay you to do it. Just fill out this form.
MORE FROM BREWER FANATIC
— Latest Brewers coverage from our writers
— Recent Brewers discussion in our forums
— Follow Brewer Fanatic via Twitter, Facebook or email