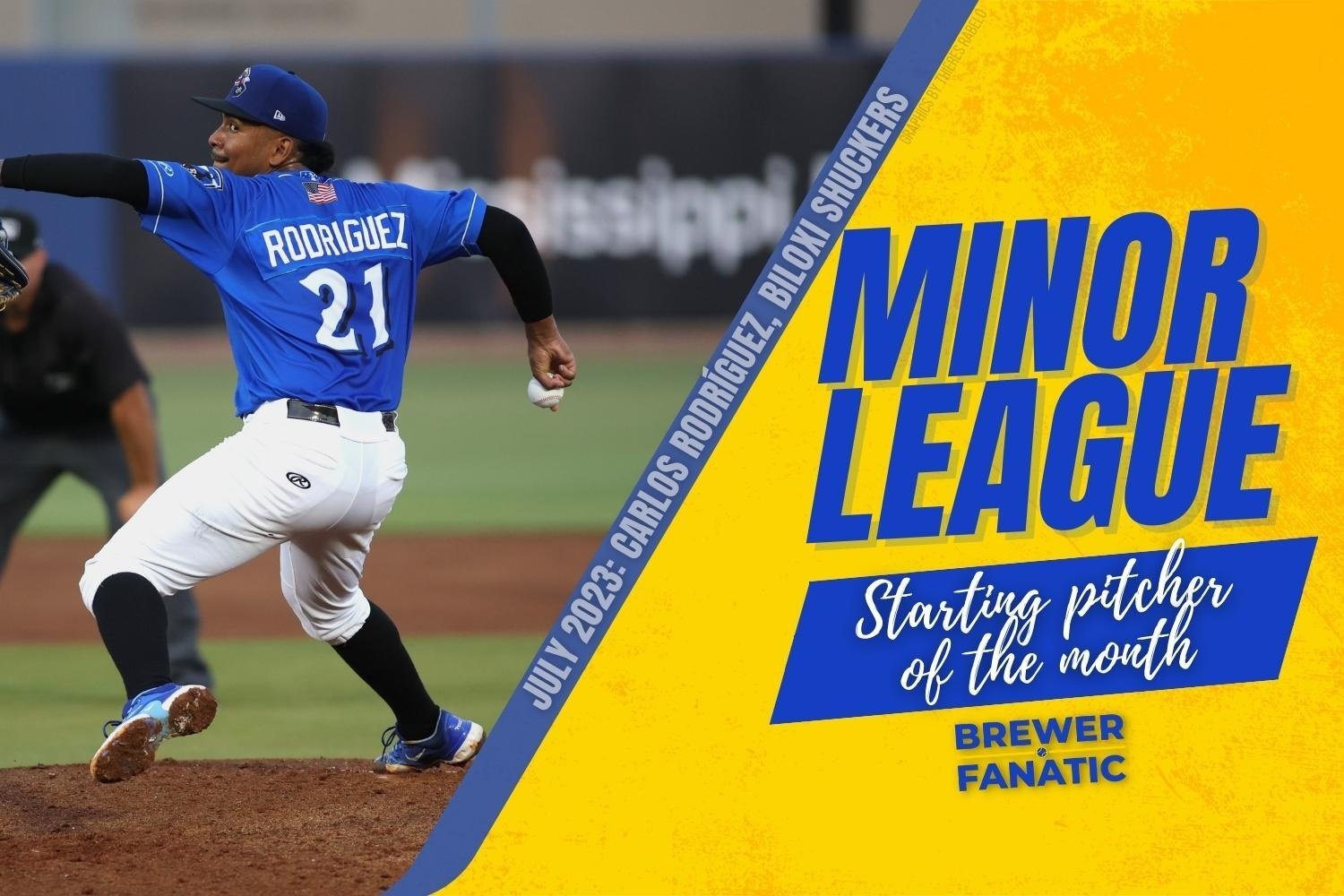 Image courtesy of Biloxi Shuckers
While the offense had a bevy of hitters to choose from for their article, the starting pitcher options were a bit more limited this month. We will take a look at the top four starters in the month of July, but first we begin with our lone honorable mention.
Honorable Mention
LHP - Anthony Flores - DSL Brewers 2 - 4 G, 4 GS, 18.2 IP, 1-0, 1.93 ERA, 2.80 FIP, 0.91 WHIP, 10 H , 7 BB,  24 K.
TOP FOUR STARTING PITCHERS OF JULY

#4 RHP - Enniel Cortez - DSL Brewers 1 - 4 G, 2 GS, 15.0 IP, 2-0, 0.00 ERA, 2.42 FIP, 0.73 WHIP, 8 H , 3 BB,  17 K.
Unranked by all publications

Signed by the Brewers in this past international signing class, Cortez has posted some eye opening numbers in his short professional career. Through his first two months his ERA is 1.34 and he's striking out nearly eight times as many batters as he's walking. He has touched 94 MPH as a 17 year old, though it's safe to assume he sits more in the 89-91 range regularly. His curveball seems to be his best secondary presently, though he does also have some feel for a changeup. It could be a strong three pitch mix, though his fastball velocity likely doesn't have too much more room for development as he is pretty filled out for somebody his age. His delivery is pretty smooth, and the delivery and stuff both look somewhat similar to Yovani Gallardo at first glance.
In July, Cortez did not allow a single earned run, and he only allowed one unearned run. He limited baserunners at a very high level and struck out over ten per nine innings while keeping walks to a minimum and avoiding the hit by pitch entirely as well. His best appearance was probably his final one in July when he went five complete innings and struck out six batters.
Dominican Summer League results are always hard to get a read on, but Cortez is hitting all the thresholds you'd be hoping for. He limits free passes, he strikes batters out and he's avoiding giving up runs extremely well. He could be one we see in Carolina at some point next season. 
#3 RHP - Alexander Cornielle - Wisconsin Timber Rattlers - 4 G, 3 GS, 17.1 IP, 0-0, 2.08 ERA, 2.84 FIP, 1.10 WHIP, 12 H, 7 BB, 19 K.
Unranked by all publications

Cornielle was signed by the Brewers in the 2019 International signing class and has moved quickly through the system, making it all the way to High-A last season. He has spent all of 2023 with the Timber Rattlers, though he did not get off to a very good start and he lost a lot of the prospect helium that he had created with his performance last year. He seemed to figure some things out this past month. 
Cornielle's profile resembles that of Freddy Peralta's. He doesn't throw the hardest, sitting mainly in the low-90's, but he still shows an ability to get a lot of swing and miss, particularly with elevated fastballs. The fastball shape does differ from Peralta's, Cornielle gets a decent amount of run on his fastball while Freddy's primary fastball is a bit straighter. Cornielle seems to generate good extension which helps him replicate the "disappearing fastball" that Freddy is known for.
This month, Cornielle looked a lot more like the guy we saw last season. He had struggled to strike batters out this year, but he was able to punch out over ten per nine in July. He did a decent job limiting walks as well, though he will need to continue to improve in that regard. His longest (and best) outing of the month was actually the one time he came out of the bullpen. On the 27th, Cornielle came on in relief and tossed five innings with zero earned runs, striking out seven and only allowing two hits to go along with one walk. Hopefully he will be able to carry that outing and a strong month overall into a big finish the last two months of the season.
Though Cornielle has been pushed at times during his career, it seems unlikely that he will be advancing beyond High-A this year. A strong finish could allow him to begin in Double-A next season though.
#2 RHP - Logan Henderson - Carolina Mudcats - 5 G, 5 GS, 25.0 IP, 2-0, 2.16 ERA, 3.52 FIP, 0.68 WHIP, 11 H, 6 BB, 32 K.
Both the number two and the number one pitchers on this month's list were Junior College selections in the 2021 draft. Henderson was the Brewers fourth round selection that year, out of McLennan Community College in Texas. He was committed to Texas A&M at that point but chose to sign with the Brewers. His first year and a half after signing he was extremely injury plagued. He had only thrown 15.2 professional innings before this season. He's had good results the majority of this season, but he was being built up and his lack of innings kept him off of the previous Pitcher of the Month lists. 
Equipped with a low 90's fastball coming out of McLennan, he has raised his average velocity to a little closer to 93 and has even reached 97 MPH a few times. The fastball plays well up in the zone due to high spin and high spin efficiency. He spins his slider at near 3000 RPM's but at times it seems that he loses the angle/tilt on the pitch and it doesn't actually move much. His best pitch though, is his changeup. You would be hard pressed to find a better changeup in the Brewers system. There are some airbender qualities to it when he's got it going. Much like with Devin Williams, the changeup allows his fastball to play up above the velocity readings. He used all three pitches in unison during the month of July to have his most productive month in professional baseball.
Henderson threw 25 innings this month and went five or more innings in four of his five starts. The other outing was four innings and then he went six innings once as well. That was the first time in his pro career that he worked into the sixth inning. He posted strikeout totals of eight, two, eight, six and 8 in his five starts. The six inning start was his best of the month as he struck out six and only allowed two walks and two hits with one earned run. 
Henderson appears to have reached the threshold where the organization is comfortable letting him pitch deep into games. That would seem to be a good sign that he's ready for High-A Wisconsin. Perhaps his next start will be as a Timber Rattler.
#1 RHP Carlos F. Rodriguez - Biloxi Shuckers - 4 G, 4 GS, 18.1 IP, 2-1, 0.98 ERA, 3.00 FIP, 0.93 WHIP, 10 H , 7 BB, 24 K.
Rodriguez has now made this list in three out of four months, for a little more background on him, check out April's article when he earned the third spot on the list. The Brewer Fanatic #9 prospect had his first down month of 2023 and missed out on the June edition of this article, but he bounced back in a big way in July. 
Only making four starts, Rodriguez appeared to be on a bit more of a pitch limit this month. Despite that, he had three really strong starts and another that he battled through 3 1/3 innings and didn't end up allowing any runs. Despite the Southern League going away from the pre-tacked baseballs, Rodriguez's fastball continued to ride well up in the zone and his changeup was still a plus pitch against lefties. The slider was still his go-to secondary against righties, and he seemed to mix in his slower, loopy curve more this month to keep hitters off balance. He also appeared to be mixing in a sinker more often this month when he had runners on, likely trying to induce more ground balls. Having that sinker in his back pocket could be very helpful for him moving forward. It helped him generate his 
Rodriguez continues to be overlooked by national publications, and it continues to be confusing. He doesn't have plus stuff, but he has above average pitches across the board in a 4-5 pitch mix. As mentioned earlier, they may be beginning to limit his pitches and innings the rest of the season, but a promotion to Triple-A is likely still not out of the question. He's proven more than capable of handling his current level.
Please share your opinions! Who should have made it that didn't? Who made it, but should not have?
Edited by Smichaelis9
1