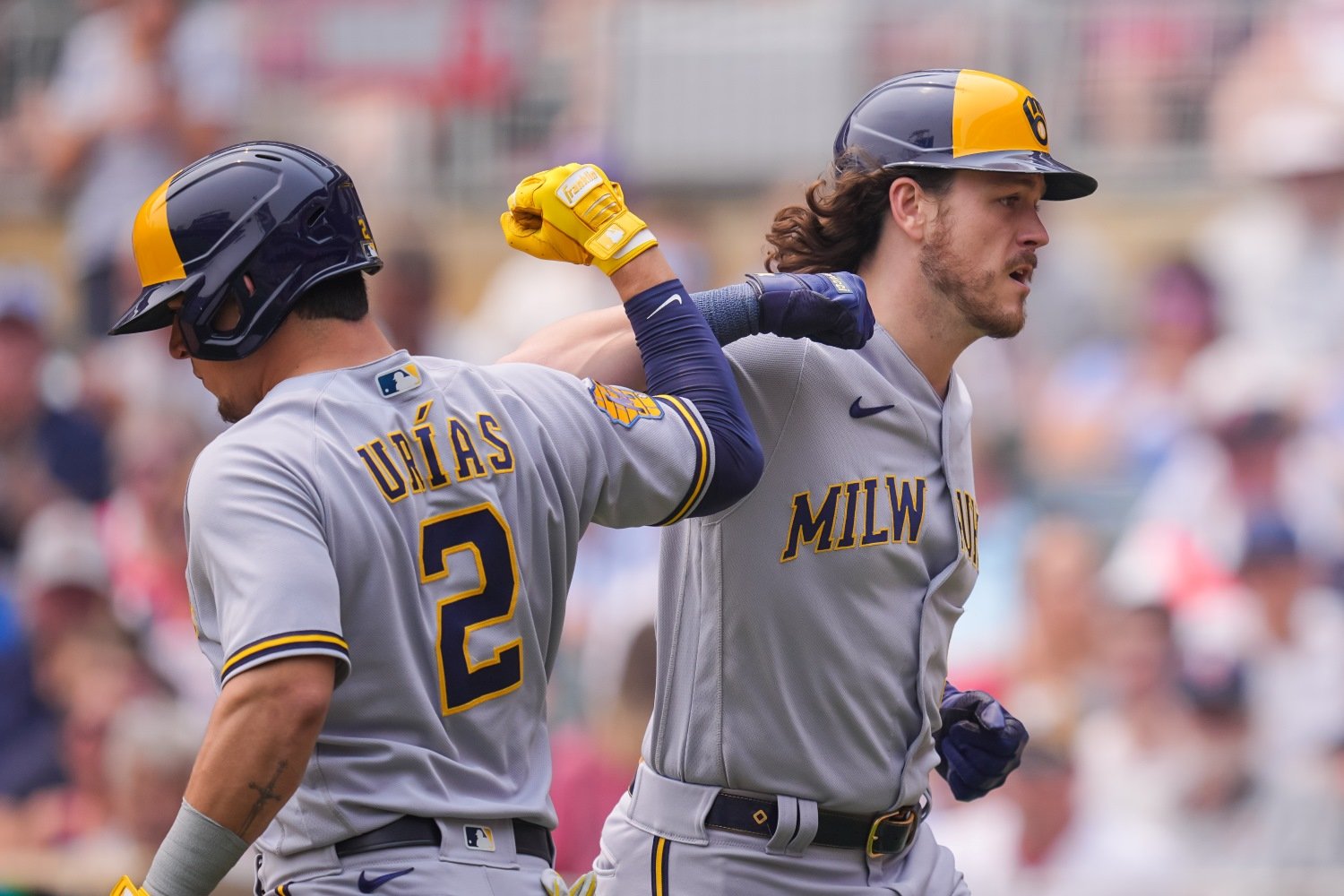 Image courtesy of © Brad Rempel-USA TODAY Sports
Nashville Sounds
A season-long slump following a hamstring injury has Luis Urias now playing third part-time in Nashville (where he also appears at second base), which has seen Abraham Toro become the team's primary third baseman. Andruw Monasterio's promotion to Milwaukee came after he saw limited action at third with the Sounds, but also meant that Cam Devanney has seen much more playing time at shortstop. Patrick Dorrian has primarily played third, and has shown power, but also a lot of strikeouts.
Biloxi Shuckers
Zavier Warren spent a lot more time at first base than third this season, and he's also been in a season-long slump, at least in terms of batting average. That said, the real game-changer has been the massive breakout of Tyler Black, who was already a pure hitter, but who is now flashing serious speed (40+ stolen bases) and power (12 HR as of July 15). This is arguably the biggest 2023 breakout in the Brewers farm system.
Wisconsin Timber Rattlers
Ben Metzinger and Eduardo Garcia have split the vast majority of the starts at third base for Wisconsin. Metzinger's delivered some solid OBP skills and some pop, while Garcia's primary calling card has been defense, but his OBP skills have gone up a level.
Carolina Mudcats
Luke Adams has been the primary third baseman for the Mudcats in 2023, and he's looking like a Three True Outcomes bat with some serious speed. Jadher Areinamo has shown the ability to hit for average for the Mudcats, while Jheremy Vargas is demonstrating a mix of OBP skills and speed. Daniel Guilarte, who has shown himself to be capable of hitting for average, drawing walks, and stealing bases, also saw time at third.
ACL Brewers
Nev Serrano has put up the most starts so far for the ACL Brewers, but the real story may be how draftees Brock Wilken and Mike Boeve split time for the rookie-league team. Juan Baez has also seen time at third base for the ACL Brewers, and he's putting up some monster numbers.
DSL Brewers 1
Gery Holguin has been the primary third baseman for the first of the two teams the Brewers have in the Dominican Summer League, and he's flashing some real offensive punch. Luiyin Alastre has also spent significant time at the hot corner, demonstrating excellent plate discipline (13 BB to 11 K in 78 AB as of July 15) and speed – but can it overcome a .783 fielding percentage?
DSL Brewers 2
Luis Lameda and Demetrio Nadal have split time at the hot corner for the second DSL Brewers squad, but that tandem is proving to be second to none. Nadal has posted a 1.015 OPS as of July 15, adding 12 stolen bases to that total. The switch-hitting Lameda has posted a .387 OBP and walked more than he struck out.
Overview
Black's move, and the pickups of Wilken and Boere in the draft have now given the Brewers incredible depth at the hot corner in their system. That said, some of those who don't get the spotlight, particularly Devanney, Adams, and Nadal, also could be very credible options down the road.