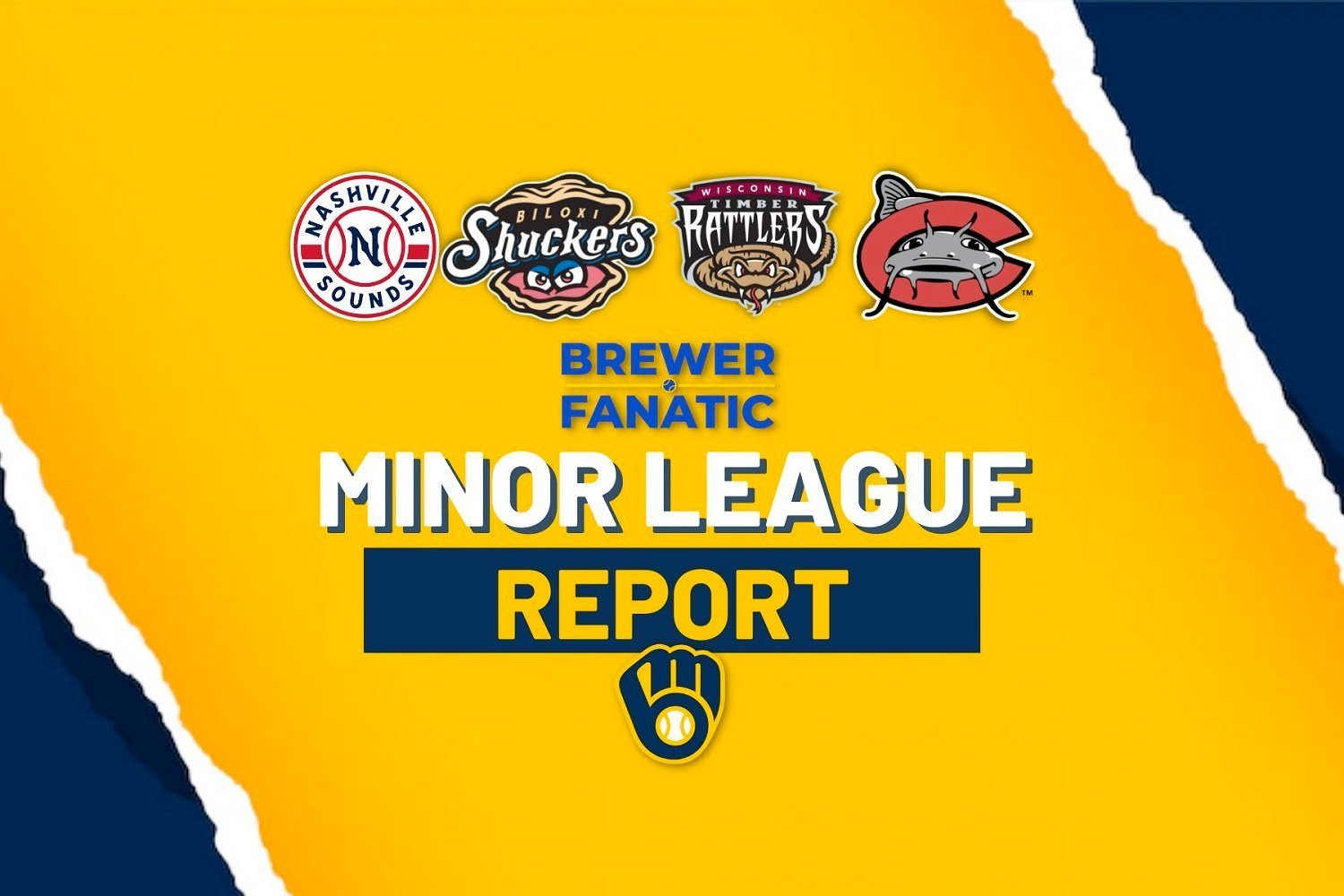 Image courtesy of Brewer Fanatic
I won't lie: rounding out this list is not easy. The most important part of an exercise like this, for me individually, is the realization the Brewers system is in better hands heading into the 2023 season than it was in the past couple of years and the realization I continue to see an abundance of positive qualities in a large pool of Brewers prospects. This is a win. It is cause for celebration. Off the top of my head, I could easily swap 15-20 different names and recreate this list entirely. For me, it gets back to: when all is said and done; the ranking is meaningless to any player's career's overall trajectory or story. These minor league players all have talent and can achieve great things. That said, I will close this out with more Brewers prospects.
16) INF Zavier Warren - Warren is a switch-hitting player baseball managers must love in their clubhouse. This player has a fluid and natural way about him in everything he does on the diamond. He moves effortlessly with good agility, and his swing is consistent. With very little wasted motion and a solid base on both sides of the plate, he can skillfully cover both corners of the baseball diamond, and he rarely makes a defensive mistake. Interestingly, I really began to notice Warren early in the 2022 season when coveted young Shuckers infielder, Felix Valerio, shared he leaned on Warren to help him fine-tune his swing. It would appear there is coaching in Warren's future as well. Despite the early season struggles, despite his ongoing need to cut back on strikeouts, it was and is clear the talent is too pure to ignore. Sure enough, Warren started catching fire. He was promoted to Biloxi after a nine-game hit streak in early August, where he ripped off a 1.075 OPS in 50 ABs. His solid output for the Shuckers led to more work in the AFL, where he continued to acquit himself more than adequately. Warren will start 2023 in the Shuckers infield (and probably, fill in as a DH occasionally) where. He'll look to keep building off a fantastic finish to his 2022 season.
17) LHP Nick Bennett - I think it's fair to consider Bennett's 2022 season, as a whole, a minor disappointment. The consistency wasn't there, and sadly, he got rocked in his lone call-up to Nashville. However, I will focus on what I love about Bennett's pitching arsenal: when he's on and was definitely on from time to time in 2022, he is really good. At 6'4", 215 lbs, this player with a long lefty frame relies on a deceptive and violent delivery that often brings him off the mound and into the grass. He uses a two-seamer (he mixes in a cutter), with a wipeout curveball in any count and a change-up with impact to both righties and lefties. His future calling card might be a bullpen arm, but he's shown enough intrigue to continue getting opportunities as a starting arm. I like to point out that he had three 7 K outings, three 8 K outings, one 9 K outing, and an 11 K outing to end his 24-game season. The innate ability to punch batters out is clearly in his bag of tricks - we just haven't seen that consistent output to get him into more serious conversations.  
18) C/1B/DH Wes Clarke - Graced with one of the better mustaches in the entire system (Zavier Warren politely asks me to sit down), Clarke is a player who grew on me as the 2022 Timber Rattlers season progressed and then grew on me some more when he was promoted to Biloxi. When Joe Ayrault and his staff were facing an unfortunate run of injuries leaving their infield and batting order paper thin, Clarke was a steadying force at first base and in the middle of the batting order - he took the early season slump and tossed it to the curb. I took notice. He most likely isn't going to wow anyone with his athletic prowess, but that's mostly irrelevant, given where he plays in the line-up. The steadiness of Clarke's play; his day-in-day-out reliability; his versatility; and his presence on the diamond and in the clubhouse draws me in. In 2023, I will see if he can carve out more consistency in the batter's box while maintaining his innate ability to drive the ball. I imagine we will see a healthy dose of Clarke throughout Mike Guerrero's line-up cards.
19) C/DH/? Darrien Miller - Miller is a mildly polarizing prospect within our Brewer Fanatic community. Given recent rule changes further favoring base runners, it is likely a reasonable question to ask: given Miller's struggles throwing out runners on the base paths, is it time to consider moving his talents to other parts of the diamond on a part-time basis? Given his young age (he turned 22 on March 10th), it's also entirely sensible to propose he has time to improve his work behind the plate. Regardless, Miller is an exciting prospect and, I would propose, a fairly underrated athlete. With Tyler Black out with injury, Tristan Peters traded to the Giants organization, and Joe Gray Jr. and Eduardo Garcia struggling to step into the lead-off role, Miller drew the assignment against the Cubs on August 10th. He drew three walks, scored two runs, and brought in a runner. In the following game, also against the Cubs, Miller doubled; scored another run; and drew another walk. Do you see what I'm getting at here? He can adjust his approach and delivers when his team needs it most. This is a teammate who instills trust and belief. He ended his season with a 6-for-7 SB line to boot. Given his athletic traits, I would propose that Miller could be a prospect on the heels of a legitimate breakout season in the next few years if he can find a more level swing plane on a more consistent basis. Let's hope it's sooner than later.
20) C Brian Navarreto - Hey, it's another 2021 Minor League free-agent signing who's back in 2023! I love Navarretto's baseball everything. Another player the casual fan typically casts aside as a one-time highly touted prospect who is simply a journeyman - I was likely in this crowd before 2022. If you watch Navarreto consistently, he fills you with love for baseball. He is a defensive dynamo behind the dish. He has a nice size, surprising agility, great pop, and a rifle of an arm. His personality is beyond affable - his smile could light an entire stadium with a fantastic sense of humor. Payton Henry will likely be the Sounds starter, but Navarreto will see meaningful playing time, and I anticipate more great things. There's a distinct reason Sounds manager Rick Sweet opted to go with Navarreto over any other catcher in the Vegas Championships: he's extremely reliable, and he's very talented. What was pretty surprising last season, and what I am even more curious about as the 2023 season approaches, is the timely hits with RISP and a considerably improved season at the plate overall. At age 28 (December birthday), it's fairly apparent that we aren't going to see a miraculous power renaissance. Given the already advanced defensive toolkit, the conversation would start to change if we could continue to see timely and impactful contact. I'm excited to see this young man play in 2023.
Very Honorable Mentions
RHP Robbie Baker, C Brent Diaz, RHP TJ Shook, RHP Tyler Herb, RHP Matt Hardy, 1B/DH Jesus Chirinos, RHP Kent Hasler, INF/OF Noah Campbell, RHP Max Lazar, RHP Edwin Jimenez, C Jose Sibrian, and LHP Jakob Brustoski
As I mentioned above, there are just too many players worthy of mention. Thankfully, our 2023 season is right around the corner, and all these lists can be re-born anew. Feel free to chime in with your comments and thoughts: Who are the undervalued or overlooked players you love? Who did I leave out? It's almost April. Let's enjoy the season ahead.
Think you could write a story like this? Brewer Fanatic wants you to develop your voice, find an audience, and we'll pay you to do it. Just fill out this form.
MORE FROM BREWER FANATIC
— Latest Brewers coverage from our writers
— Recent Brewers discussion in our forums
— Follow Brewer Fanatic via Twitter, Facebook or email