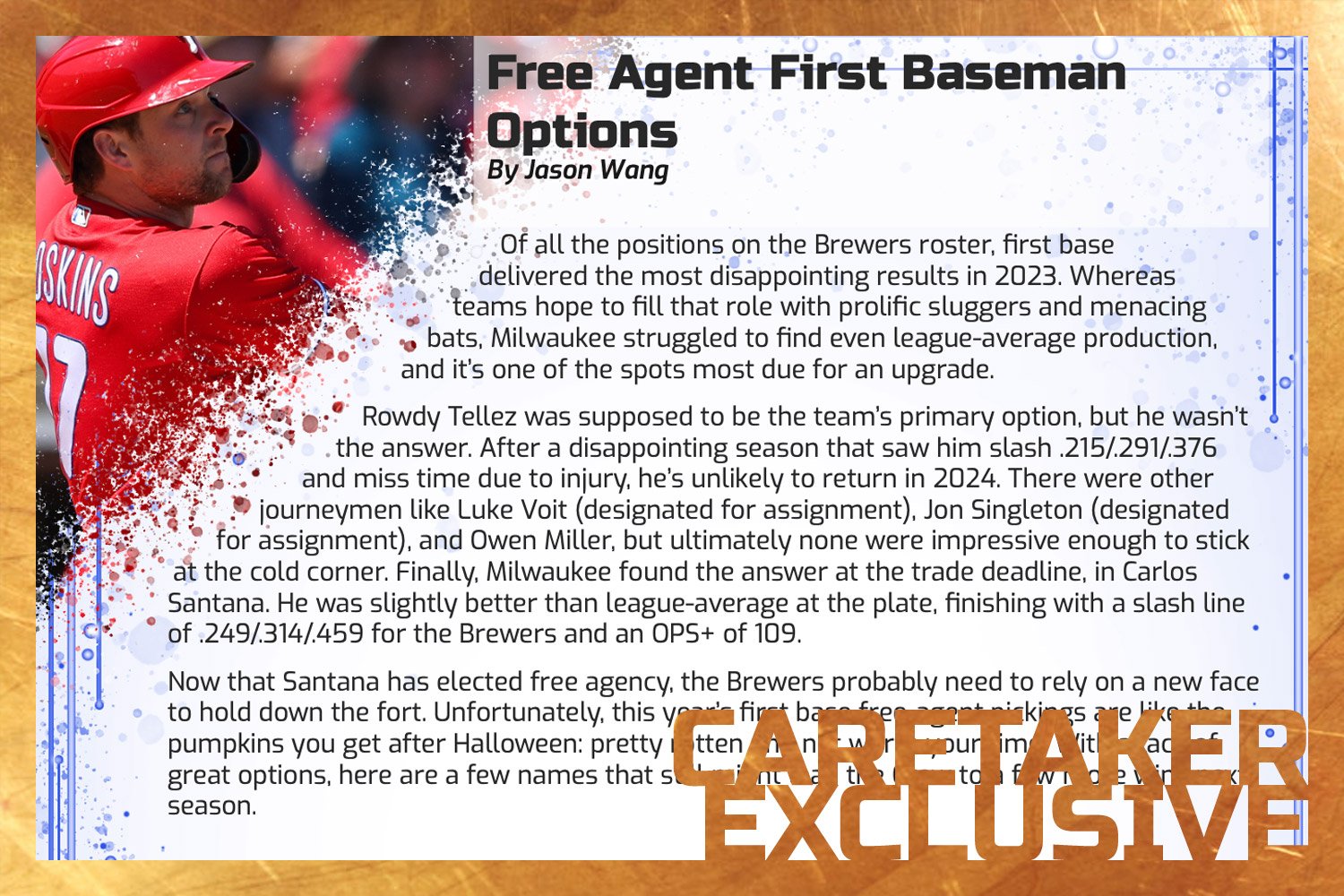 Image courtesy of Brewer Fanatic & Brock Beauchamp
This is an excerpt from the 2024 Brewer Fanatic Offseason Handbook, you can find a link to download the entirety of Week Two of the handbook at the bottom of the article.
This publication is funded by Brewer Fanatic Caretakers and future entries will be available exclusively to Caretakers. During the publish period of the handbook, we are offering 25% off all Caretaker packages using the coupon code HANDBOOK. To become a supporter of Brewer Fanatic, click here.
Another perk of Caretaking is ad-free browsing across all of Brewer Fanatic.
---
Rowdy Tellez was supposed to be the team's primary option, but he wasn't the answer. After a disappointing season that saw him slash .215/.291/.376 and miss time due to injury, he's unlikely to return in 2024. There were other journeymen like Luke Voit (designated for assignment), Jon Singleton (designated for assignment), and Owen Miller, but ultimately none were impressive enough to stick at the cold corner. Finally, Milwaukee found the answer at the trade deadline, in Carlos Santana. He was slightly better than league-average at the plate, finishing with a slash line of .249/.314/.459 for the Brewers and an OPS+ of 109. 
Now that Santana has elected free agency, the Brewers probably need to rely on a new face to hold down the fort. Unfortunately, this year's first base free-agent pickings are like the pumpkins you get after Halloween: pretty rotten and not worth your time. With a lack of great options, here are a few names that still might lead the Crew to a few more wins next season.
Rhys Hoskins - .246/.332/.462 (2022)
Despite not playing at all this past year due to an injury suffered in spring training, Hoskins is one of the most valuable first basemen available. He's relatively young (he'll be 31 when the season starts), has regularly produced above-average offense (career OPS+ of 125) over five years of service time, and isn't extremely expensive.
In 2022, Hoskins was great at the plate, scoring in the top quartile for nearly every Baseball Savant statistic except his strikeout rate (25.1%, 25th percentile), whiff rate (25.7%, 42nd percentile), and expected batting average (xBA, .239, 35th percentile). His annual 25-30 home runs would be a welcome addition to the Brewers, who were 24th in MLB in home runs hit. The only teams lower were the Rockies, Royals, Pirates, Nationals, and Guardians, not exactly elite company.
Regardless of your opinions on whether trading home runs for more strikeouts is a worthy exchange, Hoskins would represent a significant improvement over Tellez (when it comes to average and on-base ability) and Santana (with that power). His exceptional plate discipline and walk rate help compensate for a below-average number of balls in play.
MLB Trade Rumors projected him to net a two-year, $36-million deal, shortened due to uncertainty surrounding his hitting capabilities after missing an entire year. Tearing an ACL is no laughing matter and can have long-term detrimental effects on an individual's ability to generate power or have good timing. Still, if Hoskins can prove himself worthy, his offensive contributions could help him become one of the best bats on the team. 
Two examples of this with different results are Cody Bellinger and Michael Conforto. After an injury-ridden rough patch with the Dodgers over the past few years, Bellinger signed a one-year deal with the Chicago Cubs and rediscovered his old ways, posting his best OPS (.881) since his MVP season in 2019. This will allow him to be in the running for a longer-term, more lucrative deal in his free agency this offseason.
Michael Conforto missed the entirety of the 2022 season with a shoulder injury and upon his return in 2023, signed a two-year, $36 million contract with the San Francisco Giants. With an opt-out after the first year, Conforto decided to stay in San Francisco after a lukewarm season where he posted an OPS of .718. Since Hoskins and Conforto are right around the same age, the time needed to return to peak performance may have the same timeline.
Brandon Belt - .254/.369/.490 (2023)
Belt is by no means a spring chicken; he'll be 36 next April. But boy, he still packs a punch. He was the best hitter on a competitive Blue Jays squad in 2023 and posted the same rWAR as Vladimir Guerrero, Jr. (this is more a knock on Vlad's season, but that's still pretty good!). While he was mostly relegated to serving as a designated hitter, he also accumulated 243 innings at first base...
Think you could write a story like this? Brewer Fanatic wants you to develop your voice, find an audience, and we'll pay you to do it. Just fill out this form.
MORE FROM BREWER FANATIC
— Latest Brewers coverage from our writers
— Recent Brewers discussion in our forums
— Follow Brewer Fanatic via Twitter, Facebook or email