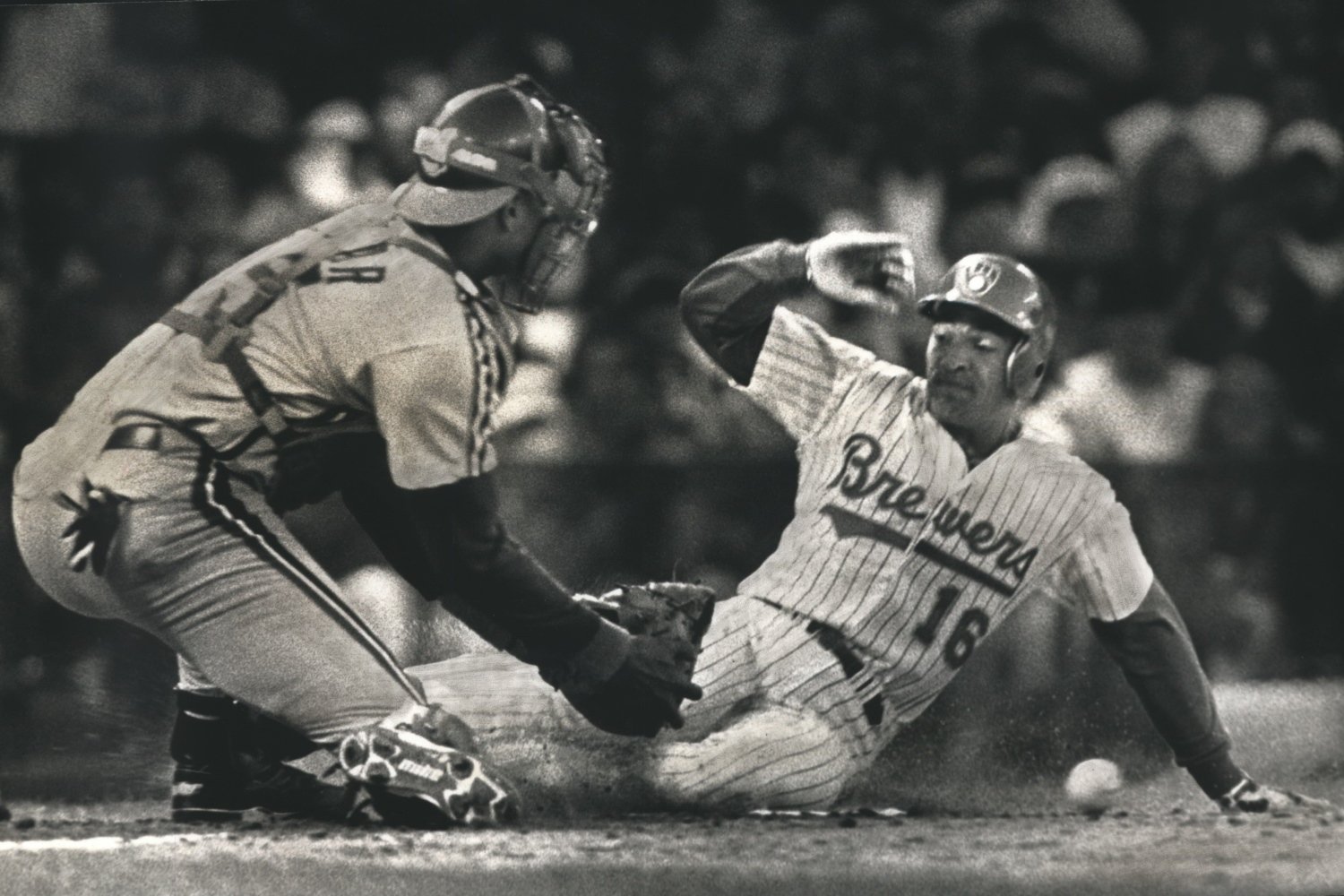 Image courtesy of © Mary Jo Walicki, Milwaukee Journal Sentinel via Imagn Content Services, LLC
Who was that pick? Nomar Garciaparra, who later became a superstar shortstop with the Red Sox, Cubs, Dodgers, and A's. He has 44.3 wins above replacement over his career–a figure exceeding that of the four next-most successful (Bill Wegman, Charlie Moore, Steve Sparks, and Pat Listach) fifth-rounders in Brewers history over their major league careers. If the Crew had signed Nomar, there are a lot of "what-ifs" that go on, from how the team did over the years, to just how some popular SNL sketches with Jimmy Fallon and Rachel Dratch might have changed.
The Brewers couldn't close that deal, though, and are left with a big "what if" for the late 1990s and early 2000s. You never know if the one you let get away would be a Nomar. Every pick can matter.
Not that Wegman, Moore, Sparks, and Listach didn't have their moments during their careers. Moore, drafted in 1971, played 14 seasons with the Brewers, and ranked among the best Brewers catchers of all time.
Wegman was a solid starter for much of his career, but particularly came into his own in 1991 and 1992 after being drafted in 1981. Injuries derailed him, but he was surprisingly adept at keeping the team in games without strikeout stuff.
Steve Sparks had a lengthy career as an inning-eating knuckleball pitcher–spending his first two seasons with Milwaukee before he was let go after an injury-riddled 1997. He led the AL with eight complete games in 2001 with the Tigers. Sparks was a solid pitcher the Brewers could have used during the late 1990s, and therein lies another lesson learned: The pitfalls of cutting bait too soon.
Pat Listach won Rookie of the Year in 1992, then played a few more seasons with the Brewers, serving primarily as a bench asset and utility player after a 1994 injury. Listach was part of the 1996 trade that brought Bob Wickman to Milwaukee before being returned due to a previously undiagnosed foot injury.
Of course, we can't forget Steve Woodard's memorable debut outing against Roger Clemens. Woodard was a solid pitcher for a few seasons, before he and Wickman were part of the trade that brought Richie Sexson to Milwaukee. We know how good Sexson was for the Brewers.
Caleb Gindl was a solid corner outfielder for the Crew in 2013, but only had a cup of coffee in 2014 in the majors. Joey Meyer had a solid rookie season as the primary DH in 1988, but after 1989, he never made the majors again.
Damien Magnifico also made the majors, for a stint with Milwaukee before he was traded for an international bonus slot. Angel Salome, Michael Reed, and Duane Singleton also had cups of coffee in the majors among Brewers fifth-round picks.
It should be noted that, for the most part, the Brewers did learn the lesson from Nomar Garciaparra: Since 1991, they signed every fifth-round pick but one: future NFL safety Jarrad Page. All in all, the Brewers have a lot of good things to point to from the fifth round of the draft–but also some valuable lessons to keep in mind for the future.
Think you could write a story like this? Brewer Fanatic wants you to develop your voice, find an audience, and we'll pay you to do it. Just fill out this form.
MORE FROM BREWER FANATIC
— Latest Brewers coverage from our writers
— Recent Brewers discussion in our forums
— Follow Brewer Fanatic via Twitter, Facebook or email