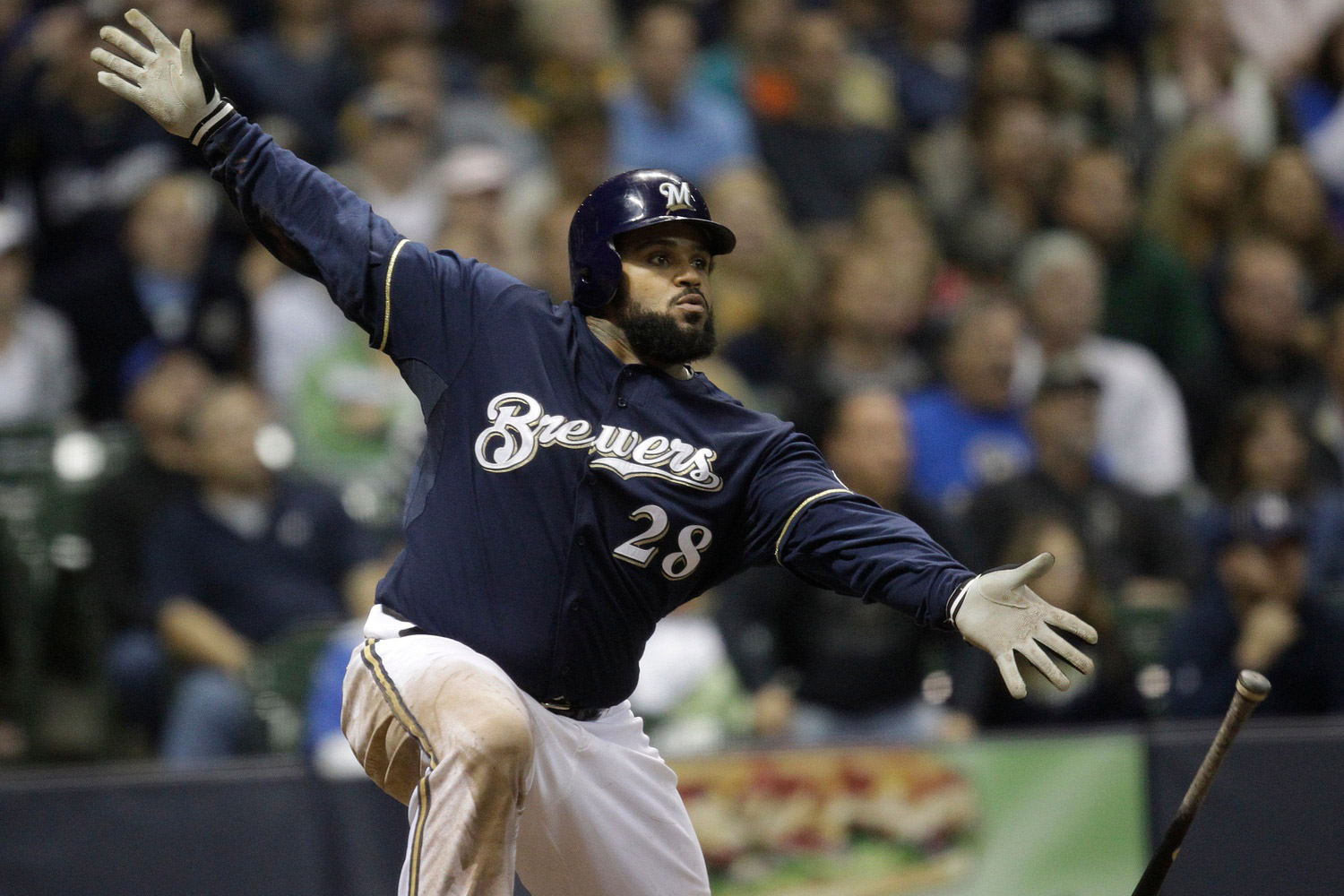 Image courtesy of © Benny Sieu, Milwaukee Journal Sentinel
But which first basemen were the best the Brewers had manning the position? Let's take a look at the top five.
5. Greg Brock
.261/.348/.387 with 39 HR and 243 RBI in 5 seasons
Greg Brock was acquired before the 1987 season for Tim Leary and Tim Crews. That deal wasn't too shabby as Brock was the primary starter for four seasons, and he filled the shoes of Cecil Cooper quite well, walking more than he struck out. He didn't quite provide the power he hoped for, but he didn't do poorly. He was released in the middle of the 1991 season.
4. George Scott
.283/.352/.486 with 115 HR, 463 RBI in 5 seasons
"Boomer" delivered a lot of booms for the Brewers in the early 1970s as the franchise sought its footing, including the AL home run crown in 1975. Acquired in a deal that sent Tommy Harper to Boston, he made one All-Star Game appearance and earned five Gold Gloves with the Brewers. After 1976, he was dealt back to Boston for Cecil Cooper.
3. Cecil Cooper
.302/.339/.470 with 201 HR, 944 RBI in 11 seasons
Cecil Cooper is arguably one of the Brewers' all-time greats. Acquired in the deal that sent George Scott to Boston, all he did was set single-season records for batting average, runs batted in, and OPS at some point in his career. Coop had five All-Star Game appearances, three Silver Sluggers, a Gold Glove, and three top-five MVP finishes, including one in 1982 – and we know who won the award that year.
2. Richie Sexson
.276/.366/.566 with 133 HR and 398 RBI in 3.5 seasons
Richie Sexson was the primary first baseman for only three seasons. Still, what he lacked in longevity, he made up for by twice tying Gorman Thomas for the single-season record in home runs at 45 and coming close to matching Cooper's single-season RBI record twice. After the 2003 season, the Brewers traded Sexson to Arizona, landing six players who later played roles with the team in one form or another.
1. Prince Fielder
.282/.390/.540 with 230 HR and 646 RBI in 6 seasons
The top two single-season home run totals in Brewers history, the top single-season RBI mark in Brewers history. The Brewers' all-time leader in OBP, SLG, and OPS. Prince Fielder held down first base, made two All-Star Game appearances, and had three top-five MVP finishes, including in 2011, when the Brewers made the NLCS. After that year, Fielder left as a free agent and went on to play for five more seasons before a neck injury ended his career.
Honorable Mentions
John Jaha was the primary first baseman for four seasons and delivered some big power numbers, but they could only stay healthy for part of the season. Lyle Overbay was known more for hitting a ton of doubles than for home runs but was well-loved during his two seasons in Milwaukee before Prince Fielder's emergence forced a trade. Eric Thames was the primary first baseman for two of his three seasons in Milwaukee (he divvied up time in the outfield and first in 2018).
Think you could write a story like this? Brewer Fanatic wants you to develop your voice, find an audience, and we'll pay you to do it. Just fill out this form.
MORE FROM BREWER FANATIC
— Latest Brewers coverage from our writers
— Recent Brewers discussion in our forums
— Follow Brewer Fanatic via Twitter, Facebook or email