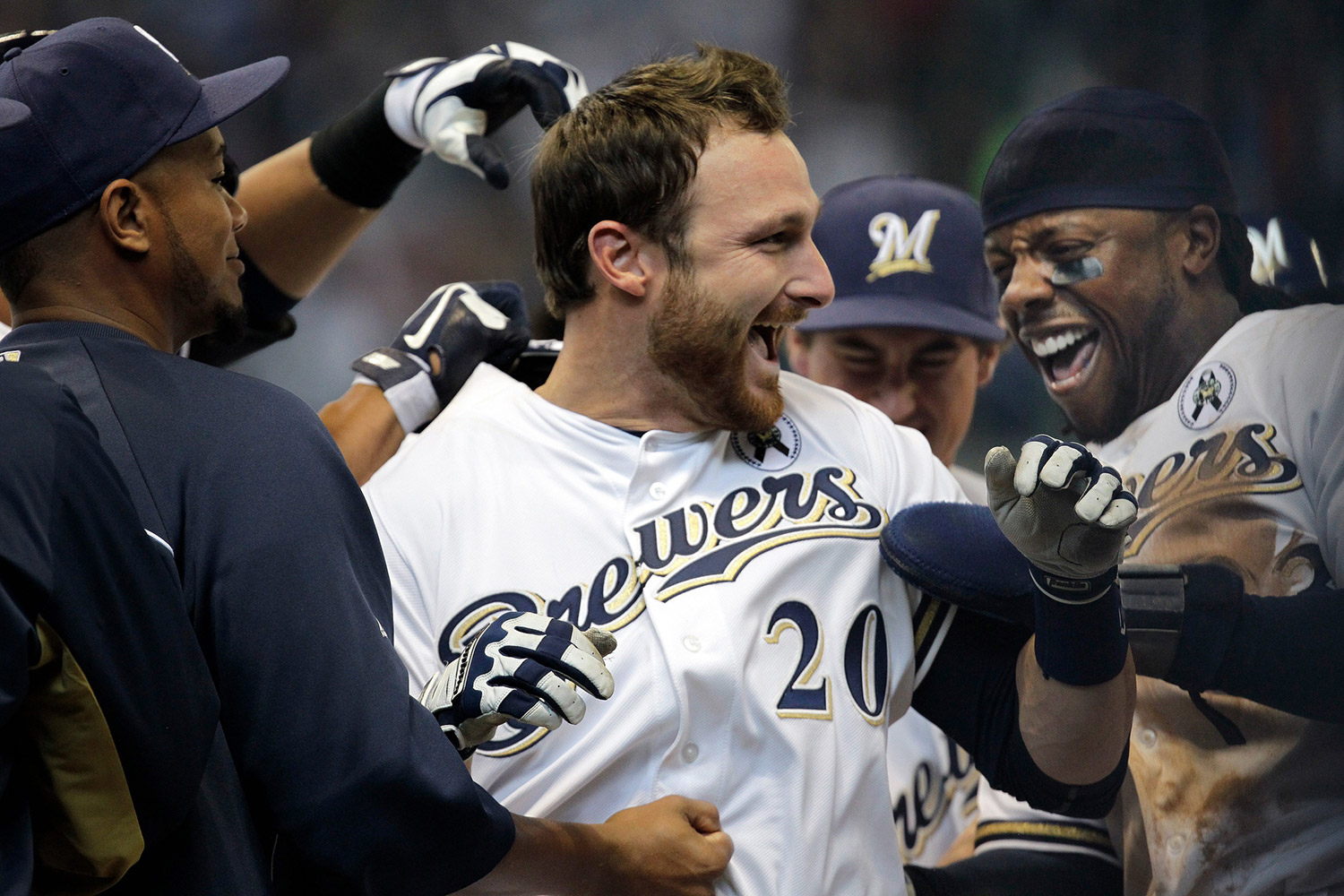 Image courtesy of © Mark Hoffman / Milwaukee Journal Sentinel / USA TODAY
Twenty-three players were primary starters at catcher for the Brewers. Some have been great; others held down the position for a long time and did a solid job.
5. Manny Pina
.245/.315/.414 with 42 HR, 148 RBI in six seasons (2016-2021)
Pina was the primary starter for only two seasons, but he was also a valuable complement to Omar Narvaez and Yasmani Grandal after the 2018 season. Pina took over for Jonathan Lucroy after Lucroy was traded in 2016. He was no black hole on offense and provided solid defense. He later left as a free agent for Atlanta, then was part of the three-team deal in which the Brewers acquired William Contreras. Not too bad for someone acquired as the player to be named later in the K-Rod trade.
4. Charlie Moore
.262/.320/.355 with 36 HR, 408 RBI in 14 seasons (1973-1986)
Moore was the primary starter behind the plate for six seasons but also saw action at multiple other positions (notably, he was the primary right fielder for the 1982 World Series team and the following year) over his 14 seasons with the Brewers. He would have been a valuable bench asset in the National League, pre-universal DH. His offensive production primarily hinged on batting average since he lacked power and didn't take a lot of walks. For the most part, he was a solid player to have around.
3. B.J. Surhoff
.274/.323/.380 with 57 HR, 524 RBI in 9 seasons (1987-1995)
Like Moore, Surhoff was the primary starter at catcher for six seasons in Milwaukee and flashed a lot of versatility. Surhoff has time at third base (serving as the team's primary third baseman in 1993) and in the outfield for the Brewers in addition to being a catcher and had 102 starts in 1995 at six positions (counting designated hitter). Unlike Moore, Surhoff batted left-handed and had more power and speed (102 stolen bases with the Brewers). Surhoff later exploded offensively after leaving Milwaukee for Baltimore as a free agent before 1996, but getting nine seasons from a number one overall pick is not too shabby.
2. Darrell Porter
.229/.334/.375 with 54 HR, 226 RBI in 6 seasons (1971-1976)
Porter served as the primary catcher for the Crew in four seasons, with two cups of coffee before earning a third-place finish in the 1973 Rookie of the Year vote. Porter added an All-Star Game appearance for the Brewers, showing outstanding OBP skills and some left-handed power for the team. He was traded to the Royals before 1977, which brought the Brewers Bob McClure, who served as a starter and reliever from 1977-1986, as a player to be named later. He also haunted the Crew with the Cardinals in the 1982 World Series.
1. Jonathan Lucroy
.284/.342/.436 with 79 HR, 387 RBI in 7 seasons (2010-2016)
Lucroy was the primary starter at catcher for seven seasons, more than any other Brewer in franchise history. He also provided a potent bat to the team, posting a franchise-record 53 doubles in 2014 and making two All-Star Game appearances. His trade to Texas in 2016 provided a key piece (Lewis Brinson) in the package that brought Christian Yelich to Milwaukee before the 2018 season. Lucroy was a third-round pick in the 2007 draft and outperformed Matt LaPorta (who was dealt for CC Sabathia in 2008) in terms of a major-league career.
Honorable Mentions
Two other players deserve at least an honorable mention. First, there is Dave Nilsson, who served as the primary catcher for three seasons but saw much more action at other positions. The second is Ted Simmons, who was the primary catcher for three seasons, but initially slumped in Milwaukee and then spent a lot of time as a first baseman/designated hitter after 1983.
Brewer Fanatics, who are your top five all-time Brewers catchers?
Think you could write a story like this? Brewer Fanatic wants you to develop your voice, find an audience, and we'll pay you to do it. Just fill out this form.
MORE FROM BREWER FANATIC
— Latest Brewers coverage from our writers
— Recent Brewers discussion in our forums
— Follow Brewer Fanatic via Twitter, Facebook or email