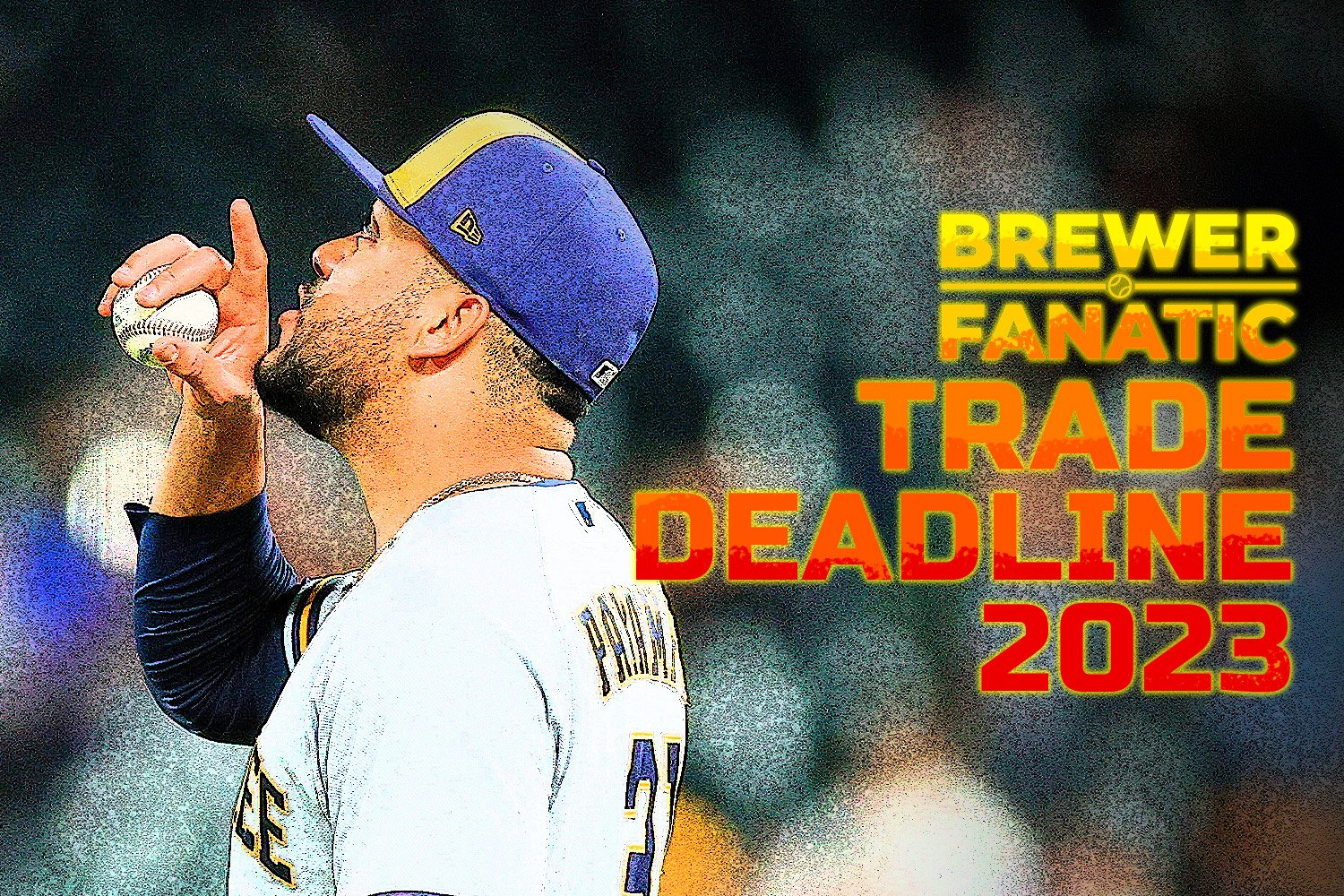 Image courtesy of Brewer Fanatic
1. Joel Payamps (RP)
Joel Payamps has been exceptional in his first year with the Brewers. Holding a 1.71 ERA in 47 1/3 innings pitched, he has been an integral part of the standout bullpen. He boasts exceptional command (4.4% BB%, 96th percentile) and a respectable 29.5% strikeout rate (88th percentile)  One interesting thing about Payamps is that he has four pitches in his arsenal, an unusually diverse toolbox for a short reliever.
While his primary weapon is his slider (42.3%), his sinker (23.9%), four-seam fastball (21.9%) and changeup (11.8%) are used a decent amount of the time. In terms of run value, the four-seamer (6) is almost as effective as his slider (7) and is used as his primary putaway pitch, sealing the deal 30.8%.  
Luckily, he is one of many star relievers the Brewers have right now, meaning it shouldn't hurt too much to let him walk. He also won't be a free agent until 2027, and his salary is quite low (1 year, $731k, just clear of the league minimum). A potentially interested team might be the Texas Rangers who have a wealth of position players to trade but one of the worst bullpens in the sport, posting a reliever ERA of 4.77, 27th in MLB.
2. Brandon Woodruff (SP)
Although he has been sidelined by injury for most of this season, Woodruff's seven-year tenure with Milwaukee has seen him post a 3.14 ERA over 625 innings. However, the Brewers are blessed with exceptional starting pitchers and have even more pieces, like Eric Lauer and Aaron Ashby, kicking around the system. Furthermore, with highly-touted pitching prospect Jacob Misiorowski recently being called up to Double A, the rotation is starting to get crowded.
The team has essentially been operating without Woodruff already, as he's pitched just 11 1/3 innings this season, and they've performed well, posting a starter ERA of 4.03, ninth-best in MLB. There are a number of teams who would be lucky to have him, and his trade value is quite high, with Baseball Trade Values giving him a median estimated trade value of 24, higher than great players like the aforementioned Misiorowski and Joey Wiemer. 
Two teams who could really use the help in their rotations are the Cincinnati Reds and the Arizona Diamondbacks. Both teams are similar, struggling with starter ERA (5.34 for Cincinnati, 4.73 for Arizona) while posting impressive offensive numbers (.745 team OPS for Cincinnati, .756 team OPS for Arizona).
3. Garrett Mitchell (OF)
Garrett Mitchell hasn't quite had the chance to have a real rookie season with the Brewers yet, getting just 130 plate appearances over the past two seasons with the team. There hasn't been enough time to really gauge how he'll perform at the major-league level and what his contributions will be in the future, but one thing that's certain is that the Brewers have a surplus of outfielders. With Sal Frelick getting called up and making an electric debut and Jackson Chourio expected to get his major-league callup in 2024, the Brewers have more than enough young talent to go around the outfield. 
While the Brewers haven't hit very well at all this season, Mitchell himself was never much of a needle mover, slashing .259/.306/.466 for a .772 OPS and 108 OPS+, so there isn't much evidence that his presence would have significantly improved the offense. Nonetheless, Mitchell is still a valuable player and could contribute to any number of teams.
The Minnesota Twins are one of the teams that could have some interest in adding Mitchell to the lineup for the long term, especially since their depth chart for center field lists Michael A. Taylor (83 OPS+), Nick Gordon (60-day IL), Willi Castro (89 OPS+), and Joey Gallo (103 OPS+, 31st percentile OAA). It's clear that position is not the team's best. Of course, it'll be tough to get full value for Mitchell, because (whereas Woodruff is, at least, on a rehab assignment and closing in on a return to the roster) he's out for the season, and won't help any contender until 2024. Still, he'd be an attractive piece for clubs with room in their projected outfield over the long term.
Think you could write a story like this? Brewer Fanatic wants you to develop your voice, find an audience, and we'll pay you to do it. Just fill out this form.
MORE FROM BREWER FANATIC
— Latest Brewers coverage from our writers
— Recent Brewers discussion in our forums
— Follow Brewer Fanatic via Twitter, Facebook or email