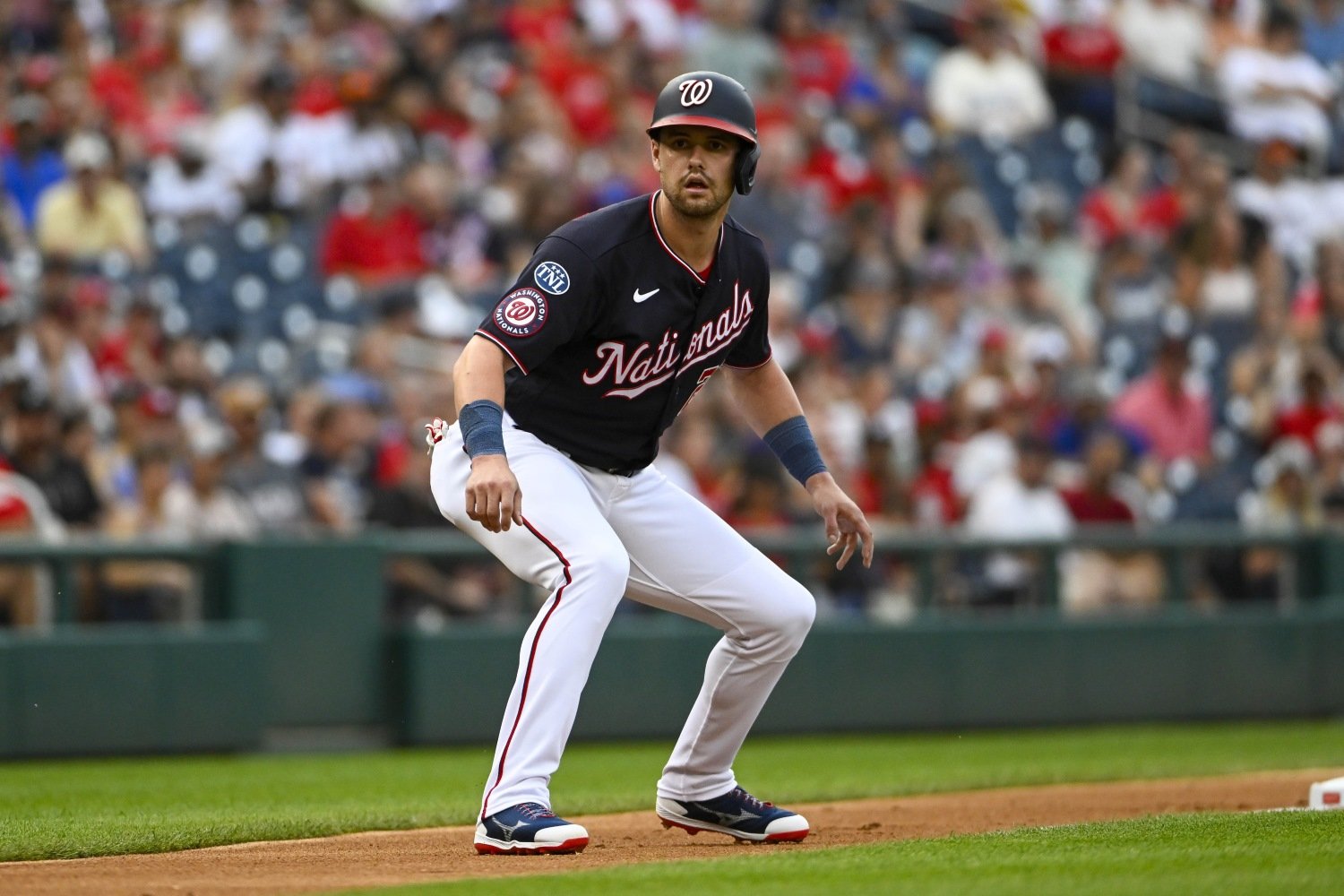 Image courtesy of © Brad Mills-USA TODAY Sports
1) Lane Thomas (WSN, OF)
Spending pretty much all of his time in right field thus far this season, he's the best bat on the Nationals, slashing .292/.339/.490 for an OPS of .829 and an OPS+ of 130. His best feature (other than his smile)? He crushes lefties. Over 131 plate appearances against left-handed pitching this season, he's slashed an incredible .364/.412/.653 for an OPS of 1.065. Meanwhile, the current Brewers lineup is posting a team OPS of .680 against LHP, second worst in MLB. 
Thomas has a few concerning characteristics, however. While his OPS is better than league average, batted-ball data would suggest he's gotten lucky along the way, posting a 32nd-percentile xwOBA. He also strikes out quite a bit (25th-percentile K%) and doesn't walk much (15th-percentile BB%). His defense also leaves something to be desired, as he's posted -2 Defensive Runs Saved (DRS) and -3 Outs Above Average (OAA). 
The Brewers' depth chart at right field lists Tyrone Taylor, Brian Anderson (10-day IL), Joey Wiemer, Owen Miller, Blake Perkins, and Raimel Tapia. While Thomas's glove isn't quite up to scratch, his offensive contributions would likely eclipse any of the names currently in right field, and the exceptional defense by the other Brewers outfielders might be able to compensate.
Lane Thomas is currently signed through 2023 on a one-year, $2.2-million deal and will be a free agent in 2026. 
2) Connor Joe (PIT, OF/1B)
In addition to splitting time in the outfield corners, Joe has also spent 136 innings playing first base this season. He's performed decently at the plate, slashing .242/.331/.423 for an OPS of .754 and an OPS+ of 105. Similar to Thomas, he also performs exceptionally well against southpaws, posting a .912 OPS over 111 plate appearances. His OPS against righties is a little lackluster at .654, but he could have value as a platoon guy.
Also similar to Thomas, he strikes out a considerable amount (16th-percentile K%), but he has some pop, decent plate discipline (68th-percentile BB%), and an excellent chase rate (97th percentile). 
He may not be as much of an impact bat as your ideal first baseman, but with the current depth chart listing Rowdy Tellez (10-day IL), Darin Ruf (60-day IL), and Owen Miller (91 OPS+), can the Brewers really afford to be picky?
Joe is currently on a one-year, $735,000 deal and will be a free agent in 2028.
3) Justin Turner (BOS, DH/1B)
Turner is having another strong year in a career marked by rigid consistency and may be a great acquisition piece, especially since he's primarily served as a DH for the Red Sox this year while also playing 213 innings at first base. His slash line of .289/.358/.478 is good for an OPS+ of 122, which would constitute a big upgrade over the Brewers' existing options at DH. The current depth chart lists Jesse Winker (59 OPS+), Darin Ruf, Christian Yelich, and William Contreras.
To continue the theme, Turner performs extremely well against left-handed pitching, posting a .972 OPS over 117 plate appearances thus far this season. He has also steadily improved his offense over the course of the season, starting with a .723 OPS in April, .792 OPS in May, .865 OPS in June, and 1.074 OPS so far in July. His stock is quite literally rising. However, unlike the theme, he does not strike out often and has an 84th percentile K%. He doesn't chase (77th percentile), whiff (87th percentile), and has been known to take the occasional stroll to first base (52nd-percentile BB%). His defense isn't anything to write home about, but as a designated hitter, that's the definition of a nonissue. 
That being said, Turner might be a little too rich for the Brewers' tastes, as he's currently on a one-year, $15-million contract. He'll also be a free agent in 2024, so he might not stick around for very long, assuming he does make the trip out to the Badger State.