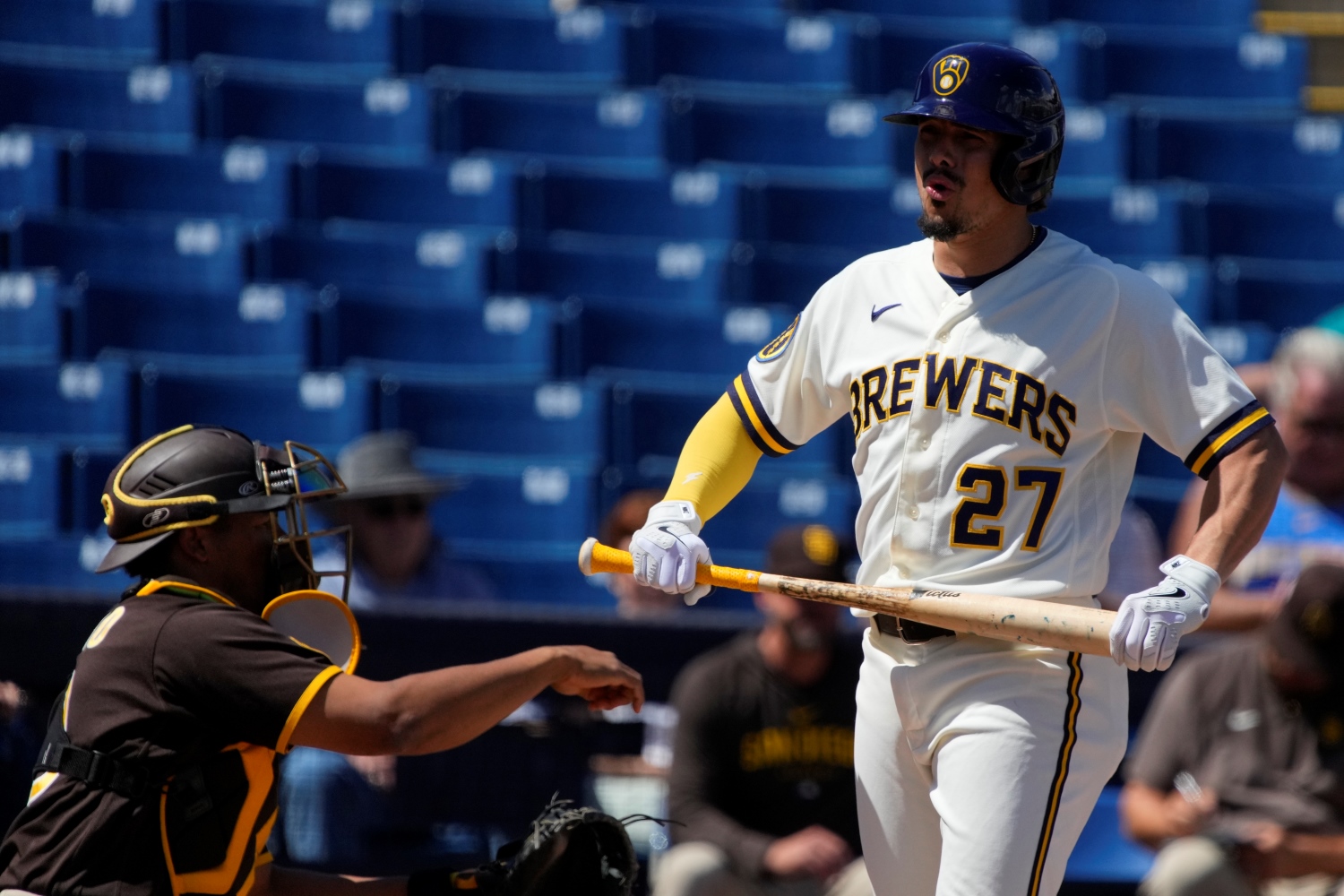 Image courtesy of © Rick Scuteri-USA TODAY Sports
Despite missing the playoffs in 2022, the Milwaukee Brewers are built to win now. Their 2023 campaign begins with a loaded top of the rotation, a lineup with significant power potential, and some electrifying bullpen arms led by closer Devin Williams. But like most teams, question marks abound, and this club has five major concerns heading into Opening Day.
1) Eric Lauer's Homers and Walks
The southpaw will get the ball in the third game of the opening series in Chicago, though he is truly the Brewers' fourth starter behind Freddy Peralta. Lauer has some nasty stuff and has shown flashes of brilliance, but some of his numbers over the past couple of seasons indicate future trouble, and his Spring Training outings did nothing to quash those concerns.
Lauer's HR/9 rate went from 1.3 in 2021 to 1.5 in 2022, allowing 27 homers in 29 starts. Had he qualified (he was four innings short), that would have ranked second-worst in MLB. Surprisingly, this hasn't been an issue in Arizona, though he has been knocked around all spring.
The lefty also saw his walk rate increase from 2021 to 2022. His 3.3 BB/9 would have placed him third-to-last in baseball. That has been a brutal problem for him this spring, at 5.4 BB/9. Both homers and walks factor into Fielding Independent Pitching (FIP), essentially a "pitcher only" ERA. Lauer owned a 4.50 FIP but only a 3.69 ERA, meaning he likely enjoyed a fair bit of luck. He had a similar difference in 2021 (3.19 ERA vs. 4.04 FIP), and while Spring Training stats have to be taken with a grain of salt, a 2.49 WHIP and 22 hits in 11.2 innings are disconcerting.
2) Willy Adames Chasing Pitches
The excitable shortstop does many things to help the Brewers win games, but they might need him most at the plate. Though he posted a 112 OPS+ (.756 OPS) last season, it's far from ideal to have your two, three, or four-hitter with an OBP below .300 - unless he is slugging .500 or better. Adames's 31 home runs, 31 doubles, and 98 RBI are fantastic for his position, but the lineup needs more consistency.
Better plate discipline and contact would go a long way in solidifying Milwaukee's offense. His 26.9 K% was the 12th-highest in MLB last season, while his walk rate dropped from 10.3% in 2021 to 7.9% in 2022.
Part of the issue came from Adames's swing tendencies. He swung at a higher percentage of pitches outside the strike zone last season than he ever had before (33.7 O-Swing%). He also made more contact on those pitches than he has in his career, possibly leading to his lowest Hard Hit Percentage since 2018.
3) Unproven Bullpen Arms
While there are several intriguing arms in the bullpen, most have something to prove for one reason or another. Typically, clubs feel best when they boast a strong group of veteran guys who have successfully "done it" for several seasons. The Brewers' relief corps to open 2023 is quite different:
Javy Guerra: Converted to pitching a few seasons back after coming up as a shortstop. He has 43.2 MLB innings under his belt with a 6.60 ERA.
Gus Varland: A Rule 5 draft pick from the Los Angeles Dodgers, Varland has never pitched above double-A. Most evaluators love his electric stuff, though he did post a 6.11 ERA in double-A last season (70.2 IP).
Bryse Wilson: Wilson owns a 5.54 career ERA in 232.1 innings, including a 5.77 ERA as a reliever (34.1 frames). He pitched in five games out of the bullpen last season (22.1 innings) with a much-improved 3.63 ERA and 1.16 WHIP but gave up 10 earned runs in 13.2 innings this spring.
Peter Strzelecki: The 27-year-old did a terrific job last season, seemingly out of nowhere. In his rookie season, he posted a 2.83 ERA (141 ERA+) across 35 frames for the Brewers. Manager Craig Counsell will likely task Strzelecki with more high-leverage situations, and now that teams have video and some looks at him, will he be able to retain his level of success?
Hoby Milner: As the only southpaw in the bullpen, Milner will again be called into duty against some of the toughest lefties. He had a 3.76 ERA (105 ERA+) last season, but he owned a 6.65 ERA (66 ERA+) from 2018-2021, and left-handers had a .655 OPS against him in 2022.
Even the two arms in the back end of the bullpen have something to prove. Matt Bush has the stuff to be dominant, but he couldn't stop giving up home runs once he got to Milwaukee. The problem continued in the spring, as he allowed three homers in four outings. Meanwhile, Devin Williams enters his first season as the full-time closer. He might feel extra pressure this year, and the Brewers need him to be a rock at the end of games.
4) Right Field Unrest
Yes, things can (and likely will) change throughout the season. However, the Opening Day roster means something, and for the Brewers, it is uncertainty in right field. Milwaukee is starting the season with only three true outfielders: Christian Yelich, Garrett Mitchell, and Jesse Winker. However, Winker is tabbed to mostly DH early in the season. General Manager Matt Arnold chose to send down prospects Sal Frelick and Joey Wiemer, and Tyrone Taylor will be out for some time.
That leaves Brian Anderson, Owen Miller, and Brice Turang as options to handle the outfield corner spot. Anderson has the experience, with more than 1,500 innings in right field in his career, including 307.1 frames last season in right field for the Miami Marlins. By most accounts, Anderson is an average right fielder with a strong arm. The question is, as another year older, do the added innings in right field increase his risk of injury and lower his offensive output?
One or both of Frelick and Wiemer will be up at some point, and while many are excited to see their talent bloom, there isn't a guarantee it will happen right away, either. Right field will be a spot to watch all season.
5) Corner Defense Issues
The adage of being strong up the middle on defense remains true; however, the corner spots, especially on the infield, could have a more significant impact than people think. With the elimination of full shifting, first and third basemen will no longer have extra coverage from both middle infielders. Among qualified first basemen, Rowdy Tellez ranked second-to-last in defensive runs saved (DRS). And now he won't have the shortstop or third baseman on his side to help collect grounders, making his lack of range a more significant concern.
At the hot corner, it looks like a rotation with Anderson, Luis Urías, Mike Brosseau, and Brice Turang. Urías's defense has been solid enough at third base, and Turang should serve as a quality late-inning replacement, though he will primarily play second base. Anderson had a -4 DRS last season, and his performance has been up and down from year to year. Plus, remember that was when teams could shift however they wanted. For example, he might not see the shortstop shaded as far over in the hole. As for Brosseau, whose bat could give him extra opportunities at third, his defense leaves much to be desired, especially at the hot corner. He's more likely to make gaffes early in games and be replaced in the later innings of close games. But sometimes the game doesn't allow you to make all the necessary moves, and it could come back to haunt them.
The corner outfielders could create problems as well, at least for now. Christian Yelich and Jesse Winker are below-average, even in left field. Yelich brings some range and occasional flashes of his younger self., though he struggles with certain fly balls. Winker, well, he's worse. Neither guy has an arm to speak of, either, with Winker ranking 200th and Yelich 261st on StatCast's arm strength leaderboard in 2022. Once Frelick or Wiemer arrive, right field will be in better hands and they can provide an option in left field, too. Until then, there will be some adventures.
Will these concerns be a footnote in history, or will they lead to the wasting of another season? The Brewers don't need to be perfect to succeed, but they will need some of these potential problems to be solved in order to climb back to the top of the National League Central.
Think you could write a story like this? Brewer Fanatic wants you to develop your voice, find an audience, and we'll pay you to do it. Just fill out this form.
MORE FROM BREWER FANATIC
— Latest Brewers coverage from our writers
— Recent Brewers discussion in our forums
— Follow Brewer Fanatic via Twitter, Facebook or email