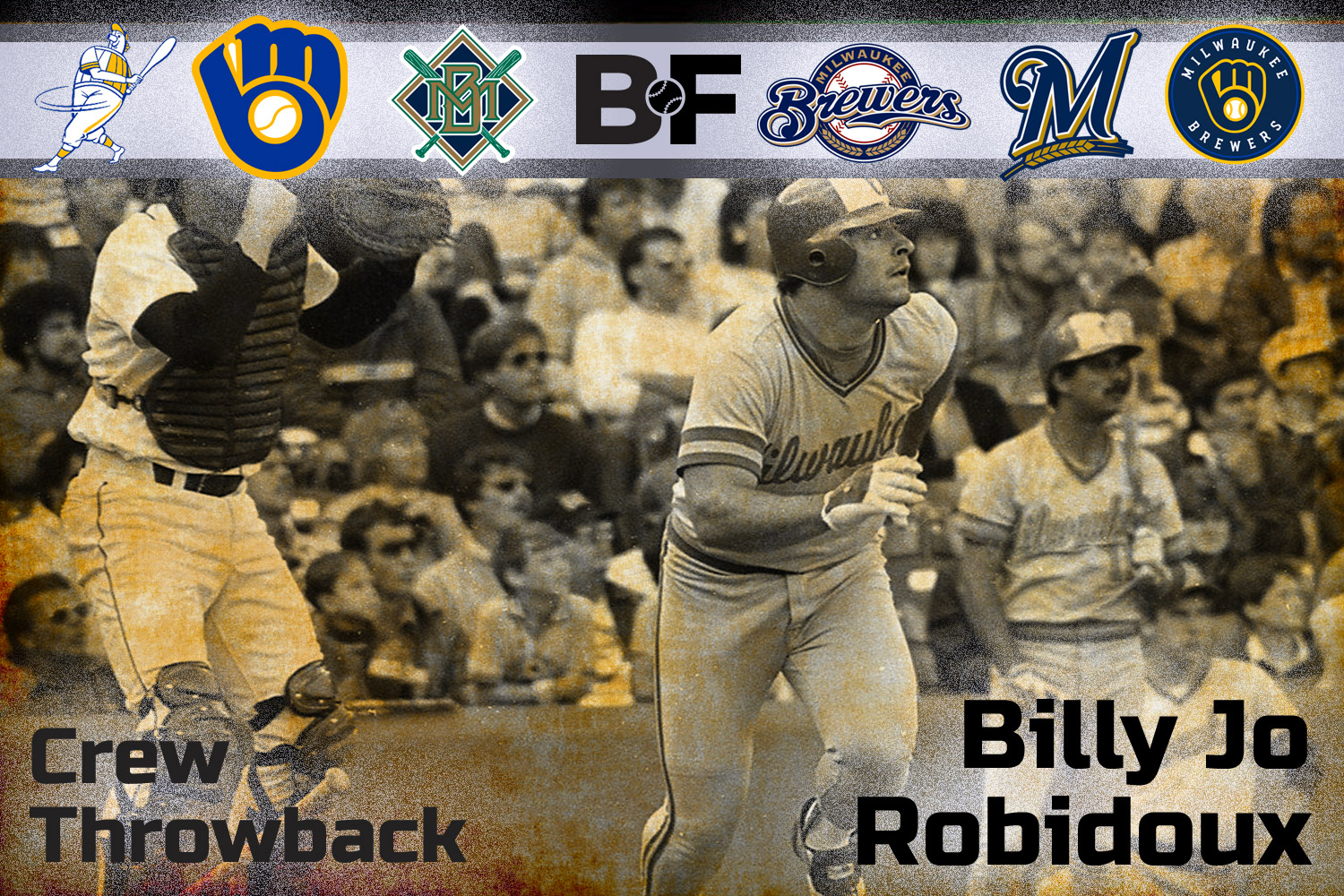 Image courtesy of Brewer Fanatic
Billy Jo Robidoux (pronounced Roe-Buh-Dough) was born in Ware, Massachusetts, in 1964. A left-handed hitting first baseman, Robidoux was a sixth-round pick by the Brewers in the 1982 draft.
From the get-go, it was clear that Billy Jo Robidoux could hit. His career minor league batting average is a robust .308 and he walked more than he struck out. As a 19-year-old at A-ball, he hit .317 with 10 home runs. But Robidoux broke out in 1985 at AA El Paso, hitting .342 with 23 HR and 123 RBI en route to winning the Texas League MVP award.  
Robidoux got an 18-game trial with Milwaukee that fall for his efforts. He hit a pair of home runs and drove in four runs in the final game of the season - a glimpse of good things to come - or so thought Brewer fans.
For the organization - and many fans - Robidoux represented a chance to incorporate an exciting young hitter into an aging lineup. Mainstays such as Cooper, Gantner, Yount, Oglivie, and Moore were 30 and older. 
The following season, 1986, Robidoux got a chance to play regularly when Cecil Cooper was injured. The big first baseman started out well, hitting .290 over the season's first six weeks - although with little power. However, he injured his knee, which sidelined him for a month. When he returned, he was a different player. In a slump - and not playing full-time - the Brewers shipped Robidoux to the minors for two months. When he returned to the majors, his problems continued, and he finished the season hitting just .227 with a single home run in 56 games.
Hardly the breakout that everyone had hoped for.
In reality, Robidoux's chance had come and gone in Milwaukee. Injuries dogged Robidoux, and he played in only 153 games in 1987 and 1988 (56 were in Milwaukee, the rest at AAA). But the magic-hitting stroke was now gone. Even at AAA, he struggled to be anything more than ordinary. In Milwaukee, he hit .194 and .253, respectively, in limited action. 
Granted free agency after the 1988 season, Robidoux signed with Chicago. He hit well at AAA but failed to register an impact at the big league level, hitting a meager .128 in 16 games. He moved on to Boston the next season and surprised many by winning the 1B job out of training camp. 
However, he struggled to hit in the first month, then injured his shoulder diving for a ground ball. Surgery was required. He returned in July, but he was clearly a different player. Just throwing the ball sent pain shooting through the nerves of his elbow. And he described swinging the bat as if someone had stuck a knife in his shoulder. He was sent to the minors after hitting only .143 over 16 games.
Billy Jo Robidoux's career was essentially over. The wear and tear of playing the game hard had overwhelmed his body. He was 26 years old. 
After retiring, Robidoux returned to his hometown, Ware, Massachusetts, working for the city's highway department. He has stayed involved in sports, coaching baseball at the high school level for seven years (alongside his father), and umpiring and refereeing baseball and basketball at the high school and college levels. He has remained a part of the Brewer family, participating in fantasy camps.
Billy Jo Robidoux had an unremarkable career. He hit .209 with 5 home runs in 468 at-bats in six years - most in Milwaukee. His 13% walk rate is the one thing you can highlight about his time in the big leagues. Without question, injuries played a significant role in derailing his career. 
However, while Robidoux never hit at the major league level, his 1985 season was among the finest in Brewers' minor league history. A 1.020 OPS, 97 BB vs. only 62K, a .342 BA, and 23 HR. That was stuff that made Brewers fans drool. But unlike today, those shiny numbers were masked by context. Robidoux's team, El Paso, hit .302 collectively. Yes, Robidoux had a great year. But in the context of the extreme hitter's park he played in, our expectations should have been tempered.
It was not to be, and Billy Jo Robidoux has gone down in Milwaukee Brewer history as one of the organization's most disappointing prospects. 
Still, no one could take away the man's name. When someone looks for the most unusual names in baseball history - Billy Jo Robidoux often appears on their lists.
Share your memories of former Brewer first baseman Billy Jo Robidoux.
Think you could write a story like this? Brewer Fanatic wants you to develop your voice, find an audience, and we'll pay you to do it. Just fill out this form.
MORE FROM BREWER FANATIC
— Latest Brewers coverage from our writers
— Recent Brewers discussion in our forums
— Follow Brewer Fanatic via Twitter, Facebook or email
2