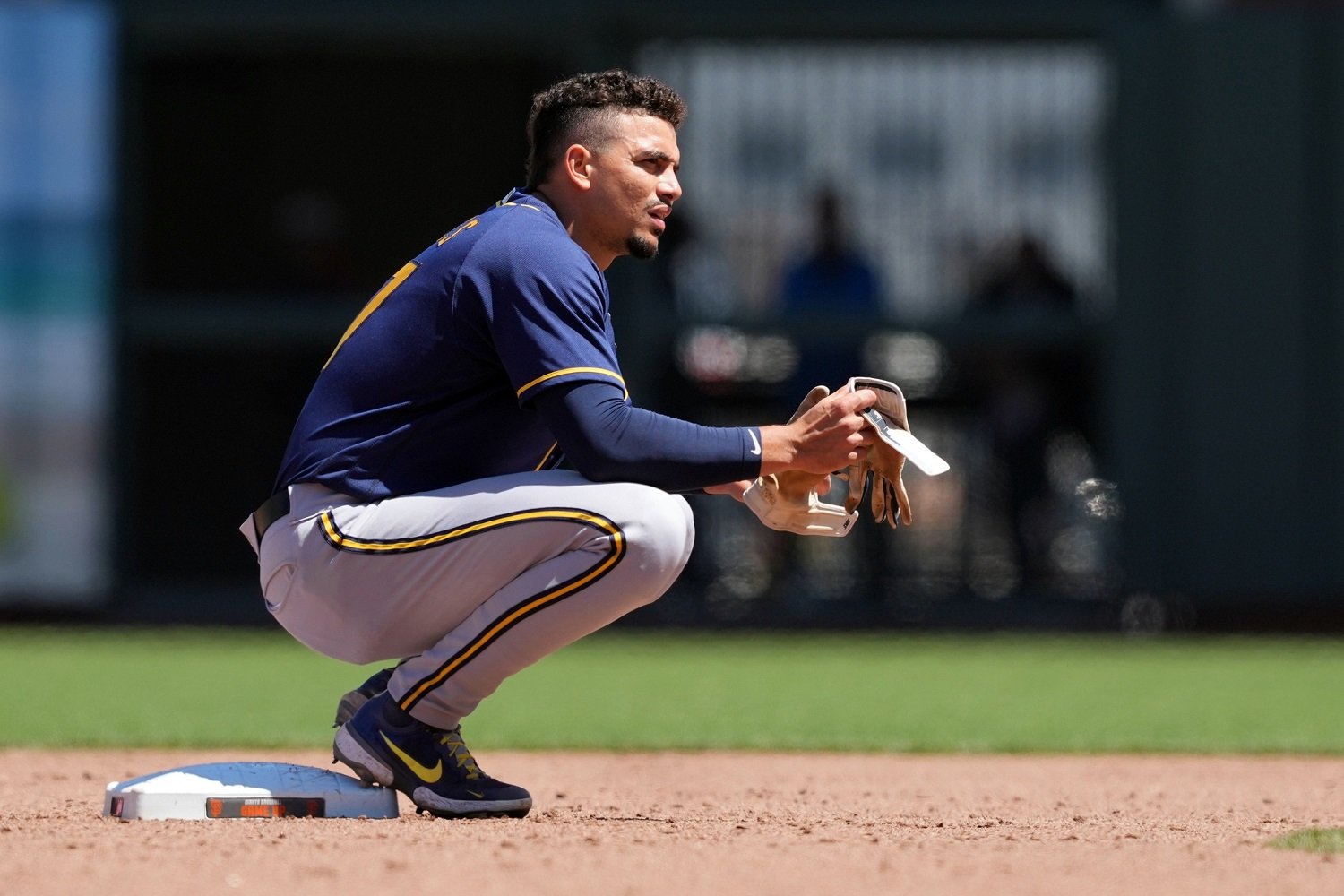 Image courtesy of © Darren Yamashita-USA TODAY Sports
The MLB season has reached its halfway point. With the All-Star break and the festivities taking the full front of attention, it may be time to take a break from the fun and reflect on the first half of the season. Like a teacher handing out the dreaded report card, it's time to see how the Brewers fared in half number one.
Before jumping into the grading breakdown, it's important to lay some guidelines. Grading is based on the players performance through the first 93 games of the 2022 season. Listed with the given grades is the players slash line (AVG/OBP/SLG) as of July 18, and either their OAA (Outs Above Average) or percentile grades in pitch framing. The grades are also based on both the offensive and defensive value the players should have been reasonably expected to provide, and is completely subjective. The purpose of the grades are simply to reflect, and not to promote any distaste towards any certain player.
Rowdy Tellez * .227/.305/.458 * -3 OAA * First Base
Grade: B+
Rowdy Tellez's first season as the Brewers' full-time first basemen has been filled with plenty of excitement. Tellez's calling card is his power, and with 18 big-flies on his ledger, it's fair to say Rowdy's performed up to expectations. Though both his average and on-base numbers have dipped over the past month, there is no sign of a permanent slow down for Tellez going forward.
In fact, in the month of July, despite hitting a mere .148, Tellez's K% remains under 20% and his .122 BABIP may help explain his recent offensive struggles. As a defender, it's not surprising the advanced metrics aren't a fan of Tellez, but his defense has been good enough not to generate any widespread complaints.
It remains to be seen what kind of numbers Tellez will put up by year's end, or even if Tellez will continue to get the chance to continue to play every day. Should the Brewers stick with Tellez, and they should, fans shouldn't be surprised if Tellez continues his hitting ways throughout the rest of the season.
Kolten Wong *.227/.313/.382 * -9 OAA * Second Base
Grade: D
It's quietly been a brutal season for Kolten Wong. Wong has seen a fairly sizable dip in his offensive production, and has fallen out of his usual leadoff spot in favor of Christian Yelich . Most notably though, Wong's seen his defensive value plummet. Usually a gold glove contender, Wong is having his worst defensive season ever. His -9 outs above average ranks him at the 3rd worst defender in the league, a difference of 11 outs from his previous year.
Given Wong has been below average in pretty much every asset of the game, it was hard to give him a respectable grade. He may have his nagging calf injury to blame, and with a track record of better performance, Wong will probably, and hopefully, be better in the second half.
Willy Adames * .220/.294/.477 * 7 OAA * Shortstop
Grade: B+
Although Adames may not be putting up the offensive numbers he did in his first season in Milwaukee, he's still been one of the Brewers most valuable players. His 19 home runs not only leads the Brewers, but it leads all National League shortstops as well. Despite not getting many hits to fall, he still leads the team in slugging, tied with Hunter Renfroe.
But even given his offensive production, the value most worth mentioning is his defense. Adames is currently tied for the team lead in OAA with Jace Peterson, and he's done it playing a premium position.
Looking forward towards the second half, fans shouldn't be surprised if Adames goes on a tear. All advanced metrics point to an uptick in offensive production, and if Adames' defense stays elite, Adames will once again end the season as one of the Brewers best position pieces.
Luis Urias * .223/.314/.384 * -6 OAA * Third Base
Grade: C
Urias began the season on the IL with a quad injury before joining the Brewers as the regular third basemen. His bat has been streaky so far, but despite his unexciting slash line, Urias has still managed to pop 10 home runs. That being said, the Brewers expect more from Urias.
Urias is expected to be the third baseman of the future, and he still hasn't solidified that role over any other options on the team. As for his defense, his defense has been poor by OAA standards, but fans who watched Urias play last year will tell you his defense looks much improved. It is also worth mentioning he has spent time playing 2B, SS, and 3B this year, so some inconsistency is expected.
Urias will need to boost his offensive production in the second half if the Brewers are aiming to improve their offense from within. His 97 WRC+ is just below average, and if the Brewers want to see more runs across the plate, Urias is one of the players that needs to, and can, be better.
Now it's your turn. Are the grades fair? Would you give extra credit or demerits to some of the players? If so, let's hear it in the comments below. 
Think you could write a story like this? Brewer Fanatic wants you to develop your voice, find an audience, and we'll pay you to do it. Just fill out this form.
MORE FROM BREWER FANATIC
— Latest Brewers coverage from our writers
— Recent Brewers discussion in our forums
— Follow Brewer Fanatic via Twitter, Facebook or email
2