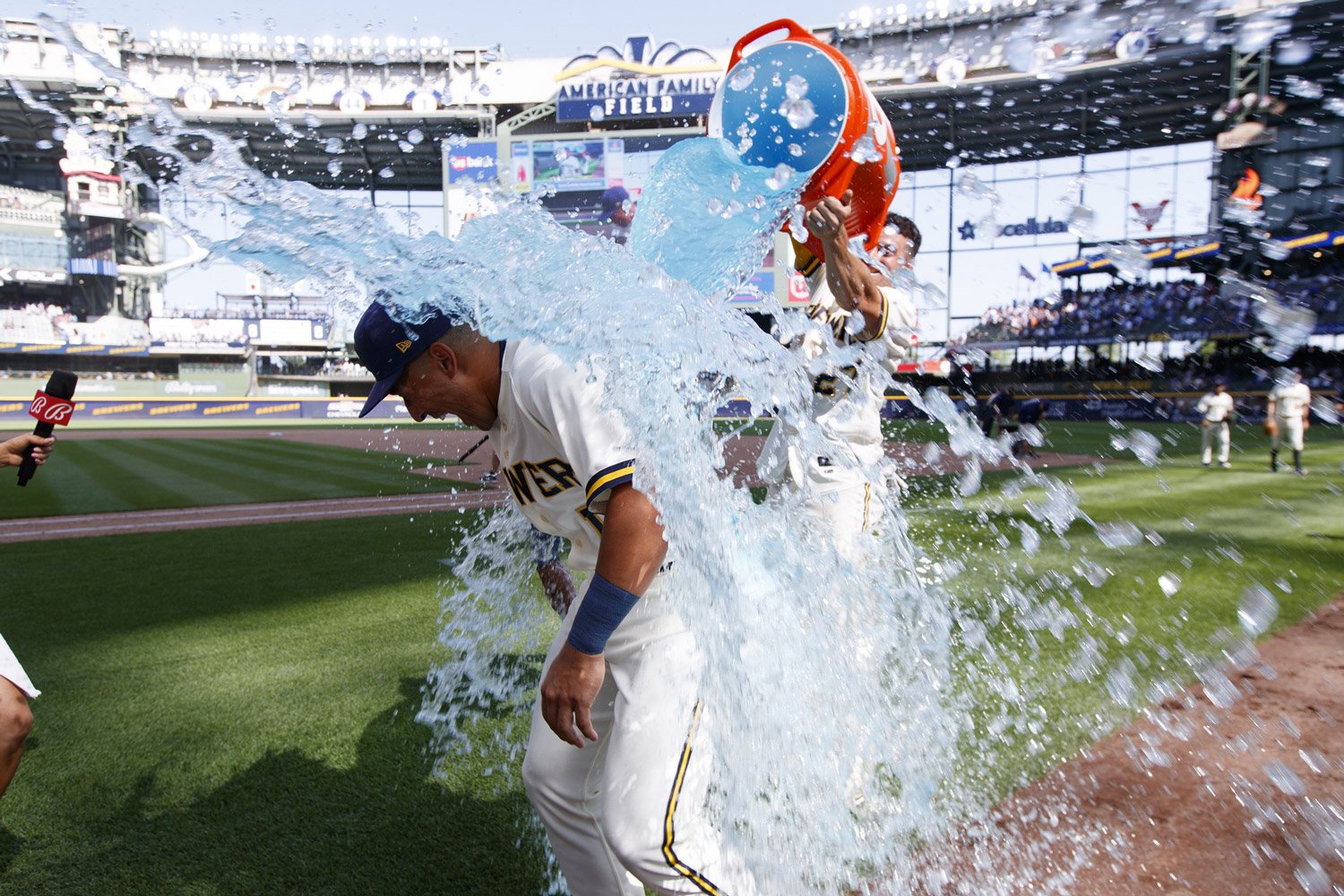 Image courtesy of © Jeff Hanisch-USA TODAY Sports
Starting Pitcher: Julio Teheran - 6.0 IP, 9 H, 6 ER, 1 BB, 7 K, 93 pitches, 65 strikes (69.9%)
Home Runs: None
Top 3 WPA: Jahmai Jones (.396), Christian Yelich (.318), Joel Payamps (.107) 
Bottom 3 WPA: Julio Teheran(-.257), Brice Turang (-.198), Owen Miller (-.057) 
Win Probability Chart (via FanGraphs)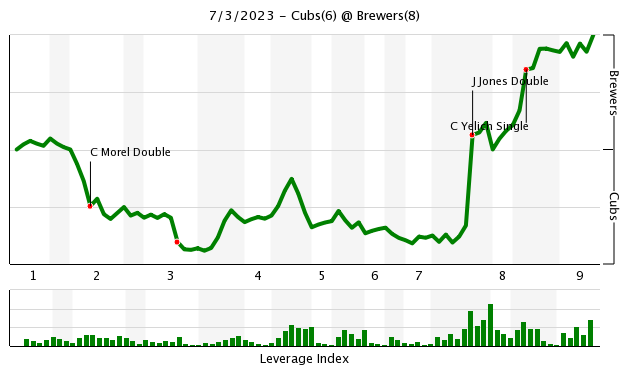 Teheran Recovers From Early Struggles
In his second rough start in a row, Julio Teheran gave up six earned runs across the second and third inning. He had a great start, giving up just one baserunner in the first inning off of an error by Owen Miller, but quickly started to spiral.
To start things off in the second, Dansby Swanson hit a leadoff double before being scored by a Cody Bellinger single. Christopher Morel hit an RBI-double to bring the Cubs lead to 2-0 before Tucker Barnhart's RBI single brought Morel home as the third run.  
The third inning seemed like Teheran was starting to settle in, recording two outs with just Dansby Swanson on first. After Christopher Morel's single to put runners on the corner, it kicked off an episode of deja vu. Nick Madrigal's 2-RBI double put the score at 5-0, before he came home off of a Tucker Barnhart single. While it ultimately had no impact on the game, Teheran balked Barnhart to scoring position before finally getting Mike Tauchman to ground out.
On the bright side, he was able to pitch the second half of his start without giving up another earned run, an impressive feat given the punishment he received in the first half of the game.
After conceding 13 runs in his past 11.2 innings pitched, Teheran's season numbers have finally regressed to his career averages. His current ERA and WHIP of 3.64 and 1.02 seem to be more sustainable than his outstanding numbers earlier in the year.
Jahmai Jones - Remember The Name
By the bottom of the third inning, the Brewers were already facing a grim 6-0 deficit. With just a 6.1% chance to win the game, the team began one of the most exciting comebacks of the season. Who powered this comeback? It was Brian Anderson's paternity leave replacement, Jahmai Jones. With his last major league appearance in 2021, most were not expecting him to break out the way he did today.
The comeback started with a Brice Turang walk, followed by an RBI double by William Contreras and an RBI triple by Christian Yelich (who is looking like Yelich of Yesteryear, by the way). With the score at 6-2, Willy Adames scored Yelich with a single of his own before two more strikeouts by Owen MIller and Blake Perkins to close the inning.
The seventh inning seemed like it would be quick, with Christian Yelich hitting a single in between two outs. Owen Miller and Raimel Tapia kept things going with two back-to-back walks to load the bases before a massive Jahmai Jones double cleared the bases to tie the game at 6-6. The bases were loaded again following a walk of Joey Wiemer and Victor Caratini being hit by a pitch, but a Brice Turang strikeout kept the game even. 
The eighth inning is where the Brew Crew finally began to take over. After two back-to-back singles by William Contreras and Christian Yelich, Yelich stole second base. The go-ahead single by Willy Adames was insured by a Rowdy Tellez sacrifice fly. Coupled with the shutout performance by the bullpen, Milwaukee kept the score at 8-6.
Bukauskas Makes Strong Brewers Debut, Bullpen Continues to Impress
In his first relief appearance for Milwaukee and just his second inning pitched all season, J.P. Bukauskas gave up just two baserunners. Bukauskas used his slider and sinker to induce weak contact, getting an important double play to compensate for a leadoff hit by pitch.
Joel Payamps retired his three batters in order in the eighth inning, a crucial outing for what was at the time, a very close game. In his 18th save of the season, Devin Williams got two groundouts while giving up a double to Nico Hoerner and a walk to Ian Happ. Facing a dangerous hitter in Dansby Swanson in a clutch situation, Williams caught him looking with a perfectly painted four-seam fastball to finalize the amazing comeback.
What's Next? 
In the second game of the series, Wade Miley will face off against Kyle Hendricks, a dangerous right-handed opponent on the mound. The Brewers are riding some decent momentum, hitting at a team average of .754 over the past seven days, 13th best in MLB. In comparison, the Chicago Cubs are batting just .657 over the same period, 25th best in MLB.
With this victory, the Brewers have officially reclaimed the top spot in the NL Central, 0.5 games ahead of the Reds and 6.0 games ahead of the Pittsburgh Pirates.
Postgame Interviews
Bullpen Usage Spreadsheet
| | | | | | | |
| --- | --- | --- | --- | --- | --- | --- |
|   | THU | FRI | SAT | SUN | MON | TOT |
| Williams | 26 | 0 | 0 | 9 | 19 | 54 |
| Payamps | 18 | 0 | 13 | 0 | 16 | 47 |
| Andrews | 0 | 0 | 30 | 0 | 0 | 30 |
| Peguero | 3 | 0 | 0 | 20 | 0 | 23 |
| Milner | 15 | 0 | 0 | 1 | 0 | 16 |
| B Wilson | 0 | 0 | 11 | 0 | 0 | 11 |
| Bukauskas | 0 | 0 | 0 | 0 | 11 | 11 |
Tweet Highlight