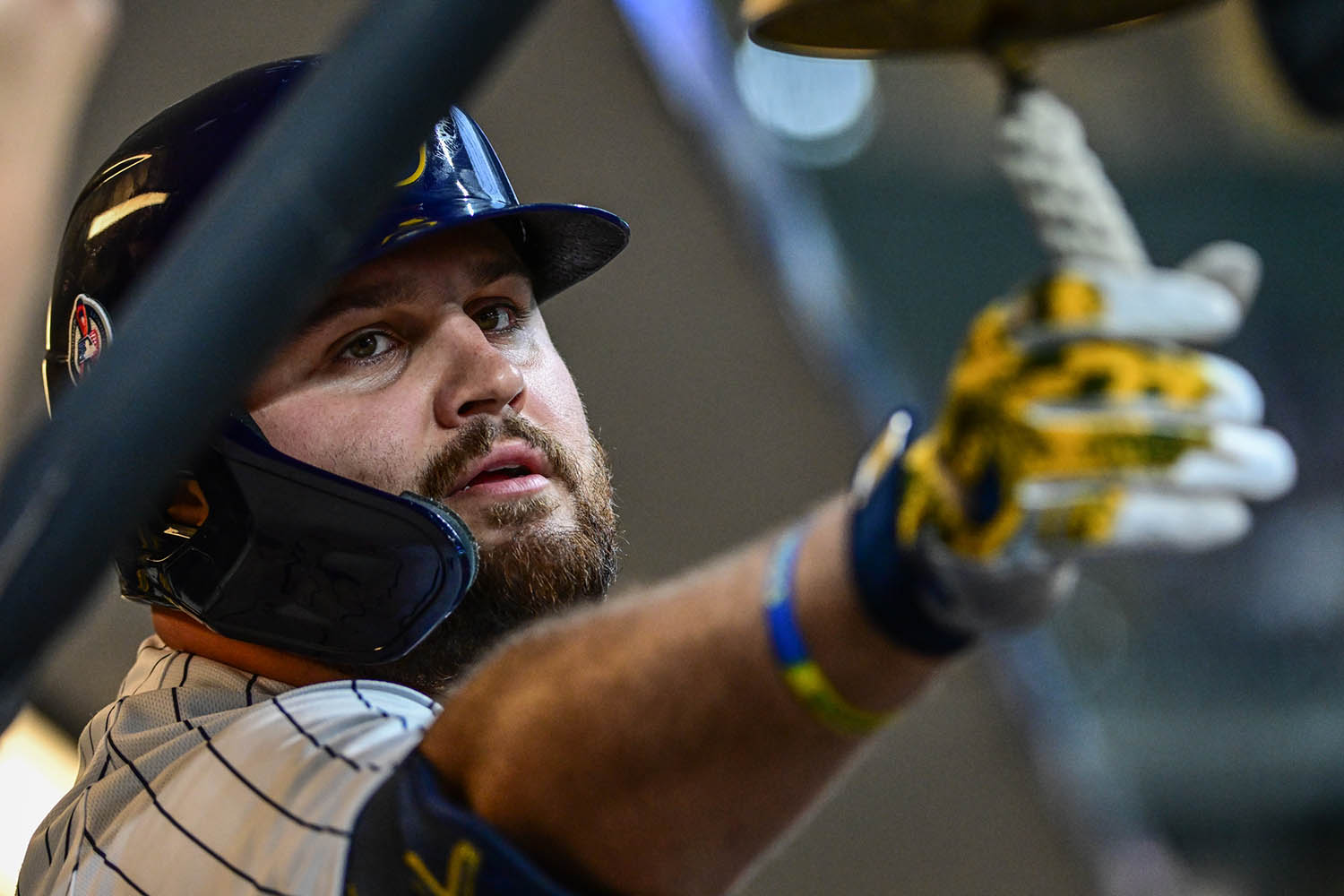 Image courtesy of © Benny Sieu-USA TODAY Sports
A significant contributor to the Brewers' offensive mediocrity last season was, in part, their inability to find success against left-handed pitching. The team OPS of .673 against lefties ranked 25th in the big leagues and was nearly 70 points behind their OPS against right-handers. To add insult to injury, the Brewers' late-season collapse was perhaps sparked by division rival St. Louis adding two left-handed pitchers via trade at the deadline.
It isn't uncommon for ball clubs to find themselves struggling against left-handers. Naturally, heavy left-handed lineups struggle against lefty pitchers, while right-handed lineups will commonly find more success. As it stands now, the Brewers will feature an everyday lineup packed full of left-handed hitters, but they may have some platoon-based answers for those pesky left-handed pitchers.
The Outfield
The Brewers currently feature five outfielders on their 40-man roster, four of which figure to get the bulk of the playing time. Christian Yelich, Jesse Winker, and Garrett Mitchell hit left-handed, while Tyrone Taylor is the lone righty among the four. Sal Frelick also figures to be in the mix for an OF spot during spring training, another left-handed hitter.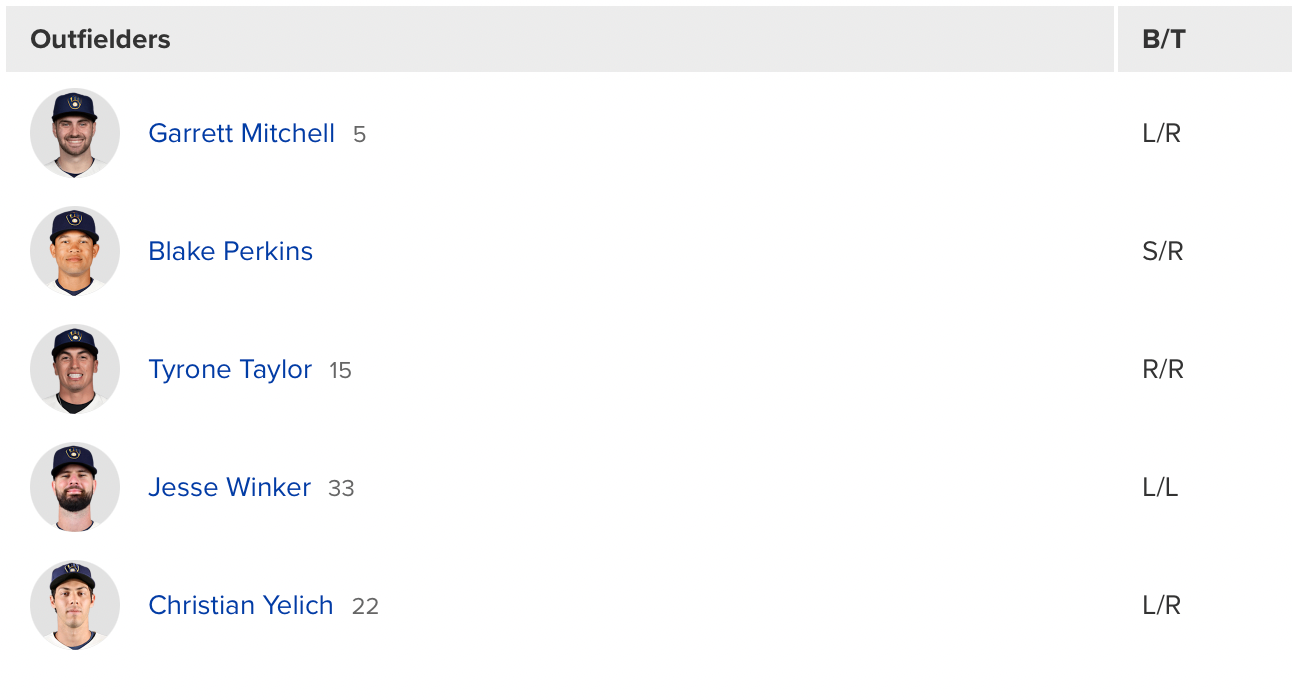 Yelich is likely to play every day, doesn't feature an extreme difference in his platoon splits, and has also shown the ability to hit comfortably against left-handers, so there could be answers. Whether Yelich deserves the chance to play against lefties and righties can be debatable, but the Brewers will play Yelich whenever available.
Jesse Winker is coming off the worst offensive season in his career. In Seattle, Winker slashed .219/.344/.688, with a OPS+ of 103, well below his career mark of 123. As if the poor offensive season wasn't uncharacteristic enough, Winker hit better against left-handers last season. His WRC+ against lefties was 37 points higher than it was against righties, and his K% sat comfortably below 20 percent. If Winker can keep that kind of success against lefties, he might be another part of the puzzle the Brewers are looking to solve, though year-over-year splits are often volatile so it's likely Winker regresses against left-handers in 2023.
Garrett Mitchell only had five major league plate appearances against lefties last year, and already slated as the fourth outfielder, Mitchell should, and likely will find most of his playing time against right-handers. As for Tyrone Taylor, his situation is likely the opposite of Mitchell's. Though his 2022 splits favor him against right-handers, he showed better plate discipline against lefties, and the already left-handed heavy outfield will make it difficult for him to see the field against righties often. 
Catching
Milwaukee currently carries three catchers on their 40-man and will carry at least two on the major league roster. Recently acquired William Contreras figures to play against lefties and righties, while Victor Caratini and Henry will serve as backups throughout the season.

If the Brewers were looking for someone to mash left-handed pitching, they solved it in their early December trade with Oakland and Atlanta. William Contreras slugged nearly .600 against LHP in his first big league season, with an OPS+ of 187. As for both Henry and Caratini, there is some concern. Henry is an inexperienced hitter, while Caratini hit only .168/.276/.290 against lefties last year, despite being a switch hitter. Like many switch hitters, Caratini's strong side is against right-handed pitching, and he's unlikely to start often against lefties unless Contreras is injured.
The Infield
Barring a significant trade or free agent signing, Willy Adames is the only infielder who will see consistent playtime no matter what pitcher is on the mound. Still, the Brewers have a wealth of different infielders to choose from, but the key will be choosing when and where those players play.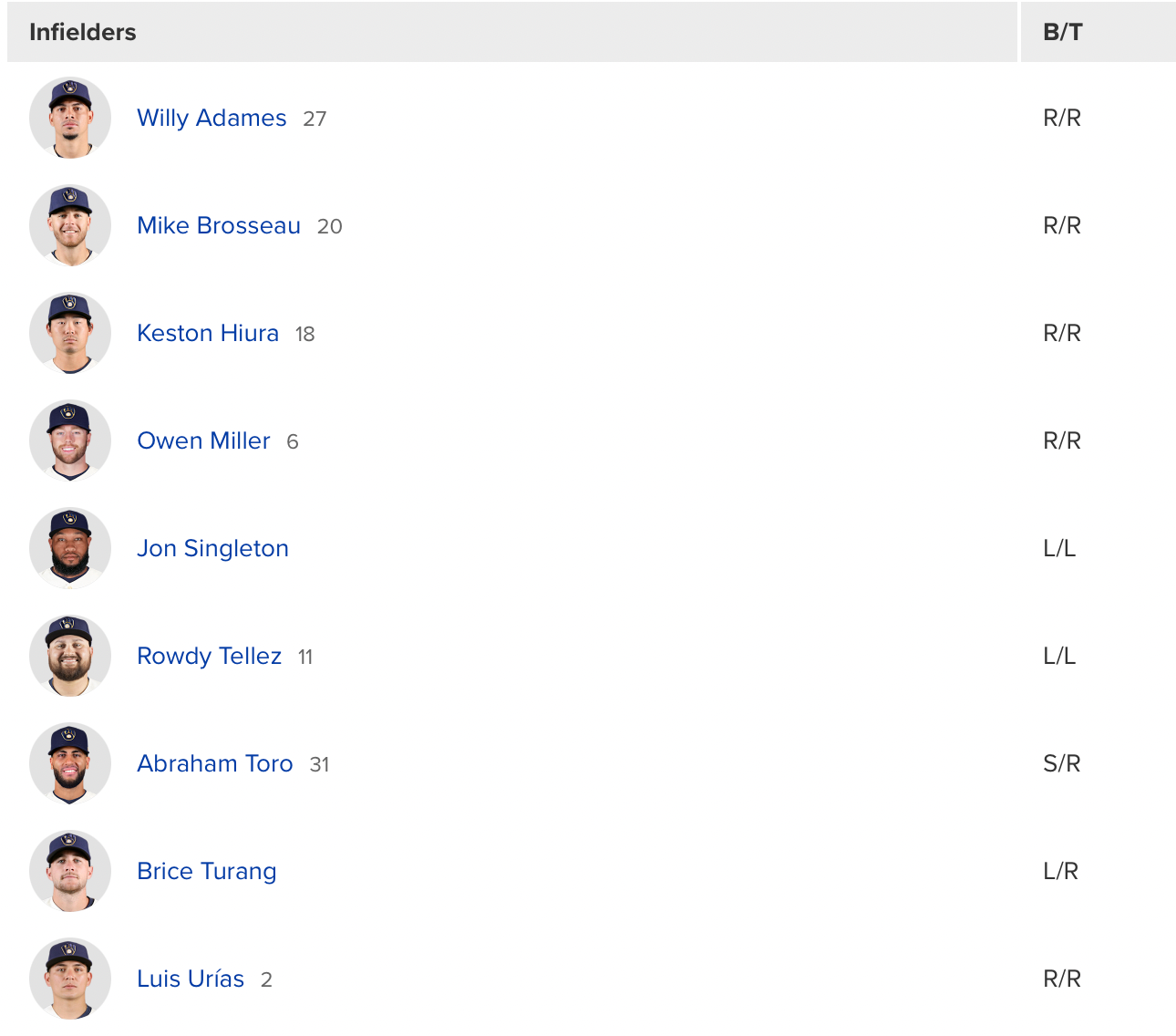 The biggest piece to the infield puzzle is Keston Hiura. Against right-handers, Hiura slashed .254/.344/.522, but just .188/.275/.344 against left-handers. Even though Hiura hits right-handed, it's time for the Brewers to accept the reverse splits. If Hiura's going to play, it can't be against left-handers, no matter what traditional logic may tell you.
As for the rest of the infield, the Brewers' options present themselves:
Abraham Toro (Career 64 wRC+ vs. LHP)
Luis Urías (Career 120 wRC+ vs. LHP)
Mike Brosseau (Career 127 wRC+ vs. LHP)
Rowdy Tellez (Career 94 wRC+ vs. LHP)
Owen Miller (Career 65 wRC+ vs. LHP)
Brice Turang (108 wRC+ in AAA in 2022)
If the Brewers play matchup correctly in the infield, they shouldn't have many problems handling lefties with their current group of players. If they make the wrong decisions, such as starting Hiura against left-handed starters, lefties could again be the Brewers' kryptonite in 2023.
Potential Lineup
Keeping these numbers in mind, here's what a healthy Brewers lineup may look like when facing an LHP in 2023:
1. Christian Yelich LF
2. Willy Adames SS
3. Jesse Winker DH
4. William Contreras C
5. Rowdy Tellez 1B
6. Luis Urías 2B
7. Mike Brosseau 3B
8. Garret Mitchell/Sal Frelick CF
9. Tyrone Taylor RF
What do you think, Brewer fans? Do you think Milwaukee can improve against left-handers next season? What would your lineup look like against an LHP? Let us know your thoughts in the comments below!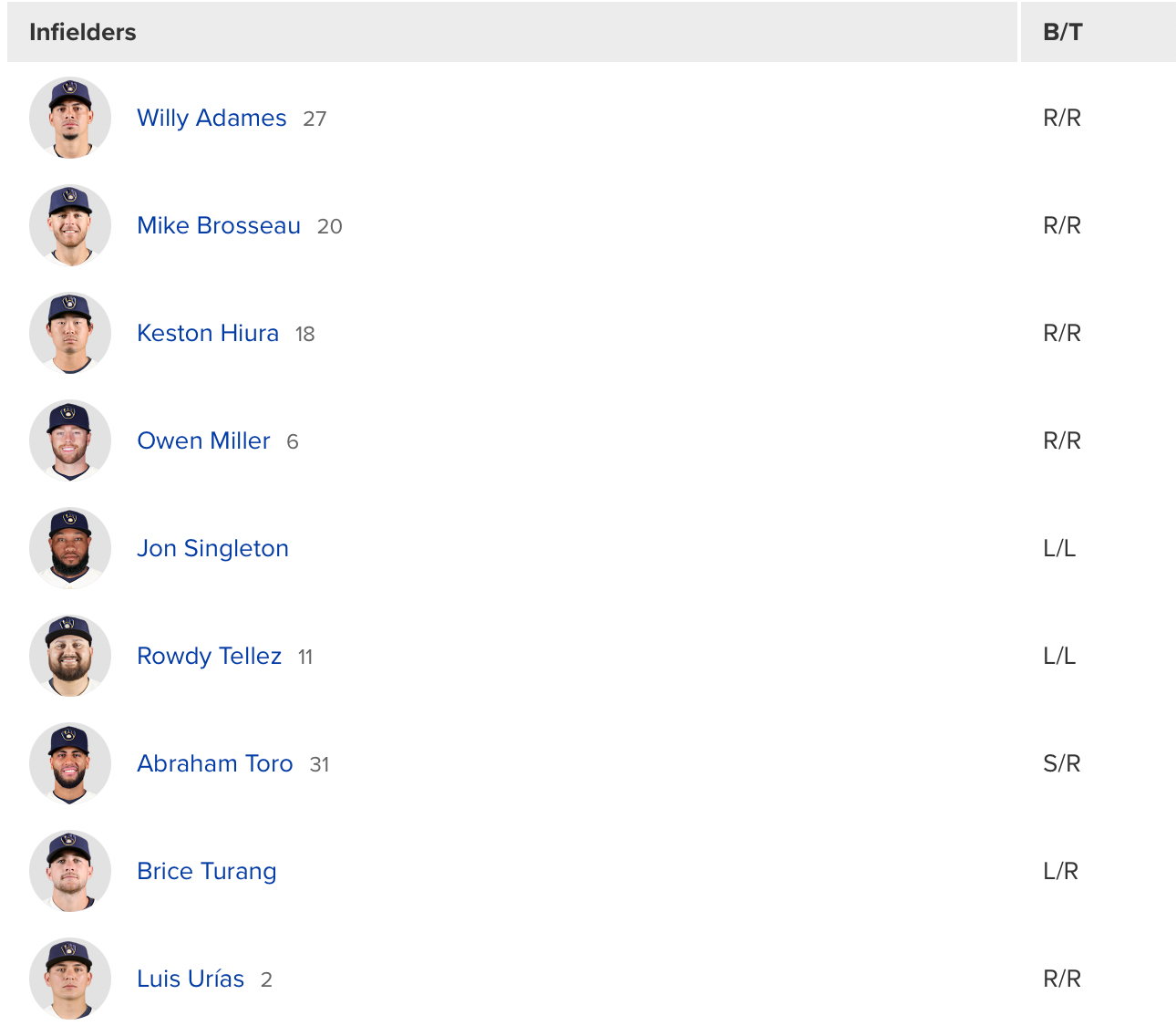 Think you could write a story like this? Brewer Fanatic wants you to develop your voice, find an audience, and we'll pay you to do it. Just fill out this form.
MORE FROM BREWER FANATIC
— Latest Brewers coverage from our writers
— Recent Brewers discussion in our forums
— Follow Brewer Fanatic via Twitter, Facebook or email