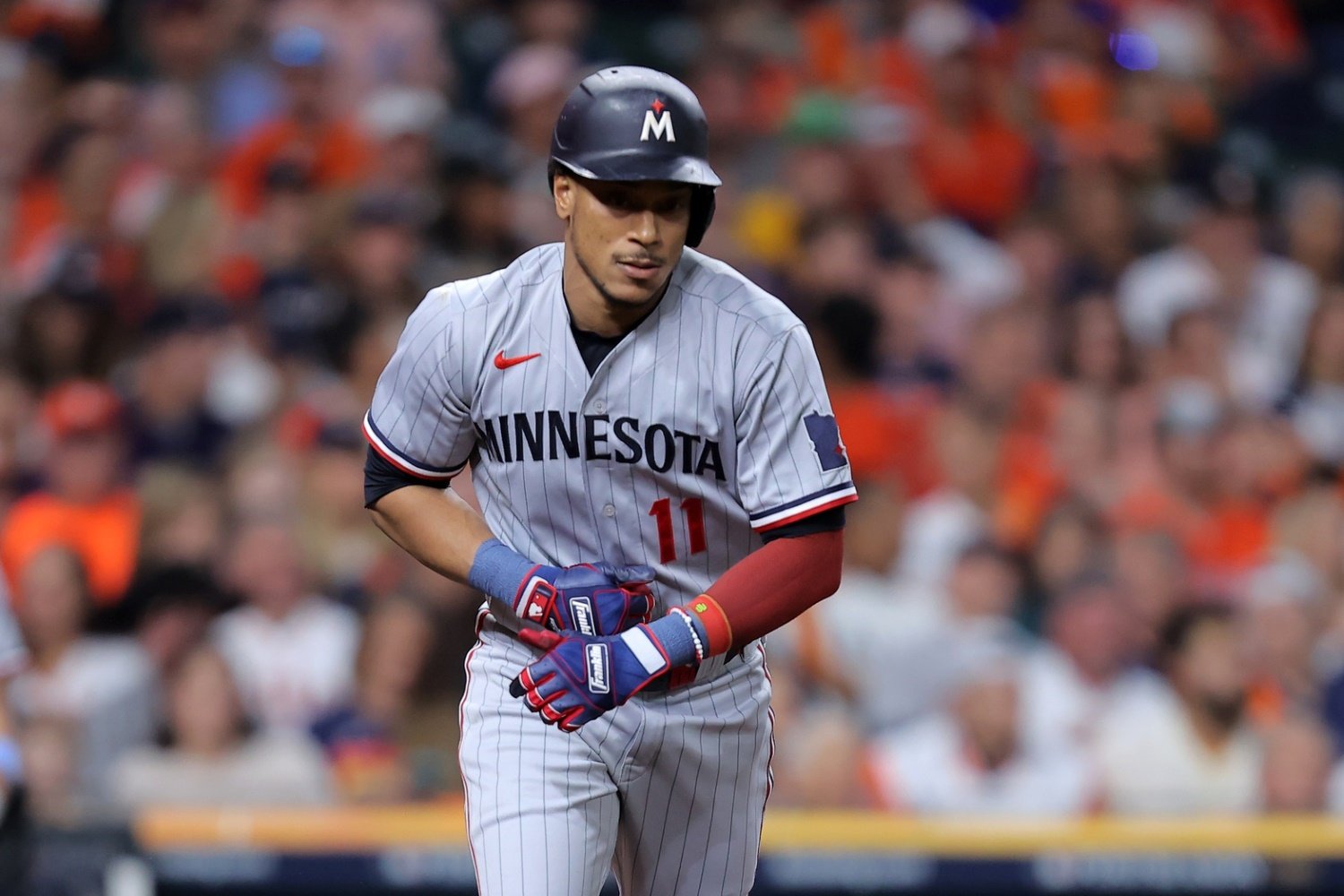 Image courtesy of © Erik Williams-USA TODAY Sports
Throughout the month of November, Brewer Fanatic releases its Offseason Handbook.
This publication is funded by Brewer Fanatic Caretakers and is only available to Caretakers, who also receive ad-free browsing across Brewer Fanatic. During the publish period of the handbook, we are offering 25% off all Caretaker packages using the coupon code HANDBOOK. To become a supporter of Brewer Fanatic, click here.
100% of Caretaker funds are reinvested into the content creators of Brewer Fanatic. Please consider supporting the Brewers coverage we provide every day, 365 days a year.
---
The Minnesota Twins are in an interesting predicament. They exercised their club option on Jorge Polanco for 2024 earlier this month, but Polanco is no longer an ideal fit for their roster and their payroll. With a transitional year ahead for the team's broadcast rights and with Edouard Julien and Kyle Farmer around to man second base, Polanco's eight-figure salary has become a luxury the team can't necessarily afford.
As (first) Luis Arraez and (this season) Julien have nudged him away from second base, Polanco has taken some reps at third recently. He played just over 100 innings there in the 2023 regular season, and also started there during the playoffs. He's versatile at the plate, too, a switch-hitter who can generate some power from each side of the plate and has a feel for altering his approach to suit various situations. He batted .255/.335/.454 in 2023, in a season somewhat disrupted by injury.
If the Brewers believe greatly in Tyler Black as a defensive third baseman, then Polanco would merely be insurance at that spot, and the primary reason to acquire him would be to unseat incumbent Brice Turang--an exchange that would be a downgrade defensively, but a bigger upgrade at the plate. Turang, in that case, would slide into a utility role, where his sparkling defense on the middle infield could help the team and his weak bat couldn't hurt it as much.
Black's defense really isn't sufficient at the hot corner right now, though. His bat is big-league-ready, but his glove is not, at least at third. The better course for the Crew, then, might be to acquire Polanco, insert him at third, and mix in Black gradually (if at all). The rookie could, instead, play first base most of the time. Polanco is most valuable, in a vacuum, at second base, but his versatility is what makes him an especially interesting trade target for Matt Arnold.
Since the Twins picked up his 2024 option, Polanco is also under team control (if whatever team he plays for wants him) for 2025. After earning $10.5 million in 2024, he'll be in line for $12 million in 2025. That's not an insignificant investment, but it's below the market rate for a player with Polanco's consistent offensive track record. The fact that it's an option will also appeal to trade suitors who knock on the Twins' door. Flexibility has a certain monetary value, in itself. Most importantly, there's a dearth of good infield options available in free agency this winter--a constraint on supply that will increase demand for Polanco if the Twins do dangle him.
The Brewers would still have some leverage in these negotiations. While Milwaukee isn't positioned to spend especially aggressively this winter, it's the Twins who are truly cornering themselves with a self-imposed budget cutback. That increases the urgency, for them, in offloading a big salary like those owed to Polanco or to part-time catcher Christian Vázquez. There's a deal to be made; it just requires the Brewers to be open to what the Twins would want.
What the Twins would want is a center fielder. Many reports have the team looking to assemble packages of their controllable position players to reinforce their starting rotation, and those are well-founded, but when it comes to this trade fit, the guys the Twins would want to talk about are Garrett Mitchell, Joey Wiemer, Tyrone Taylor, and Sal Frelick.
Last season, Byron Buxton didn't appear in a single game as the Twins' center fielder. He was a full-time DH, a limitation born of a nagging knee injury. It's unlikely that he'll play even half the games in center field in a season ever again, and with stopgap veteran replacement Michael A. Taylor now a free agent, the Twins need to find a longer-term solution for the problem posed by Buxton's unavailability. With the Brewers overloaded with good-not-great center field options who cost very little and the Twins needing both to fill that spot and to do it cheaply, the fit here seems serendipitous.
Obviously, no two potential deals involving the players above would look exactly the same. Although he's a very inexpensive option, Taylor wouldn't be enough to get Polanco, by himself. Any of the other three probably would, but the Brewers are unlikely to trade Frelick in a straight-up swap for a player so much less exciting and so much more expensive, even if he is a better fit for their needs than Frelick. In my opinion, Wiemer is the sweet spot. The Twins lean left-handed in their positional corps (Max Kepler, Alex Kirilloff, Matt Wallner, Julien, Trevor Larnach, to name a few) and would most love to fill that spot with a righty. Wiemer has a high ceiling, but he's a long way from reaching it, and the presence of Taylor, Blake Perkins, and Chris Roller on the 40-man roster makes Wiemer a little redundant in Milwaukee.
What do you think? Should the Brewers trade Wiemer for Polanco? Would you trade for Polanco at all, and if so, what modifications to this proposed deal would you like to see? Let us know.