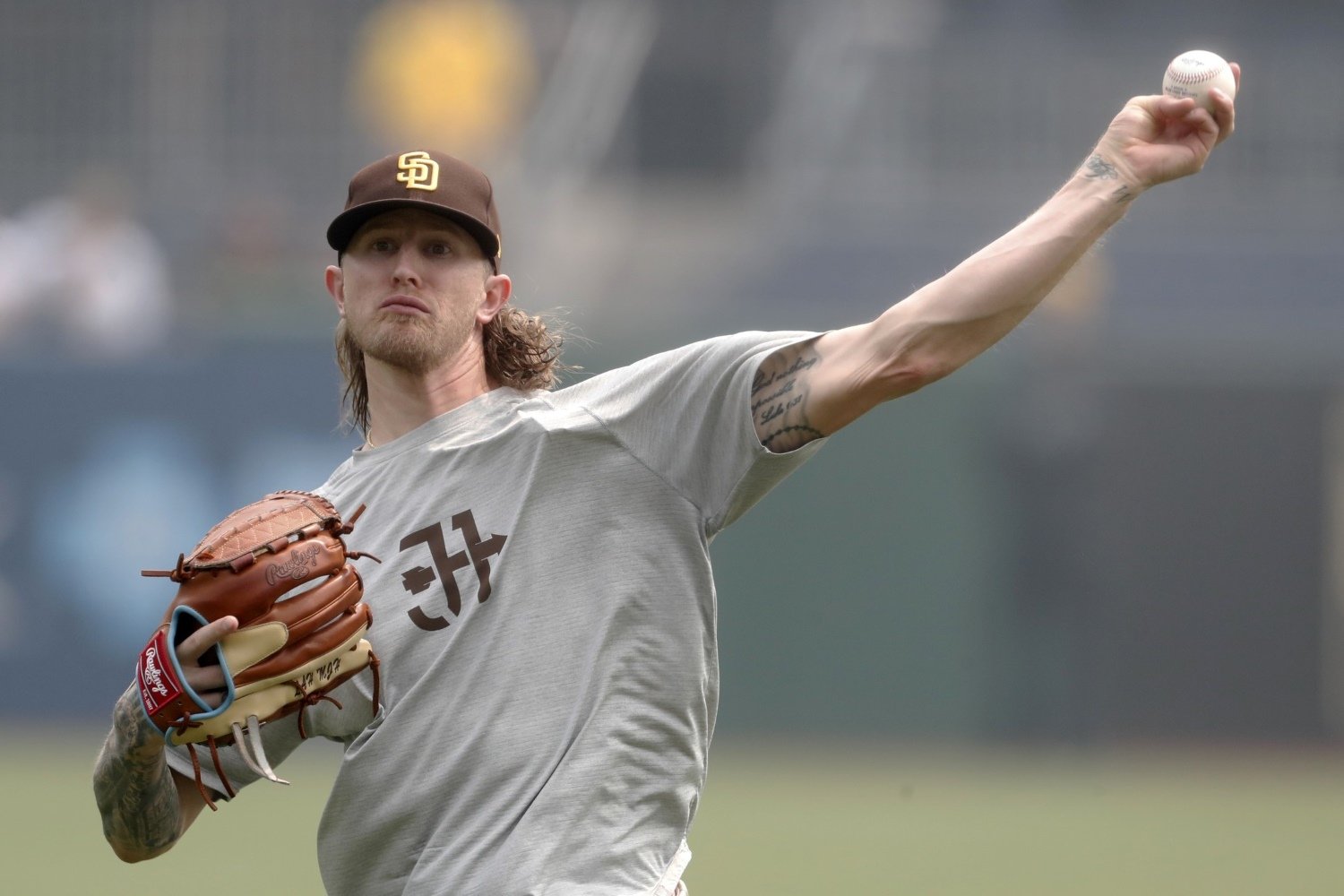 Image courtesy of © Charles LeClaire-USA TODAY Sports
One of the most shocking days in Milwaukee Brewers history came on August 1, 2022. The Brewers dealt All-star closer Josh Hader to the San Diego Padres, while holding a three-game lead on the St. Louis Cardinals for first place in the NL Central. Milwaukee held an 80.7% chance to win the division, and a 90.4% chance to make the playoffs, according to FanGraphs. As we know, neither of these probabilities were fulfilled, as the Brewers limped to the finish line without their frontline closer, falling short even of the newly created third Wild Card. Fast forward a year later, and the Brewers have an opportunity for a reunion.
During the 2023 campaign for those same Padres, Hader has been elite. The 29-year-old is having a career year with the Friars. He's posted a 0.90 ERA in 40 innings, while racking up 25 saves. He has tied his career low in hits per 9 innings (H/9) at 3.8. Although Petco Park, the home of the Padres, is known as a pitcher's park, Hader has had fairly even home/road splits. At home, the flamethrowing lefty has a staggering .099 batting average against, while it's only a .156 batting average against him on the road. In addition, hitters are only slugging .017 higher on the road than at home against Hader. No matter which park Hader is in, hitters are still not making quality contact. 
A deeper dive into his advanced metrics further illustrates how difficult it is for hitters to square him up. According to Baseball Savant, Hader ranks in the top 1% of all Major League pitchers in HardHit% against, at 22.7; strikeout rate, at 38.1 percent; expected batting average, at .132; and expected slugging, at .179. He isn't getting lucky. His average exit velocity against is 85.7 miles per hour, which ranks in the top 5% of the league. Hader has truly been dominant all season. 
Although the Padres have had a disappointing season to date, their sweep over the weekend on the AL West-leading Texas Rangers put them back into the thick of things in the NL Wild Card race. Therefore, the price tag on Josh Hader is an expensive one. Padres General Manager A.J. Preller is no stranger to being a part of large deadline moves. A season ago, Preller traded for All-star slugger Juan Soto and first baseman Josh Bell from the Washington Nationals, in exchange for shortstop C.J. Abrams and left-handed pitcher Mackenzie Gore, both of whom were highly regarded in the Padres' system before they made it to MLB. In addition, San Diego traded their No. 1, No. 3, and No. 14 prospects. 
If the Brewers want a reunion with Hader and to bolster the bullpen for a run deep into October, Milwaukee is going to have to shop some of their best prospects. Because he's now an impending free agent, though, the price tag will be lower, and bringing Hader home would come with so much less uncertainty than most deadline acquisitions do. The Brewers know Hader. They know how to fix him when he breaks, and they know how he fits into their clubhouse. It's worth considering. 
Whom The Brewers Would Need to Trade
Mitchell debuted with the Brewers late in the 2022 MLB season. He was a highly-touted outfielder when Milwaukee selected him in the first round of the 2020 MLB draft out of UCLA. Within two full seasons in the minor leagues, Mitchell was called up, and he made an immediate impact with the Crew. In 28 games last season, Mitchell had an OPS of .832, and he was slated to be the everyday center fielder in 2023. Unfortunately, earlier this season, he tore his labrum, which required surgery that effectively ended his season. Mitchell's contract would be team-friendly for the Padres as well. He is still in the pre-arbitration phase, and isn't eligible for the raises that system affords until 2026.  If the Padres are willing to be patient with Mitchell's rehab, the trio of Soto, Fernando Tatis Jr., and Mitchell would be one of the best outfields in baseball. 
Quero was an international signing by the Brewers in 2019, out of Venezuela. The catcher ranks third in the Brewers farm system, and 71st in all of baseball, according to MLB.com. In 233 at-bats in Double-A Biloxi, the 20-year-old has 13 home runs and an OPS of .871. The Padres have a young catcher at the big-league level in Luis Campusano, but he hasn't been able to find his footing as a hitter since his debut in 2020. For Quero, his chance to make an impact at the major-league level would potentially be higher with the Padres because of the opportunity presented in San Diego. William Contreras doesn't hit the free agent market until 2028. Therefore, Quero may not see everyday opportunities with Milwaukee for quite some time. 
In all likelihood, the Brewers would quail at including Quero in a straight-up deal for Hader. He'd be an alternative to Mitchell, not an accompaniment, and if he were swapped in as the centerpiece of the deal, the deal might need to further expand, with the Padres adding a depth arm of some kind and the Brewers also kicking in a player like Eric Lauer to even out their 40-man roster equation.
In years past, the Brewers' front office has been hesitant to send high-value prospects to other teams in exchange for rental pieces. However, Hader isn't any old player. He has a history with this organization. He also belongs to the highest-value demographic of short-term additions at the deadline. Could the Brewers splurge to bring the fan favorite back to Milwaukee to tighten up the back end of the bullpen? Reinstating the combination of Devin Williams and Hader from a season ago feels like the perfect match. A reunion could be the missing piece in taking an excellent bullpen to new heights late in the season. 
Edited by Jackson Gottfreid