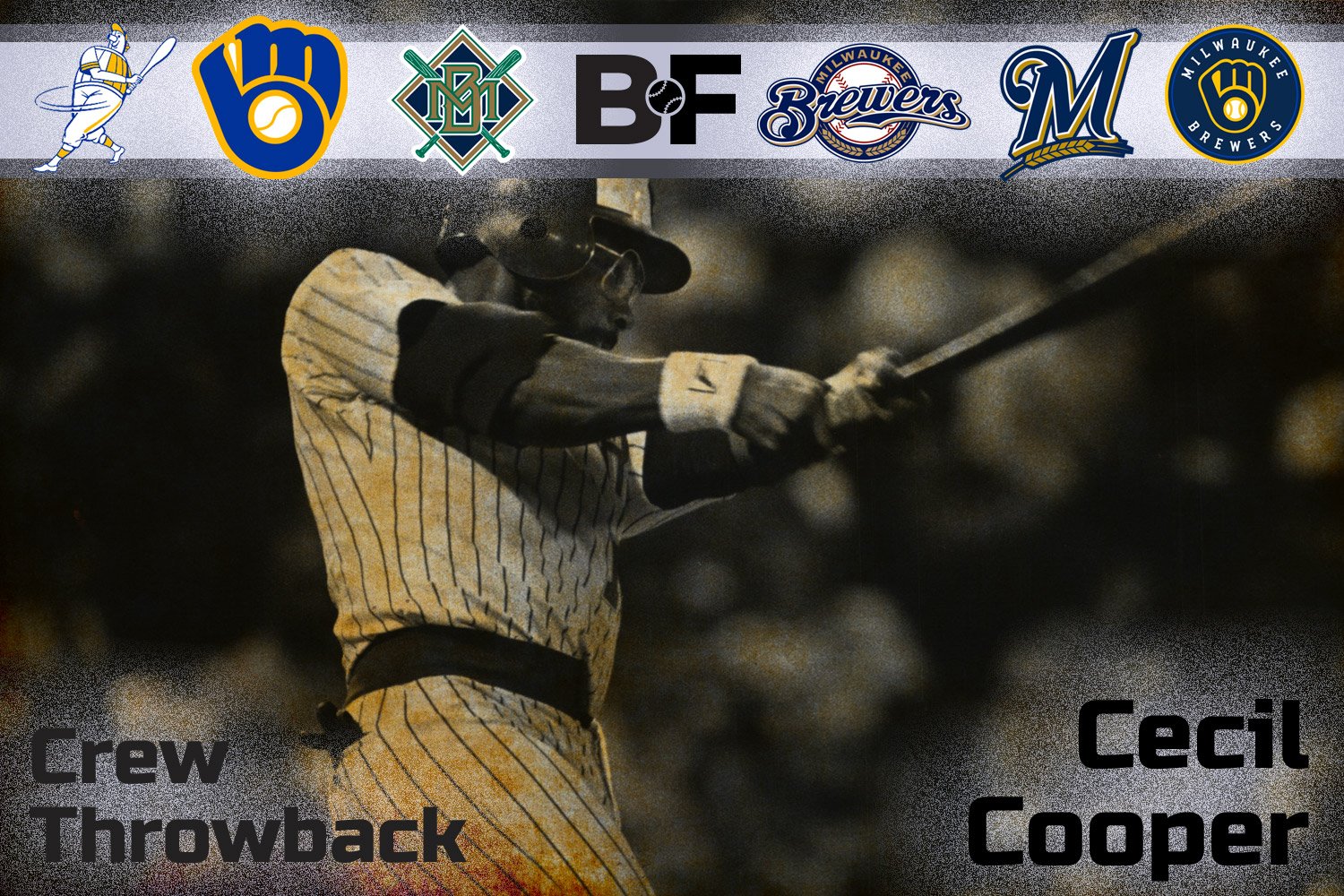 Image courtesy of Brewer Fanatic & Brock Beauchamp
Cecil Celester Cooper was born in Brenham, Texas, on December 20, 1949. He was the youngest of 13 children. His father may have played in the Negro Leagues - but that story is a little murky. Cecil's older brothers were accomplished baseball players - two of whom played for the barnstorming Indianapolis Clowns. One of his brothers - Sylvester - once caught Satchel Paige.
The tall, lanky, left-handed hitting Cecil Cooper was drafted by the Boston Red Sox in the 6th round of the 1968 draft. And it was quickly apparent that Cecil Cooper could hit the ball. His minor league stops include batting averages of .336, .354, .379, and .452 (yes, .452, albeit on only 84 at-bats). His career minor league batting average was .327. 
Cooper made his major league debut in September of 1971 at 21. However, Cooper had a few obstacles breaking into the Red Sox lineup. Defensively, he struggled - limiting him to first base and designated hitter. The Sox moved an aging Carl Yastrzemski to first in 1973 and already had Orlando Cepeda at DH. Also, while Cooper hit for average, he didn't have much power.
He finally got a chance to stick with the Red Sox in 1974, getting 400+ at-bats and hitting a solid .275 with eight home runs. For the next two years, Cooper played semi-regularly - and continued to show modest - but emerging - power and high batting averages. He appeared primed to break out as a full-time player.
And then, in December of 1976, Boston traded away Cooper to Milwaukee - bringing back their former first baseman (the slugging George Scott) along with outfielder Bernie Carbo. The trade was not popular with either club. And while Scott had a monster in 1977, Cooper became a legend in Milwaukee.
Cooper hit .300 or better for seven straight years and averaged 20+ home runs. His stance closely mimicked that of the great Rod Carew, allowing him to become an excellent hitter to the opposite field. He even snagged a pair of Gold Gloves during that time. 
Cooper's finest season was in 1980 when he hit a whopping .352 and led the majors in total bases and RBIs. He was a key cog in the great Brewer clubs of the era, rivaling Yount and Molitor. If Cooper had any chinks in his armor, it was his free-swinging approach at the plate. He just didn't walk very often. But that is a minor ding when you are hitting .300+.
As Cooper aged, his power faded - and eventually, his batting average. In 1985, at 35, he hit .293 with 16 home runs. The following season - his last full-time player - his numbers dropped to .258 and a dozen HRs. The Crew ran Cooper out for one more season, but his numbers only worsened. By mid-season, he was let go. No one wanted an aging first baseman with a fading bat - and thus, his career was over.
Most men would die for Cecil Cooper's career as a player: 2,192 hits, 248 HRs, and a .298 average. He appeared in five All-Star games, won two Gold Gloves, finished in the top 5 in MVP votes three times, and was a key World Series team member in 1982. 
Cooper's stats are even more impressive when you consider he never really achieved full-time playing status until he arrived in Milwaukee. As a Brewer, he ranks at the top of many of the club's hitting categories. He is 4th in bWAR, 3rd in batting average (.302), 5th in games played (1490), 6th in HRs (201) - the list goes on and on. His single-season average of .352 in 1980 is the team's second-best, just behind Paul Molitor's .353 in 1987. His ability and longevity place him in the top 10 of most Brewer records. 
The other impressive thing about Cooper was his contributions off the field. He was heavily involved in charity and community efforts. In 1983, he was awarded baseball's coveted Roberto Clemente Award for humanitarian and community service. 
After his playing career was over, Cooper spent some time as an agent, then in 1996, joined the Brewers as farm director. He then turned to coaching - becoming Milwaukee's bench coach in 2002. After a stint managing in the minors and another year as a bench coach in Houston, he was named the Astros manager, serving in that capacity from 2007-2009.
He had middling success as a manager and was let go at the end of the 2009 season. After that, he retired.
Cooper was inducted into the Brewer Walk of Fame in 2002 and was elected to the Wisconsin Athletic Hall of Fame in 2007. He now lives in Katy, Texas, with his wife Octavia. 
Cecil Cooper was a great player on some of the best teams in Brewer history. But he was a quiet, unassuming man - often overshadowed by his more flashy teammates and oversized personalities - such as Robin Yount, Paul Molitor, and Gorman Thomas.
And even when Cooper had an amazing season, such as the year he hit .352, George Brett hit an astounding .390, limiting his exposure throughout baseball.
No matter, Cecil Cooper was a rock in the Brewer lineup for a decade and just hitting year after year. His teammates loved him, and so did the fans.
Please share your memories of Milwaukee Brewers great Cecil Cooper.
Think you could write a story like this? Brewer Fanatic wants you to develop your voice, find an audience, and we'll pay you to do it. Just fill out this form.
MORE FROM BREWER FANATIC
— Latest Brewers coverage from our writers
— Recent Brewers discussion in our forums
— Follow Brewer Fanatic via Twitter, Facebook or email