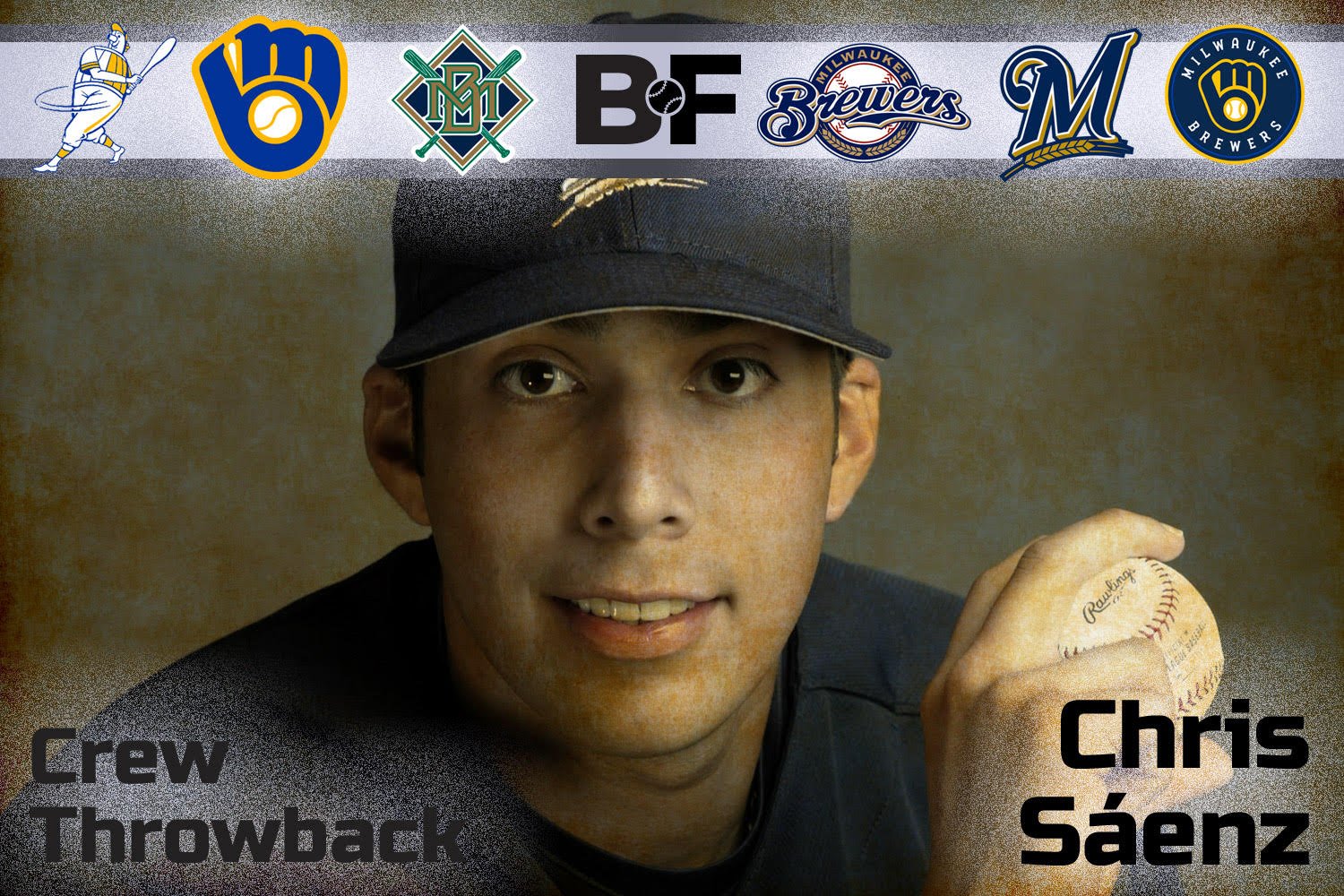 Chris Sáenz was born in Tucson, Arizona, in 1981. He was a 28th round pick by the Brewers in 2001 out of Pima Community College in Tucson. He began his career as a reliever, but moved to the rotation after two season. The results were middling, mostly due to control issues. But Sáenz could strike out batters - averaging a strikeout per inning during his minor league career, and the team was intrigued by his potential.
In 2004, Sáenz began the season at AA Huntsville. He had only pitched in three games when he was informed that the Brewers needed him for an emergency start after an injury to Chris Capuano - as well as a 15-inning game two days earlier. The 22-year-old right hander was to face the St. Louis Cardinals, whose powerful lineup included Scott Rolen, Albert Pujols and Jim Edmunds .
On April 24, 2004, in front of more than 22,000 fans at Miller Park, Sáenz was brilliant. He threw six innings, giving up only two hits and three walks against seven strikeouts - all while picking up his first - and only - major league decision: a win. Sáenz struck out the first batter he faced and at one point retired 14 straight. His only major scare was in the first inning, when Edgar Renteria drove a fly ball to the deepest part of the park only to have it hauled in by Scott Podsednik . It was a stunning performance, but Sáenz knew it was only a one-game ride. The club had already told him he was heading back to AA after the game. Little did he know he would never return to the big leagues.
Sáenz headed back to AA but suffered a serious arm injury later that year, which lead to Tommy John surgery, causing him to miss not only the rest of the season, but all of 2005. The Brewers released him the following year. He tried to make a comeback with the Angels organization in 2007, but the results were disastrous. A stint in indy ball was no better, and after the 2008 season his career was done. He was 26 years old.
Sáenz played all of one game in his major league career, but there was something of a fairy tale to it. Plucked from obscurity, he found himself on the biggest stage in the world and - for one day - was awesome.
He is only the fourth pitcher in baseball history, and the first since 1899, to start in his only major league game, give up no runs (earned or unearned) with at least six innings pitched, and record the win. His lifetime MLB record is 1-0 with an ERA of 0.00. Many people call it the best one-day career in baseball history.
You can't help but not feel bad for Sáenz. Like lots of players, injuries derailed his career. But there's something kind of cool to his story. Who can walk around saying they won their only major league game? Or say they have a lifetime ERA of 0.00? And to do it against the powerful (and hated) Cardinals. It's probably great at parties.
After baseball, Sáenz went back to school, and got his degree from Arizona State. He and his family would eventually move to Chicago, where he works as a railroad engineer.
Please share your thoughts on Chris Sáenz's amazing one game career.
Think you could write a story like this? Brewer Fanatic wants you to develop your voice, find an audience, and we'll pay you to do it. Just fill out this form.
MORE FROM BREWER FANATIC
— Latest Brewers coverage from our writers
— Recent Brewers discussion in our forums
— Follow Brewer Fanatic via Twitter, Facebook or email
4