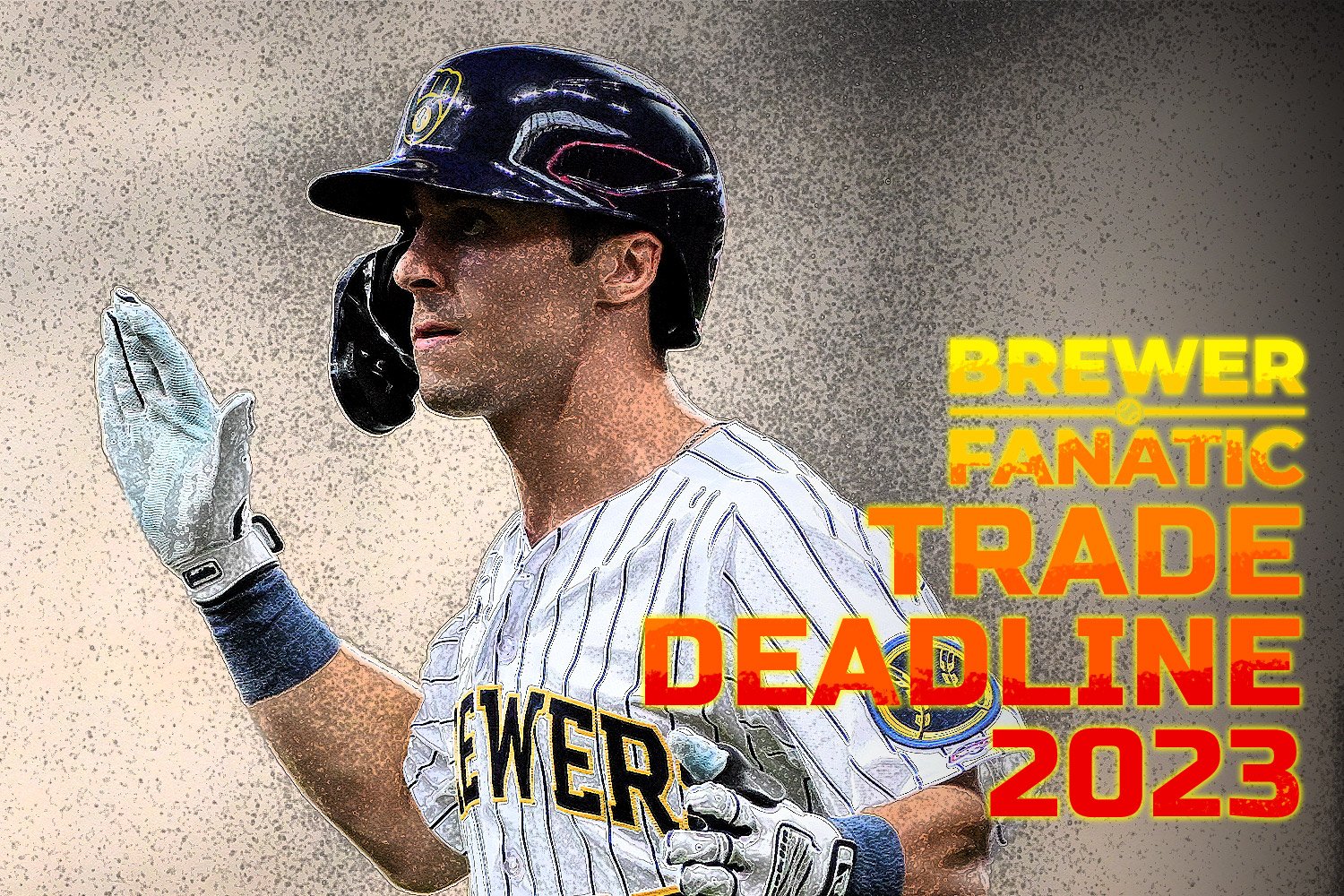 Image courtesy of © Benny Sieu-USA TODAY Sports
The Brewers had a galvanizing, exhilarating, season-shifting Saturday. They called up Sal Frelick and stuck him into the lineup for a nationally-televised home game against the best team in baseball, and the rookie came as close to singlehandedly winning them the game as a right fielder ever can. Frelick had the game-tying and go-ahead RBI, as the team came back from an early 3-0 deficit to win 4-3. Just as importantly, he made two dazzling catches near the fence in right, taking extra-base hits away as the Braves tried to add to their lead.
Frelick now figures to be the everyday right fielder, or at least the strong side of a platoon with Tyrone Taylor. Until Taylor shows that he's regained his health and his form more completely than he did in his previous healthy stint, it should be mostly Frelick out there. The skills he showed with his hits and his sacrifice fly Saturday are the ones that made him a top prospect: a good approach, great feel for contact, and solid speed. He also, clearly, fits perfectly into one of the league's best defenses, a unit the Brewers have carefully cultivated and emphasized throughout the season. He shores up and lengthens the lineup nicely, though he clearly won't turn them overnight from a lousy offense into an average or better one.
This development doesn't quite eliminate the possibility of a trade for a right fielder. Frelick has played center field the (narrow) majority of the time in the minors this year, and was primarily a center fielder last year. He could just as easily platoon with Joey Wiemer as with Taylor or Blake Perkins, should a good opportunity arise for the Brewers to trade for a right fielder. The better odds, though, have always been that the Brewers would find a first baseman or designated hitter to beef up the middle of the order, and Frelick being around makes that even more likely.
That assumes, of course, that Frelick is still around on the other side of August 1. One reason to call up a prospect in the shadow of the approaching trade deadline is to showcase them for a potential trade. That's unlikely in this case, especially after Frelick immediately won the hearts of Brewers fans everywhere, but his trade stock rose right along with his Q-score on Saturday night. More plausibly, the team could take Frelick's arrival as an opportunity to shop Garrett Mitchell, who would be their dynamic, young left-handed outfielder if he weren't shelved with season-ending shoulder surgery back in April.
Teams would give up more for Frelick than for Mitchell, of course, because the latter now has additional question marks on his scouting report--ones about his health and long-term prognosis, to go with the ones that already existed about his ability to make sufficient contact to get to his power and speed. However, the very fact of Frelick being in the mix (and, the Brewers hope, the improvement he brings to the offense even before they pursue external upgrades) could also make it less urgent that the team acquire someone new, anyway. If Frelick weren't part of the lineup, the team would need to trade for someone so good that they would need to trade Frelick to get them. If he can stick and help out on both sides of the ledger, they only need someone of the quality they can attain for a package starting with Mitchell.
One game shouldn't guide the Brewers too forcefully. They should still keep the need for a big bat (ideally a right-handed one) front and center in their minds. With Frelick in the big-league fold, though, the necessary form of that deal is a bit less drastic, and they can husband their long-term resources (both talent and money) more closely, without it hurting their chances of winning the NL Central or making a run in October.
Think you could write a story like this? Brewer Fanatic wants you to develop your voice, find an audience, and we'll pay you to do it. Just fill out this form.
MORE FROM BREWER FANATIC
— Latest Brewers coverage from our writers
— Recent Brewers discussion in our forums
— Follow Brewer Fanatic via Twitter, Facebook or email