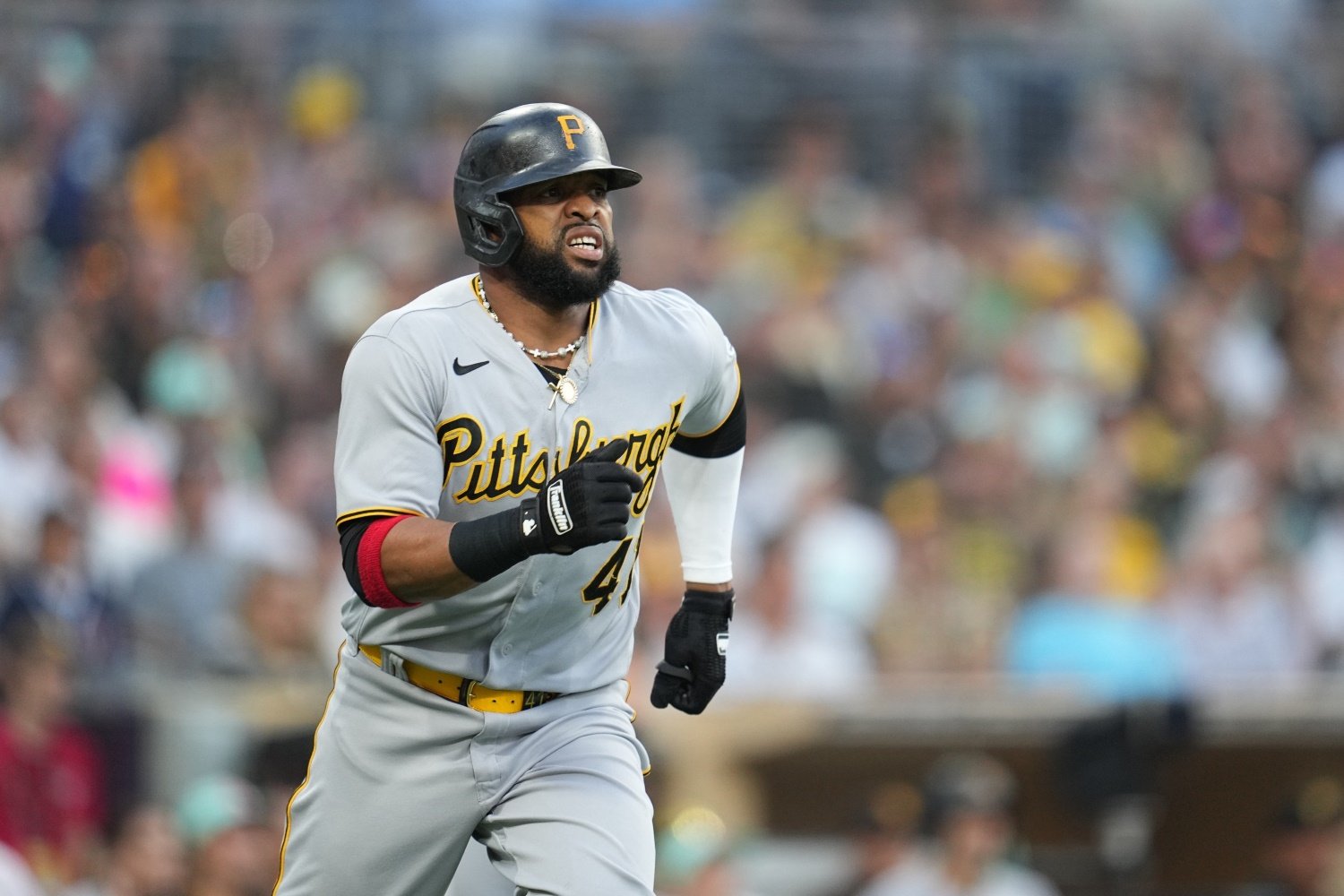 Image courtesy of © Ray Acevedo-USA TODAY Sports
How Will This Trade Help Down The Stretch?
Carlos Santana has primarily played first base for the Pittsburgh Pirates this season, slashing a satisfactory .235/.321/.412 for a .732 OPS and an OPS+ of 98. He also led the team with RBI at 53. While he's a long way from his standout 2019 season which saw him post a .911 OPS and an OPS+ of 136 with the Cleveland Guardians, he's got some key characteristics that could benefit the team through the remainder of the season.
While he's not quite the lefty-crusher some fans may have been hoping for, he performs just as well against them as he does righties, posting a .735 OPS against righties and a .723 OPS against southpaws, a marked improvement over Rowdy Tellez's dismal .505 OPS in that second split. Santana has also had elite plate discipline throughout his career, averaging a 15.0% walk rate over his decade and a half in the majors. While it has dipped slightly to 11.5% this year, it's still an improvement over Tellez's 9.4% rate and we might even see a return to normalcy in the second half.
Furthermore, Santana has been great defensively this year. While this isn't usually what people look for in first basemen, Santana's six defensive runs saved and two OAA (78th percentile) are worth calling out. In comparison, Tellez has -1 DRS and -3 OAA.
That being said, at 37 years old, he's no spring chicken. He'll become a free agent at season's end, so depending on how he performs and fits in with the team, he may serve purely as a short-term rental to solidify a playoff push. However, his age also comes with benefits of its own, as (in addition to being a slight offensive and defensive improvement over Tellez), he's known to be a great locker room presence and senior leader.
What Was Given Up?
In exchange for Santana's services, the Brewers sent 18-year old shortstop prospect Jhonny Severino to the Pirates. Signed in 2022 for $1.2 million out of the Dominican Republic, Severino has posted impressive numbers in rookie ball thus far, slashing .250/.289/.583 for an OPS of .872 over 52 plate appearances.  
While it's always hard to judge who came out on top in any trade, this transaction is a meeting of alternate goals. The Brewers are holding onto the NL Central lead by just 1.5 games over the Cincinnati Reds, and it has been close for the past few weeks. In order to secure their spot in the playoffs, they needed to add extra bats, especially at first base. Tellez is on the 10-day IL and has been floundering all season; Darin Ruf is still on the 60-day IL; and that left the Brewers with Owen Miller, an unorthodox first baseman without a ton of power. This move is (hopefully) the first of a few to widen the gap between Milwaukee and the remainder of the division. Given Santana's OBP-over-power profile at this stage, the more complementary moves the team makes beyond this one, the wiser it will look.
On the other hand, Pittsburgh is likely going to miss the playoffs for the eighth time in a row, and were looking to bolster their farm system. After taking pitching phenom Paul Skenes in this year's draft, Severino is another young piece of the puzzle. In a sort of win-win situation, the Brewers get more major-league offense while giving up a relatively unproven prospect, and the Pirates get a speculative lottery ticket to potentially bring their team back to October. 
Think you could write a story like this? Brewer Fanatic wants you to develop your voice, find an audience, and we'll pay you to do it. Just fill out this form.
MORE FROM BREWER FANATIC
— Latest Brewers coverage from our writers
— Recent Brewers discussion in our forums
— Follow Brewer Fanatic via Twitter, Facebook or email