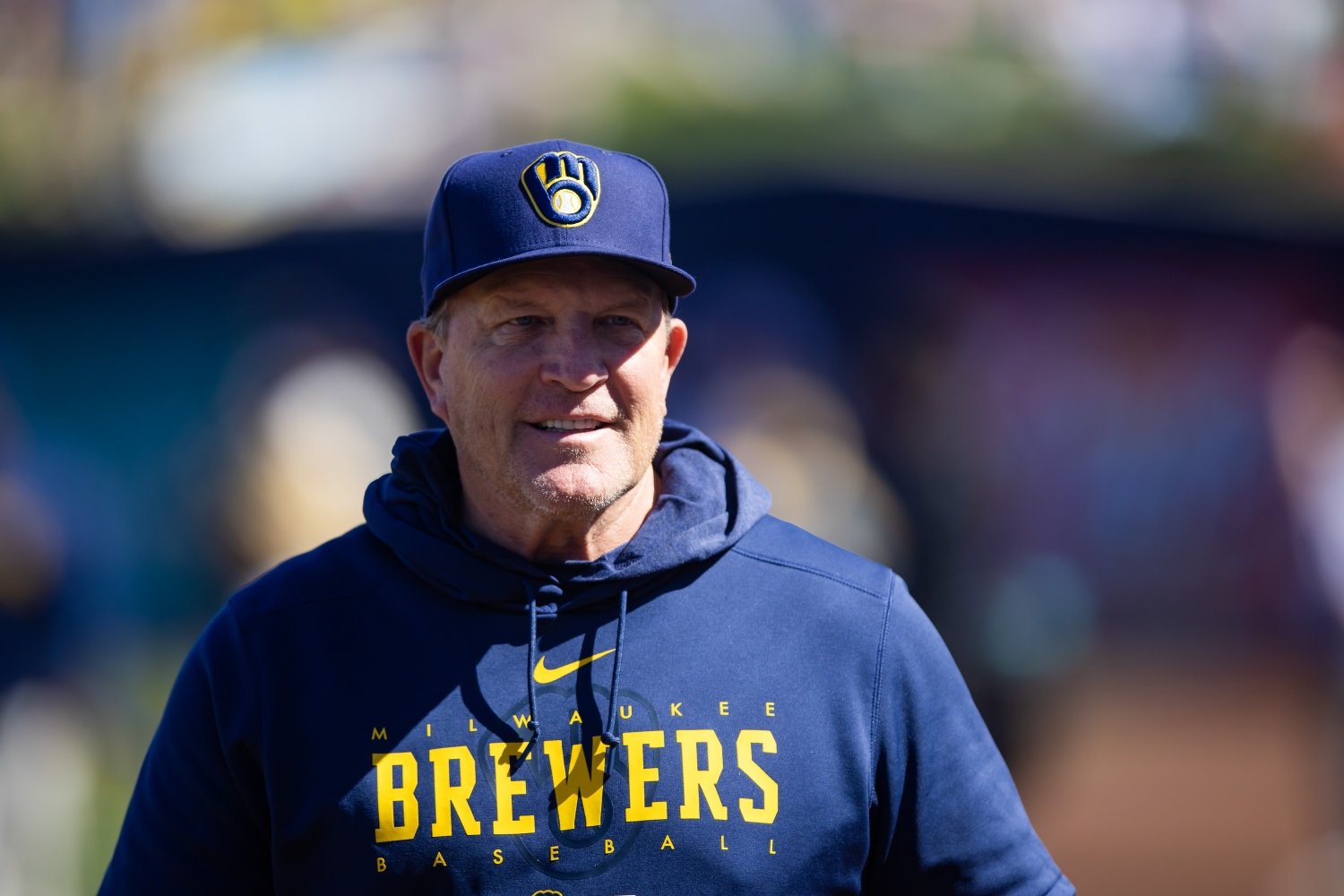 Image courtesy of © Mark J. Rebilas-USA TODAY Sports
Throughout the month of November, Brewer Fanatic releases its Offseason Handbook.
This publication is funded by Brewer Fanatic Caretakers and is only available to Caretakers, who also receive ad-free browsing across Brewer Fanatic. During the publish period of the handbook, we are offering 25% off all Caretaker packages using the coupon code HANDBOOK. To become a supporter of Brewer Fanatic, click here.
100% of Caretaker funds are reinvested into the content creators of Brewer Fanatic. Please consider supporting the Brewers coverage we provide every day, 365 days a year.
---
During the brief period in which the Brewers conducted a search for Craig Counsell's replacement, Matt Arnold commented that they were looking for "if you're using the scouting scale, an 80 human." In other words, personality was the biggest thing on their list, something Pat Murphy fills with abundance. He's a much-beloved figure in the Brewers clubhouse, having been appointed in 2015 alongside Counsell to be his bench coach, and will avoid some of the distress and uncertainty that could come with a new face in the dugout. That being said, at almost 65 and with recent-ish health issues, there remains a question of how long he will keep going--a question made more compelling by the fact that his replacement as bench coach is Rickie Weeks.
What Does Murphy Bring to the Table?
With 35 years of experience around a baseball dugout, including 22 seasons as a collegiate head coach, Murphy became the youngest college baseball manager to reach 500 victories. Including four College World Series appearances. In 2010, he joined the San Diego Padres, taking up roles as a special assistant and minor-league coach throughout his tenure. He was named interim manager for the Padres after a midseason firing, going 42-54 before being let go and joining the Brewers as their bench coach. 
Murphy brings something many newer hires could not: an understanding of how to fill Craig Counsell's job as close to the original as possible. He will obviously be making slightly different decisions, and will still have that initial pressure and scrutiny, but he knows the ins and outs of the organization intimately, including how much reliance to put on analytics, relative to his baseball instincts. 
We have also seen (such as with the St Louis Cardinals in 2023) how a different manager can destroy the clubhouse, something that derailed their season before it really got off the ground. Murphy will avoid all of that, providing a significant element of stability and comfort with every other staff member who stayed. Mark Attanasio said he could spend half an hour just listing the names of every person who had made the Brewers' recent history so successful, and this gives the organization a chance to demonstrate that they have more than just Counsell to laud for their prolific success in close games.
Is Rickie Weeks the Manager-in-Waiting?
When Weeks' name came up as a possibility for the managerial job, there was a lot of skepticism about him even being an option. Part of this is due to Weeks' reluctance to change positions in 2014 to left field-- understandable, in some ways, as it would have severely impacted his value going into free agency, especially asking him to adjust mid-season. It does leave an imprint of a person who's not so much of a team player, however right or wrong that may be. He also was a quiet, thoughtful type, which despite his vast community efforts could make him difficult to connect with from the fan base side.
On Feb. 4, 2022, he was hired by Milwaukee as an assistant to the player-development staff, allowing him to see the inner workings of the whole Brewers system. He later obtained a promotion to special assistant to player development. It feels like his transition to bench coach is an attempt to groom him for the top job at some point in the next couple of years, while also providing a balance between the old-school baseball nous of Murphy and the fresher viewpoints of Weeks that can allow the Brewers to thrive on the field. It's clear from the interview process that he's someone the Brewers can see in a managerial capacity.
There's one other distinct advantage brought by Weeks. Over the last two years, as an integral part of the player development structure, he will have been in and around the workings of, and potentially forming relationships with, the stars coming through the Brewers farm system, something that may be heavily leaned upon with Sal Frelick, Garrett Mitchell, Joey Wiemer, Jackson Chourio, Jacob Misiorowski, Brice Turang, Tyler Black, Robert Gasser and more impacting the big-league team at some point this year. Understanding how these players work, and how they've developed could be a vital step in helping their transition to the majors go smoother than some of the Freshmen found it last year. 
Will Anything Change?
Murphy may have less of an ability to push back against the front office than had Counsell. However, there have been certain trends in recent seasons that it will be interesting to see play out. One is the use of players with reverse platoon splits against pitchers against whom they're historically weaker, and a stubbornness to admit that it wasn't working. It saw an improper selection of at-bats going to players like Luke Voit, Brian Anderson, and (most notably) Keston Hiura over recent seasons, and it could be intriguing to see if this was a front office dictate or a Counsell predilection. It may also be intriguing to see whether or not some bullpen roles change, with Hoby Milner deployed often to face just three hitters and kept away from right-handed bats where possible, despite his ludicrous success in 2023, combined with the management of youngsters like Abner Uribe.
Make no mistake: Murphy has a sizable task on his hands, whichever way the Brewers decide to go during the offseason. He must create an environment in which both old and new heads can thrive, particularly the likes of Misiorowski and Chourio when they arrive, while continuing to implement the statistical plans from the front office and developing a potential replacement. It's a lot of responsibility. Time will tell how he handles it all, and how they start the season will be crucial to his success. At this point, it appears the answer is that Murphy is both exactly who the Brewers want to lead the team, while also potentially bridging a gap to a younger face with front office experience.
What direction do you expect the front office to go for the rest of the winter, in light of this move? Do you view Murphy as a viable selection to sustain contention in 2024? Let's chat about this fascinating dual hire.