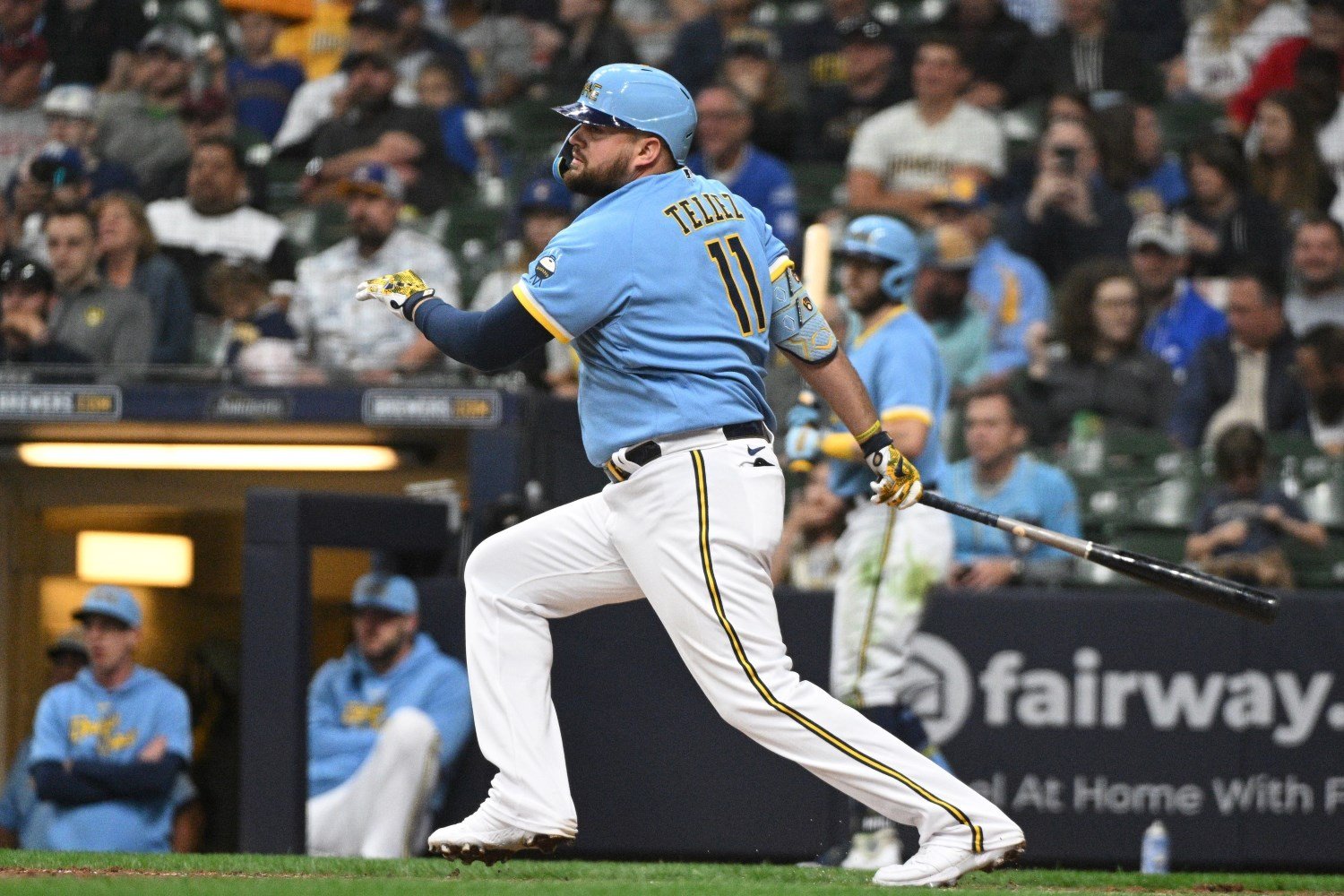 Image courtesy of © Michael McLoone-USA TODAY Sports
Rowdy Tellez is exactly the player needed to sort the lack of power in the Brewers middle order, with a low strikeout rate for a slugger of his profile, and massive power, which should enable them to drive home big totals, and create separation from teams when the likes of Yelich, Frelick and Contreras get on base, as well as our shiny new toy, Carlos Santana. Currently, it seems as though (after the top two hitters) unless they go out of the ball park, they'll be stranded on the bases due to a lack of either consistency or power in the middle of the lineup, and it's preventing the Brewers from gaining separation in games recently, doing the bare minimum to win.
Tellez had an OPS in June of .442, surpassed only by a .191 OPS in July during 11 plate appearances before going on the 15-day injured list with forearm inflammation, an injury that had apparently been bothering him for over a month. He was slashing just .136/.184/.173 over his last 87 plate appearances, and hadn't homered since May 22, at which point he was having quite a fine season. He had hit 12 home runs with an OPS comfortably over .800, ripping 20 RBIs in April alone, looking every bit the slugging monster the team expected. This healthy version of Tellez is perfectly capable of carrying an offense, and is head-and-shoulders above anyone the Brewers will realistically target at the deadline.
Last season, he performed to an average level while having one of the worst BABIP's in the major leagues, which compared to previous years, suggested some optimism of a big bounce back, and perhaps a premier offensive first baseman. Even then, he had a .767 OPS in 2022 with 35 home runs, so even in a down season with deadened baseballs he showed serious power. However, this completely disappeared over the month-plus before he went on the shelf, with just four extra-base hits and a cratering ability to make regular, solid contact, often getting just too far under the ball and causing weak fly balls and pop-ups to the infield. Even when he did rip the ball, he had a knack for finding fielders, and not getting it aerial enough.
As such, when Counsell referred to the IL stint being due to a month-long forearm issue, it seemed valid (or more so than Jesse Winker's "back spasms"). He hadn't hit a home run in almost two months, and that's just not conceivable for a player like Tellez outside of some injury. He wasn't making the quality contact he has in his last two seasons, where his average exit velocity has been above 91 mph. So his exit velocity was dropping with a livelier baseball, and the fly ball issue was causing him to average a 30 degree launch angle in June against breaking pitches, and a rising launch angle against fastballs, too. His timing was off just enough to throw off the Brewers' hottest hitter to start the season.
He was just a little behind the ball on the regular, causing any late contact to be a low line drive, or to be slightly under the ball in his uppercut swing, all of which could come from an injured forearm tweaking his bat speed ever so slightly.
One thing a six-week break will have done is given his forearm ample time to rest, and remove any and all inflammation in it. There will be a question of if his grip is affected, as Frelick's was for a while, due to the number of stitches in the finger he subsequently injured in a freak shagging accident, but as it's a nail bed that hopefully shouldn't be as big an issue, being on the top of the finger rather than the underside.
His estimated date of return is the LA Dodgers series, 15 days after the deadline, meaning acquiring Carlos Santana may be all the Brewers do to cover the 1B/DH position. Instead, they could look to add middle infielders, or an outfield bat like Teoscar Hernandez to be an extra lengthening of the lineup.
Showing more propensity to strike out so far this year, and less power than usual, but to the opposite of previously hot trade rumor subject C.J. Cron with an 83rd percentile walk rate, and 75th percentile chase rate, Santana will grind out at-bats and find a way to get on base. However, the Brewers have several of these bats, and the recent issue has been power more than on-base efforts, meaning they need someone to drive in runs in the heart of the order, which Santana hasn't done so much of this year. He will keep the line moving, and his clubhouse presence has been noted by Adam Frazier as a key part of the Mariners hot stretch last season, but the Brewers still need a little pop in their lineup.
Whatever you think of Rowdy as a hitter, he's definitely not the kind of player who stops hitting for power overnight. He might be streaky, but he's never been a sub-.500 OPS player, particularly given that he's struck out at around just a 20% clip in 2021 and 2022. Matthew Trueblood wrote a great article on how his patience at the plate may have belied an injury back in May, covering his incredibly reduced swing rates at the time.
Santana could go a long way to helping the Brewers inch themselves towards league average offense, but neither he nor any of the alternatives they might have explored can carry the Brewers the way Tellez can, both to finish the regular season, and deep into the postseason. If he has a six-week period to finish the season as he started, this offense takes on a whole new outlook.
Think you could write a story like this? Brewer Fanatic wants you to develop your voice, find an audience, and we'll pay you to do it. Just fill out this form.
MORE FROM BREWER FANATIC
— Latest Brewers coverage from our writers
— Recent Brewers discussion in our forums
— Follow Brewer Fanatic via Twitter, Facebook or email