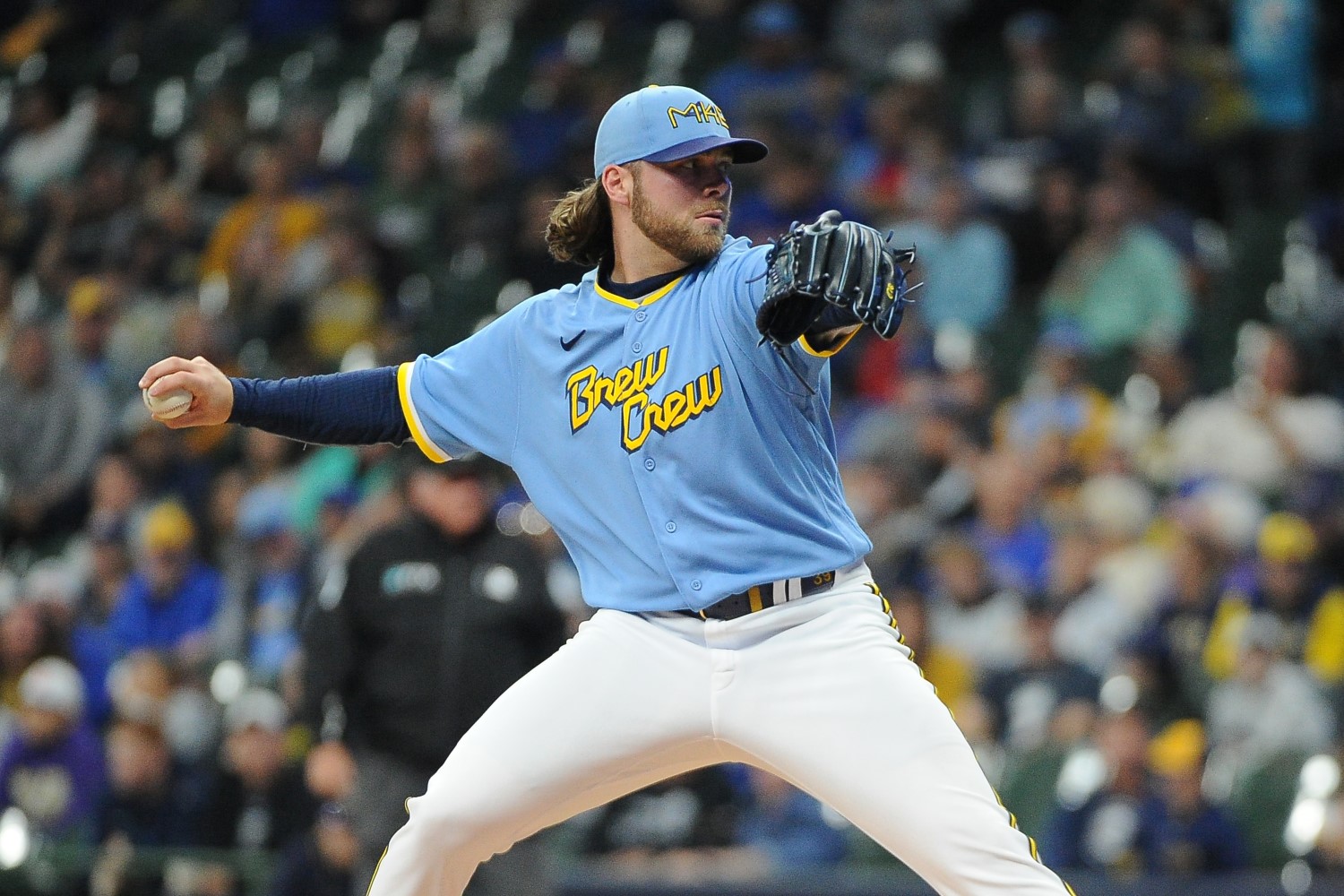 Image courtesy of © Michael McLoone-USA TODAY Sports
Corbin Burnes, 28, is set to hit free agency after the 2024 season, and while it's been a topic of conversation all winter, the fact is that extensions with two years of team control remaining are rare. Most team-friendly extensions, with big discounts for the team and club options at the end, come sooner than this in a career, when the club can apply more leverage. Most big extensions, the kind that mark a player as a franchise cornerstone, come a year later, when the potential value of a free-agent deal has begun to crystallize and the sides can negotiate more evenly. A player's penultimate year of team control is, contractually, an awkward phase.
That's especially true for elite starting pitchers. In fact, in the last decade, only one hurler of anywhere near Burnes's caliber has signed an extension with between four and five years of service time. It was Jacob deGrom , who signed a complicated and fascinating four-year deal with the Mets in 2019. That contract guaranteed him as much as $137.5 million, with a club option that could have taken its total value as high as $170 million. However, deGrom also had the ability to opt out after the fourth year, making the deal worth $107 million. (He did just that, of course, and signed a new pact for $185 million over five years this winter with the Rangers.)
At that point, deGrom was better than Burnes is now. Because he had been eligible for arbitration for two years before that, to Burnes's one, he was also set to make more in 2019 than Burnes can make in 2023. However, he was two years older than Burnes is, and had significant known injury risk attached to him already. It's not unfair to use the deGrom deal as a reference point for a potential Burnes extension.
What, then, would that look like? Well, the Brewers could pay Burnes $31 million over the first two seasons, roughly matching what he'd be projected to get via arbitration, anyway. In 2025, his salary would need to climb substantially, to somewhere just south of what a pitcher of his caliber commands on the open market. Three guaranteed years at a total of $100 million is a fair estimate. Again using deGrom's deal as a guide, the team could add an option for a sixth year at $35 million. Burnes, though, would have the right to opt out after 2026.
Assuming a small buyout would be part of the club option, this deal would guarantee Burnes $136 million over six seasons, with the option taking it to $166 million over seven. If Burnes opted out, he would do so with $40 million left on the deal, having made $96 million in four years and with plenty of time left to sign a deGrom-like megadeal.
I know what you're thinking. This isn't how the Brewers do business, and they're not going to sign him to such a contract. That's probably true, although it's worth pointing out that the deGrom deal included a huge chunk of deferred money, as does Christian Yelich's current deal, so one tool for managing the budgetary implications of such a deal is already at hand for Mark Attanasio and Matt Arnold.
This exercise merely helps us see a couple of important things. Firstly, there is still some discount to be had by moving now on Burnes, using a structure that has already worked once elsewhere. He needn't be viewed as having a $200-million price tag, unless Milwaukee waits another year to make a decision. 
Secondly, though, it reminds us that the decision and action points on Burnes are getting closer than we might otherwise think. If he's still a Brewer next winter, everyone will know for sure that he's not going to sign an extension, and the team's leverage in any trade talks will decline. That doesn't mean they should trade him now, though, because with him alongside Brandon Woodruff atop the starting rotation, they still have a fine chance to win the NL Central in 2023.
Think you could write a story like this? Brewer Fanatic wants you to develop your voice, find an audience, and we'll pay you to do it. Just fill out this form.
MORE FROM BREWER FANATIC
— Latest Brewers coverage from our writers
— Recent Brewers discussion in our forums
— Follow Brewer Fanatic via Twitter, Facebook or email