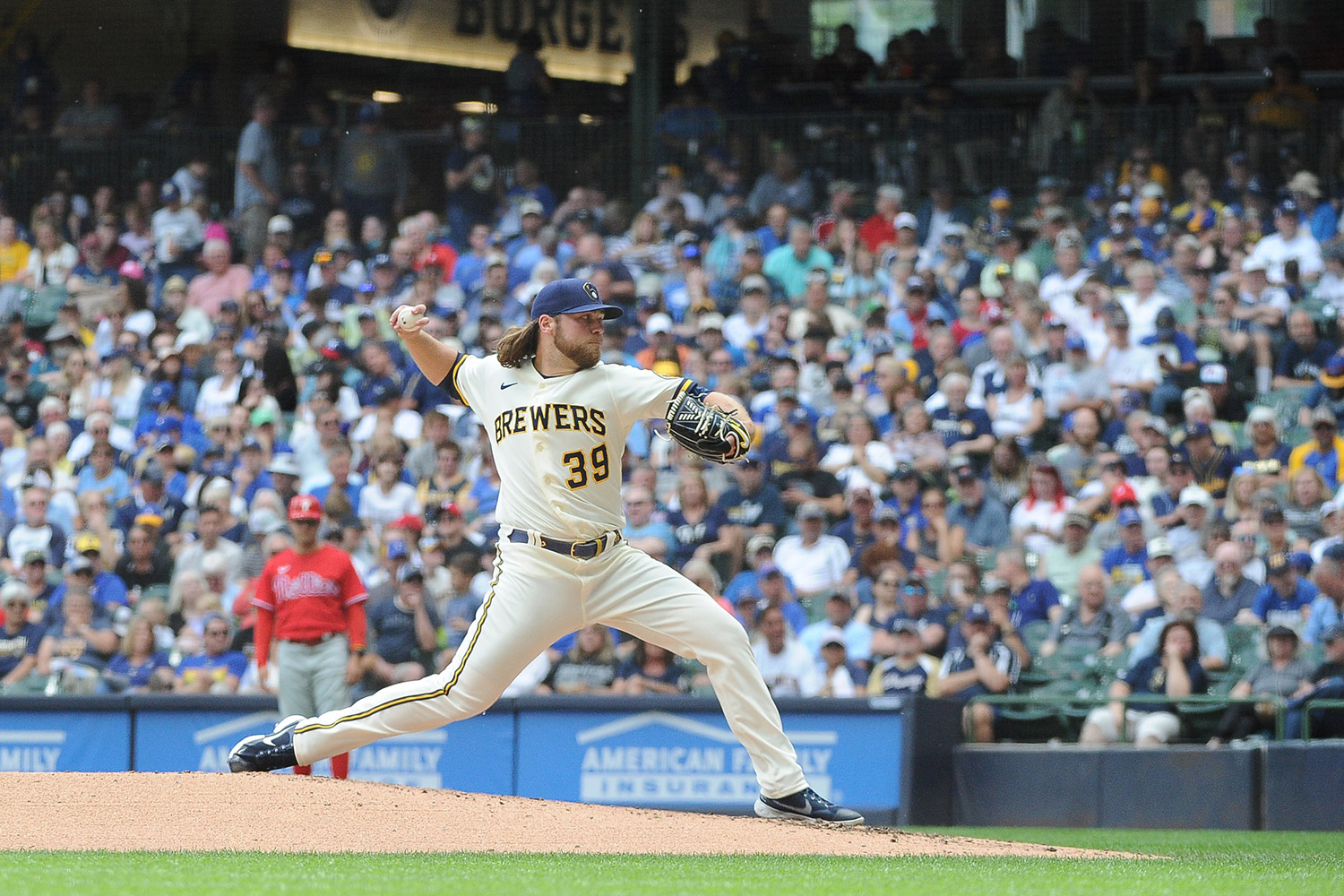 Image courtesy of © Michael McLoone-USA TODAY Sports
The question is, of course, what sort of return? The Brewers will not get some star on a mega-deal in return. The best bet is to secure some excellent young players for the short term and some good prospects for the medium term. So which teams are likely to provide that return?
We can look at Bleacher Report's Top 100 prospect list to get an idea. This list also offers 50 honorable mentions. We've looked for teams who could provide at least one pitcher, who would have limited exposure to the Brewers in the regular season, and who could also help boost the team elsewhere.
Baltimore Orioles
The Orioles have six prospects in BR's Top 100, and if the Brewers were to send them Burnes, a good return package would be RHP Grayson Rodriguez, LHP DL Hall, and IF Jordan Westburg.
All three are nearly major-league-ready. Rodriguez and Hall could be pieces for rotation depth, while Westburg offers an option at third base, giving the Brewers more upside than the Owen Miller/Abraham Toro duo. In addition, Baltimore is in the American League, and the Brewers are less likely to face Burnes. This is the best-case scenario for the Brewers in a Burnes trade.
Cleveland Guardians
Like the Orioles, the Guardians have six players in BR's Top 100. They could be another excellent partner, given their presence in the American League. A good return package from Cleveland would be RHPs Daniel Espino, Gavin Williams, and Tanner Bibee. Espino, though, only started four games in 2022 with shoulder soreness, so there is a risk.
All three would be about a year away, but the Brewers could also end up having to deal Brandon Woodruff and Eric Lauer, so having plenty of replacements in the pipeline is a good thing. Should the Brewers work out an extension with Woodruff, it never hurts to have excellent pitching prospects to get help elsewhere (third base, perhaps?). The quantity could be very good for the Brewers, but Espino's shoulder makes this trade a bit riskier than Baltimore's. The Brewers could also ask for C Bo Naylor in place of Espino, giving them a 1-2 punch behind the plate in a left-right platoon with William Contreras.
Tampa Bay Rays
The Brewers have had some mutually beneficial deals with the Rays – see the Willy Adames trade. The Crew got a top-10 shortstop in MLB; the Rays turned Drew Rasmussen into an ace. Here, the Brewers could send Burnes and get back RHP Taj Bradley, IF Curtis Mead, and LHP Mason Montgomery.
Bradley and Mead could compete for 26-man roster spots, while Montgomery could be an eventual replacement for Lauer. This deal would be tricky because the Brewers would have to get an extension for Adames done, but the Rays would make an excellent match for another deal.
Toronto Blue Jays
Yes, a third AL East team could be in the mix for Burnes. The Blue Jays would be a little trickier, as they only have one player in the top 100: LHP Ricky Tiedemann, who the Brewers would have to insist be included. Here, the Brewers would have two options for additional players. 
One would be to ask for players from the honorable mentions: LHP Brandon Barriera, RHP Yosver Zulueta, and IF Orelvis Martinez. The problem is that Barriera is more of a long-term prospect (being a 2022 draftee), while Martinez hits for power but struggles with OBP and contact. The other option would be to ask for a young player or two: RHP Alek Manoah and IF Cavan Biggio could be part of the return. Still, a Tiedemann-Manoah return for Burnes alone would give the Brewers a rotation to contend for years.
Houston Astros
Making a deal with the defending World Series champs is the riskiest short-term option. The Brewers could be handing a Cy Young winner to potential opponents in the post-season (this risk also exists with Tampa, Cleveland, Toronto, and Baltimore). But in this case, the Brewers could get some good help.
But their only two Top 100 prospects are RHP Hunter Brown, who split between the rotation and the bullpen, and catcher Yainer Diaz. The Brewers could also ask for OF Justin Dirden, a left-handed OF who has played all three positions, but that leaves the pitching return thin, a long-term risk for the team. But suppose the Crew could talk Houston into taking Burnes and Victor Caratini for a Brown-Diaz-Dirden package. In that case, they could package an outfielder with Lauer for pitching help, but extending Woodruff, Lauer, and Adames would become "must-do" items to keep the team competitive.
Think you could write a story like this? Brewer Fanatic wants you to develop your voice, find an audience, and we'll pay you to do it. Just fill out this form.
MORE FROM BREWER FANATIC
— Latest Brewers coverage from our writers
— Recent Brewers discussion in our forums
— Follow Brewer Fanatic via Twitter, Facebook or email