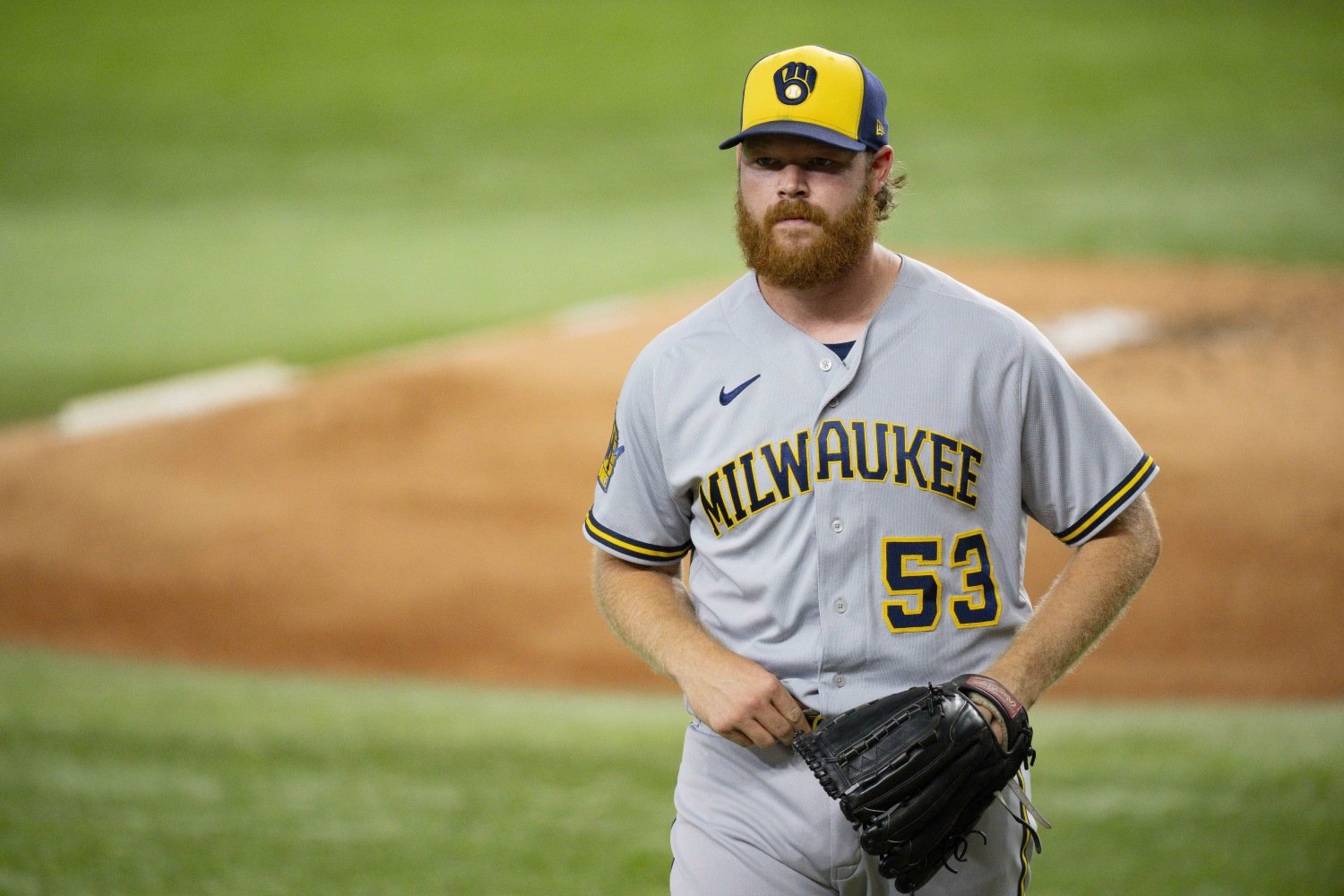 Image courtesy of © Jerome Miron-USA TODAY Sports
On Friday, the Brewers announced that Brandon Woodruff will need surgery to repair the anterior capsule in his throwing shoulder. The operation and the required rehab will sideline Woodruff for all of 2024, which was to be his final season under club control. We should be upfront about that fact, because while the team was (with good reason) optimistic in their wording of their statement about this injury, there's virtually no chance that Woodruff toes a big-league mound again before 2025.
Tears of the shoulder capsule that require surgery never permit pitchers to return to their highest level of competition in under 12 months. That could always change, of course. Sports medicine gets better all the time. 'Never' is not an overstatement, though, given the data we have. In the last 15 years, a fistful of pitchers around Woodruff's age have had this surgery.
In May, Guardians prospect Daniel Espino had this same procedure. The team immediately announced that his return-to-play timeline was 12-14 months. Braves righthander Kyle Wright had the same surgery as Woodruff this week, and the team is already declaring him out for all of 2024.
More so than with an elbow surgery (like Tommy John surgery), these shoulder issues can vary widely in their severity, which can shape recovery timelines significantly. However, almost regardless of severity, they strongly tend to carry a major risk of recurrence, and having the injury shortens the careers even of those pitchers who make it back from it. There's no way Woodruff is coming back in 2024, and in a month or so, the team will have to either non-tender him or agree with him on a multiyear contract that circumvents the arbitration process. The $11-12 million he would have pocketed for next season via arbitration is utterly off the table, because (though the team did voice an admirable and honest affection for him and his family Friday) the Brewers are in no position to voluntarily shell out that sum to an inactive player.
That, then, is the first major knock-on effect we should examine from this. Matt Arnold will probably approach Woodruff to see if he has interest in a deal that would keep him around through 2025 or longer, paying him a reasonable but healthy amount each year. We're talking about a two-year deal worth, perhaps, $14 million, with $3 million of that paid in 2024 (while he rehabs) and $11 million due in 2025. It's hard to overstate the extent to which this dents Woodruff's value, so he's very likely to be open to some version of this. It's profoundly sad, for a pitcher who has been so important to the team and such a joy to watch over the years, but giving him anything more than that now would be irresponsible.
Whether they consummate such a deal or not, it's now obvious that the Brewers will have to spend some money (or trade capital) on starting pitching this winter. Even if they find a way to keep him around on a backloaded deal, the front office now has a good chunk of what they would have paid Woodruff in arbitration with which to make some moves. It's unlikely that they'll be able to compete for the elite arms on the market (Yoshinobu Yamamoto and Blake Snell), but this should nudge them toward at least talking seriously with Aaron Nola, Sonny Gray, and Eduardo Rodriguez. It's rare for a mutual option to be picked up, but this is exactly the sort of exigency that might make bringing Wade Miley back for $10 million (really, $9 million, since the team would owe him a $1-million buyout if they turn down their side of that deal, anyway) appealing.
Naturally, no news about Woodruff can be hashed out in full without reflection on what it means for the players with whom his name has been said in such rhythmic concatenation the last few years: Corbin Burnes and Freddy Peralta (the Big Three in the rotation), and Willy Adames (along with Burnes, the Big Three due to be free agents after 2024). The Brewers ought to be thinking about winning another division title in 2024, not rebuilding in any way, shape or form, and as such, this news makes a trade of Burnes materially less likely. It also boosts the odds of an extension for either Burnes or Adames, because if Woodruff had been healthier, he'd have been the most natural fit for such a contract in the set. It still feels unlikely that the team takes the plunge on Burnes, but if they were inclined to trade him, the price at which they can reasonably say yes to a deal just rose.
For Peralta, this only means a nominal elevation, into the top echelon of the team's rotation. He earned that in the second half of this season, anyway, but it will certainly be thrown into sharper relief now that he only has Burnes as a co-ace. Robert Gasser is the internal pitcher who will see the greatest share of what the team hoped would be Woodruff's regular workload. Treated as emergency depth throughout 2023, Gasser now figures to be a full-time starter for the Crew in 2024.
One thing this news should not influence, in any meaningful measure, is the likelihood of Craig Counsell departing and a new manager coming in. Whether or not that happens might influence what route the team decides to take more than it would have if Woodruff were healthy, though. Again, a rebuild should be off the table, but absent Woodruff, a post-Counsell team might not face overwhelming urgency to augment the team in the short term. Such a team would be more likely to trade from their stock of guys nearing free agency and getting more expensive, like Burnes and Adames, than would a team that brings back Counsell for another run.
Woodruff could have earned a massive payday, as soon as this winter (via extension) but no later than next winter. Now, that's on hold, and it might turn out to be canceled, rather than merely postponed. The timing of this injury is as excruciating as the thing itself. Hopefully, the Brewers can work out a way to keep him around the team this year. That way, he can (at least) contribute to the team with the optimism and leadership that seem to come naturally to him. In the meantime, though, their offseason shopping list just got longer, and the need for one of the items on it has deepened.
Think you could write a story like this? Brewer Fanatic wants you to develop your voice, find an audience, and we'll pay you to do it. Just fill out this form.
MORE FROM BREWER FANATIC
— Latest Brewers coverage from our writers
— Recent Brewers discussion in our forums
— Follow Brewer Fanatic via Twitter, Facebook or email
1