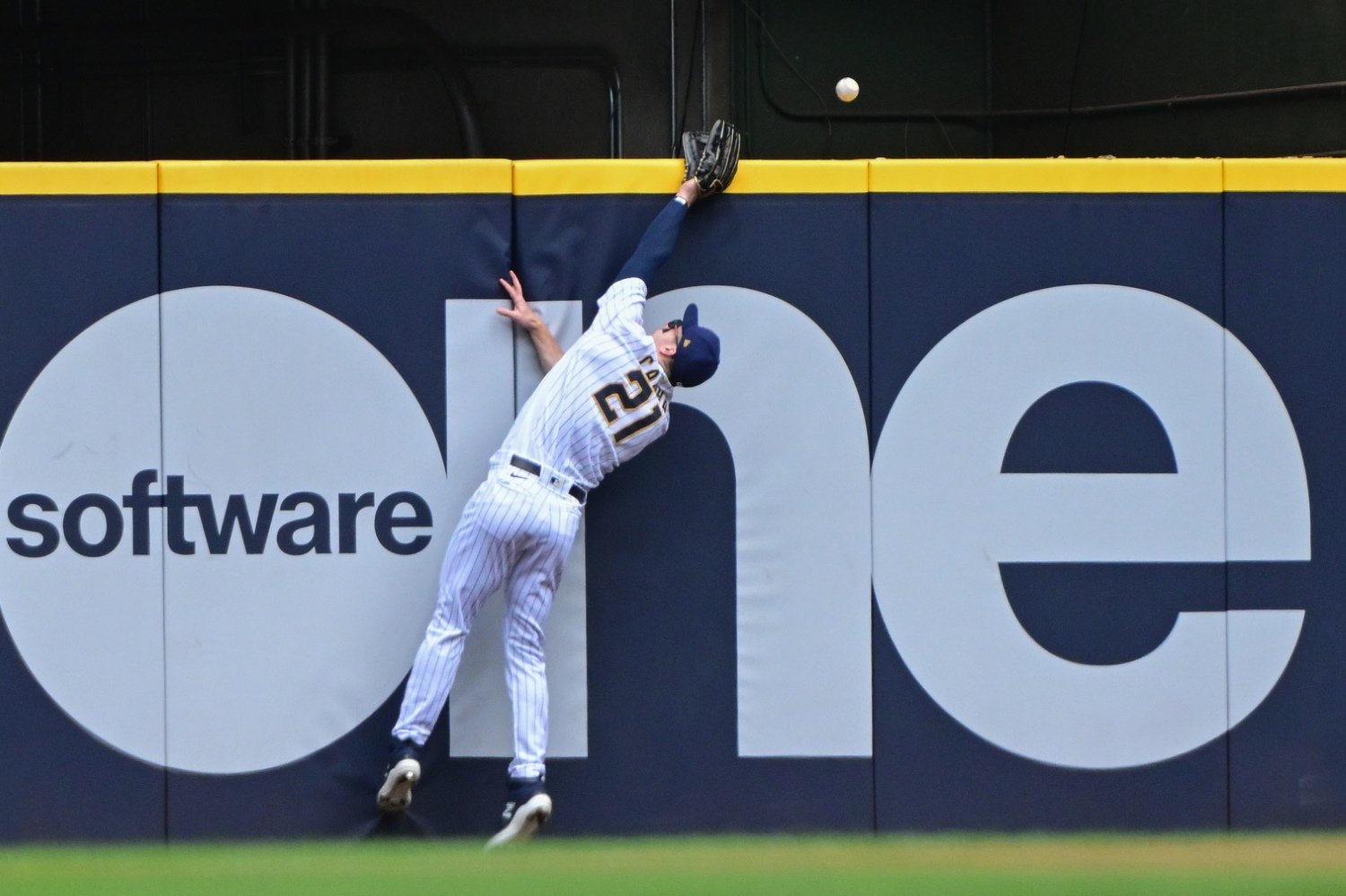 Image courtesy of © Benny Sieu-USA TODAY Sports
When the Brewers traded for Mark Canha last Monday, Counsell expected that his new charge would play a good amount of right field. We know that, for sure, because he said so.
Brewers expect Mark Canha to be active for Tuesday night's game. Counsell: "He's probably going to play a lot of right field and that's gonna move Sal [Frelick] in center field. We'll have to kind of mix and match with the outfielders and we've got the DH spot obviously."

— Adam McCalvy (@AdamMcCalvy) August 1, 2023
That was a bit of a surprise, because Canha is not renowned as a defensive whiz, and because it would seem to put the squeeze on Joey Wiemer as the team's regular center fielder. Counsell sounded so firm in his vision that reporters followed up, and he did say that there would still be playing time for Wiemer, but it was mildly startling to hear him even having to make that clarification. The plan, by all indications in that early interview, was for Canha to patrol right field often, with Sal Frelick in center field.
Obviously, it hasn't gone that way at all. One week into the Canha Era, he hasn't started in right field at all. Instead, in the two games in which the Brewers faced a left-handed starting pitcher, it was Tyrone Taylor who started there. Canha has made three starts as the designated hitter, but his other two have come in left field, pushing Christian Yelich to the DH spot. His only inning in right field came Saturday night, after he pinch-hit for Wiemer and before Counsell put Blake Perkins in as a pinch-runner, eventually pushing Frelick back from center to right and sending Canha in to finish the game at first base.
The Brewers can't send the message that they prioritize defense much more clearly than that. Canha doesn't seem to be trusted in right field. That could change, if the team gets cornered, but it's very much worth noting that they've gone to a bit of an extreme to avoid that very situation. They're currently carrying six outfielders: Yelich, Canha, Wiemer, Frelick, Taylor, and Perkins. It's hard to imagine a scenario in which Counsell even feels tempted to use Canha in right for more than a few outs, and that seems to be by design.
Is that the best use of Canha? Probably so. He really is a less adroit defender than his general athleticism would suggest. Still, it puts pressure on the rest of the roster, because having Canha in there regularly and only using him as either the DH or a left fielder limits the team's ability to get other valuable players into the lineup. Brian Anderson, activated before this weekend's calamitous series against the Pirates, only got four total plate appearances in the four games. Maybe the team is easing Anderson back in, but if he was any less than fully healthy, why did they bring him back, rather than keep the versatile Abraham Toro in that bench role? Anderson seems to be losing playing time to Andruw Monasterio, which is worth a separate examination, but he's also indirectly losing it to Canha. Anderson found playing time earlier this year in right field, but with Perkins, Taylor, and Frelick on the roster, he's not going to be back out there any time soon.
It's also harder to give William Contreras a day off from catching duties while keeping his bat in the lineup at DH this way--or, at least, the opportunity cost is higher. If Canha is only trusted as a left fielder, putting Contreras at DH on days when Victor Caratini catches pushes either Canha or Yelich out of the lineup altogether. The Brewers can't afford to do that with any regularity, given their generalized offensive anemia.
In fact, that's a good way to sum up this entire decision set, at the moment: the Brewers can't afford it. Carrying six outfielders (three of whom are glove-first guys) when one of their infielders is a capable right fielder is costly. A team getting an .800 OPS from shortstop, as the Brewers might have hoped Willy Adames would provide, might be able to pay that price. If Rowdy Tellez were healthy and producing the way he did in 2022, the Brewers might be able to pay that price. If Anderson or Monasterio projected to give them above-average offense the rest of the way, they might able to pay it. 
None of that is happening, at least right now. In the short term, to maintain and secure their advantage in the NL Central, the Brewers need to sacrifice some defense for more runs. That can take a few different forms. It doesn't mean that Canha needs to be in right field, but if he's the DH, it ought to be Anderson in right. Frelick can then play center, giving the team significantly better offense than Wiemer would. That's the only way, until Tellez returns or one of Tyler Black and Jackson Chourio forces their way to MLB, that the Crew will get their lineup to function more consistently. Unless and until then, they have a roster construction problem, and the only solution will be a few uncomfortable defensive alignments.
Think you could write a story like this? Brewer Fanatic wants you to develop your voice, find an audience, and we'll pay you to do it. Just fill out this form.
MORE FROM BREWER FANATIC
— Latest Brewers coverage from our writers
— Recent Brewers discussion in our forums
— Follow Brewer Fanatic via Twitter, Facebook or email