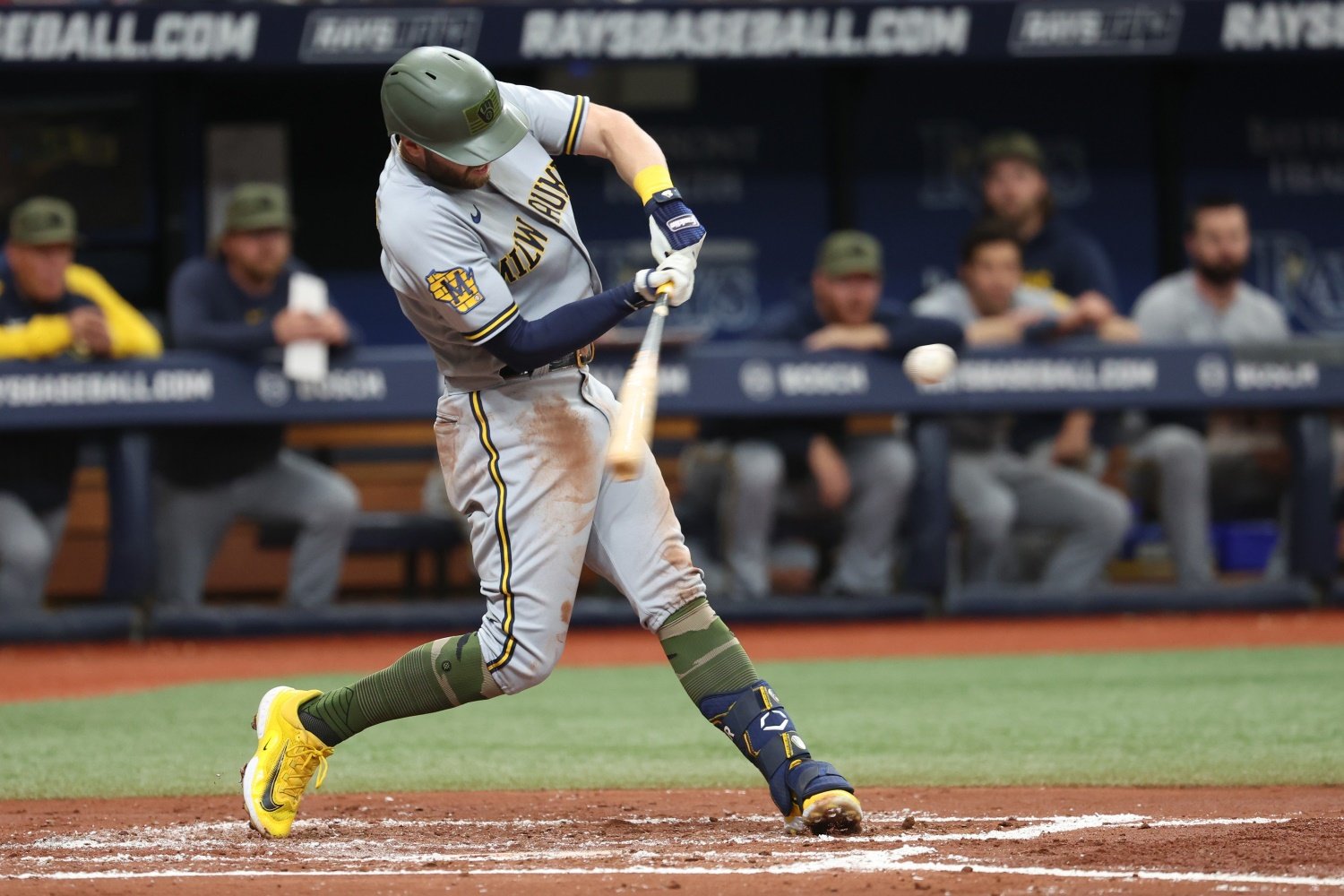 Image courtesy of © Kim Klement-USA TODAY Sports
As sabermetrically-inclined baseball fans always hasten to remind us, batting order matters relatively little. Barring a truly antithetical lineup that gives as many at-bats as possible to the worst hitters on a given team, teams just can't gain or lose nearly as many runs based on how they line up as based on who is in that lineup to begin with. Jesse Winker being in the lineup at all, right now, is more damaging to the team than the fact that he bats second.
Still, there's something to be said for eliminating dysfunction, even at a time when drastic steps aren't possible. The Brewers need Winker to get right. They can't afford, based on the health and performance of their other options at the moment, to simply cut him, or even to bench him against righties, because doing the latter would become a major hurdle to the kind of recovery of form they need.
That doesn't mean that Winker has to hit in the most important spot in the lineup when he's in there, though. Craig Counsell needs to send a message to his team about the value and urgency of delivering results, and to give his lineup a chance to create more runs. The best way to do that, at the moment, is to slide Winker down to sixth or seventh in the lineup, and to give some auditions to players who are outhitting him.
One candidate is Brian Anderson. With another homer on Saturday, Anderson continues his steady production. He had a prolonged power outage from the end of April through the beginning of this past week, but even then, he was putting together competitive at-bats. Based both on his track record and his approach, he should be able to produce the way a team needs their second hitter to produce, even against righties, at least in the short term. He's never going to be a superstar, but as he showed during the first 10 days of the season, he can get as hot as anyone, and he has the punch to convert rallies into runs quickly. Winker, now slugging .270 on the season, glaringly lacks that capacity.
If Counsell wants to swap another lefty into that position, Brice Turang could be worth a look. Coming up through the minors, he was always a top-of-the-order hitter, with his gap power and speed making him a dynamic presence. Obviously, Turang has has his own struggles at the plate thus far, but he's been much better over the last two weeks. He's making adjustments as quickly as the Brewers could reasonably have hoped, and could create some havoc on the basepaths along with Christian Yelich.
The most boring (but probably closest to optimal) choice would be to simply slide Willy Adames up to second in the order, make Rowdy Tellez the new No. 3 man, and hope that William Contreras can start elevating the ball enough to be a credible cleanup hitter. That's the least messy solution.
Less conventional than any of these, but perhaps most intriguing at the moment, is one more possibility: Owen Miller. He's come to Milwaukee and made exactly the adjustments I anticipated at the start of the season. The Brewers have helped him turn a starter kit of Luis Urias-like skills into Luis Urias-like production, and then some. He's been shielded from righties to some extent, and thrusting him into an important lineup spot against them would be a big challenge to him, but he's earned that shot.
One way or another, it's time for an offensive shakeup, and the Brewers' available moves are limited. Getting Winker out of the way so the more productive hitters in the heart of the order can generate more runs seems like a no-brainer, at this pivotal point.
Think you could write a story like this? Brewer Fanatic wants you to develop your voice, find an audience, and we'll pay you to do it. Just fill out this form.
MORE FROM BREWER FANATIC
— Latest Brewers coverage from our writers
— Recent Brewers discussion in our forums
— Follow Brewer Fanatic via Twitter, Facebook or email