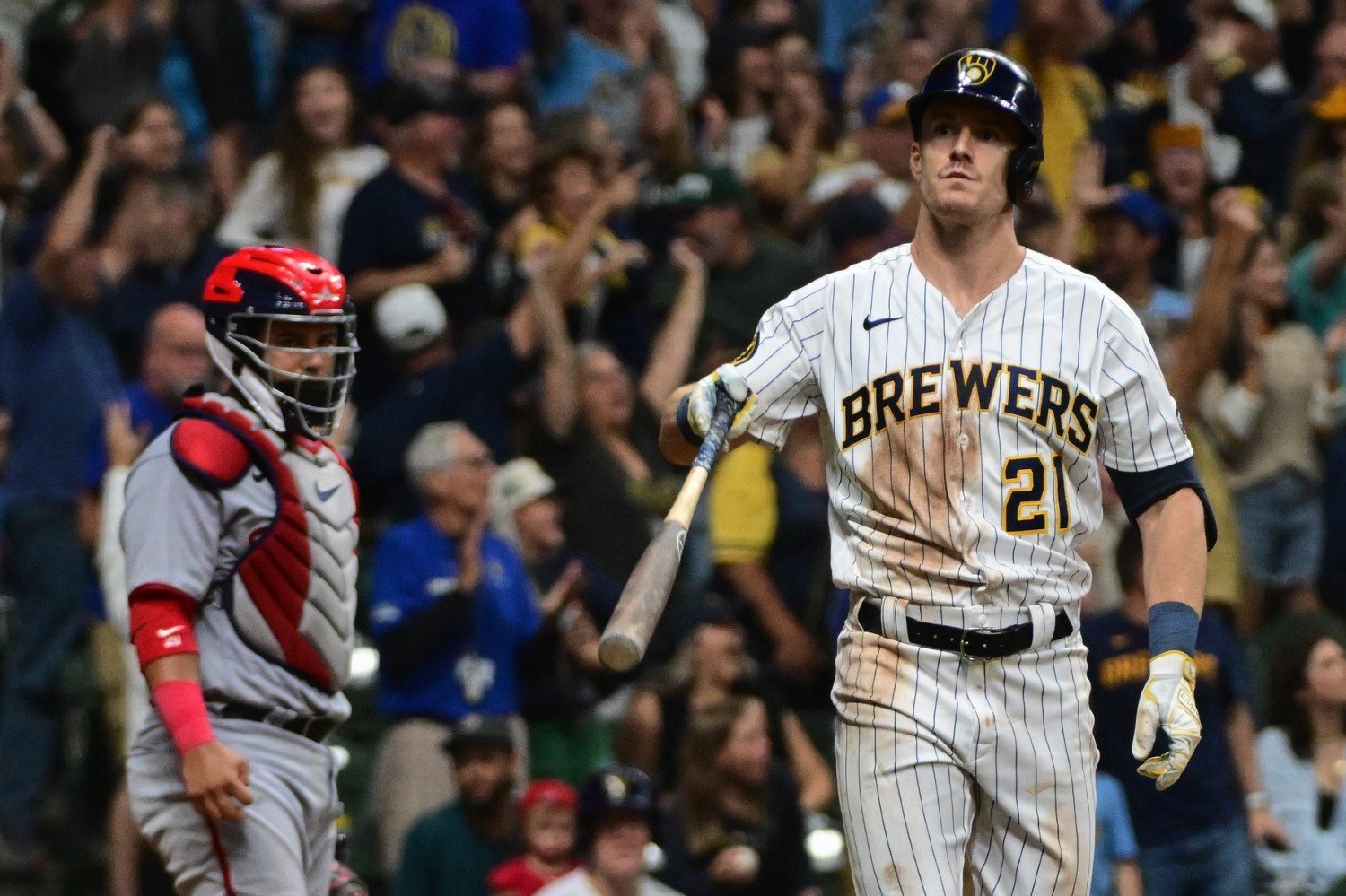 Image courtesy of © Benny Sieu-USA TODAY Sports
There was never going to be a non-awkward time for the seemingly inevitable departure of David Stearns to run the New York Mets. Even so, the middle of September was a tough time for the news to spread, with the team in good position but still very much in a fight for the division title. With a series of very loud noises, though, three guys acquired by Matt Arnold--not Stearns--erased any thoughts of distraction or tension and made a profound statement: The Brewers are the class of this division, and they're going to be fine under new management.
On Friday night, it was William Contreras who brought the Crew back from an early 3-0 deficit with a single, majestic blast. We talked about that hit (in a different context) yesterday. No sooner had Contreras entered the dugout, though, than did the ball leave the park again, thanks to trade deadline acquisition Carlos Santana. It was Santana, too, who piled on the only insurance run to sew things up from there.
Saturday's game was even more taut, and seemed even more perilous for a moment. The Nationals completed a four-run comeback when they pushed across a run in the top of the eighth, squaring the score at 5-5. It was still that way when Mark Canha stepped to the plate with the bases loaded and two outs, in the bottom half of the frame. 
The poise. The swing. The BAT FLIP. #ThisIsMyCrew | @outtadapakmark pic.twitter.com/sDstufBzMH

— Milwaukee Brewers (@Brewers) September 17, 2023
In their month and a half with the team, Santana and Canha have become focal points of an offense that suddenly looks good enough to sustain a deep playoff run. Santana is only hitting .234/.309/.430 with the Crew overall, but that's a meaningful upgrade over the production they got from first base and DH for long stretches of the season. More telling, too, are his numbers since he got his feet under him with his new team. In his last 30 games, he's gone .259/.344/.474, with seven home runs. The Brewers are 21-9 over that stretch, thanks in no small part to Santana. He drew a crucial walk ahead of the Canha grand slam last night, after his two-homer effort Friday.
Canha, though, has been a genuine star for the team. Filling the DH role and taking plenty of outfield reps as that unit has dealt with both injuries and rough rookie adjustment periods, he's hit .313/.397/.481. He's the most complete offensive threat they have right now, which (given the way Contreras is hitting) is saying something. The team holds an option on Canha for 2024, and he's made it a no-brainer to exercise it, when it seemed just as clear that this was a pure rental at the time of the trade.
This team will bear the fingerprints of Stearns for years to come, and that's a good thing. Stearns is, after Harry Dalton, the second-best executive in the history of the Brewers. He put in place both people and processes that will keep the Brewers in contention for the NL Central crown (and often more) for at least the next half-decade.
If there were any worries about whether Arnold can be that good, though, this season should have assuaged them. Out of nowhere, and for so little cost, he landed Contreras and Joel Payamps in a trade that ranks among the most impactful in team history. He brought in Julio Teheran in an emergency, when the starting rotation was almost a shambles, and the team onboarded Teheran smoothly enough to get some great numbers (and several team wins) out of him over the summer. He won the trade deadline handily, even accounting for the clunker that is the Andrew Chafin trade.
With Josh Donaldson also looking good, and certainly without any sign of clubhouse friction or tsuris at the moment, you can add another feather to Arnold's cap. The Brewers will host the Wild Card Series, and with the Dodgers and the Braves both experiencing real pitching problems right now, it's not hard to imagine a National League pennant finally coming back to Milwaukee, for the first time since another franchise was in town. Even if that doesn't come to fruition, though, Arnold has proved that his Brewers will be just as dangerous as his predecessor's.
Think you could write a story like this? Brewer Fanatic wants you to develop your voice, find an audience, and we'll pay you to do it. Just fill out this form.
MORE FROM BREWER FANATIC
— Latest Brewers coverage from our writers
— Recent Brewers discussion in our forums
— Follow Brewer Fanatic via Twitter, Facebook or email
2