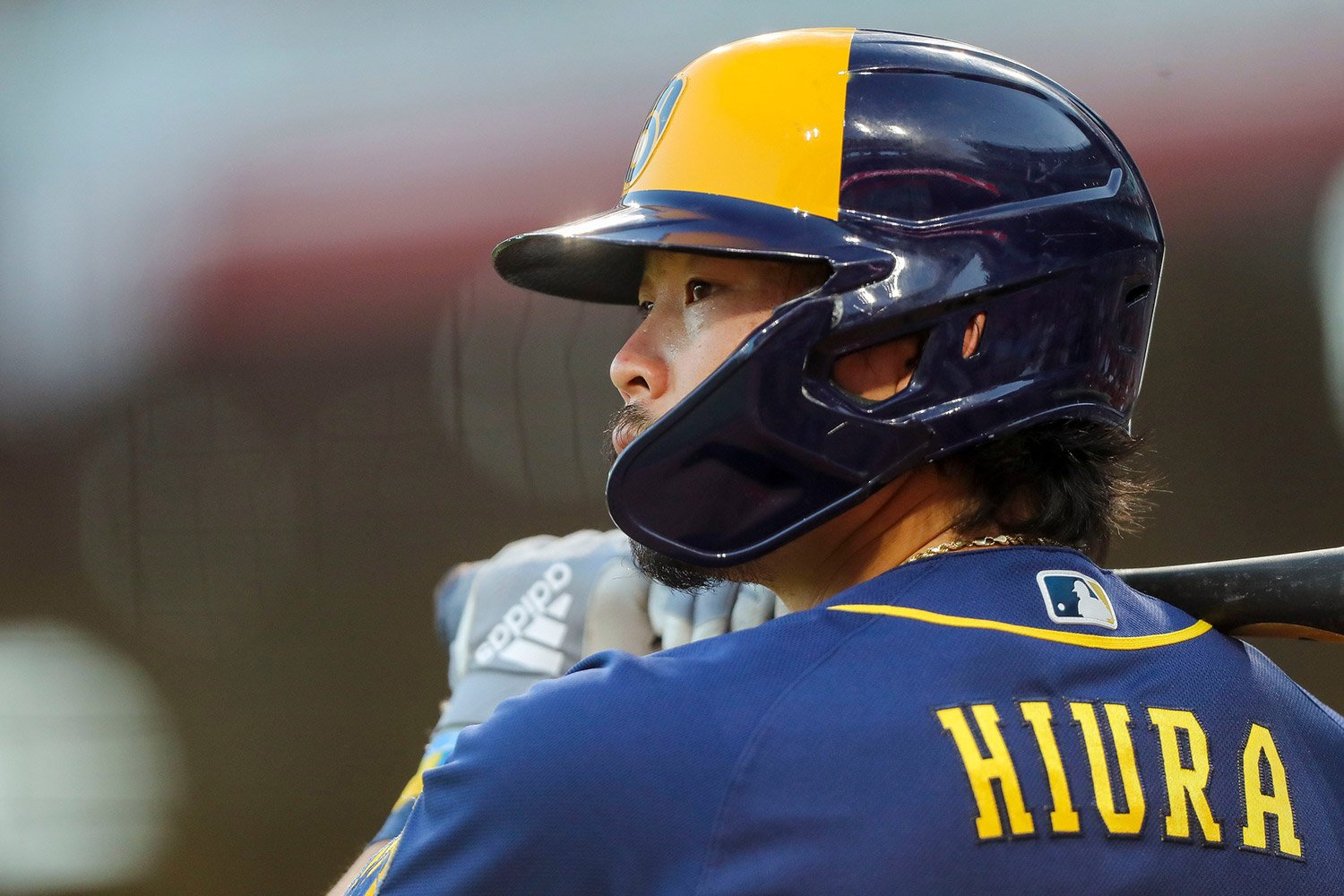 Image courtesy of © Katie Stratman, Katie Stratman / USA TODAY NETWORK
High School Dominance
Keston Hiura displayed power from a young age, evident during his time at Valencia High School in Santa Clarita. In his senior season, he hit .500 with 14 home runs and 30 RBIs in 28 games, leading his team to victory in the "Foothill League." Despite this standout performance, he went undrafted and chose to play college baseball at UC Irvine.
College Struggles to College Dominance
In 2015, Hiura joined UC Irvine and showcased his power by hitting .330 with seven home runs and 42 RBIs in 56 games. However, he struggled with strikeouts with 41 to 17 walks, proving to be a challenge.
His strikeout difficulties persisted in 2016, but he improved his walk rate and batting average. He hit .358 with seven home runs and 41 RBIs across 53 games. Despite his improvements, his team's season ended disappointingly at 31-25.
By 2017, Hiura's performance had gained attention. He maintained strong contact with the ball, achieving a .442 batting average and doubling his walks 50 times in 56 games. His on-base percentage reached .567, hitting a career-high eight home runs, though his team's season record was 23-33.
Draft Day
Considered a promising prospect, Hiura's skills earned him the 22nd spot in the MLB.com rankings, with a hitting grade of 60 and a power rating of 50. Despite concerns about potentially needing Tommy John surgery, the Milwaukee Brewers surprisingly drafted him 9th overall. They signed him for a substantial $4 million bonus, contingent on potential elbow surgery.
Professional Debut
On June 24, 2017, Hiura made his pro debut with the AZL Brewers. He impressed fans by going 2-4 with a home run and 3 RBIs. His success continued with four home runs and 18 RBIs in 15 games, averaging .436. He moved up to Single-A, where he struggled, hitting .333 with 13 strikeouts in 27 games, highlighting a need for improved plate discipline.
First Full Minor League Season
In the 2018 Minor League Season, Hiura's potential showed as he hit 13 home runs and achieved 43 RBIs in 123 games. However, he also struck out 103 times, with a rate of around 20%. His batting average settled at .293. Despite these struggles, optimism persisted for his development.
Top 10 Prospect + 2019 Struggles
As the 2019 season began, Hiura's reputation grew. In Triple-A, he hit .333 with 11 home runs and 26 RBIs in 37 games before his MLB debut. Although he performed well initially, with five home runs, 9 RBIs, and a .281 average in 17 games, strikeouts plagued him. These challenges and Travis Shaw's return led to his Triple-A demotion. He returned with impressive stats, hitting eight home runs, 20 RBIs, and .321 in 20 games. His 2019 season ended with the Brewers, hitting .303 with 19 home runs and 49 RBIs in 84 games. But they fell short of the postseason, losing 4-3 to the Nationals, who went on to win the World Series!
2020 Covid Season
The Covid-impacted 2020 season proved difficult for Hiura. Leading MLB in strikeouts with 85 in 59 games, he struggled with a .212 average and poor fielding. Despite his struggles, he played the full season and in the postseason, performing below expectations again.
Struggles in 2021
In 2021, Hiura's struggles continued as he moved between MLB and MiLB due to ongoing strikeouts. He hit .168 with 77 strikeouts in 61 MLB games and a strikeout percentage of 39.1%. His performance in Triple-A mirrored his difficulties, marking a sharp decline from his promising 2019 season.
2022 Season
The 2022 season saw Hiura struggle and improve intermittently. After early struggles with the Brewers, he moved between Triple-A and MLB. A positive stretch included hitting .247 with six home runs and 12 RBIs in 28 games. Despite improvement, his strikeout rate rose to a career-high, and his season ended with 14 home runs, 32 RBIs, and a 41.7% strikeout rate.
2023 and Beyond
Despite his strong Triple-A performance in 2023, Hiura faced challenges returning to the majors due to injuries and a lack of confidence. Brewer's GM Matt Arnold expressed support for his potential, but his MLB future remains uncertain. Keston Hiura's journey showcases his potential and struggles, leaving open the possibility for a turnaround if given the right opportunity.
Think you could write a story like this? Brewer Fanatic wants you to develop your voice, find an audience, and we'll pay you to do it. Just fill out this form.
MORE FROM BREWER FANATIC
— Latest Brewers coverage from our writers
— Recent Brewers discussion in our forums
— Follow Brewer Fanatic via Twitter, Facebook or email