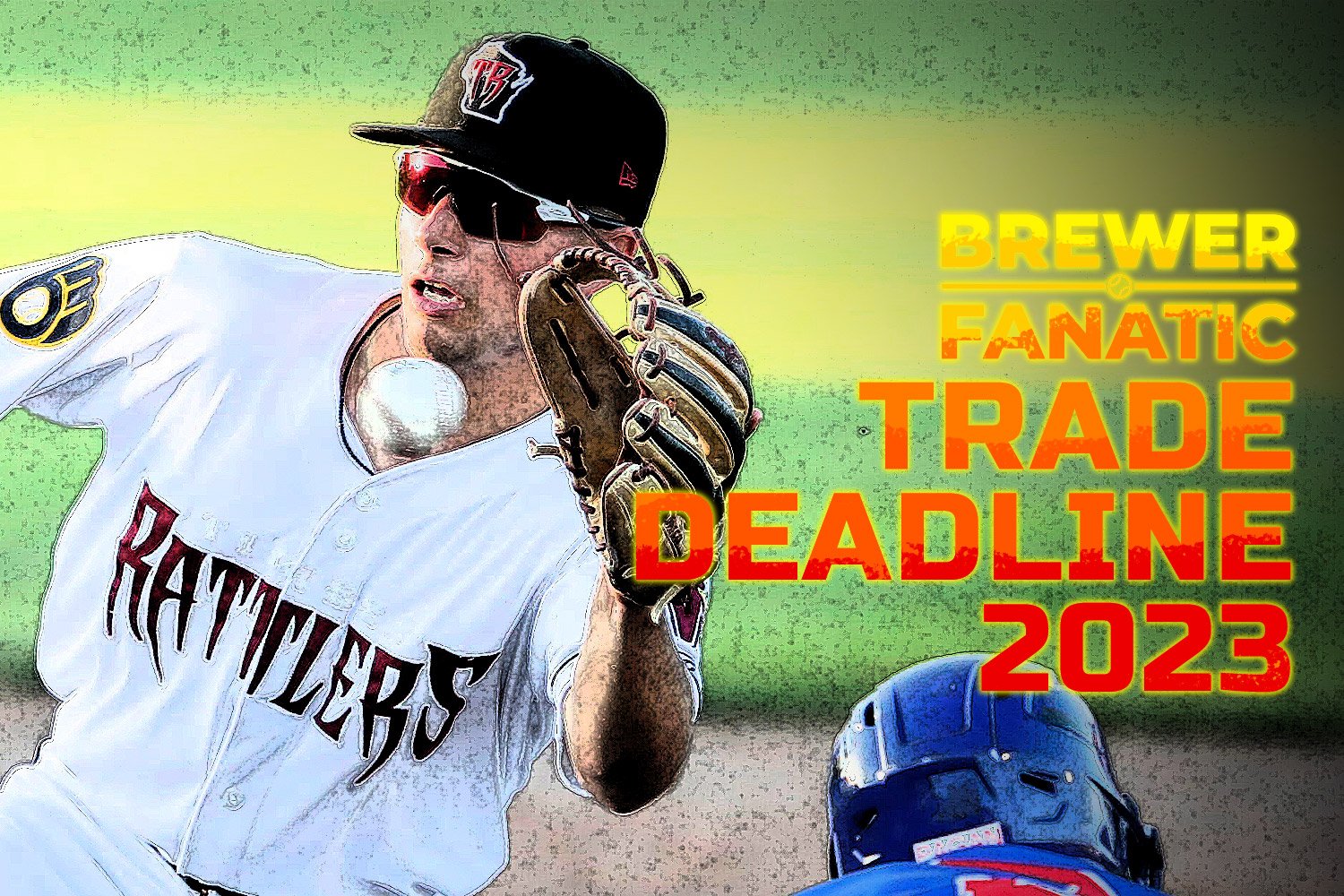 Image courtesy of Brewer Fanatic
Again, let's use the following grading system:
5 – Not a long term piece, and could be included in any trade
4 – Some long term hopes, but potential to be included in any trades
3 – A good player, unlikely to be exchanged for a filler piece, but could be worth an impact player
2 – A high value piece, likely to be included in a deal only for the top tier talent (ie Goldshmidt, Ohtani, etc)
1 - Off the market almost entirely
0 – Jackson Chourio
Eric Brown Jr
An under-slot pick in the 2022 first round, Brown had an unusual swing but great actions at shortstop; a propensity to steal bases; minimal swing-and-miss; and good discipline at the plate. We haven't seen much of him this season due to injury, but his arm has developed to the point where he's got a chance to stick at shortstop, should he reach the major leagues.
He completely remodeled his swing early in 2023, but once those took hold, he showed good strides at the plate, with improved quality of contact. A promotion to Double A could be on the horizon, although he has shown limited power (gap-to-gap, mostly). He's currently on the minor-league IL with a hairline fracture of his scapula, likely keeping him out until the end of August, and we'll hope to see more of him in the AFL this autumn, if not sooner.
He's unlikely to be a huge game-changer, but he's a good leadoff hitter who runs the bases well and gets on base, with potentially premium shortstop defense. If he can tap into some of his raw power a little more often, that would be massive for him, but for now, he's probably a second-tier prospect in the organization. However, I'd imagine the Brewers will want to see more from him before making up their minds on what type of player he can be, and an injury-free run would be a huge boost. If a quality opportunity came along, he could definitely feature as part of that deal.
Grade – 3
Likely the next in line to boost the rotation, Gasser has shown a big improvement with his walk rate since the end of May, when he was quite liable for a big inning to ruin his card. A propensity to nibble around the edges, and with high IVB on his fastball as well as a 60-grade slider from the left side, Gasser has the potential to be a mid-rotation starter for the Brewers. He features a solid changeup and curveball, and above-average control, resulting in a 2.84 ERA in June and just nine walks across his last eight starts. He has hit five batters as well, however, and there is still some work to be done in this area.
He has a very repeatable action, not a high-velocity pitcher by any means, meaning control is paramount, and where plus control makes him a quality starter, average or below makes him a backend starter at best. He has been tracked through the minors relatively quickly since moving from the Padres in the infamous Josh Hader trade, but no doubt the Brewers have high hopes that he can step into their rotation next year and provide some value in the role, particularly in the event of a trade for Corbin Burnes or Brandon Woodruff.
Again, because pitching is such a premium for this organization, they'll be wanting to hang onto Gasser unless they're either very confident in Carlos F Rodriguez making the leap next season, or he's traded for a controllable starting pitcher.
Grade – 2 (3 if it's a trade for a starting pitcher with control through 2024)
Carlos F Rodriguez
Rodriguez has been a very, very exciting pitcher, with a fastball, slider and changeup all grading as above-average, it was hoped that he could take a step forward with his command this year, but it's tough to judge whether that's happened, thanks to the tackier baseball in use through the first half in the Southern League. He was the organization's minor-league pitcher of the year in 2022, striking out 30.1% of hitters, and a WHIP of 1.06 in 107.2 innings. So far this season however, he has almost 4.5 walks per nine innings while allowing just six hits per nine, showing his potential but also the areas that need improvement.
He has a 2.69 ERA across 17 games with Double-A Biloxi, and it will be interesting to see if he can show some development in command with the regularly mudded ball while maintaining the elite strikeouts rate of 11.9 per nine innings. If the Brewers are unsure if Rodriguez can make the required adjustments, however, he could be an attractive trade piece, particularly for pitching-starved organizations like the Cardinals or the Reds (who just put up Jonathan India for starting pitching prospects). The fastball has a good spin rate, but sits 92-94, topping out at 96 mph, which could limit his ability to be a front-end starter.
I can't imagine the Brewers offering up both Gasser and Rodriguez, but potentially, one could be used. Again, they will be slightly reluctant given the dearth of pitching in the system.
Lara has been yet another quality signing in recent years in the international market, and at just 18 years old, he has shown incredibly impressive discipline within the strike zone; extreme bat-to-ball skills, and enough raw power to have the organization very intrigued about his potential. The swing draws comparisons to Ronald Acuna Jr. and he's got 60-grade speed and a 55-grade arm in the outfield that allows him to provide high-quality defense in center field for the Mudcats this season.
One slight negative is the regularity with which he has been caught stealing this season, but given his speed, it's more likely that this is due to poor jumps and the occasional pick off than anything, and his instincts should develop with more game time. He's incredibly young, and his power is definitely a work in progress, but a .390 OBP is nothing to sniff at, with a 14.3% strikeout rate and 12.7% walk rate, there's more than enough here to show that with some physical development Lara could be a hell of a player.
That being said, there's a lot of projection involved here, and with a crowded outfield picture over the next few years, unless the Brewers expect Lara to escalate to Chourio levels of production, he could be a nice piece in a package for a team starting a rebuild. Scouts are high on him, and given his age, the Brewers may feel he will have more value after another year or so, and also a better assessment of his development by then.
Grade – 3 
With excellent defensive range and actions in the infield only kept away from shortstop by a below-average arm, this third-rounder from 2022 has shown glimpses of a really smooth swing from the right side and access to effortless gap-to-gap power. He was viewed as a first-rounder in his sophomore season, but regressed significantly as a junior. The Brewers think the power is still there, with a real potential to limit strikeouts and draw walks, as well as to cause a little havoc on the basepaths at times.
He showed a lot in the Australian Baseball League during the offseason, and the hope was that he could maintain and elevate that form to progress through Double A early on, but unfortunately, he's been held up by a poor showing to start the year, and still has a sub-.700 OPS in High A. He's still drawing walks, but the regular quality contact hasn't materialized as of yet--though there's still hope he can find it. He has been caught stealing 10 times in 26 attempts, and all in all, the Brewers might be slightly disappointed with his production so far.
He should be considered highly tradeable.
Grade – 4
The Brewers have a lot of talent in their farm system, something that hasn't been said for a long time, and there's a lot to be excited for in the future. Navigating who will be a part of the major-league roster, and who is available will be key to the Brewers in what may be their last year of contention with Corbin Burnes, Brandon Woodruff and Willy Adames on the team together. Who do you consider eminently tradeable?
Think you could write a story like this? Brewer Fanatic wants you to develop your voice, find an audience, and we'll pay you to do it. Just fill out this form.
MORE FROM BREWER FANATIC
— Latest Brewers coverage from our writers
— Recent Brewers discussion in our forums
— Follow Brewer Fanatic via Twitter, Facebook or email