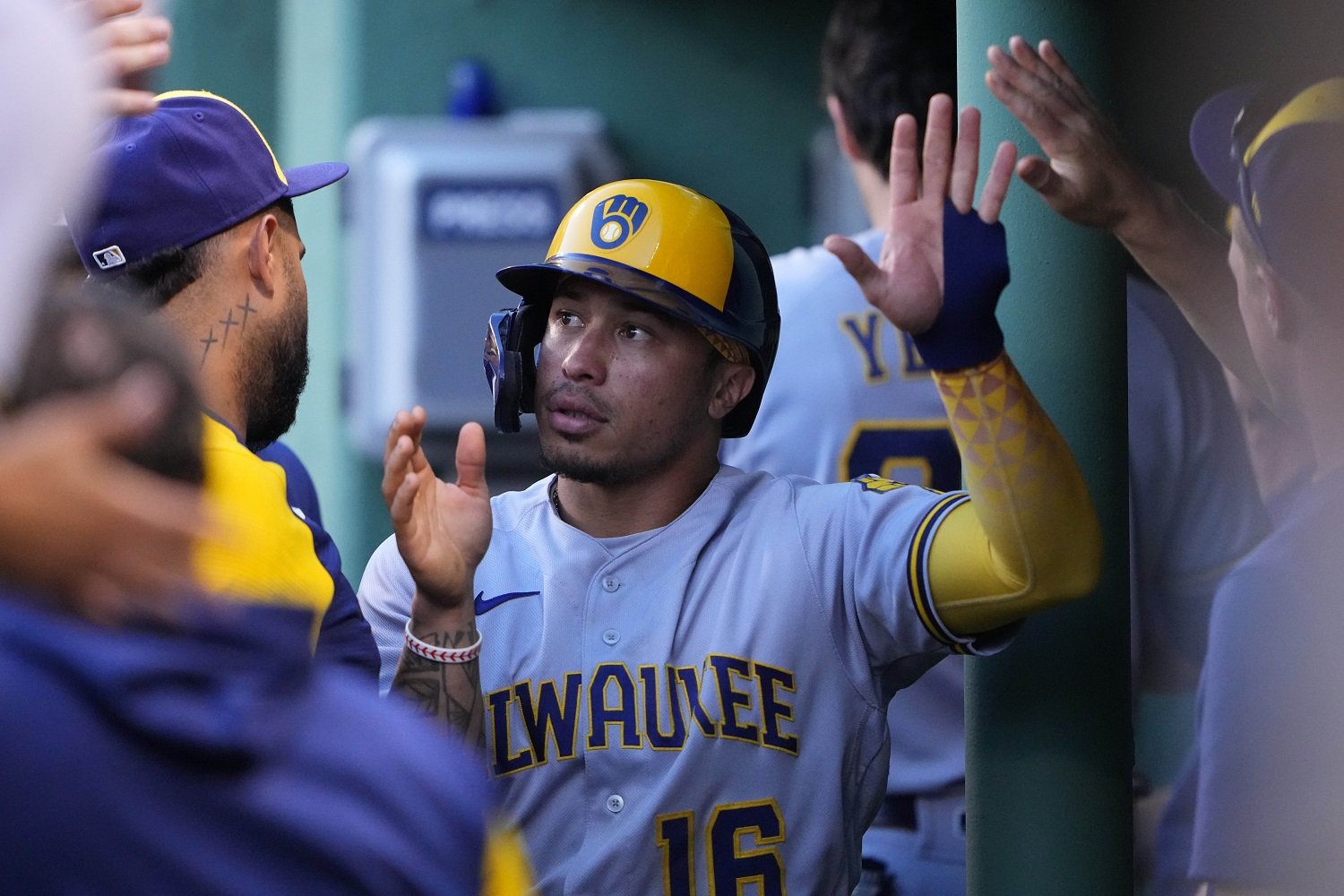 Image courtesy of © Gregory Fisher-USA TODAY Sports
Brewer Fanatic colleague Tim Muma put it best Friday night, following the Brewers' win over the Boston Red Sox at American Family Field East Fenway Park: "Fun, fun ballgame."
Brewers fans were subjected to some painful baseball in the front half of this 2022 campaign. Yet for all the misery at the plate, thanks to three divisional rivals deciding to sit the season out and the Cardinals sputtering in July (this is what you get for taking Matt Pauley from us!), the Brewers entered the All-Star break gassed and in first place. After an uneven series with the Colorado Rockies where they still took three of four, and swept the two-game mini-series with their faux rival Minnesota Twins, they put together a convincing victory someplace they haven't played since 2014, with the combination of a Brandon Woodruff performance reminding everyone that he is an ace and an ability to manufacture runs when it mattered. 
It was exactly what a good ballgame should be, with the exception of time of game, which came courtesy of Red Sox manager Alex Cora's opener nonsense/cry for help. Fun games should feature good pitching, timely hitting, crisp pacing [after the opener gambit, that is] and exciting moments. Brewers and Red Sox fans alike could walk away satisfied, even if the latter weren't necessarily happy with the end result. For us Brewers partisans, it certainly felt better than anything we saw in June.
This writer penned a column here earlier this month after noticing a stunning number of outs coming from batted balls at a 30* or higher launch angle, all with abysmal expected batting averages. I looked at what the Brewers were doing at the plate – seriously, though, what were they doing? – and reviewed the macabre metrics and results. What could one reasonably hope for with a team-wide commitment to golfing the ball, come what may? 
Here's what I wrote at the time: "Getting better, more drivable pitches requires Brewers hitters to stop swinging at less-than-ideal balls in the zone…. It also requires the Brewers to paradoxically give up on the home run in favor of flatter-planed swings, forcing pitchers and catchers into adjusting their approach, wearing them down and digging into bullpens."
In the interest of fairness, this writer added that "making moves toward an offensive sea change in-season is highly unlikely." Mea culpa, I guess.
---
Said Counsell: "It wasn't, 'Change our approach.' It was just, 'Let's be a little bit better.' We're not asking for big, drastic things from anybody in our approach, we're just trying to do everything in every moment just a little bit better."

If you believe this, you are being worked. This is an organization that provides as little useful information as possible, if it doesn't flat out engage in paltering. Moving Christian Yelich is a textbook definition of asking for big, drastic things in baseball. A radically and noticeably different approach at the plate from before to after the All-Star break is something more than trying to be a little bit better.

It is commendable for the club to use the break to reset and look at the findings from the first half autopsy and make adjustments. Frankly, the approach was a bucket of cold water to the face; seeing the team take Colorado Rockies pitching consistently to the opposite field, rather than pulling out the 5-wood and hoping for the best, was fantastic! 

And not only that, they've kept it up, banging out the second-most hits for any club with an eight-game sample through Sunday morning (81, Toronto has 88), while second in the league in team hitting and leading all of baseball in OPS, with a robust .380 team OBP. None of this was happening before.

Big, drastic things.

And yes, tHe SaMpLe SiZe Is SmAlL. I get that, but this team wasn't doing any of this before the break aside from dingers. What's happening right now is remarkable, and there's no indication they're going to revert. 

In revisiting Baseball Savant, it's clear the Brewers still like to try launching the ball: 42 of their 81 outs in eight games have come as a result of one of these 30+ degree duds. But, as noted as encouraging in my earlier column, where the 26-29* batted balls were promising before, they're fulfilling now. Of eight Brewers hitters who have found that sweet spot thus far, their composite is .750, for 2.333 and a wOBA of 1.277 against an expected .948. 

Is that outsized result sustainable? Probably not, but running these two sets of data shows who still struggles at the plate (Willy Adames) and who's figuring things out (Kolten Wong, Rowdy Tellez). What's truly unsustainable is expecting any kind of reasonable or consistent performance from 30-and-up, regardless of what Omar Narvaez did yesterday (which is, by eye test and data, an exception to his rule.)

The other component to this is the Brewers' commitment to hitting the ball the other way. Yelich, Wong and Tellez are feasting off this approach: a combined 15-21 for six doubles and a .750 shift-busting BABIP. Sacrificing dingers for opposite field balls in play, and a return to an approach that lets the lineup keep moving is also producing winning baseball and, incidentally, better pitches to drive. It's also awfully hard to take pitches the other way when you're dipping the shoulder with intent to pull and launch.

Changes like these are how you get there, and how a club goes from being tagged with a 2014 vibe with one of, say, the 2021 Braves variety. There are still months of baseball to be played; things can break in any direction. But what we've seen since July 22 is reason to believe in this team again, as good a reason as we've had all year. What's happening now, coupled with the Brewers' penchant for taking bases on balls, is the way forward for this offense and a team that has gone on the record with stated desires for a World Series.

And even for that much alone, the Brewers deserve credit.
---
Baseball Reference, Baseball Savant and MLB.com provided invaluable data toward this column.
Think you could write a story like this? Brewer Fanatic wants you to develop your voice, find an audience, and we'll pay you to do it. Just fill out this form.
MORE FROM BREWER FANATIC
— Latest Brewers coverage from our writers
— Recent Brewers discussion in our forums
— Follow Brewer Fanatic via Twitter, Facebook or email
4