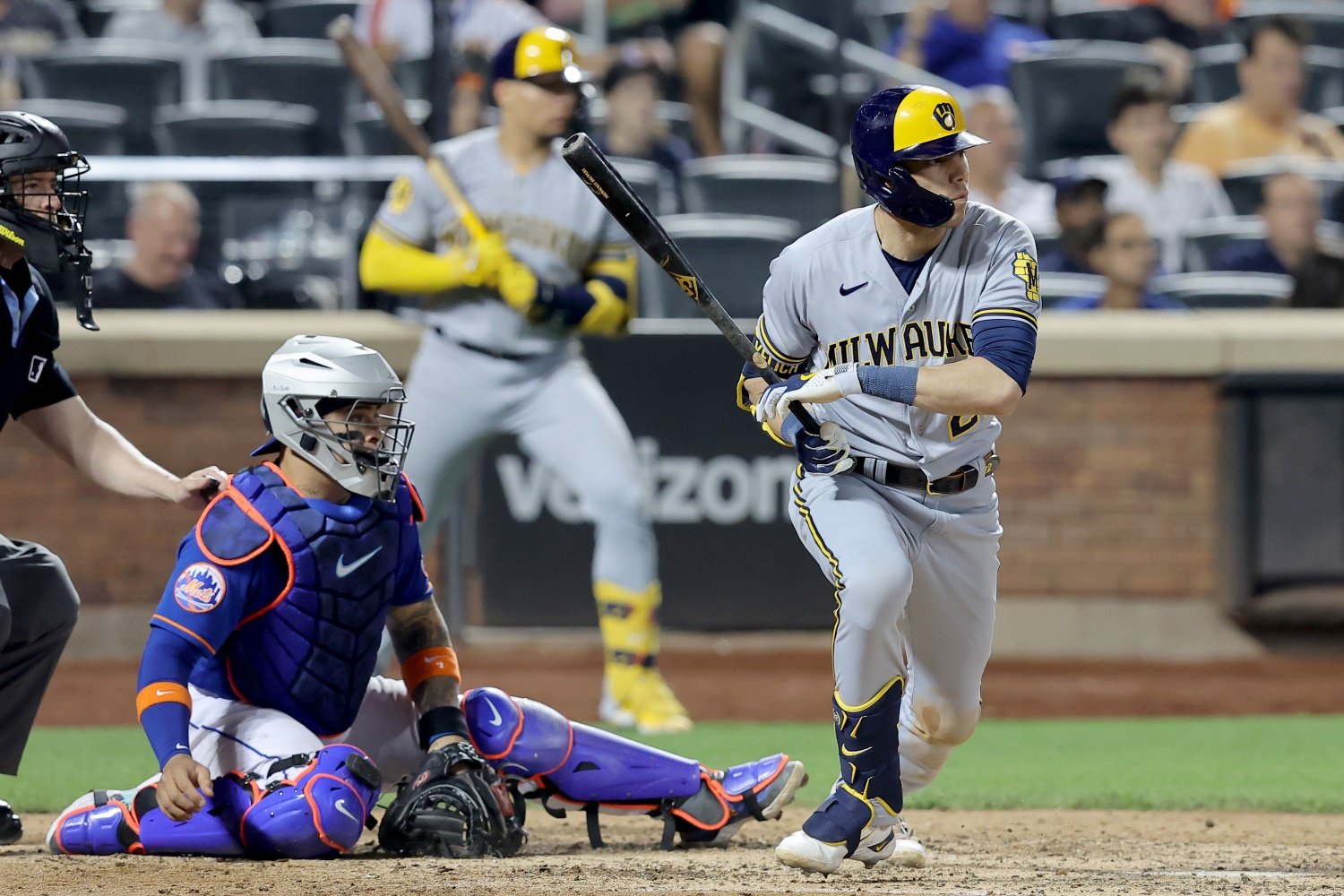 Image courtesy of © Brad Penner-USA TODAY Sports
No one ever should have asked or expected Christian Yelich to become a dead-pull hitter, or a launch angle guy. Even in 2018 and 2019, that wasn't truly what he was. He just got more comfortable with launching the ball to right field, for a time, the way a golfer with a brilliant short game will occasionally go on a prolonged hot streak with their woods. When that happens, a guy who's less than Tiger Woods-caliber can win a couple of majors and secure the futures of themselves and every family member they really like. 
Obviously, when he lost that magic, Yelich had a couple of tough seasons. Even at his worst, he was fairly productive, but given the share of their likely payrolls Milwaukee committed to him over the next several years, it was fair to be concerned about him being merely average. The only flaw in the (ultimately sound) decision to sign him to that deal was that it would only be a path to success for the team if he produced more than a couple of wins per year in value.
Now, even that isn't a problem, because Yelich isn't having a pedestrian 2023. On the contrary, he's back to being an All-Star--just not in the same way he was early in his Brewers tenure, or in the way he emerged as that level of player with the Marlins before that. Now 31, Yelich is no more capable of being his 24-year-old self than he is of being his 27-year-old self. He's had to search and feel out a truly new way of doing things, and so far, he's doing it brilliantly.
Yelich is hitting the ball markedly harder this season than he did in either 2021 or 2022. He's also generating a higher average launch angle, but that number is a little misleading. He's hitting as many ground balls as ever; he's happily trading full access to his loft and power for greater exit velocity. He's just getting a little more air under his lower-trajectory hits.
Christian Yelich, Average Launch Angle by Batted Ball Type
| | | |
| --- | --- | --- |
| Batted Ball Type | 2018-22 | 2023 |
| Grounders | -13.9 | -12.6 |
| Line Drives | 15.5 | 16.1 |
| Flies | 35.1 | 34.9 |
In turn, he's doing that by utterly letting go of the idea that he needs to pull the ball. He's not only hitting to right field less often than he has since 2017, but going the other way more often than ever. His 34.9-percent rate of going to the opposite field with batted balls would be one of the 25 highest single-season figures of the Statcast Era (now going on a decade, and becoming a bit less of an ironic phrase). Two guys show up several times above him on the list, and they're the two we should use to think about the new Yelich: D.J. LeMahieu and Joe Mauer.
Like Yelich, LeMahieu and Mauer were big guys, and they could hit it as hard as anyone. They just didn't, most of the time, and that was as much a choice (a conscious election not to chase power, but rather, to maximize batting average and OBP) as anything. We've seen LeMahieu age rather unevenly, but on the other hand, he was always less capable of jolting the ball than Yelich is, and his righthandedness made the profile a bit trickier. Mauer aged more gracefully, but lost his pop to injuries. Right now, Yelich is hitting like those guys, but he has better health (and the better athleticism that goes with it) and more power. 
The news isn't all good, of course. Yelich has had to trade some contact for hitting the ball hard so consistently, and if that trend continues or accelerates as he moves into his mid-30s, it will make this profile tough to sustain. That's a problem for another day, though--and hopefully, for another year. in 2023, Yelich is hitting .277/.372/.435, with good defense and great speed on the bases. He's found a way to blend his young self and the things he learned during a multiyear hot streak, to forge an iteration of himself that can be valuable even into his 30s. It's been fun to watch him, for the first time since that foul ball hit him in the knee.
1