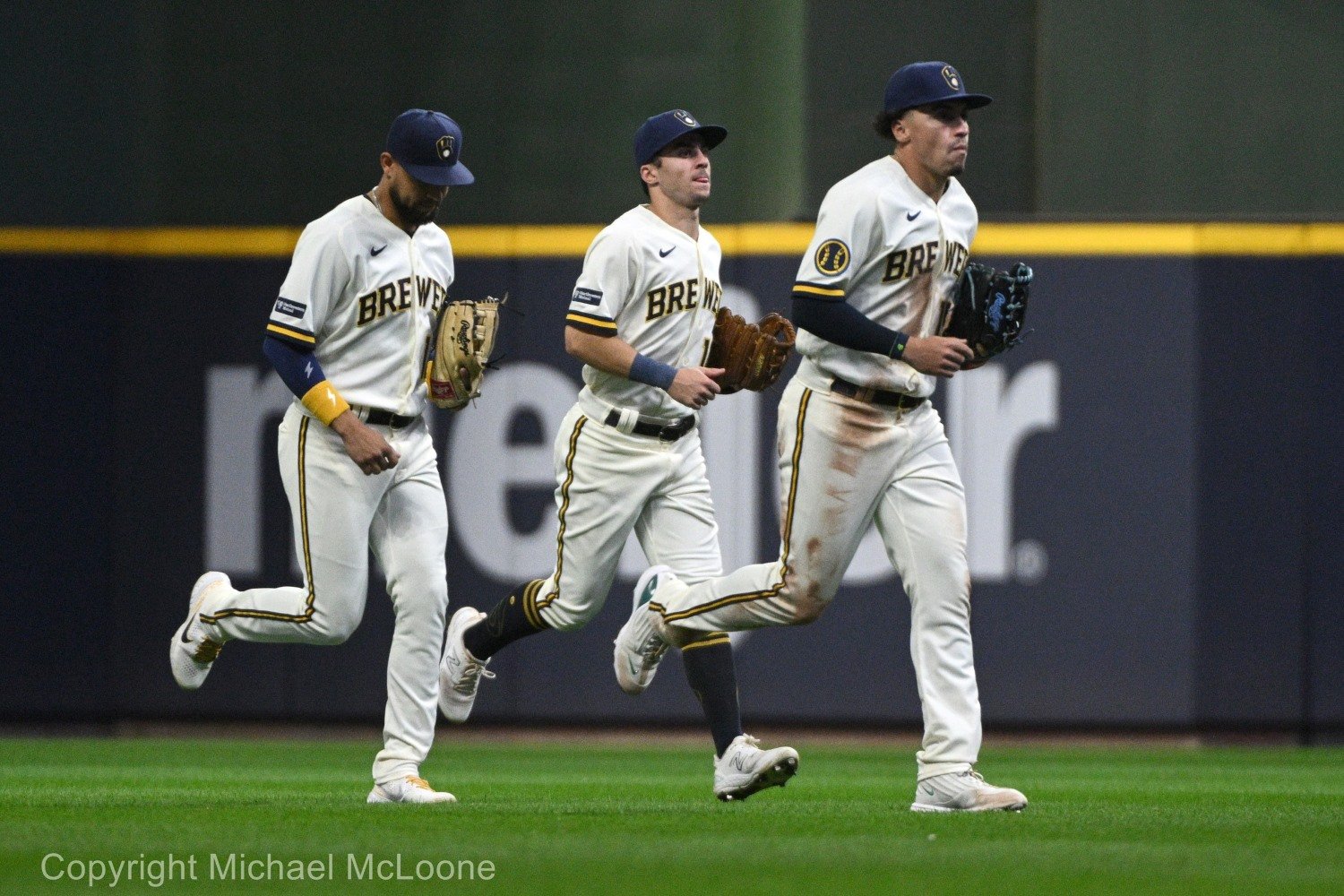 Image courtesy of © Michael McLoone-USA TODAY Sports
Obviously, in a perfect world, Jackson Chourio would simply hammer big-league pitching next spring training. Were he relentlessly competent and dominant enough, he could force his way onto the Opening Day roster as the center fielder, leaving the team with clarity at two of the three outfield positions. (Christian Yelich, of course, is locked in as the left fielder.)
We don't live in a perfect world, though, and in the deeply flawed one we do call home, Chourio is an untested prospect. He showed plenty of flashes of his future stardom in 2023, but a dearth of chances even to prove himself at the Triple-A level made it impossible to project how he'll do in MLB in 2024 with any confidence. He's unlikely to debut before May, and even less likely to earn an everyday role and play like a star when he does get his shot--as the up-and-down rookie campaigns of prospects like Joey Wiemer and Sal Frelick just demonstrated to us.
We're very likely to see a trade shipping out some young outfielder this winter. Be it Frelick, Wiemer, Garrett Mitchell, Tyrone Taylor, or Blake Perkins, someone is getting moved. The first move the front office made this offseason, more or less, was to add outfielder Chris Roller to the 40-man roster. That only exacerbated their logjam in center and right, and made clear that the team sees at least Perkins and Taylor as potentially fungible. It was a smart and necessary move. After getting Roller in a minor trade this summer, they needed to do this in order to prevent him from hitting minor-league free agency--the same roster mechanism by which Perkins became available last winter, at which point the Brewers pounced with an unusual guaranteed deal.
Frelick seems like the surest bet to stay and to play. His outfield defense is tremendous, in center or in right, and he controls the strike zone very well. However, his lack of power during his time in the big leagues this season was troubling. If he continues to get the bat knocked out of his hands, he'll lose playing time, or at least need to hit at the bottom of the lineup.
The biggest problem, in this area of the roster, is that the rest of the group's outlooks each rhyme with Frelick's. Wiemer has much more raw power, but strikes out too much and saw his defense slump badly late in the season. Mitchell has the power missing from Frelick's profile, but strikes out even more than Wiemer. Taylor is the most well-rounded of the group, but runs hot and cold at bat and doesn't seem able to stay healthy over a full season. Perkins was almost a pure defensive asset last year, but came up with a couple of big hits. This is a big group of deeply incomplete players, and they don't complement each other as nicely as one might prefer.
Milwaukee will probably only be able to carry five outfielders. Modern roster construction doesn't allow for more. There's value in versatility, such as what Frelick and Taylor bring by being able to play center field well and to hit enough to be right fielders if needed. There's also value in depth that provides a high floor, in case of catastrophic injury or failure. Carrying Yelich, Frelick, Taylor, Wiemer, Perkins, and Mitchell is impossible, though, and even if it weren't, the latter half of those players aren't good enough to merit all the trouble it would cause.
Carrying Perkins as a defensive specialist worked very well for the 2023 Brewers. Doing that again, with Yelich, Frelick, and Taylor as the regulars and Wiemer spelling all three in the right turns, seems like the best use of all of these resources to me. Mitchell is the one with the most volatile skill set, and that might dent his potential trade value, but he still has the upside necessary to be part of a package for a good player. Frelick is too good to trade; Taylor and Wiemer wouldn't fetch enough. Mitchell feels like the sweet spot, and once you remove him from the picture, everything falls into place. The handedness of the various options makes sense. The offensive picture starts to take shape.
Who would you move in order to clarify the Crew's outfield for next season? Would you tender Taylor a contract? Whose bat do you believe in, in this motley bunch? Let's talk through this fascinating collection of rough-edged talent.
Think you could write a story like this? Brewer Fanatic wants you to develop your voice, find an audience, and we'll pay you to do it. Just fill out this form.
MORE FROM BREWER FANATIC
— Latest Brewers coverage from our writers
— Recent Brewers discussion in our forums
— Follow Brewer Fanatic via Twitter, Facebook or email
1