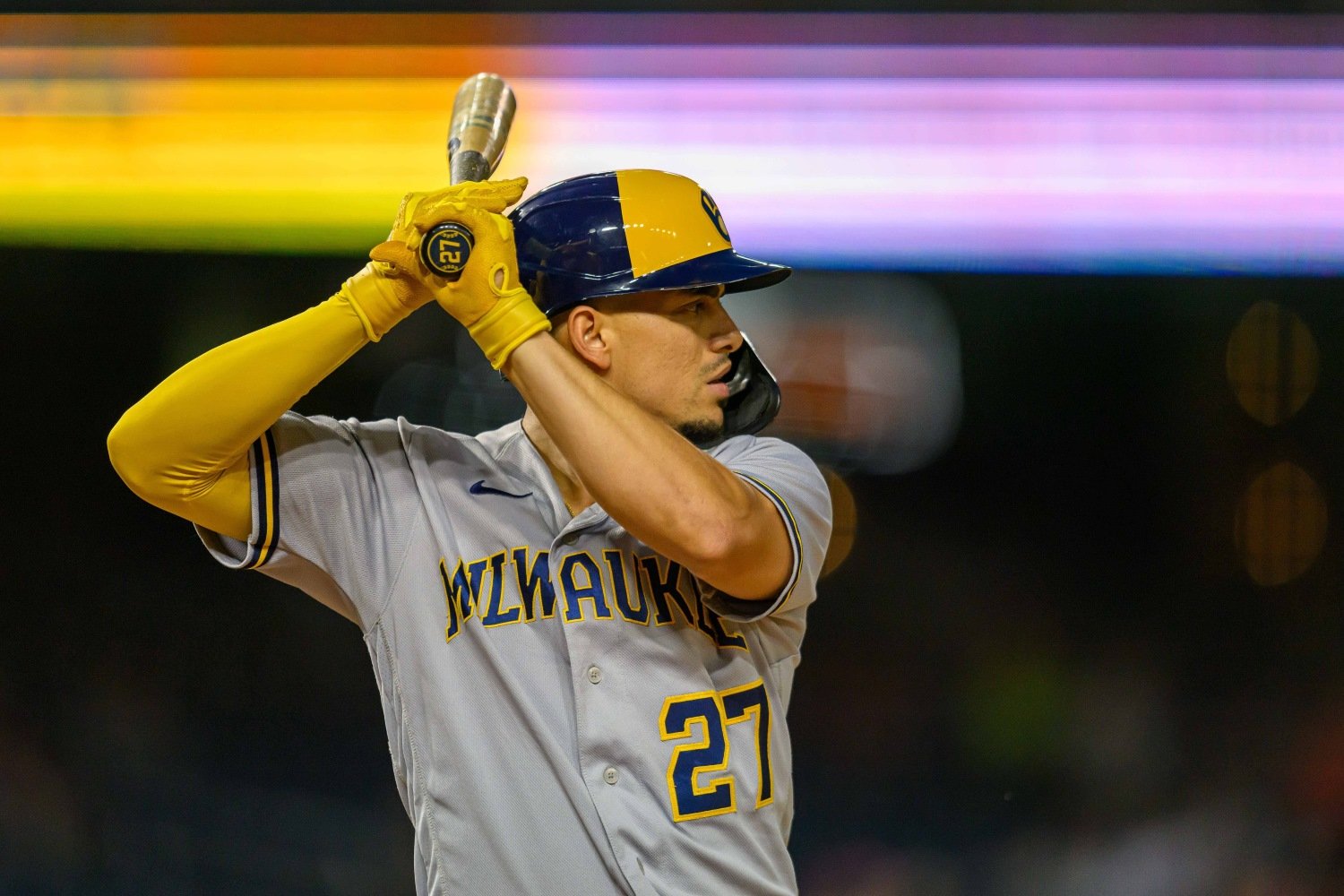 Image courtesy of © Reggie Hildred-USA TODAY Sports
Willy Adames is hitting .205/.290/.386 in 2023, which would be okay for a shortstop with his defensive range and arm. However, statistically, he has been one of the unluckiest baseball players on the planet over the last month or so. Here's why;
Save for a short stretch before the All-Star break where we got a glimpse of the streaky, powerful hitter Adames can be, his results just have not been there this season: no real hot stretches where he's carried the offense, none of the big numbers he has traditionally put up with men on base. He's always been a totally different hitter in the big moments, but that just hasn't been the case this year, hitting .202/.276/.393 with runners in scoring position.
However, over the last month, he has been a significantly different hitter, and he's been incredibly unlucky about the results it's produced.  First, let's clarify, he is hitting the ball softer than he did last season, he is whiffing too often and was basically showing us his floor up until June. That being said, here are what the underlying metrics say about his ability to hit the ball in just the wrong spot:

The yellow highlight is the current season. You can see that he's finding optimal launch angles roughly the same as he did in 2021 and in 2022, with an expected batting average (xBA) of .237 and an expected slugging (xSLG) of .439, remarkably similar to his 2021 numbers. His expected weighted on-base average (xwOBA, the number that estimates overall offensive value expected based on quality of contact) is higher than each of his previous two years, while he's significantly improved his walk rate this season. By his expected metrics, he's projected to have had a .237/.332/.439 slash line.
Recently, however, he's been even better, particularly against fastballs. The results just don't show it. Here are his numbers for July (let's ignore the small sample size that is August so far):

He had a line of .161/.339 against fastballs, instead of the expected numbers of .277/.514, a massive difference, and one that could have swung a few of the many tight games the Brewers played in July in their direction. His exit velocities since the start of the season have risen steadily, and last month against breaking balls and fastballs he averaged 88 mph, more in line with his historic numbers, though he has struggled mightily with offspeed pitches this season.
A big leap has been the number of fastballs he's attacked in the zone, he went for just 58.5% of these fastballs in June, but in July that number rose to 80%, as well as having a rip at 83% of in-zone breaking pitches. This has corresponded with no real change in his chase rates, suggesting he's feeling a lot better about himself at the plate, and is looking to do damage. 
Finally, he considerably lowered his swing and miss rates on each pitch type:
Breaking Balls – 43% down to 36.8%
Offspeed – 42.3% down to 32.1%
Fastballs – 21.3% to 18.8%
It may not seem like it based on the results, but Adames is not the struggling hitter we saw in May and June. He's primed for a hot finish to the year. Can he get some of the luck that's evaded him so far this season?
Think you could write a story like this? Brewer Fanatic wants you to develop your voice, find an audience, and we'll pay you to do it. Just fill out this form.
MORE FROM BREWER FANATIC
— Latest Brewers coverage from our writers
— Recent Brewers discussion in our forums
— Follow Brewer Fanatic via Twitter, Facebook or email