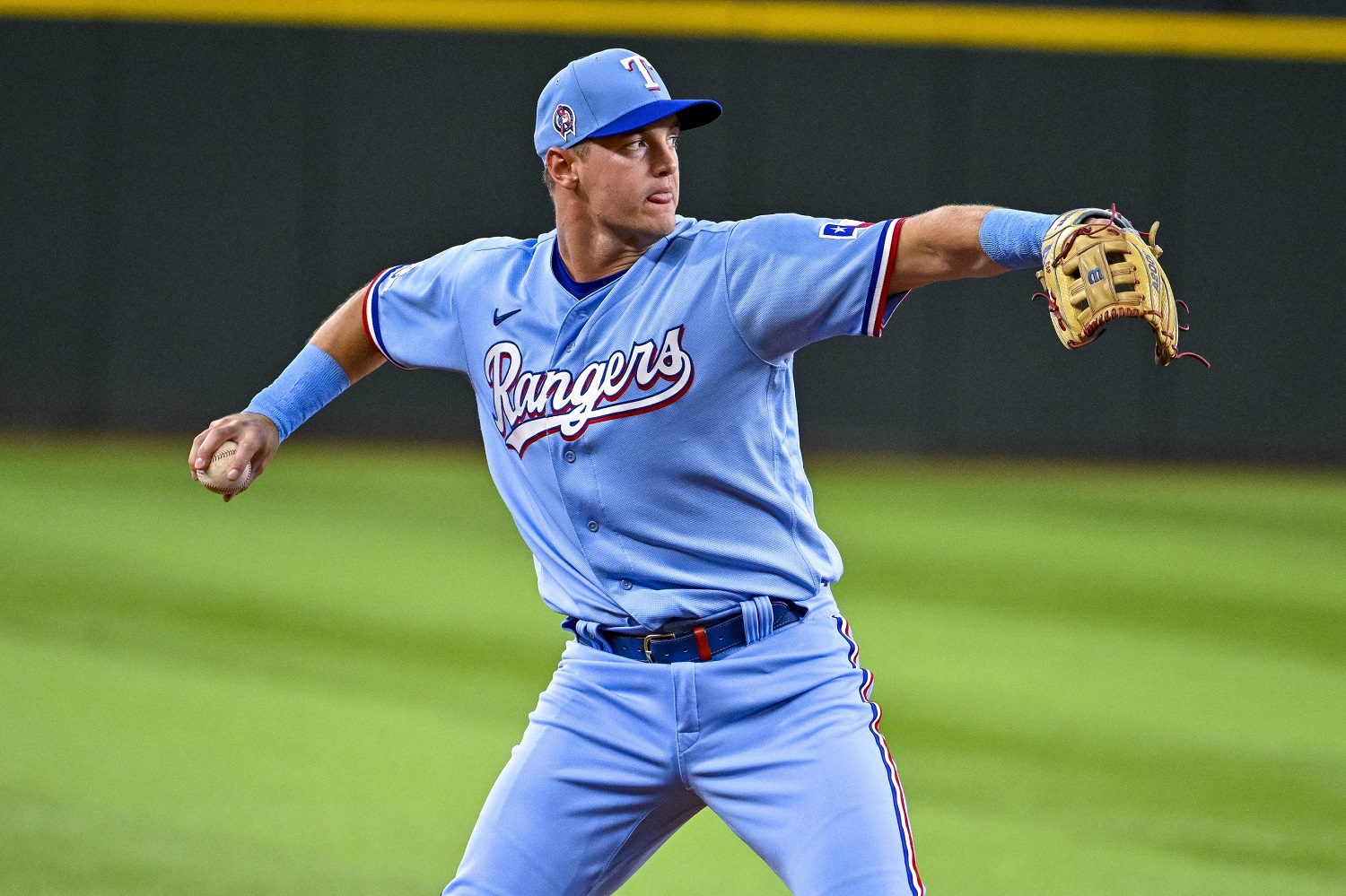 Image courtesy of Jerome Miron-USA TODAY Sports
The Milwaukee Brewers have had short spurts of quality bats at third base in the past two decades. Travis Shaw in 2017-2018 was a bit of a surprise, while Aramis Ramirez offered solid production for most of his four seasons. Otherwise, the hot corner has been chiefly a revolving door with no young prospects or veteran staples to be "the guy."
Milwaukee's 2022 offense improved from the previous season but lacked the true upper-level talent that clubs ride into the postseason. It was especially necessary for the Brewers last season as their stellar pitching suffered injuries and regression. Third base wasn't a barren wasteland, but relying on Luis Urias and Jace Peterson (with a dash of Mike Brosseau) didn't inspire greatness.
The problem with upgrading the position in 2023 and beyond is a lack of options, at least for proven commodities. The free agent class is underwhelming at best, and a few players who might have been available are now off-limits. Nolan Arenado opted into his deal and is staying put in St. Louis. Jose Ramirez signed a long-term extension with Cleveland in April. Rafael Devers has one year left on his contract in Boston, so it's unlikely the Brewers will pay a high price for a rental. That leads to a different focus on the trade market.
A handful of prospects and recently-promoted third basemen could be had for the right return. A couple players could require an elite arm, while others might need some creativity to swing a deal. Either way, Milwaukee should check in on these five third basemen.
Josh Jung - Texas Rangers - 24 years old
Jung was the Rangers' top prospect and saw 102 MLB plate appearances last season. His .654 OPS and 39:4 strikeout-to-walk ratio disappointed many, but it's just growing pains. Jung had a .326/.398/.592 (.990) slash line in 2021 between Double-A and Triple-A with 19 homers in 78 games. Scouts rate his hit tool at a 60-grade (20-80 scale) level, and his strong arm with average defense should be good enough at third to hold it down for a while.
As you can imagine, pulling Jung from the Rangers would take a tantalizing player or package. Jung could be one of the guys that convinces the Brewers to trade Brandon Woodruff or Corbin Burnes if Texas included additional players.
Curtis Mead - Tampa Bay Rays - 22 years old
The Rays' second-best prospect has less power than Jung but has impressive plate discipline and bat control. Another 60-grade hitter, he posted a .390 OBP and .922 OPS in the minors last year (Double-A and Triple-A). Some see Mead moving to second base due to his weaker arm, though his offense would be a plus there. 
There's more uncertainty with Mead's future value, so Tampa might be willing to move him for a reasonable price. The Rays also currently have veteran third baseman Yandy Diaz in tow. At 31 years old and due to make around $5 million in arbitration, Tampa may be more likely to shop Diaz and keep Mead (which could also work for the Brewers).
Joe Perez - Houston Astros - 23 years old
Perez sits as the Astros' ninth prospect, and his hit tool ranks lower (45) than the others. However, his raw power and bat speed can make up for his struggles to connect as often. There are some concerns over his dip in home runs last season (seven in 83 games), though some believe it is a speed bump. His arm injuries and less-than-ideal range mean third base is a short-term spot.
Perez's arm issue and inconsistent bat could make Houston more apt to deal for a modest return. Milwaukee might only be keen on the risk involved if the cost was minimal.
Mark Vientos - New York Mets - 22 years old
The Mets' number seven prospect started six games as the DH for the big league club in 2022. Vientos is another big-time power bat who blasted 49 home runs the past two seasons, mostly in Triple-A. He does have a proneness to whiff but still hit .280 with an OBP over .350 across 2021 and 2022. While his arm plays well at third, his glove and athleticism are below standard.
New York has Brett Baty (number two prospect) ready to play the hot corner and Pete Alonso at first base. So unless the Mets are good with Vientos being a primary DH and backup corner infielder, he could get them a strong return. How much would the Brewers be willing to give up from their pitching staff or farm system? It starts with that question.
Jordan Westburg - Baltimore Orioles - 23 years old
Westburg profiles as a gap-to-gap hitter with 25-homer potential in the majors. He is an all-around quality player with a .274/.371/.489/.860 slash line across four minor league levels in the past two years. That includes 39 doubles, 27 homers, and 106 RBI in 2022 in Double-A and Triple-A. He was drafted as a shortstop and is a plus defender, though many see third base as his permanent spot, especially since Baltimore has Gunnar Henderson.
The Orioles are poised to make another push next season and may want to use some of their young talent to trade for proven big leaguers to take the next step. Milwaukee and Baltimore could be partners on a deal involving multiple players, and Westburg is an intriguing future star.
If the Brewers go this route of trading for an up-and-coming third baseman, there will be a risk of failing to get the production they seek. Trades mostly come down to asking price and "fit," but to have a handful of clubs as potential partners would give Milwaukee better odds of pulling something off. Considering the offensive concerns and need for a young infield bat, these are some exciting options for the Brewers to explore if they're willing to give up enough player capital. Do you have any favorites from the list?
Think you could write a story like this? Brewer Fanatic wants you to develop your voice, find an audience, and we'll pay you to do it. Just fill out this form.
MORE FROM BREWER FANATIC
— Latest Brewers coverage from our writers
— Recent Brewers discussion in our forums
— Follow Brewer Fanatic via Twitter, Facebook or email