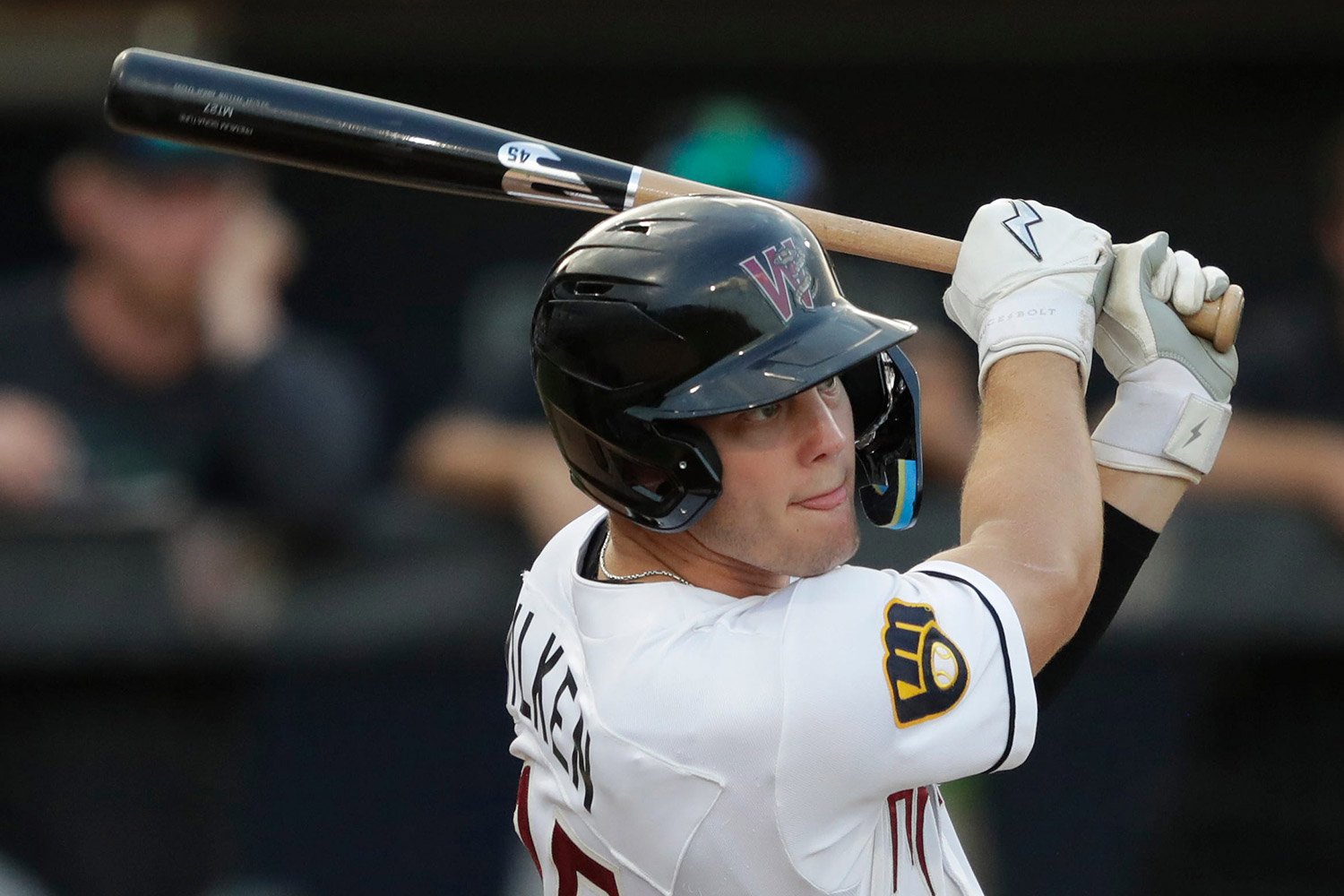 Image courtesy of © Dan Powers/USA TODAY NETWORK-Wisconsin / USA TODAY NETWORK
The situation at third base on the farm has changed the most since spring training this year. Just how much has the situation changed? Let's take a look.
Tyler Black (AA Biloxi/AAA Nashville)
.284/.417/.517 with 25 doubles, 18 home runs, 73 RBI, 88 walks, 100 strikeouts in 450 at-bats
Black was an exciting prospect the moment he was drafted, based on a high-contact bat that seemed a lot like that of Jeff Cirillo. In 2022, both his regular minor-league season and his Arizona Fall League season were cut short by injuries. However, he broke out in 2023, and it was a doozy – 55 extra-base hits and another 55 steals. In addition, he made the move to third base and held that position down, catapulting him to serious contention to be the Opening Day 2024 third baseman.
Patrick Dorrian (AAA Nashville)
.238/.312/.466 with 18 doubles, 21 home runs, 65 RBI, 34 walks, 127 strikeouts in 367 at-bats
While much of his mark was made in the middle infield for the Sounds, Dorrian was primarily a third baseman in previous years. He has a solid left-handed power bat, and his defense is solid. The strikeout rate is a concern, but Dorrian's development could be interesting.
Brock Wilken (R ACL Brewers/A+ Wisconsin/AA Biloxi)
.285/.414/.473 with eight doubles, five home runs, 29 RBI, 33 walks, 47 strikeouts in 165 at-bats
The Brewers' first-round pick in 2023 rose the system rapidly. Wilken could end up at either corner infield position for the team and offer a pure right-handed power bat. He also flashed speed, with four triples and four steals in his smallish sample size. If he has a negative, it is the fact he struck out as often as he got a hit. Conversely, Wilken's OBP skills are also superb, and he more than held his own in pro ball.
Zavier Warren (AA Biloxi)
.236/.319/.406 with 15 doubles, 15 home runs, 63 RBI, 45 walks and 86 strikeouts in 377 at-bats
While primarily playing first base, Warren still saw significant action at third base in 2023. Warren's bat flashes a lot of power and can draw walks. While he's primarily been a corner infielder professionally, he saw action at catcher in 2021. He has occasionally dabbled at the middle infield positions, which could make him an intriguing prospect for the Brewers' bench.
Ben Metzinger (A+ Wisconsin)
.226/.344/.321 with 15 doubles, five home runs, 45 RBI, 55 walks, 119 strikeouts in 318 at-bats
Metzinger split time at both corner infield positions for the Timber Rattlers in 2023 and displayed excellent OBP skills with some pop. He also displayed solid defense in Appleton. That said, he needs to display more power or improve his ability to hit for average to avoid being bypassed by others. Perhaps his development could hinge on playing some catcher, where he saw limited action in college.
Eduardo Garcia (A+ Wisconsin)
.208/.280/.326 with 13 doubles, four home runs, 29 RBI, 26 walks and 106 strikeouts in 298 at-bats
Garcia had been a somewhat exciting shortstop prospect in 2022, but in 2023, he took a step back after primarily handling third base due to the Brewers drafting Eric Brown Jr. and a host of other shortstops. His defense has never been a question; it's been the bat that has held him back. At 21, though, he could put it all together, but time could be running out.
Luke Adams (A Carolina)
.233/.400/.401 with 18 doubles, 11 home runs, 54 RBI, 76 walks, 99 strikeouts in 339 at-bats
The Brewers drafted Adams in the 11th round of the 2022 draft – and that $282,500 signing bonus looks like a bargain this year. Adams displayed excellent defense at both corner infield positions and has a legit three-true-outcome bat and the ability to steal bases (30 steals). Adams could be a significant asset for the Brewers.
Eric Bitonti (R ACL Brewers)
.180/.333/.410 with one double, two home runs, nine RBI, nine walks, 15 strikeouts in 39 at-bats
It's a small sample size, but Bitonti flashed a three-true outcome bat and did pretty well at third base with the ACL Brewers after being drafted in the third round. Lefty power bats have thrived at American Family Field, and Bitonti could join a list that has included Prince Fielder, Geoff Jenkins, and Christian Yelich, among others. The strikeouts will need to come down, but Bitonti has a lot of time to develop.
Demetrio Nadal (FRk DSL Brewers 2)
.342/.478/.525 with six doubles, two home runs, 20 RBI, 24 walks, 19 strikeouts in 120 at-bats
Nadal broke out in his second year in the DSL. While primarily playing third base, he also saw action in the outfield, at second base, and at shortstop. In addition to his defensive versatility, he showcased a dynamic bat, hitting for average and displaying excellent plate discipline. On the basepaths, he also demonstrated real speed (five triples and 33 stolen bases).
How do things at the hot corner stand in the Brewers' farm system? Do you think the Brewers have some answers at this position? Who do you want to learn more about?
Think you could write a story like this? Brewer Fanatic wants you to develop your voice, find an audience, and we'll pay you to do it. Just fill out this form.
MORE FROM BREWER FANATIC
— Latest Brewers coverage from our writers
— Recent Brewers discussion in our forums
— Follow Brewer Fanatic via Twitter, Facebook or email