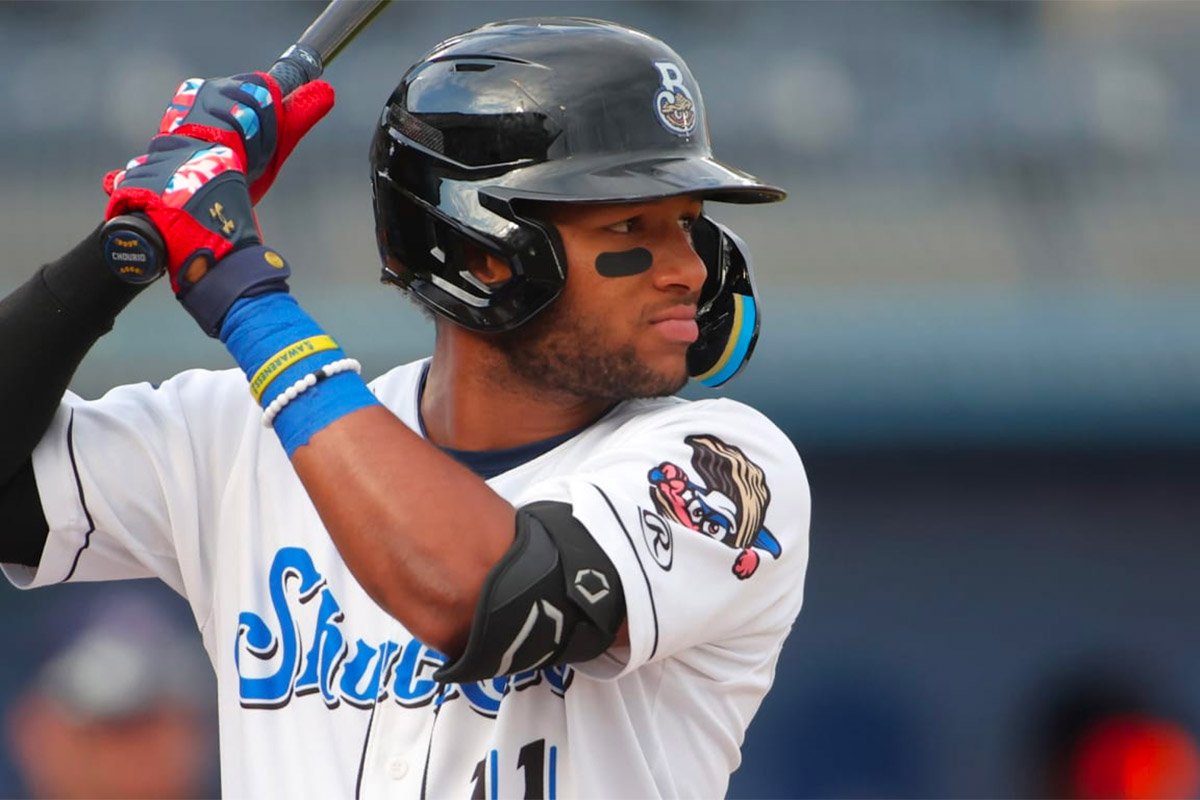 Image courtesy of Biloxi Shuckers
#1 OF Jackson Chourio (Biloxi Shuckers, Nashville Sounds)
Perhaps the most well-known prospect the Brewers have had in their system since The mid-2000s, Chourio received the Brewers' largest bonus in the 2020-21 International class, signing for $1.8 million. Beginning his career in the DSL in 2021, nobody in baseball had Chourio's helium in 2022. He began the season in Extended Spring Training, and after dominating Low-A and doing well at High-A, he eventually finished it with a week in Double-A. He spent most of 2023 in Double-A before receiving a cup of coffee in Triple-A to close the season. Chourio was awarded the Brewers Co-Player of the Year along with Tyler Black.
What to Like:
Chourio doesn't get cheated on his swings at the plate but still looks to be in total control of his bat. He does a great job of being direct to the ball with his swing with a very flat vertical bat approach, but he is still getting the loft needed to elevate the ball and allowing him to get to his plus raw power in games. Twenty-two home runs as a teenager in the upper levels is an impressive feat. His elite bat speed, above-average or better bat-to-ball skills, and raw power form a rare combination for any prospect, let alone one who played the entire season in the upper minors at 19 years old. On the defensive side, he covers a lot of ground in center field and saw quite a bit of improvement in the quality of his reads and jumps in 2023. Having signed as an infielder only a couple of years ago, he was understandably a little raw out there in 2022, but there was a lot of improvement in 2023. He is firmly an above-average defender, and there is still room to grow, with the potential to be a plus. His plus speed helps him in center field, and it also showed quite a bit on the bases this year, going 44/53 on stolen base attempts. In the Future's Game, Chourio ran over 30 ft/second, considered elite if he can maintain it regularly. He posted home-to-first times around four seconds flat as well, which is elite for anyone, especially a right-handed hitter with an aggressive swing. He's a plus/plus athlete overall.
Chourio's season was a tale of two halves in 2023. A variety of things likely caused this. He was the youngest hitter in the league most of the year; he also had some bad luck on batted balls. Most likely, the biggest reason was due to the Southern League baseball that was being tested. In the first half, they used a "pre-tacked" baseball that caused issues for hitters and pitchers alike. For hitters, the ball was spinning and moving more than a regular baseball, and it showed in Chourio's numbers. Chourio posted a .737 OPS in the first half, good for a 91 wRC+, and also struck out at a 22.6% rate. His second-half numbers were much more in line with what is expected out of a consensus top 5 prospect in baseball, putting up a .884 OPS (132 wRC+) with a 12.9% strikeout rate. For a player who had never really struggled in his pro career before this season, it was important to see how he would handle that, especially as more and more people were paying attention to him. His second half showed that he wouldn't let it deter him. His ability to battle through struggles and adversity this season is a positive sign for Chourio's future.
What to Work On:
While Chourio does a great job of getting the bat to the ball, he has some issues with swing decisions. He can get swing-happy at times, and his plate discipline was well below average in 2023, though his plate discipline did improve a bit when the Southern League went away from the pre-tacked baseball. His chase rate of 32% with the tacked ball went down to 27% for the remainder of the season. Carrying a strikeout rate of under 18% with a high chase rate illustrates his bat-to-ball ability. On the bases, his base stealing is largely done with his plus speed and not as much with his jumps. Like many other young players, getting more reps against elite pitcher/catcher combinations will only help him improve the jumps he gets. Defensively, Chourio has made big strides, as noted earlier, though he could still use some refinement in terms of the routes he takes. That's the difference right now between him being above average and being plus out there. His arm is probably his worst tool at the moment, though it's still around average in terms of strength, and he throws the ball pretty accurately. 
What's next:
Chourio has played games at Triple-A, which means he is on the verge of impacting the Major League ball club. MLB's new CBA may be the biggest reason he will have a chance to make the team out of spring training. If a top 100 prospect is on the roster on Opening Day and wins the Rookie of the Year, the team he plays for receives a first-round pick in the next draft. Chourio has the talent that could win the award, and the stipulation that he must be on the Opening Day roster to be eligible will give the Brewers a lot to consider. Barring a poor spring, it seems likely that they will take that chance and give him an everyday role in 2024 from day one.
What are your thoughts on Chourio? What are you hoping to see from him in 2024? Let us know in the comments!
1