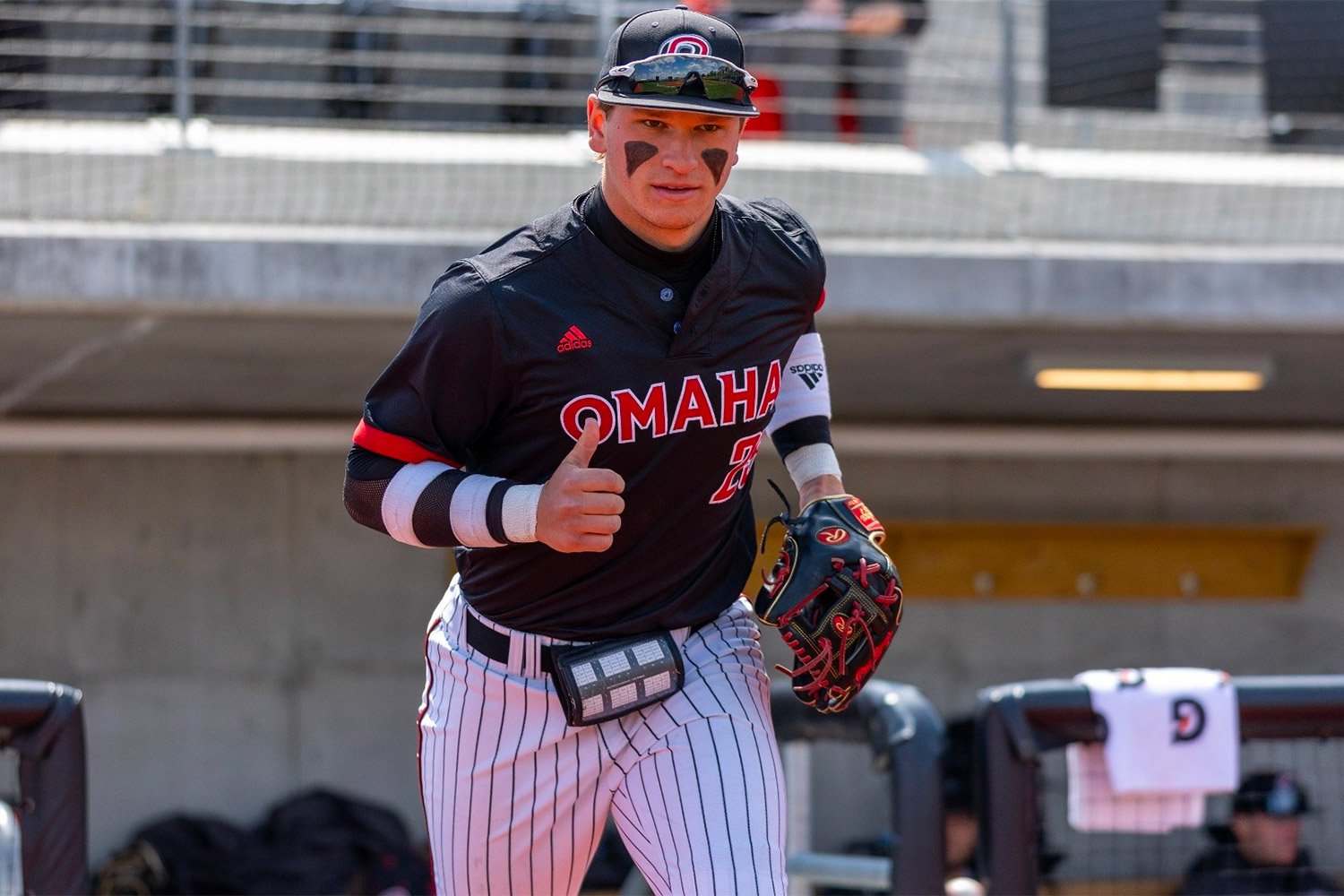 Image courtesy of Omaha Baseball
#10 IF Mike Boeve (Arizona League Brewers, Wisconsin Timber Rattlers)
The Brewers' second-round selection in the 2023 MLB Draft, Boeve stood out as a player the franchise could have interest in. Even going back before the draft, he possessed some analytical traits that any team would like. The Brewers aren't one of the franchises that are strictly model-based when making draft decisions, but they value them quite a bit, and Boeve was a model darling. 
What to Like:
Boeve is the definition of what one would consider a "Moneyball" profile. He's not a "good-looking" player, but he's pretty good at everything he does. He was always known for making a lot of contact during his time at Nebraska-Omaha. He was actually hit by the same number of pitches in 2023 as his strikeout total, both of which were nine. That strikeout total resulted in a minuscule 4% strikeout rate, which paired extremely well with his 15.2% walk rate. While he struck out even less than he had in the past, he wasn't sacrificing any of his power to get the bat on the ball. Boeve's contact quality also took a major step forward this past spring. Coming into the season, he was viewed as a bit of a punchless bat, but he hit his first ball over 110 mph in college during the 2023 season and posted a 90th percentile EV above 105 mph. His home run numbers actually dropped from eight in 2022 to four in 2023, but the quality of contact is more likely to translate to pro ball than his home run numbers. While he wasn't putting up the exit velocity numbers of a future 40-home-run hitter, he showed that he is more than a punchless bat. After signing and reporting to the Arizona Complex League, Boeve posted wood bat exit velocities of up to 112 MPH in his few weeks down there. His build should also be able to add power to the profile as he gets stronger and continues to adjust to pro ball. 
What to Work On:
Defensively, Boeve isn't the most graceful-looking player on the infield, but he does appear to get good reads at third and second bases. His arm is around average for third and a little above average for second. He struggles at times with keeping his feet moving on grounders, especially when he is at second base. He was caught flat-footed and ended up fielding the ball off to his side more than a couple of times during his time with the Timber Rattlers. On the offensive side of the ball, as mentioned above, Boeve got off to an incredible start with the Arizona League Brewers, hitting four home runs in what essentially amounted to his first week's worth of games with the team. He was quickly promoted to High-A Wisconsin, completely passing by Carolina. He hit another home run in his first game with the Timber Rattlers but struggled to close out the season. While he had seen some higher velocity and good secondary pitches at times in college, he did play in a smaller conference at the NCAA level. He certainly hadn't seen that level of stuff with such regularity as he did at High-A. The strikeout rate of nearly 21% in pro ball, compared to that measly 4% in college, illustrates the difference in the quality of pitchers he was seeing. Boeve has been said to be great at making adjustments, so it would not be a surprise to see things revert to somewhere in between the pro ball numbers and the college ones. 
What's next:
Overall, there are a lot of Tyler Black similarities at the plate, including his swing. Black is a much faster player than Boeve, but Boeve would get the nod on the defensive side of the ball. Given his struggles toward the end of the season, Boeve is a clear candidate to begin 2024 back at High-A Wisconsin. During his time there, he will most likely spend time at third and second bases as he continues to work through his footwork and consistency in the field. Boeve will be getting more reps against this higher-level pitching, and the Brewers hope to see him tap into more of his power. This could be tough to do, as the cold and the wind throughout the Midwest League in April and May can present a very tough-hitting environment, especially in terms of power output. As a college draft pick who moved quickly to High-A, early success next year could place him on a fast track up the minor league chain. We will learn more about Boeve in 2024, but he made a strong first impression. 
What are your thoughts on Boeve? What are you hoping to see from him in 2024? Let us know in the comments!
Think you could write a story like this? Brewer Fanatic wants you to develop your voice, find an audience, and we'll pay you to do it. Just fill out this form.
MORE FROM BREWER FANATIC
— Latest Brewers coverage from our writers
— Recent Brewers discussion in our forums
— Follow Brewer Fanatic via Twitter, Facebook or email