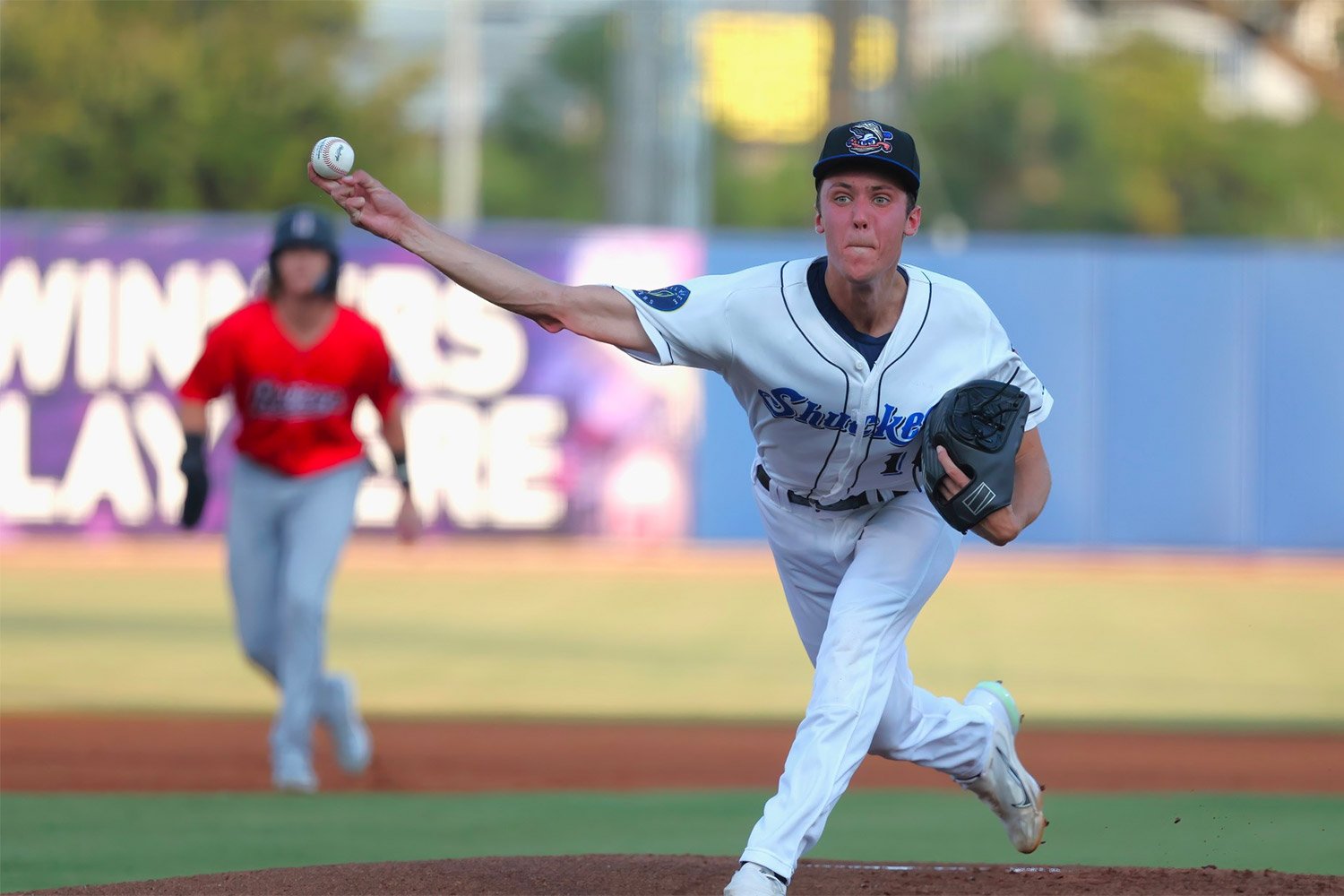 Image courtesy of Biloxi Shuckers
#3 RHP Jacob Misiorowski (Carolina Mudcats, Wisconsin Timber Rattlers, Biloxi Shuckers)
In terms of pure ceiling, the Brewers' second-round selection in the 2022 draft has one of the highest in baseball. A junior college standout from Crowder College in Missouri, Misiorowski is a freak athlete on the mound, with long levers and a blazing fastball. His first full season of pro ball showed all the exciting traits Misiorowski brings and showcased the areas he will need to improve. Since selecting Misiorowski, the Brewers have been extremely cautious in managing his workload. He only appeared in two games in 2022 and was built up very slowly in 2023 as well.
What to Like:
Misiorowski has, arguably, the most electric fastball in the minor leagues. Sitting in the 96-99 range most of the time, he has proven capable of running it up all the way to 102 in shorter stints. Not only does his fastball have 80-grade velocity, but it also has excellent movement characteristics, generating a lot of carry and life. He also gets an insane 7.5 feet of extension, which would have finished 100th percentile in MLB this past season and would have finished third behind only Alexis Diaz and Jackson Wolf. The consensus is that somebody with around 6.5 feet of extension will have essentially the same perceived velocity as their actual velocity. Each foot of extension beyond that adds about two MPH from the hitter's point of view. That means that a 98 MPH fastball from Misiorowski looks like 100, and when he runs it up to 102, it looks like 104. Factoring in his long limbs and that he hides the ball pretty well, it gets on hitters even faster than that at times. His fastball is his best pitch, but his secondaries aren't lagging too far behind. His slider has been seen as his best secondary offering, and it is a very good pitch, sitting in the low 90s and misses a lot of bats. His mid-80s curveball made a massive leap in 2023. It has a quick drop, with an above-average sweep, and hitters take it for many strikes because of how tough it is to pick up. It probably surpassed the slider as the best secondary. Both of them are plus pitches.
In terms of performance, Misiorowski began the year in Low-A Carolina and ended it in Double-A Biloxi despite getting his season started about a month later than everyone else. He led the Brewers organization in strikeouts per nine innings and was second only to Logan Henderson in K% (minimum of five starts). He posted a respectable 3.41 ERA, which his 3.40 FIP backed up. Misiorowski was missing barrels all season long, only allowing two home runs. Both of which came during his first three starts at the Double-A level. Overall, he performed very well in his first real taste of pro ball.
What to Work On:
It's not a secret that Misiorowski has command concerns. It was the main knock on him during the draft and has followed him early in his career. Over five walks per nine innings is not something he will be able to get away with at the upper levels, especially if he wants to continue down the path of being a starting pitcher. Along those lines, there is some concern over whether Misiorowski will be forced into a relief role at some point. His delivery involves a ton of effort and has many moving parts. From the time he was drafted to the end of the 2023 season, there has already been quite a bit of improvement in terms of repeating his mechanics and staying within himself more often, so he will look to continue to build upon that. 
While his fastball, slider, and curveball combination have done most of the work for Misiorowski, he also throws a changeup. The changeup is a distant fourth offering at the moment. He has minimal command over it and is almost entirely unable to throw it for strikes. The pitch shows signs of having good, late depth on it, but if he can't learn to command it better, he will likely need to scrap it. Left-handed hitters have struggled against him so far, but the home runs he gave up were to lefties. The upper levels may start to unearth some platoon issues, and one way Misiorowski could try to combat that is by adding a second fastball, such as a sinker.
What's next:
Misiorowski moved very quickly in 2023. He will almost certainly begin 2024 back in Biloxi, where he will attempt to build upon his final three starts, especially his final start of the 2023 season, when he went six innings of shutout ball while striking out 12 and only allowing one hit. His stuff is good enough to pitch in MLB right now. He could make his MLB debut during the 2024 season if he shows improvement in his command. Perhaps out of the bullpen early on. 
What are your thoughts on Misiorowski? What are you hoping to see from him in 2024? Let us know in the comments!
Think you could write a story like this? Brewer Fanatic wants you to develop your voice, find an audience, and we'll pay you to do it. Just fill out this form.
MORE FROM BREWER FANATIC
— Latest Brewers coverage from our writers
— Recent Brewers discussion in our forums
— Follow Brewer Fanatic via Twitter, Facebook or email