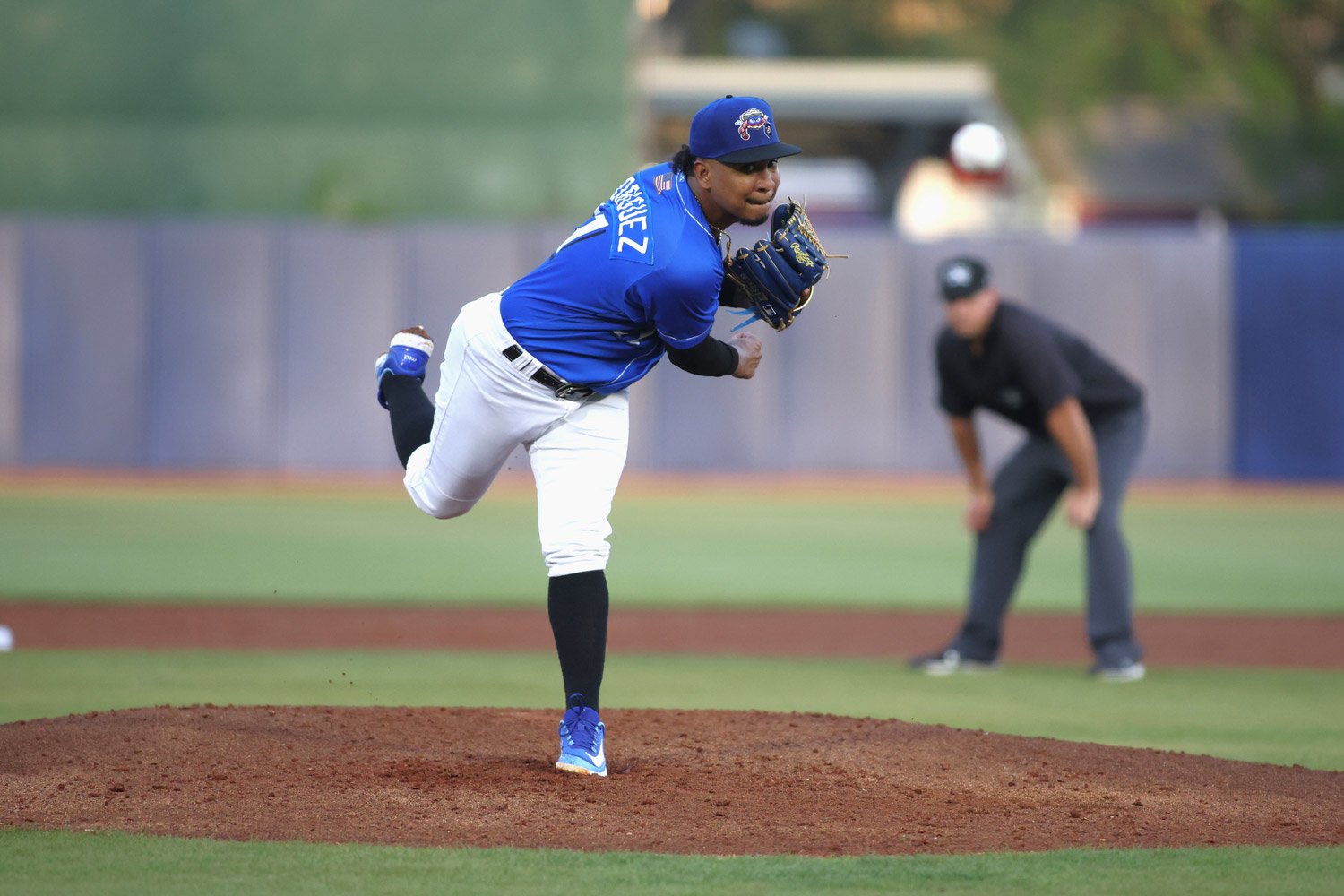 Image courtesy of Biloxi Shuckers
#7 RHP Carlos F Rodriguez (Biloxi Shuckers, Nashville Sounds)
The Brewers selected Rodriguez in the sixth round of the 2021 MLB Draft. They took him out of Florida Southwestern State Junior College, adding him to a growing list of Junior College pitchers that have succeeded, or are on their way to success, in the Brewers system. Rodriguez is a six-pitch pitcher who throws the kitchen sink at hitters and keeps them off balance, but he is more than a "junkballer." A number of his pitches come in as above-average offerings.
What to Like:
Rodriguez throws three different "fastballs." He throws a four-seam fastball, a sinker, and a cutter. The four-seamer is a riding fastball with which he can throw up in the zone and miss bats. He throws the four-seamer in the 90-93 range and can get up to 96 on occasion. His sinker moves quite a bit, and it is the pitch he gets most of his ground balls. The sinker sits in a similar velocity band to the four-seam. His cutter is a bit slower, usually in the upper 80s, around 86-88 most days. He uses it to keep the ball off the barrel. It isn't a big swing-and-miss offering for him now, but he can get soft contact with it, especially against left-handed hitters.
He also throws three different offspeed pitches along with the three fastballs. His offspeed offerings include a changeup, two different breaking balls, a slider, and a curveball. The changeup is probably his best pitch out of any of the six. Usually thrown in the 82-85 MPH range, it's his go-to swing-and-miss pitch, and he can generate ground balls with it. It pairs well with his sinker. The slider is his second-best offspeed pitch. With a velocity usually hovering around 80 MPH, it shows flashes of being another big-time swing-and-miss pitch, but with some inconsistencies in the command of the pitch, the results he gets have a lot of variance. His curveball is mainly used to "steal a strike" by landing a slow one in the zone. When he's throwing it as a swing-and-miss pitch, the velocity is usually around 73-75 MPH. When he wants to land it for a strike, he has dropped into the 60s at times. It isn't a great pitch on its own, but he can use it to help all his other offerings and to give a hitter more velocity bands to think about.
What to Work On:
As mentioned earlier, Rodriguez's slider is on the precipice of being a really good pitch. Continuing to build consistency with that pitch will be very important for him, as it can be his best put-away offering against right-handed hitters. Cutters and curveballs are two pitches the Brewers have done a great job developing during the Stearns/Arnold Era, and for Rodriguez, there is room to grow with both of those pitches. Sharpening up the curveball, in particular, would go a long way toward adding another swing-and-miss offering to his repertoire. With his feel to spin the ball, that type of improvement isn't out of the question. Rodriguez's walk numbers improved dramatically after the Southern League went away from the pre-tacked baseball and back to the MLB baseballs. However, his season total walks per nine number of four is probably too high for a player who doesn't throw in the upper 90s with his velocity. His number of 2.9 per nine, after they changed the baseballs, would be much more in line with where he will likely need to be at the MLB level. 
What's Next:
Sans the pitch-timing theatrics, Rodriguez shows some traits similar to Johnny Cueto on the mound. He received some invaluable experience by pitching for Nicaragua in the World Baseball Classic this past spring and doing quite well against an MLB-laden Puerto Rico lineup. Rodriguez made one start in Triple-A to finish the 2023 season, and it seems likely he will find himself back there to start 2024. He will almost certainly be in Major League camp this spring, and it will be a great opportunity for him to get continued reps against MLB level hitters and to work with the MLB catchers. Assuming he does return to Triple-A to begin the season, Rodriguez's fastest path to an MLB roster spot is likely by proving that the walk numbers, after the change in baseballs, are more indicative of what he truly is as a pitcher than the ones he had shown with the pre-tacked balls. 
What are your thoughts on Carlos F Rodriguez? What are you hoping to see from him in 2024? Let us know in the comments!
1