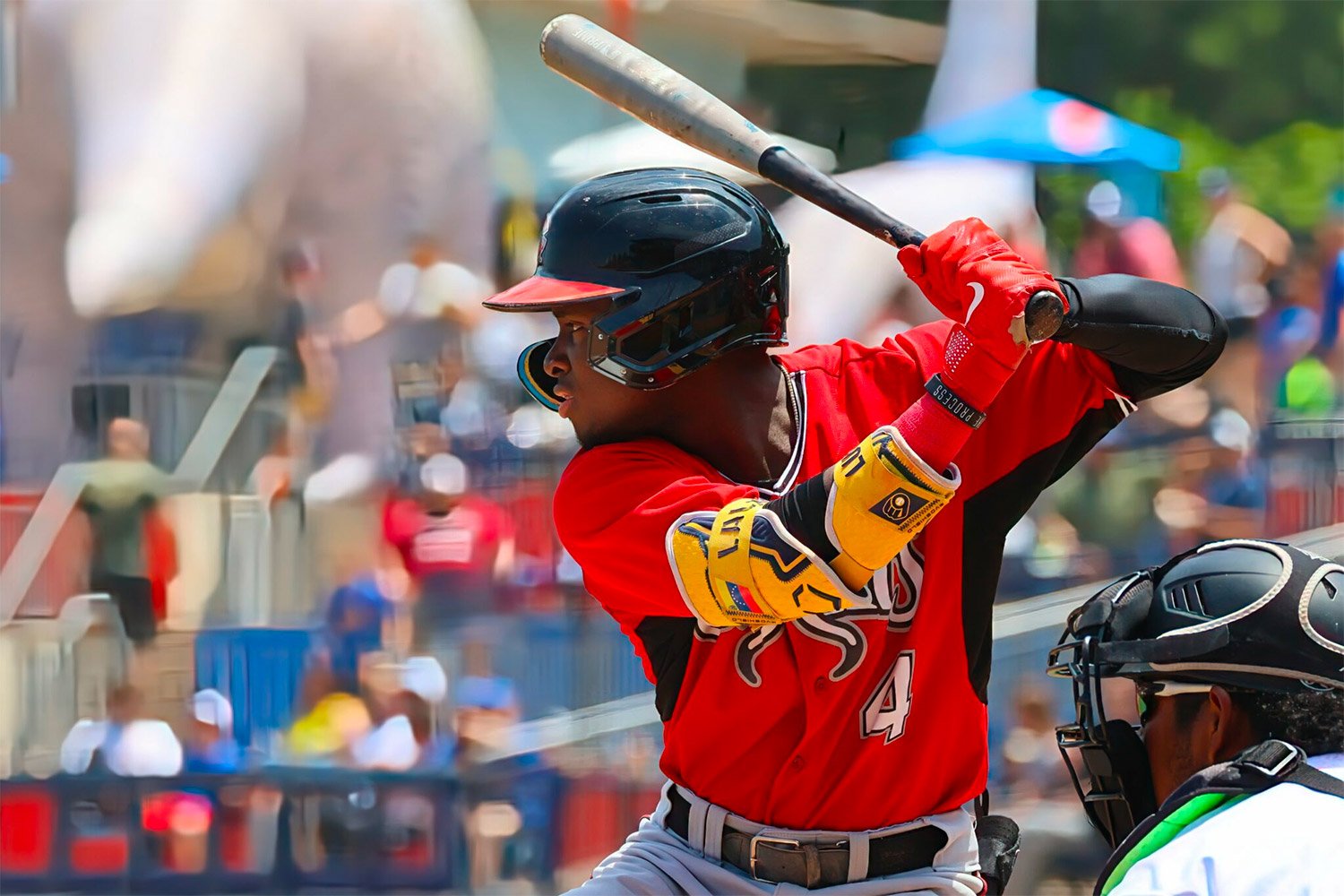 #8 OF Luis Lara (Carolina Mudcats, Wisconsin Timber Rattlers)
The Brewers signed Lara in their 2022 International signing class, and he was one of the bigger signings for the Brewers in that class. He received the third-highest bonus in the class at $1.1 Million, behind only shortstops Jhonny Severino and Johan Barrios. After getting off to a scalding hot start in the DSL, Lara slowed down dramatically for a few weeks before a strong finish. While his 2022 stats didn't look all that special, a 12% K-Rate and 9% BB-Rate were great signs for a player his age. He began 2023 in Extended Spring Training but soon proved too talented to be sent to the Arizona Complex League and was promoted to Low-A Carolina a month into the season.
What to Like:
Lara has the potential for a plus hit tool, potentially even elite. A switch hitter from the left side, he has a very compact swing. He appears to have very good rotational mobility, and that mobility helps him swing his bat at an elite rate of speed. That bat speed, combined with his hand-eye coordination, gives Lara tremendous bat-to-ball skills. He posted a 90% contact rate on pitches in the zone in 2023, which would have been a top 25 number among qualified MLB hitters. His swing can look Ronald Acuna-esque from the right side at times, though the results were not very good against left-handed pitchers this year. As for the defensive side of the ball, Lara combines his plus speed with good reads and routes. At his peak, he could be an elite defender in center field. His arm is borderline plus as well, and because of that, if he needs to, he could also handle right field with no issue. The aforementioned speed also comes in handy on the offensive side of the ball. It especially shows when he puts a ball in the gap or goes first to third on a hit. He did have a pretty successful season stealing bases, with 30 overall. However, while certainly not bad, a 75% success rate for a guy with plus speed isn't exactly what you're looking for.
What to Work On:
Power is the biggest question mark for Lara moving forward. Despite his diminutive stature, Lara has shown flashes of raw power in a batting practice setting and even some in-game power from both sides of the plate. However, both of his home runs in 2023 were from the right side, and he possesses more of his in-game power from that side. His swing from the right side is much more aggressive and has more moving parts than the left. It allows him to get to his power more, but as mentioned earlier, his results from that side could have been better in 2023. His OPS of .593 from the right side was nearly .200 points lower than the .770 OPS he posted from the left. The one thing Lara will be looking to improve upon defensively is on batted balls that are hit straight at Lara. He sometimes struggles to get good reads on a ball hit directly over his head or in front of him. Many consider that particular part of playing the outfield the most difficult part of the position, so this isn't abnormal, but he will need to get better at it if he wants to stick in center field full-time. Lara's other "weakness" is the lack of baserunning instincts, which results in being caught stealing 25% of the time.  As a younger player, pitchers often struggle with the concept of holding runners, allowing a baserunner to build some bad or lazy habits. Catchers also don't possess the same type of arms they see in full-season ball. There's a very real chance that Lara will improve greatly in that regard simply by getting more and more reps on the bases against professional pitchers and catchers.
What's next:
Lara was 18 years old for the entirety of the 2023 season, and after his birthday in November, he will spend all of 2024's season at 19. The Brewers have generally been extremely aggressive with their prospects the last couple of years, and Lara was no exception. Being pushed to High-A at 18 shows how much they believe in him. However, a Double-A assignment would seem over the top to start 2024. It seems likely that Lara will begin back in Appleton, WI, next spring. Barring a power breakout, he probably won't ever be a top 10-20 prospect in baseball. However, Lara could find himself in the Sal Frelick territory of the top 50 if he continues to perform as one of the youngest players at each level.
What are your thoughts on Luis Lara? What are you hoping to see from him in 2024? Let us know in the comments!
Think you could write a story like this? Brewer Fanatic wants you to develop your voice, find an audience, and we'll pay you to do it. Just fill out this form.
MORE FROM BREWER FANATIC
— Latest Brewers coverage from our writers
— Recent Brewers discussion in our forums
— Follow Brewer Fanatic via Twitter, Facebook or email
1