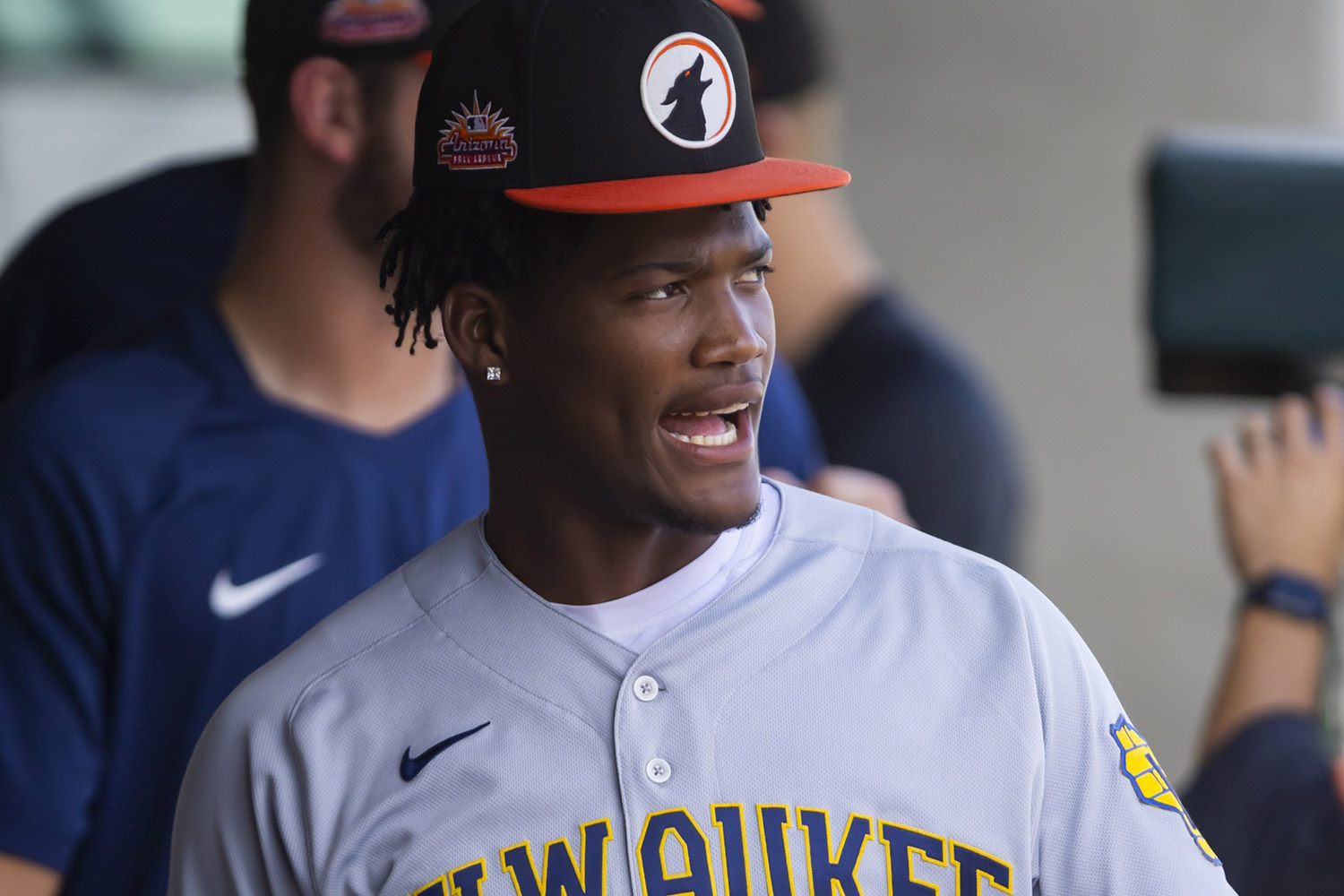 Image courtesy of © Mark J. Rebilas-USA TODAY Sports
While the top of the Brewers prospect list heavily features upper minors hitting, the back half of the top 20 shows that the Brewers pitching machine is still something to reckon with. While none of the following prospects are blue chippers, Corbin Burnes and Brandon Woodruff weren't elite prospects for most of their run through the minors, either, especially the lower minors. It was only as they approached the Major Leagues did they emerge as the promising arms they are today.
Let's take a look at prospects 11-15, as compiled by the Brewer Fanatic community.
15. Stiven Cruz
Age: 21
2022 Stats (A/A+): 91.1 IP, 3.74 ERA, 10.75 K/9, 2.36 BB/9
A 2021 IFA signing, Cruz began his 2022 season in Low-A Carolina. He was bitten by the home run ball but still showed a ton of good qualities during his time there, striking out over 11 per 9 and walking only 2.27 per nine innings. He received a late-season promotion to High-A Wisconsin, which couldn't have gone much better than it did. He struck out over a batter an inning, still limited walks, and also limited the homers (although only in a 19-inning sample). Cruz has a very slight frame that makes him very projectable and should allow him to add some velocity to what is currently a low-90s fastball. He throws a big, slow curve similar to a Zach Greinke type of curveball, which has yielded promising results. Cruz also throws an above-average changeup to go along with a decent slider as well. Cruz will likely begin 2023 back in High-A, where he could move relatively quickly to Double-A Biloxi if he starts 2023 the way he finished 2022.
---
14. Robert Moore
Age: 20
2022 Stats (Rook/A): 143 PAs, .248/.343/.392, 3 HR, 16 RBI
Moore was the Brewers' third selection in the 2022 draft. A very young, draft-eligible college player with a lot of big game experience and being the son of long-time MLB executive Dayton Moore, Moore is known to have great makeup. After a very productive sophomore season, Moore was viewed as a likely first-round pick, having shown plenty of power in the bat and an ability to limit strikeouts and draw walks. He took a step back in all three of those departments in his 2022 season. And he ended up having a more mediocre junior season. Despite that, the 2021 campaign shows the ability he has. Moore is a very sound defender that will likely be good enough to handle short and be very good at second base, as his arm is good enough to handle shortstop and is above average at second base. Moore showed a very aggressive baserunning mindset in his pro debut, often attempting to stretch singles into doubles and going first to third on singles. He's not the fastest guy on the field, but he has above-average speed. He cuts the bases well and shows good instincts, making him an above-average baserunner overall. After a strong offensive showing for the Brisbane Bandits this offseason, Moore has a good chance to begin in High-A with the Timber Rattlers this season, where he could seemingly move quickly if he succeeds.
---
13. Abner Uribe
Age: 22
2022 Stats (AA): 3.0 IP, 0.00 ERA, 12.00 K/9, 12.00 BB/9 (lol)
Uribe is another former international signee out of the Dominican Republic. Featuring a fastball that has reached 103 MPH, many would assume that the fastball is his best pitch. In reality, his slider is the pitch that has helped him have the most success. Having had some injury issues throughout his career, Uribe's Arizona Fall League stint was highly encouraging. He limited walks better than before and still showed enormous velocity, often reaching triple digits. As mentioned, the slider was a great pitch for him and was highly effective in the AFL. The fastball doesn't have the best movement characteristics, which could cause him some issues at the major league level despite the huge velocity. It will be interesting to see if Uribe perhaps goes the Edwin Diaz route and uses his slider as his primary offering. It allows him to use the huge velocity as his "off-speed" offering. It seems likely that a healthy Uribe will see some innings with the big league club this season.
---
12. Hendry Mendez
Age: 19
2022 Stats (A): 446 PAs, .244/.357/.318, 5 HR, 39 RBI
Mendez was signed out of Venezuela as part of the Brewers 2021 IFA class. Playing his entire 2022 season in Low-A, Mendez's surface numbers don't necessarily jump off the page. However, he played the entire season in full-season ball at 18 and was still essentially a league-average bat, with a nearly even strikeout-to-walk ratio. Mendez rarely appears overmatched and has a very mature approach at the plate. He has decent raw power, but to get to some of it in-game, he will likely require a swing change as his current swing path is considered "choppy." Mendez was not great as a baserunner last year, having been caught more times than he was successful. He is a good athlete for his 6'2" frame, but base stealing doesn't appear part of his package moving forward. Mendez is also a solid defender with an above-average arm and will likely remain in the right field. The profile will be carried by the bat, though. If he can tap into his raw strength with a swing adjustment while still maintaining his borderline elite bat-to-ball skills, he could be top of the order type of offensive player. There is a good chance Mendez will be pushed again this year and begin in High-A Wisconsin.
---
11. Carlos F. Rodriguez
Age: 21
2022 Stats (A/A+): 107.2 IP, 3.01 ERA, 10.78 K/9, 3.34 BB/9
Rodriguez was the Brewers' sixth-round selection in the 2021 draft. After a slow start in Low-A, Rodriguez got himself going and earned a mid-season promotion to High-A. What he did at Wisconsin was extremely impressive, posting an ERA of 1.98 and a K/9 of 11.1 to only 3.2 BB/9, including his penultimate start of the season, where he threw six perfect innings with nine strikeouts. Rodriguez features three above-average or better pitches in his fastball, which sits in the 92-94 range but has touched 96, his sharp slider, and much slower changeup. He also throws a curve, which is more of a "get me over" offering when he tosses that in, but it is a fringe-average offering as well, with time to develop. He commands all of the off-speed pitches pretty well, able to land all of them for strikes and generate chases when the opportunity is right. Brewers fans hoping to get a look at Rodriguez will be happy to hear that he will be taking part in the World Baseball Classic this spring (playing for team Nicaragua). Assuming he does get an opportunity to see some innings, it will be great for a young pitcher to face experienced offensive players. A Double-A assignment to start the 2023 season doesn't seem out of the realm of possibilities for Rodriguez.
What do you think, Brewer Fanatics? Who are your 11-15 prospects? Leave a comment below and let us know!
Previous Installments
Brewers Top 16-20 Prospects
Think you could write a story like this? Brewer Fanatic wants you to develop your voice, find an audience, and we'll pay you to do it. Just fill out this form.
MORE FROM BREWER FANATIC
— Latest Brewers coverage from our writers
— Recent Brewers discussion in our forums
— Follow Brewer Fanatic via Twitter, Facebook or email
1