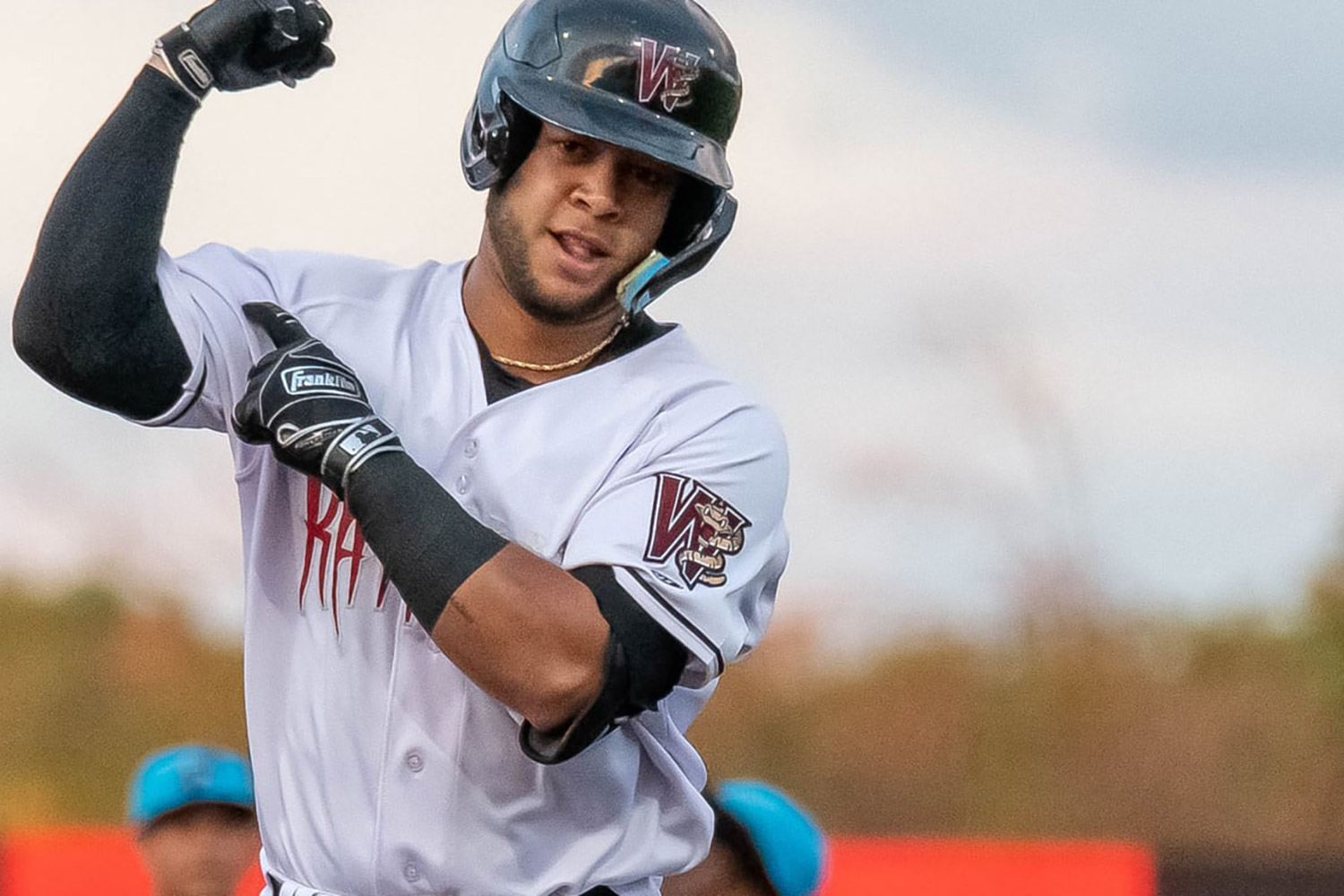 Image courtesy of © USA TODAY NETWORK-Wisconsin via Imagn Content Services, LLC
The format has changed a bit since we're in the top five of our 20 prospect countdown. Instead of five prospects per article, we deep dive into each player, giving them the focus of an entire article. This week, we'll examine the top five Milwaukee Brewers' prospects in ascending order.
Starting off the top five is catcher Jeferson Quero, as voted by the Brewer Fanatic community.
What To Like
Though he hasn't played above High-A professionally, Quero is no stranger to a bigger stage. He once hit a go-ahead home run in extra innings of a semi-final Little League World Series game against Japan. His ability to balance maturity and passion, as seen in that clip, has also carried over to his professional career. From the moment he signed out of Venezuela in 2019, Quero has been heralded for his makeup and ability to handle a pitching staff, both within the organization and externally. His defense and his arm are his calling cards at the moment. A very good athlete for a catcher, Quero moves extremely well behind the plate and showed big improvement in his blocking abilities last season. His arm is rated plus, already posting pop times in the 1.8-1.9 range and with good accuracy. He threw out 30% of attempted base stealers against him between Low-A and High-A last year. 30% doesn't stand out as being better than average, but it's important to note that Minor League Baseball was already operating under the new pitch clock rules. This means baserunners were at a huge advantage due to the pickoff rules accompanying the pitch clock. Quero also spent time in the Arizona Fall League in 2022, where he threw out 46% of attempted base stealers, while all other AFL catchers combined for a 17% Caught Stealing rate. 
While defense may be his calling card, there is much to like with Quero at the plate. Quero hit 10 HR as a 19-year-old catcher, to go along with a 116 wRC+ between Low-A and High-A; he also showed off a few exit velocities over 105 MPH in the AFL. Between High-A and Low-A, he combined to strike out under 20% of the time and showed very good bat-to-ball skills. His bat is something Brewers fans will want to watch closely this season, as his development will be very important to his future.
What to Work On
While Quero does a great job getting his bat on the ball, he sometimes needs help with pitch selection. He chases quite a bit, and after having nearly a 15% walk rate in the Complex League in 2021, that was cut in half to just over 7% in 2022. Finding the balance between being aggressive but not too aggressive will likely play a major part in determining the level of hitter he can be at the upper levels. Defensively, the only real knock on Quero now is in his receiving. This isn't uncommon for catchers his age, especially as the pitchers they are catching start throwing harder while they move up the organizational ladder. The good news is that Quero seems to struggle more with low pitches than anywhere else, which is often a matter of strength more than ability. The Brewers are among the best in baseball at developing catchers as receivers, and Quero is already further along than most at his age. 
What's Next
As far as young catchers go, Quero has a higher floor than most and a pretty fun ceiling to dream of if he can continue to develop offensively. Though he will only be 20 years old for all of the 2023 season, he will be Rule 5 eligible in December. Quero is the type of player teams will often take a chance on in the Rule 5 setting, so the Brewers will most likely protect him, even if he has a bit of a down season. Being a non-roster invitee to MLB spring training is also noteworthy, as he will get the chance to catch some major league arms, even if mainly in a bullpen setting. Quero appears to be ticketed for either a return to Appleton or potentially a more aggressive placement in Double-A Biloxi.
What do you think, Brewer Fanatics? What will we see from Quero in 2023 and who do you think slots into the #4 top prospect slot? Leave a comment and let us know!
Previous Installments
Brewers Top 16-20 Prospects
Brewers Top 11-15 Prospects
Brewers Top 6-10 Prospects
Brewers #5 Prospect: Jeferson Quero
Think you could write a story like this? Brewer Fanatic wants you to develop your voice, find an audience, and we'll pay you to do it. Just fill out this form.
MORE FROM BREWER FANATIC
— Latest Brewers coverage from our writers
— Recent Brewers discussion in our forums
— Follow Brewer Fanatic via Twitter, Facebook or email
2