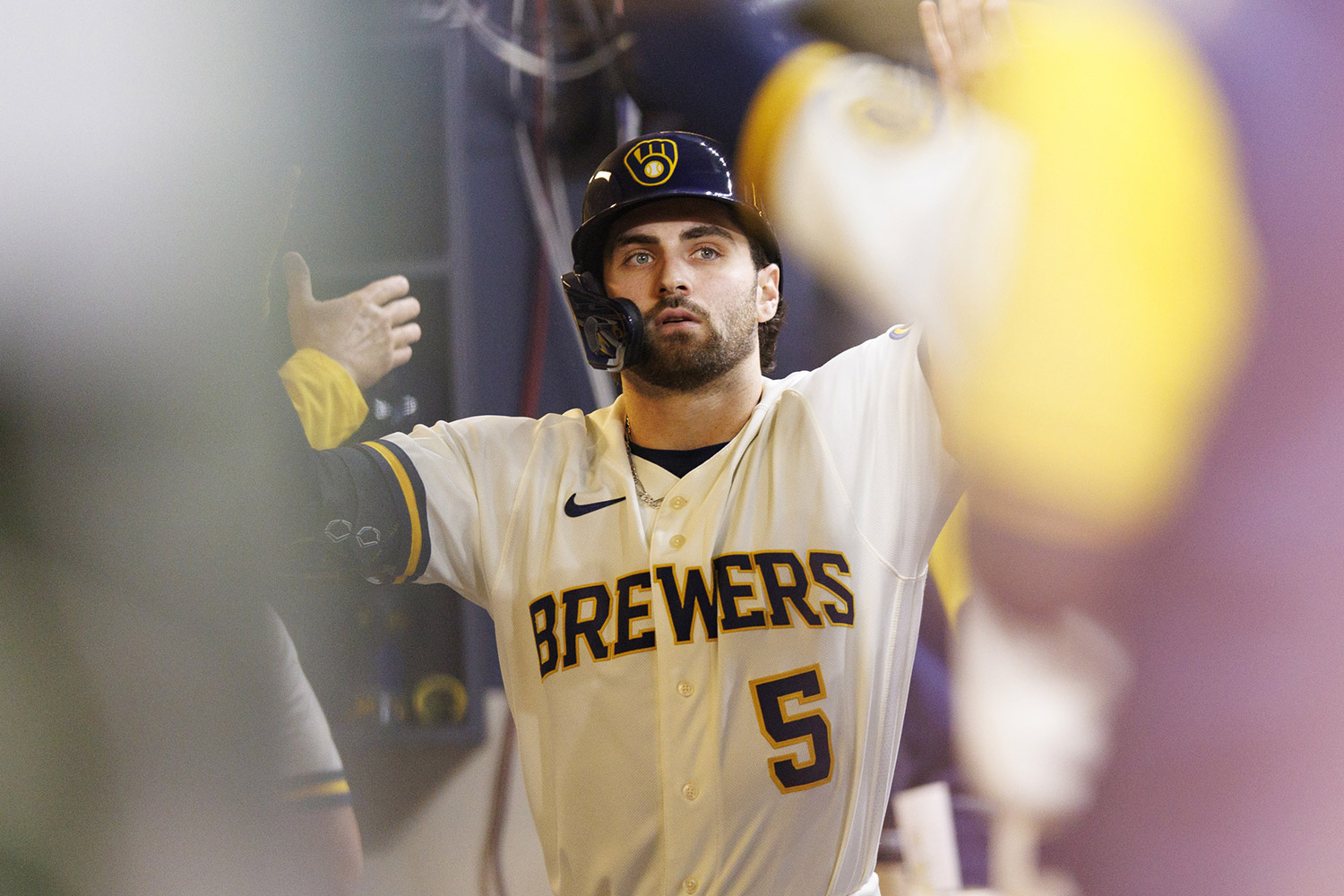 Image courtesy of © Jeff Hanisch-USA TODAY Sports
After seeing the back end of the top 20 prospects list swing pitcher-heavy, we're starting to see hitters represented more in the top ten. This trend only strengthens the closer we get to the 2023 Brewers' number one prospect (it doesn't require you to be Nostradamus to figure out who that will be). As we work through this list, it becomes evident that this system has much more depth than it has for several years. During their 2022 mid-season update, MLB.com ranked the Brewers system 19th in baseball, a stark improvement from where they were two years prior, ranked down at 29th. Seeing the Stearns/Arnold regimes accomplish this feat while posting five winning seasons in six years (falling just a little short of the mark in the weird 2020 shortened season). There's a lot to be excited about as Brewers fans.
Let's dive into the 2023 Brewers' top 6-10 prospects, as voted on by the Brewer Fanatic community.
10. Jacob Misiorowski
Age: 20
2022 Stats (A): 1.2 IP, 5.40 ERA
In terms of pure ceiling, the Brewers' second-round selection in last year's draft has been one of the highest of any Brewers pitcher in recent memory. Misiorowski is a freak athlete on the mound, with long levers and a fastball that regularly touched triple digits in his short Low-A stint and instructs. The fastball also has good movement characteristics, making it a potential 70 or 80-grade pitch that would play best when elevated. The slider is a wipeout pitch with high spin; some have said it could be another 80-grade pitch. When Misiorowski was pitching against JUCO hitters, he only needed those two pitches to get by, so there were some questions about his other secondary offerings. However, he flashed some good-looking curveballs in instructs, and the changeup looked serviceable, with flashes of being above average. For Misiorowski, it will all boil down to what level he can get his command to, which is currently well below average. It may take a year or two to start seeing some of the bigger improvements. Thus, his overall development will likely be a waiting game but a game worth playing from the Brewers' perspective. If he can make the jump with his command, he will likely be one of the best pitching prospects in baseball. In terms of pure "stuff," very few pitchers in all of baseball can match Misiorowski. He would probably begin in 2023 in Low-A Carolina to get his feet under him, but High-A can't be ruled out.
---
9. Eric Brown Jr
Age: 22
2022 Stats (Rook/A): 117 PAs, .268/.385/.454, 3 HR, 8 RBI
The Brewers' first-round pick in last year's draft, Brown Jr, is a premium athlete at a premium position. He had a meager strikeout rate and an even lower chase rate in college, along with big-time exit velocity readings. The question then would be, "why was he available at the Brewers' pick?" The main reason is that Brown had a very peculiar-looking load and stance in college. He was an analytical darling, but traditional scouts were less excited due to his stance. It appeared at the end of the season that the Brewers were trying to normalize the load to something much more "traditional." It will be interesting to see how he adjusts to it to start this next season. Defensively Brown has a really good glove with smooth defensive actions that will allow him to stick at shortstop. Despite a throwing arm that is probably closer to average than it is to plus, he has a quick release on his throws which helps make up for that lack of big-time arm strength. Brown's athleticism, as mentioned above, doesn't just show up in a showcase type of setting. He uses it to his advantage regularly in games, combining it with a high motor and a lot of hustle. Perhaps not as crucial to his baseball development, but important nonetheless, Brown also receives high grades for his makeup and is said to be a great teammate.
---
8. Tyler Black
Age: 22
2022 Stats (A+): 283 PAs, .281/.406/.424, 4 HR, 35 RBI
The Brewers Competitive Balance Round A selection in 2021, Black has a similar profile to many recent early picks of the Brewers. He hits the ball pretty hard, doesn't strike out much, and is willing to take walks. He also hits the ball on the ground quite a bit. Black had a solid stint in the Arizona Fall League. His OPS of .790 was impressive, especially given it was his first action since his regular season ended early due to a broken arm he suffered on a diving play out in center field. He was facing many more high-level arms than he had seen in High-A. Black's bat will likely carry the profile, along with some good baserunning instincts and hustle. There have been concerns over whether Black can stick on the infield since the draft in 2021, and he did spend about 80% of his time in the outfield in the AFL. He has been solid defensively in the outfield and would probably even be considered a good defender. Whereas in the infield, his actions can get a little rushed, and his throwing arm isn't the strongest or most accurate, which is likely why the Brewers have been exploring the possibilities in the outfield. The bat becomes much more critical if he can't stick at second base. An aggressive placement in Double-A would not be a massive surprise for Black to start 2023, given he did show an ability to hit higher-level pitching in the AFL, and he will be turning 23 during the season.
---
7. Robert Gasser
Age: 23
2022 Stats (A+/AA/AAA): 137.0 IP, 3.94 ERA, 11.30 K/9, 3.32 BB/9
Gasser was one of the prospects in the infamous Josh Hader trade. A second-round pick by San Diego in 2021, Gasser throws four above-average pitches in his fastball, slider, changeup, and cutter. The regular fastball probably being the worst of the four, closest to average. His slider is best described as a sweeper, a pitch he can throw in any count or situation. His changeup is a bit firmer than you would want, but it has good action and is a good counter to right-handed hitters. He likely has a goal to get more separation between his fastball velocity and his changeup. He mixed his cutter in more with the Brewers than he had with the Padres, and while it wasn't always perfect, it showed some flashes of being a really good pitch for missing barrels and as another counter to right-handed hitters. He did not throw many curves for the Brewers, and that will likely continue as it lags behind his other offerings. After dominating Double-A for a month, Gasser received a quick promotion to Triple-A Nashville. The command took a step back in Nashville, but it would feel fair to assume some fatigue was in play. The velocity on his fastball was bouncing around more than it did in Biloxi, which is another sign of fatigue. He will likely begin in Triple-A again this season, with a chance to perform well and eventually make his MLB debut. Despite the negatives that come with the Hader trade, Esteury Ruiz helped net the Brewers a long-term catcher in William Contreras. Gasser appears to be well on his way to being a productive Major League pitcher.
---
6. Garrett Mitchell
Age: 24
2022 Stats (AA/AAA): 289 PAs, .287/.377/.426, 5 HR, 34 RBI
Mitchell was the Brewers' first-round pick in the COVID-shortened five-round draft of 2020; he is about as athletic as anybody you will find at his size. There have long been concerns about his ability to elevate baseball as a hitter, and his professional career hasn't done much to eliminate those concerns. The issue appears to be derived from some inconsistency in his timing more than needing a major swing overhaul to get to his huge raw power, though his swing could probably use some tinkering too. The 41% strikeout rate in the majors is a concern, as he does have some holes in his swing. While the surface stats were very exciting for Mitchell in his month-long stint in MLB, there are reasons to question his hitting ability at this point in his development.
On the other hand, his speed is game-changing and his defense isn't far behind. He will beat out ground balls to the left, and even right, side as if it's nothing to him. He would always be a base-stealing threat, but the new rules MLB has put in place will only make that even more likely. Defensively he can run down just about anything in center field and has the arm to handle right field as well. Mitchell will most likely get the first crack at the starting center field spot for the big league club this season. Defensively he will be able to hold his own. His offensive performance will be the thing that Brewers fans will need to keep a close eye on.
We're now 75% of the way through the top 20 prospect list. How do you order your top five Brewer Fanatics? Leave a comment below and let us know!
Previous Installments
Brewers Top 16-20 Prospects
Brewers Top 11-15 Prospects
Think you could write a story like this? Brewer Fanatic wants you to develop your voice, find an audience, and we'll pay you to do it. Just fill out this form.
MORE FROM BREWER FANATIC
— Latest Brewers coverage from our writers
— Recent Brewers discussion in our forums
— Follow Brewer Fanatic via Twitter, Facebook or email
2

1